Designing an IKEA kitchen can be a game of inches. This was the case for IKD customer Brian from Brooklyn, NY, who recently remodeled his galley-style kitchen to accommodate very specific design needs.
He explains: "It's not the biggest kitchen (15'5″L X 8′ W), so it was a challenge fitting everything in and having adequate counter space. We cook every day and also entertain a lot. It opens into a good-sized dining room with a large table so it's easy for everyone to talk while making dinner."Therefore, Brian and his spouse required having a dishwasher installed and plenty of counter space – set against a Mid Century modern aesthetic. So, with a budget of $35,000 they combined IKEA SEKTION cabinetry framework with Walnut cabinet doors in Matte White from Semihandmade, Lewis Dolin brass door knobs and IKEA MAXIMERA drawers.
Inspired by kitchens on HOUZZ, Brian knew though that to accomplish his dream space he needed professional assistance.
So he worked with IKD's design team for the layout and hired David's Interiors as the general contractor.
This was particularly important when he encountered an unusual design dilemma affecting the installation: The plumbing was running through the cabinetry in the original layout.
"It was obvious to me and I discussed it with the contractor. So, the general contractor had to build out a wall. That's why we couldn't originally have a dishwasher [in the kitchen]," he describes.
He continues: "What really helped the kitchen is that IKD was fast, had several good suggestions and printed out a detailed list for the IKEA order."
As a result, while this kitchen was originally small on space, the remodeled kitchen is certainly now big on style, he says.
Let's see how this IKEA kitchen was created for Brian!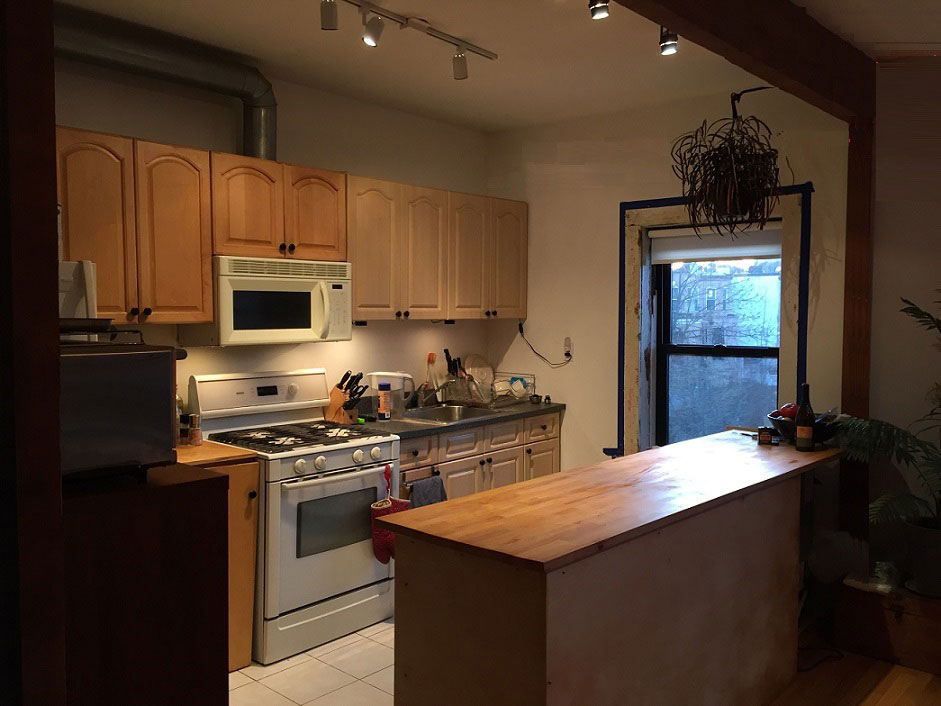 Cabinet Fever
Brian selected IKEA SEKTION cabinetry based on its reputation and affordability, and combined that with Semihandmade's custom door options.
"The kitchen ceiling height is 105" and the wall cabinet alignment is 94-1/2"," he says. So, Brian and his spouse chose Semihandmade's Flatsawn Walnut for the base cabinets and cabinetry above the Beko refrigerator to create a built-in look. The warmth of those cabinets were paired with Semihandmade's Supermatte Slab white wall cabinets over the range and sink as well as IKEA MAXIMERA drawers.
"We got taller cabinets for the uppers on the walls plus increased storage under the island. The style of the cabinets fits in with all our Mid Century modern furnishings and wood trim," he adds.
This was even more impressive considering that Brian and the contractor had to overcome some obstacles due to the original construction of the kitchen.
"The wall behind the cabinets was essentially horsehair plaster on brick, and also the issue with the plumbing was running through the cabinets," he explains.
Lastly, Brian opted not to use IKEA's under cabinet lighting system, instead choosing a lighting system recommended by the general contractor's electrician.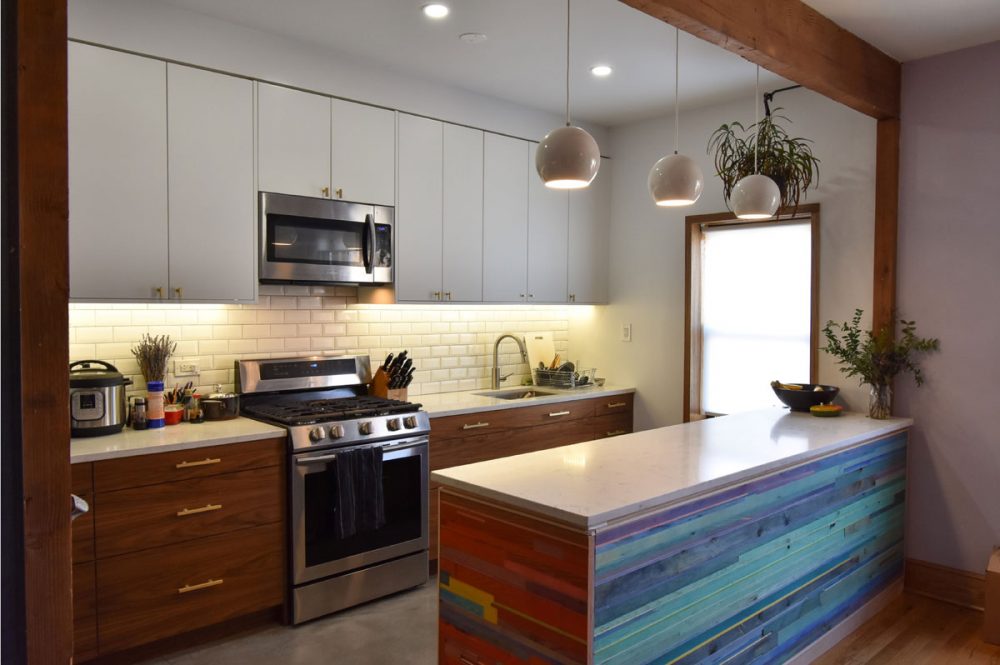 Applied Science
Adding to the Mid Century modern theme is a variety of stainless steel appliances and plenty of counter space.
For instance, the kitchen features a 28″ wide and 9″deep MR stainless sink with a Kraus faucet. Next to that is a Samsung range and microwave, a Bosch dishwasher and the aforementioned Beko refrigerator.
"The dishwasher features a Semihandmade cover panel and is located to the right of the range," Brian explains.
He adds: "We also removed the pantry that was on one end and used that space for the refrigerator, adding more counter space that way."
Regarding the Corian counters, Brian notes that "we added about 50″ of linear counter top. In a smaller NYC kitchen a little goes a long way!"
Complementing the look as well is a beveled subway tile backsplash and poured concrete flooring.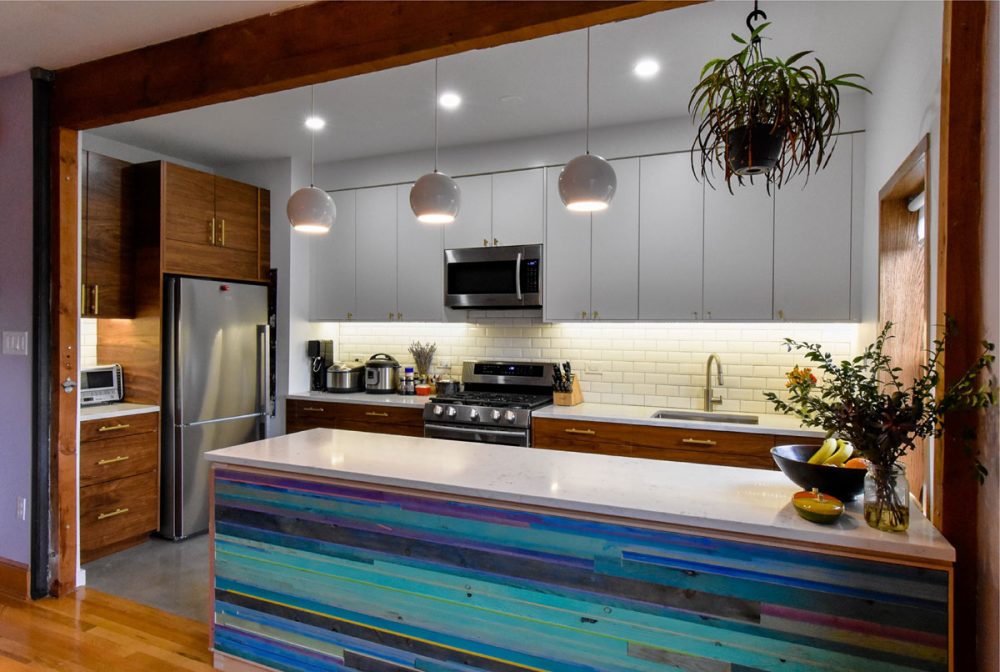 Island Getaway
Another eye-catching element of this IKEA kitchen is the custom island.
Brian explains: "The kitchen island was custom done by the artist and furniture maker Jong Il Ma. The island features stained strips of wood from past installations he has made [and repurposes the material]."
The colorful island – which separates the kitchen from the large dining room – also has Verner Panton Topan pendants hanging over it, chosen once the island was completed.
In fact, the lighting is one of Brian's favorite elements of the design.
"I really like the lighting, especially the undercounter lighting and the pendants," he says.
"There's also an undercounter fridge in the island from Summit," he adds. "As I mentioned we cook and entertain a lot, so it serves as an extra fridge [that is easily accessible]."
Concluding, Brian offers some advice for future IKEA remodelers.
"Look at companies like Semihandmade if you want a wider choice of door styles. There are many out there. Also, IKEA's kitchen planner is a good tool if you want to visualize different layouts for yourself [at the beginning of your project]. And if you don't have a designer, use IKD!"
Learn more about how we can design your IKEA kitchen, bath and closet at https://inspiredkitchendesign.com.