Without a doubt, IKEA is a world unto itself.
And it's so big that it's led to third-party companies whose mission is to provide kitchen products or design services that are complementary to IKEA cabinetry.
IKD is one of those companies.
Another of those companies, on the kitchen cabinetry side, is CA-based Semihandmade . Semihandmade is considered a pioneer in the growing IKEA ecosystem of "hacking" IKEA products and providing stylish and affordable cabinet door options that fit IKEA kitchens, bathrooms, closets and media systems.
And just as each company serves the needs of IKEA kitchen customers without being formally partnered with IKEA, so too do the two companies organically work together to improve the final results of your IKEA kitchen design.
Therefore, it's more a symbiotic rather than a formal relationship, but with a strong, shared message: You have choices, and the IKEA kitchen experience is not daunting!
So how does it work?
Simply put, when a Semihandmade customer needs design guidance, or an IKD customer realizes they desire more kitchen cabinetry options than what IKEA offers, the two companies refer each other's services.
IKD designer Paulina explains: "This happens a lot when customers want a different door color or finish that IKEA doesn't offer and when they are looking for high quality fronts for a high-end look."
In fact, on the IKD online design questionnaire that customers fill out to provide their kitchen information, IKD specifically asks for the front style the customer wants.
"We have Semihandmade listed as an alternative if they don't want IKEA fronts and we have embedded Semihandmade's Web site URL to our form so it's easier for those customers to check their options!" she adds.
In total, Semihandmade offers over 40 standard cabinet offerings including paintable Shaker and MDF doors, colored thermofoils, real wood veneers and textured melamines.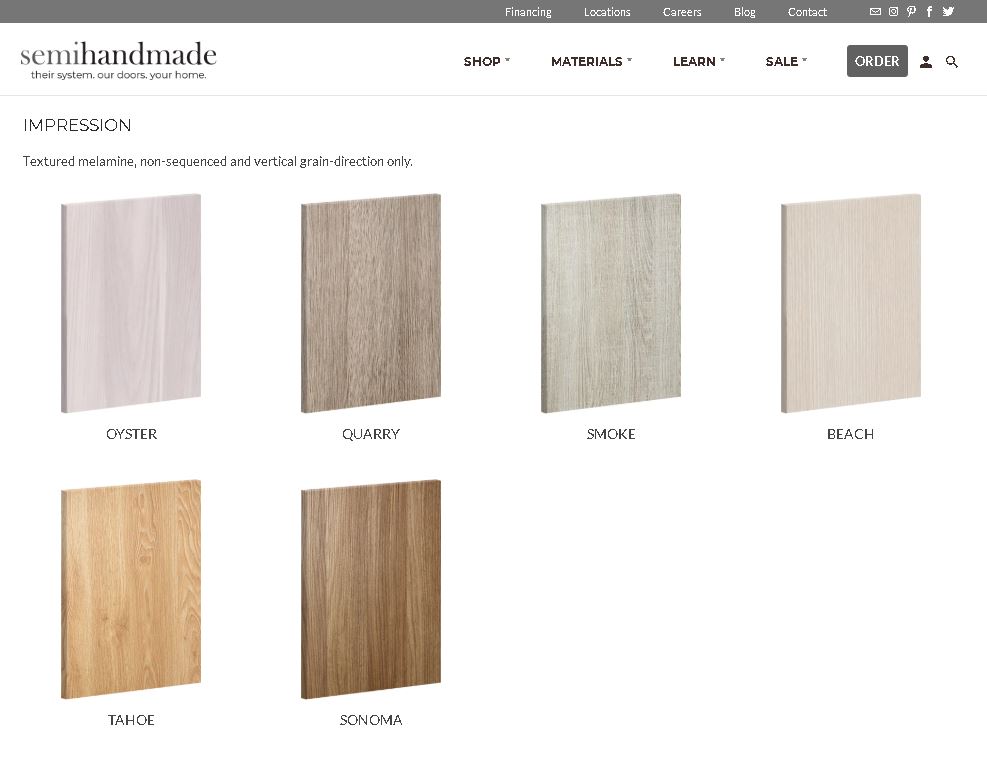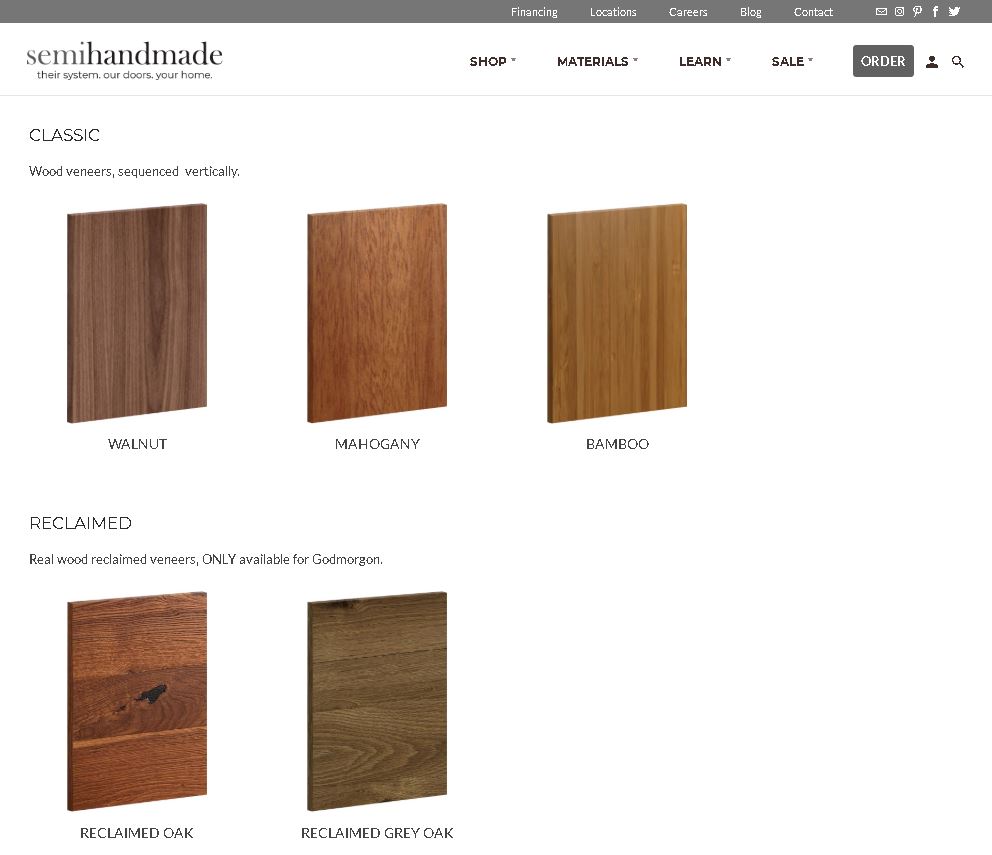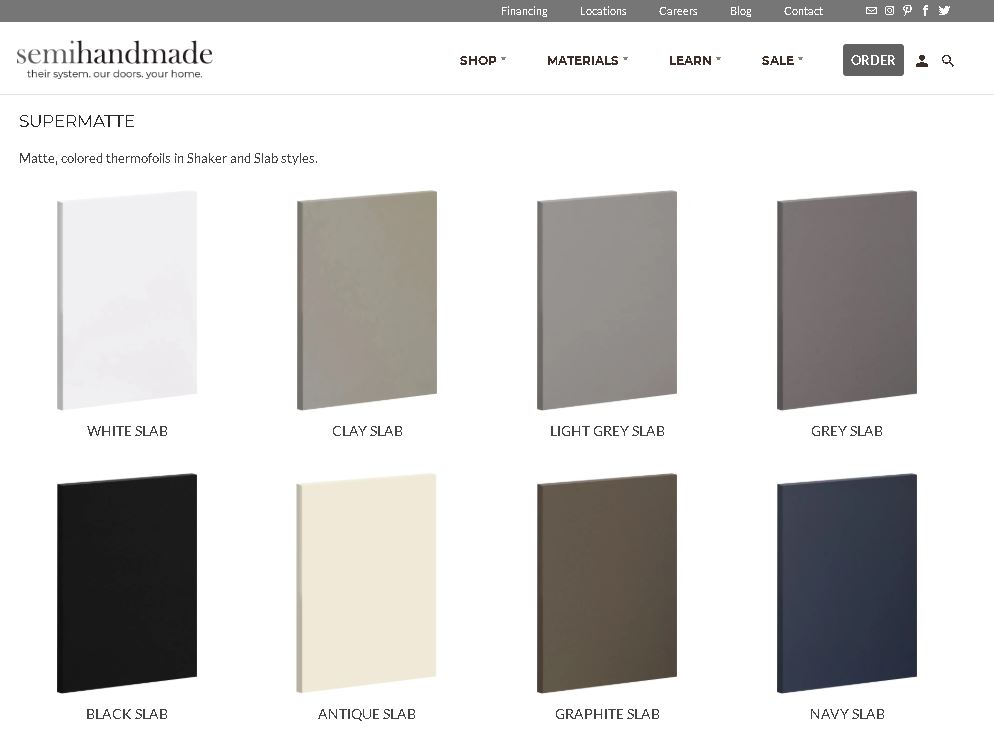 Semihandmade founder, John McDonald, explains: "The main differences between Semihandmade and the doors IKEA offers are all our doors are made in the USA, we offer upgrades like matching appliance panels and floating shelves, custom sizes are available where necessary, we've got a much wider selection of choices, and our customer service and user experience is second to none."
Although after-market and unaffiliated with IKEA, Semihandmade also works with a third of the nearly 50 U.S. IKEA stores on warranty issues related to IKEA's discontinued AKURUM kitchen system, as well as providing cabinetry for IKEA's SEKTION cabinetry framework for kitchens; IKEA's GODMORGON cabinetry for bathrooms and IKEA's BESTA media cabinetry.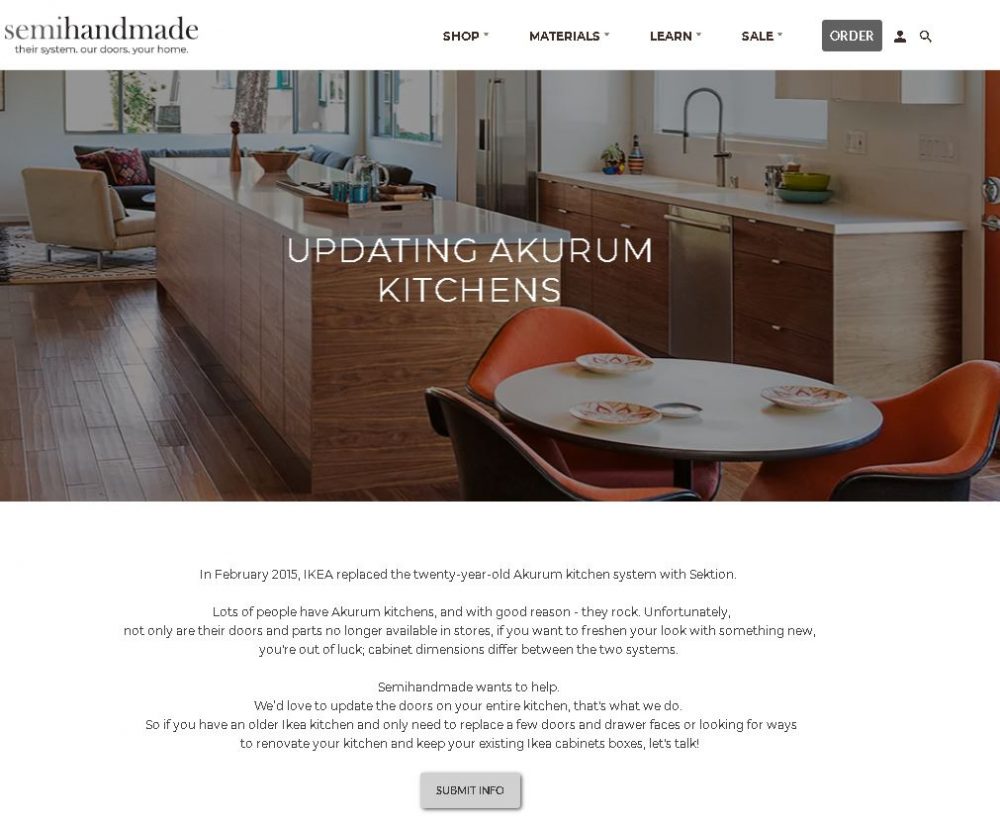 McDonald concludes: "I think IKEA understands the ecosystem that has sprung up around them isn't going away, and I believe it actually makes them better."
Easy Does It
Making the IKEA design process easier is what it's all about for the two companies.
Paulina notes that Semihandmade's online ordering process (https://www.semihandmadedoors.com/pages/sektion-kitchen) is "super easy to navigate."
Meanwhile, IKD, with its extensive knowledge of IKEA's home planning software and IKEA's SEKTION kitchen system helps customers feel prepared in their product selections, design theme and layout.
This is important because one thing an IKEA kitchen customer wants with the IKEA design experience is peace of mind.
So simply by referring each other's work, IKD and Semihandmade often create impressive IKEA kitchen designs for their customers.
And that is something that McDonald does not see slowing down.
"The design-build market seems to grow every year, which benefits not only Semihandmade and IKD, but the customer who has an ever-expanding selection of great companies to choose from," McDonald says.
Are You Experienced?
So what kind of experience can you expect when working with both companies?
Paulina explains: "A majority of the time, when a customer comes to us they have already done their homework and are pretty much set on the door style they want. So we look for a way to keep them as informed as possible by including Semihandmade's URL with our form. For the maybe 2% of customers who are undecided on the door style they want – or who cannot choose between two or more of the colors Semihandmade offers –we try to guide them by asking about the look they want for their kitchen, overall decoration of their home, inspiration pictures, etc."
IKD will also include Semihandmade's door options in the customer 3D printouts that IKD provides for customers during the design process.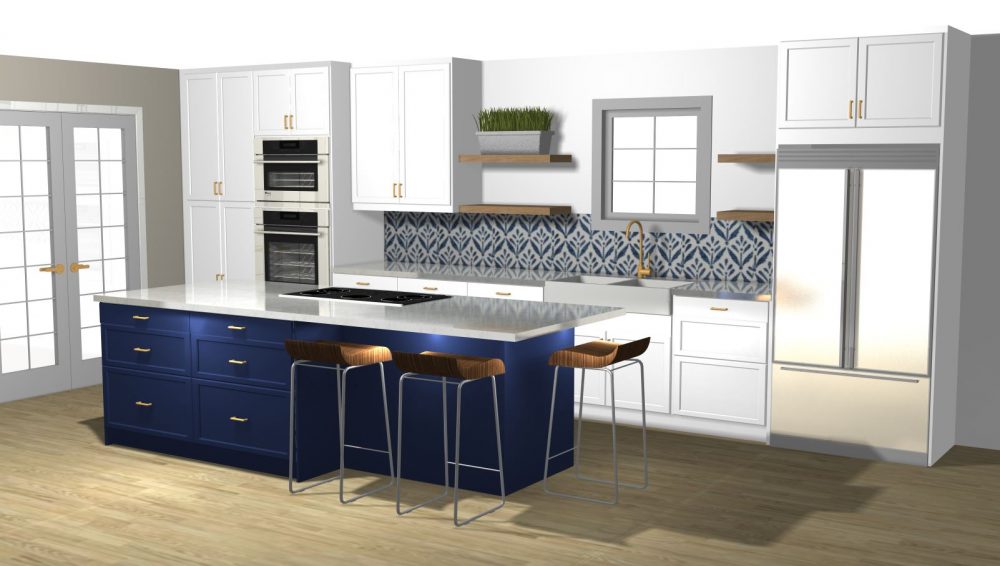 ** 3D printout with Semihandmade Supermatte White Shaker fronts for perimeter, Supermatte Navy Shaker for the island and Oak Floating Shelves.
"We can include Semihandmade's doors in the customer 3D renderings. It's part of our job to keep up with Semihandmade's inventory and discontinued materials. I personally am constantly checking their Web site for updates and when they discontinue an item (for example the open cabinet solution) they are kind enough to inform us so we can take that into consideration when designing ," Paulina says.
She adds: "Semihandmade also has the same standard fronts dimensions as IKEA and can create custom front sizes for you."
For a perfect example of the complementary efforts of each company, look no further than IKD customer Beth, who collaborated with IKD and Semihandmade recently.
With her kitchen, she was able to turn a gutted home into a contemporary IKEA kitchen masterpiece – at a fraction of the cost.
We called that design "affordable luxury," and can do the same for you.
For more information about Semihandmade, visit www.semihandmadedoors.com or email at info@semihandmadedoors.com.
Find out how IKD can help with your IKEA kitchen design by clicking https://inspiredkitchendesign.com/.