Knowing what you want makes all the difference. Just ask IKD customer Jenny who was looking for more storage in her galley-style NYC kitchen while incorporating unique design elements. "Our original kitchen was a disaster. My main wish was for tons of storage and prep space in a practical useable space. I also wanted to incorporate natural classic materials and gold accents for warmth," she explains. So, Jenny chose IKEA SEKTION cabinetry framework, which she matched with Light Gray Shaker style cabinetry from Semihandmade. "My original budget was about $15,000 and I went about $10,000 over that," she explains. "But I decided to splurge on the Semihandmade fronts, gold faucets from Newport Brass and the West Elm lights. I also got a lot of things from Amazon, like the sink, which was only $95." She continues: "I got the tile at TileBar and it was a splurge for the marble backsplash but that's my favorite part. It pulls in the gray from the flooring and cabinetry." Whirlpool appliances round out the look.
However, Jenny couldn't do it alone, and she worked with IKD to design the space properly. She also hired a local contractor, High Vision Construction, of Tuckahoe, NY to install the kitchen. This was critical because getting those materials in without help would have been impossible. "I originally ordered IKEA KARLBY veneer countertops because the solid oak IKEA HAMMARP was out of stock. However, the longest pieces they had available for either type was 8' long and my counters were 10' long. The IKEA guy told me I could glue two pieces together so it became a rushed decision. When I thought about it, I realized I didn't want two glued pieces of countertop where the grain would not match," she explains. "I wound up finding 10' butcher block countertops from Home Depot. As a result, I had to take 700 pounds of IKEA countertops back to the store in Brooklyn! IKEA refunded me, but at the time it was pretty chaotic." Similarly, she originally ordered Delta Faucets but returned them as they were not the true brass color she desired.
Having design guidance was equally important when incorporating the quaint eating nook she wanted as well. "I really wanted the eating nook by the window but that was impractical based on it being right by the stove. We ended up going with the traditional galley kitchen with the eating nook by the door instead," she says. Jenny offers advice for those starting their own IKEA kitchen. "Definitely don't be afraid to delay the project to get what you love," she says. "If I hadn't switched the countertops and the faucets I would've regretted it." Let's see how Jenny was able to make her design work!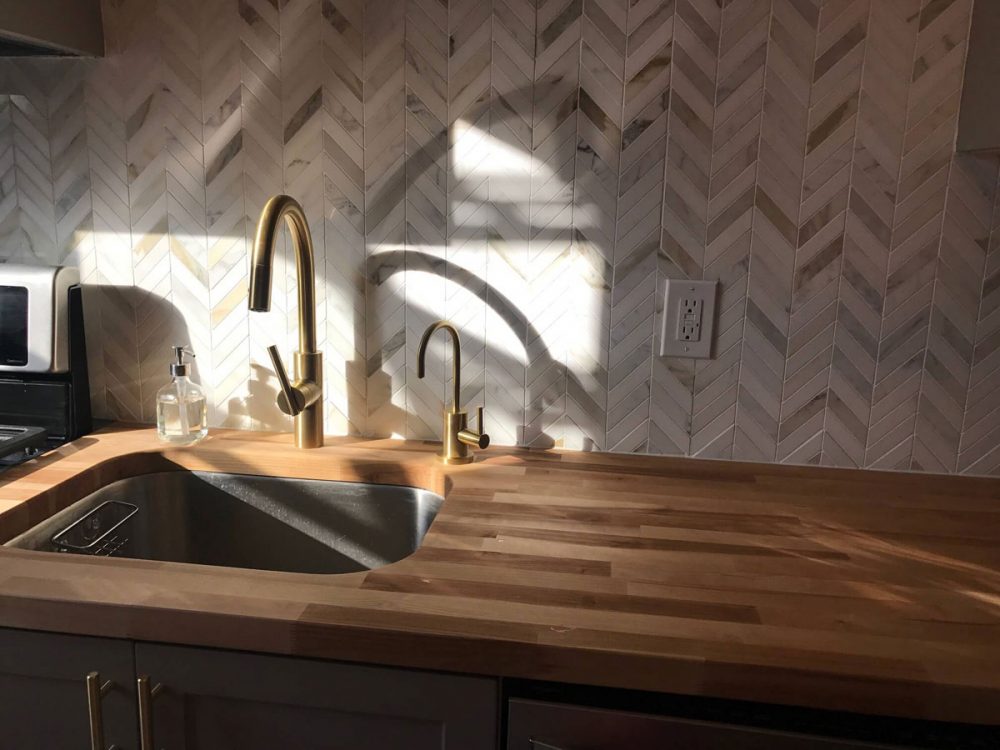 Stylish Storage
Jenny was open to using IKEA cabinetry throughout, but ultimately decided on Semihandmade's Light Gray Shaker door style. "I wanted to maximize storage, maintain affordability, and spice up visual interest by mixing up shelving and closed cabinets," she says. "And I wanted to display nice looking things and hide uglier things, like Tupperware pieces." This was key as her original kitchen was dark, cramped and had inefficient storage, such as wire racks pressed up against her refrigerator and limited counter space. To remedy this, the upper cabinetry is mixed asymmetrically throughout, over the long run of countertops along the wall by the refrigerator and above the food prep area and above the stove. "Stylistically, these cabinets blended well with the butcher block countertops and the large Moroccan/Spanish tile design on the floor," she notes. Likewise, the lower drawers provide extra storage space and a place to hide the garbage and recycling containers. "I also wanted a bigger refrigerator with side-by-side doors. I looked at counter depth ones and they didn't have enough capacity. I had to choose between a sleek looking counter depth and a practical fridge that stuck out a few inches. I went with practical," she describes. "I chose IKEA because they have a 25-year warranty and are known to have well-designed internal mechanisms. They are modular and offered a Tetris-like approach to design with different combos. I didn't love their door options however, so that's why I selected the Semihandmade doors," she concludes.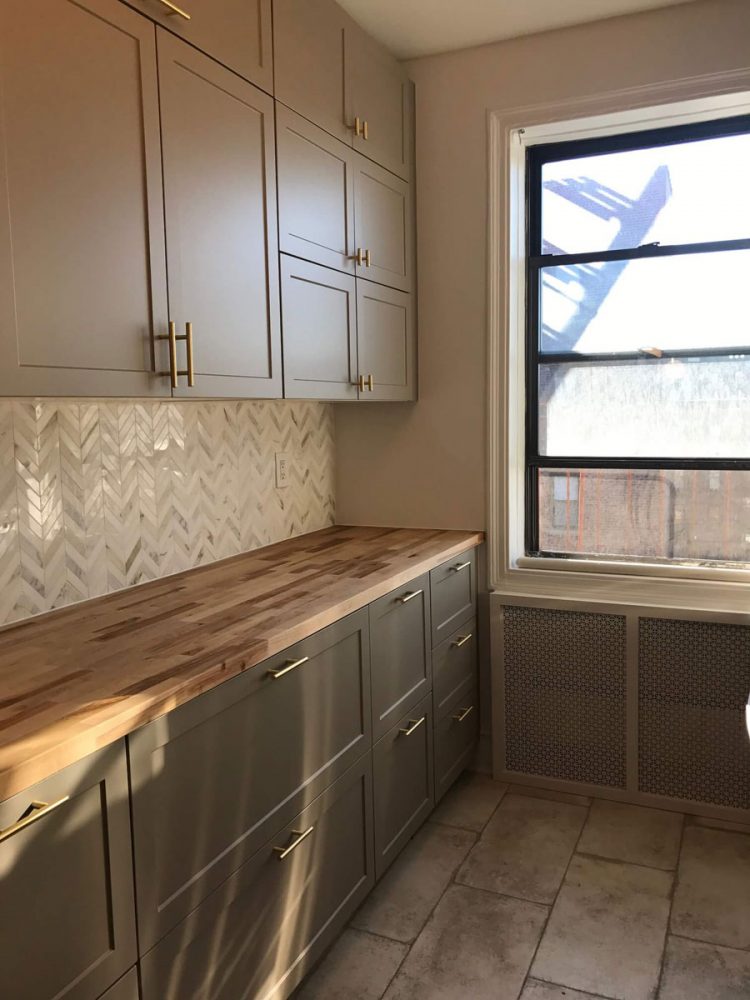 On The Spot
To accomplish all of her design goals though, Jenny needed help. "I don't have the patience to measure or figure out dimensions. Plus, I have a toddler and a full-time job at a tech start up. I just wanted someone to do it all for me," she explains. Originally, she and her sister used IKEA's design service, but found that process time consuming and confusing. In fact, the IKEA planner had issues with IKEA's software during the design process, which delayed the project. "So, I found IKD and immediately signed up," she says, adding that she worked with IKD on designs at night while her baby was asleep. And while the design process took months, for that reason, Jenny concludes that, "Paulina at IKD was amazing, was so responsive and answered all my questions!"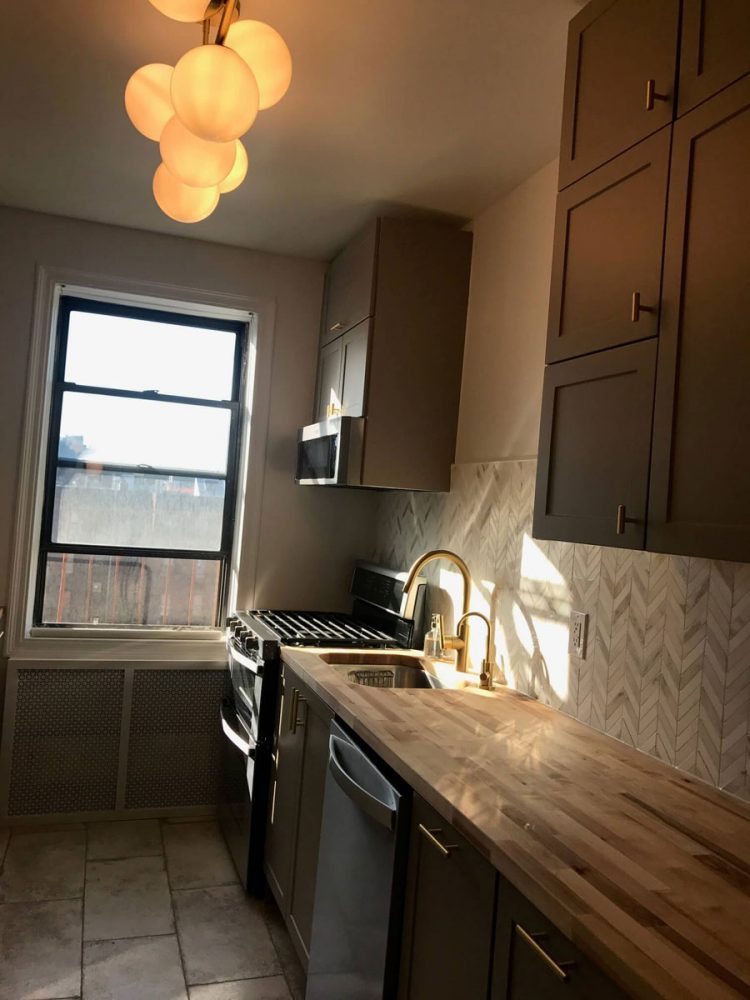 Learn more about how we can design your IKEA kitchen, bath and closet at https://inspiredkitchendesign.com.