Customers often ask us if IKEA's kitchen cabinets are as inexpensive as everyone says. They know that IKEA's a great brand, and their cabinets are well-built—but how do they compare in price to Home Depot or Lowes? Or other brands? It's hard to know, especially since IKEA just offers the product pricing, with no assembly or installation costs. While the other brands include both.
There's very little information or references about IKEA's complete kitchen cabinet pricing. So we've decided to help by showing a series of IKEA kitchens that we designed, and the actual cabinet costs. Of course all IKEA kitchens are different, but you'll get a clear idea of the price and design ranges.
#1: An IKEA Kitchen with LAXARBY Doors
The first kitchen is from an IKD customer in Pennsylvania. Her space was not large: roughly an L- shaped space, measuring 138″ x 174″. Also, her ceiling was low, only 92″, so she was working with some constraints, but she wanted a practical and warm space for her family.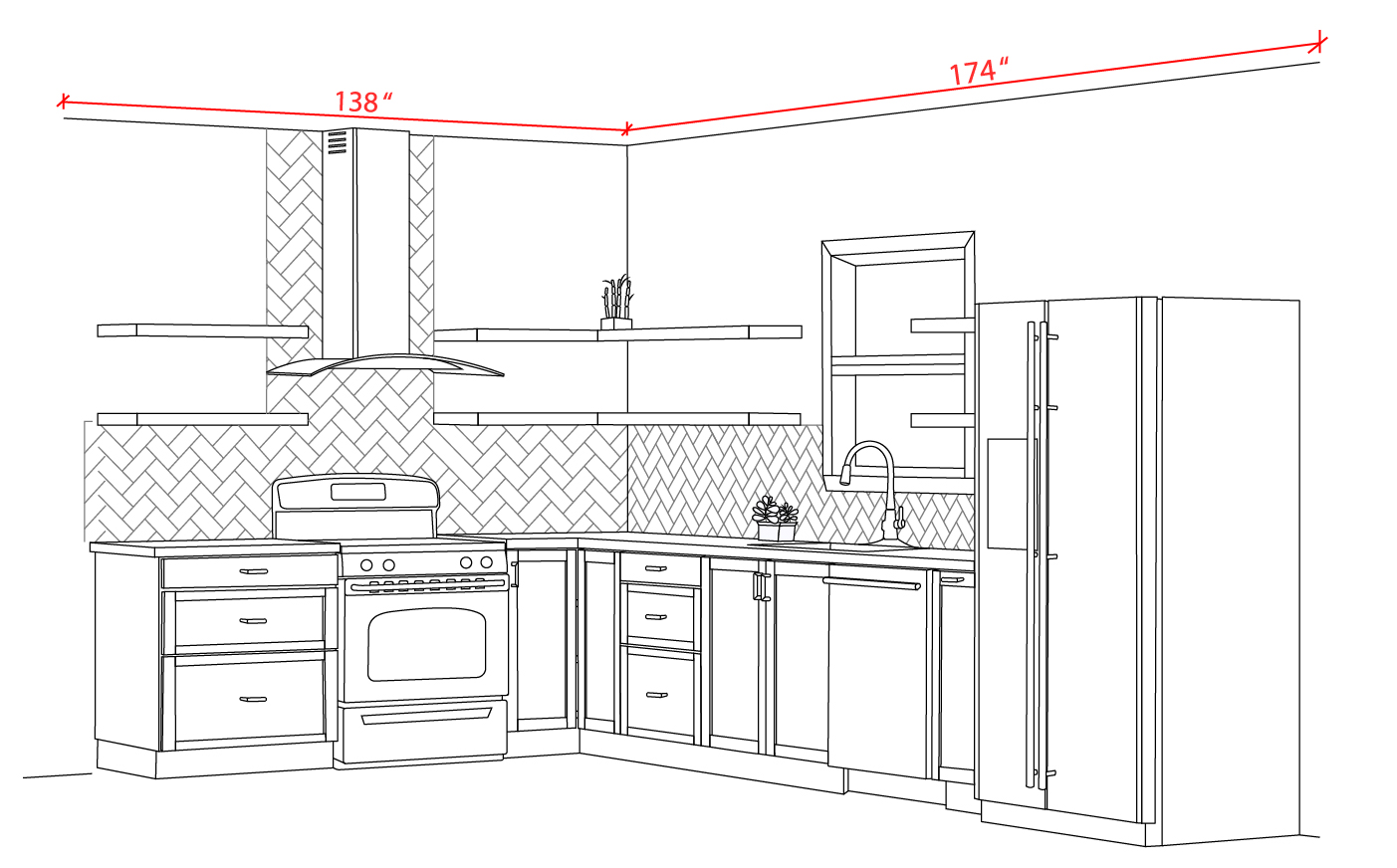 Our customer was inspired by the Chris loves Julia blog shown here: https://www.chrislovesjulia.com/11266 . So were we! The dark woods, light concrete countertops, and brass fixtures are some of our favorite combinations. Also, the floating shelves were a must-have. She loved the look, and it would work well with her low ceilings.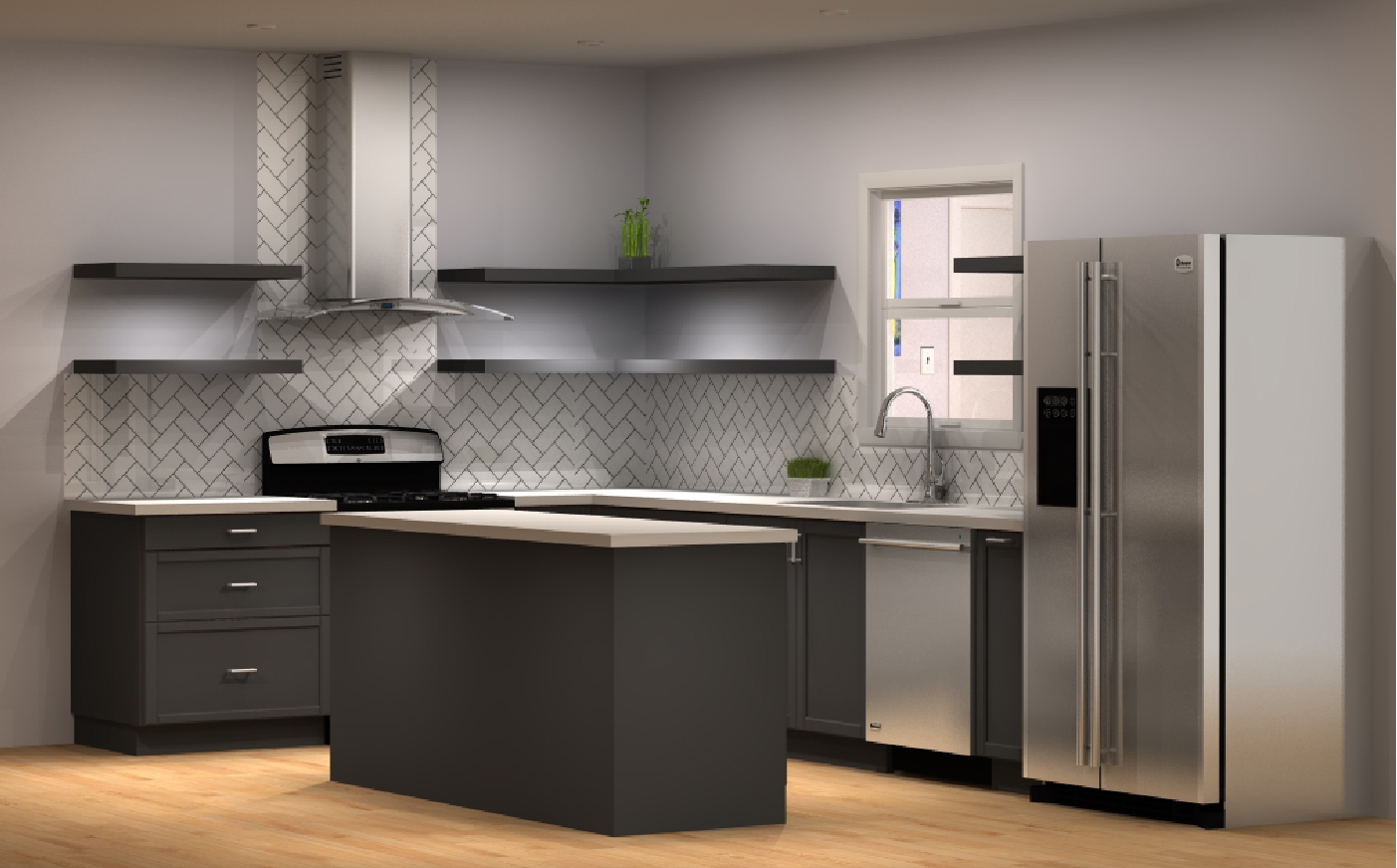 She had a strict budget. So, we went to work and designed an IKEA kitchen that would not exceed $4,000. We were happy that floating shelves could be used instead of wall cabinets, but IKEA doesn't offer them. So she bought (https://www.amazon.com/gp/product/B076KSCL19) floating shelves, and painted them the same color as her IKEA LAXARBY black/brown doors.
We would have liked to design less island cabinets, and have more of an open area with a few stools. The kitchen was small, and she needed all the storage she could get, and it was the only solution for microwave placement. We all wanted to design decorative doors along the back and sides of the island, but the convenience of a new dishwasher won out.
IKEA's cabinets and LAXARBY doors cost just $3,554, and she kept the expense down by installing the kitchen herself.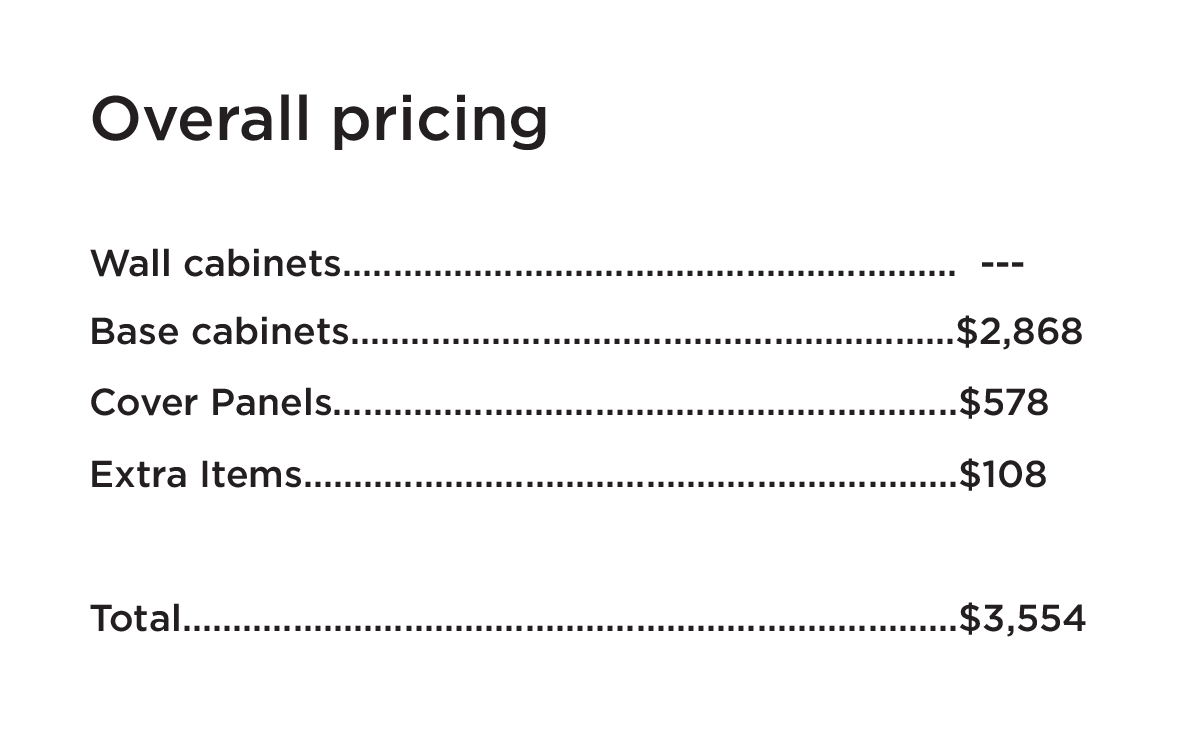 #2: An IKEA Kitchen with KALLARP Doors
The second kitchen is from an IKD customer in North Carolina. This kitchen was in a beach rental home, and they wanted to modernize it. Storage wasn't as important as a clean and functional space—a classic IKEA scenario.
The kitchen is U-shaped with a peninsula measuring about 152″x 100″ x 108″ and no window. It has a high-top breakfast bar and a 96″ high ceiling.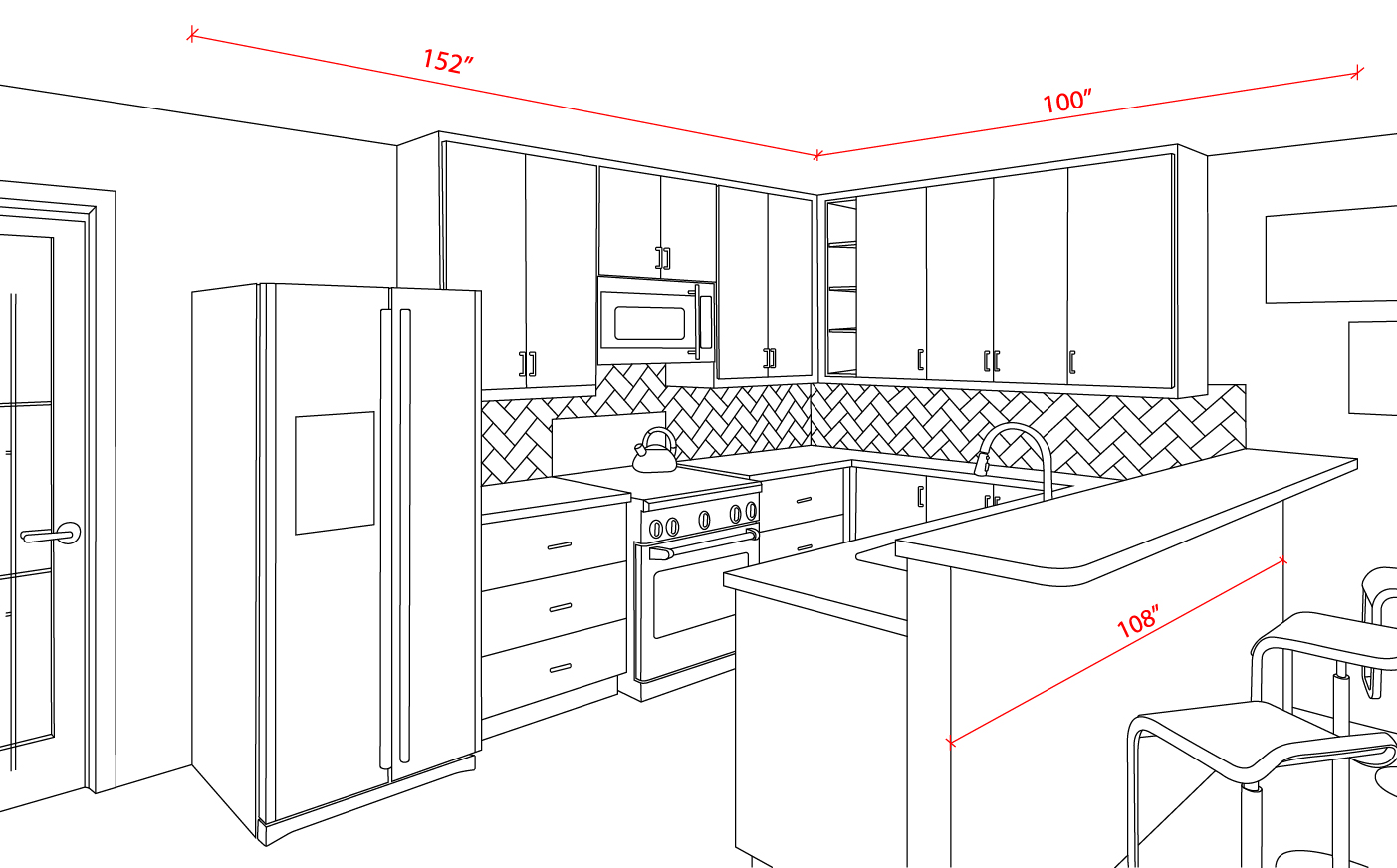 Our customer wanted a few cabinet accessories: an open vertical spice rack, large flatware drawer insert, and two-bin trash pullouts. She also wanted tall wall cabinets extending to the ceiling.
She loved the kitchen shown in the Coastal Makeover: https://www.sandandsisal.com/2016/05/coastal-kitchen-makeover.html. The pastel greens/blues went very well with the décor of her coastal cottage.
"Have you seen the KALLARP doors? I can't decide if I am being too risky. I love the white high gloss too, but they're much more expensive," she told us. We designed with IKEA's KALLARP high-gloss turquoise doors. (IKD designers love them!)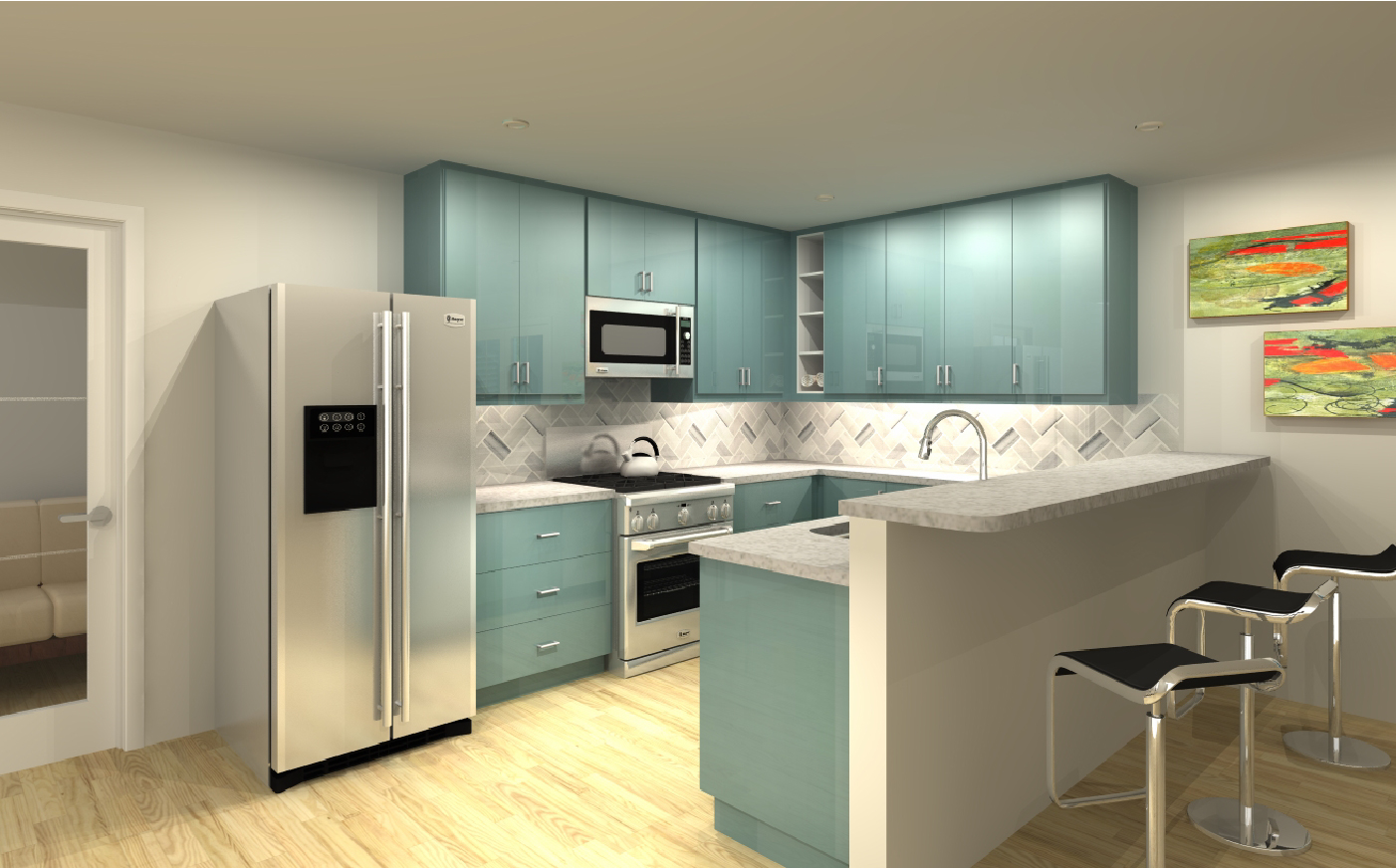 We decided not to design a built-in fridge, and instead put that budget into the tall wall cabinets, drawers, and KALLARP door style. To keep appliance costs down, she found some good prices on Amazon. She purchased a 36″ refrigerator with ice maker: (https://www.amazon.com/Kenmore-50043-Refrigerator-Dispenser-Stainless/dp/B076P7L97D) and a 30″ range (https://www.amazon.com/Kenmore-Freestanding-Stainless-delivery-hookup/dp/B0745N964K), and had them delivered and installed.
We were able to design the SEKTION cabinets and KALLARP doors for $3,376, and there was enough budget left over to buy a few IKEA barstools!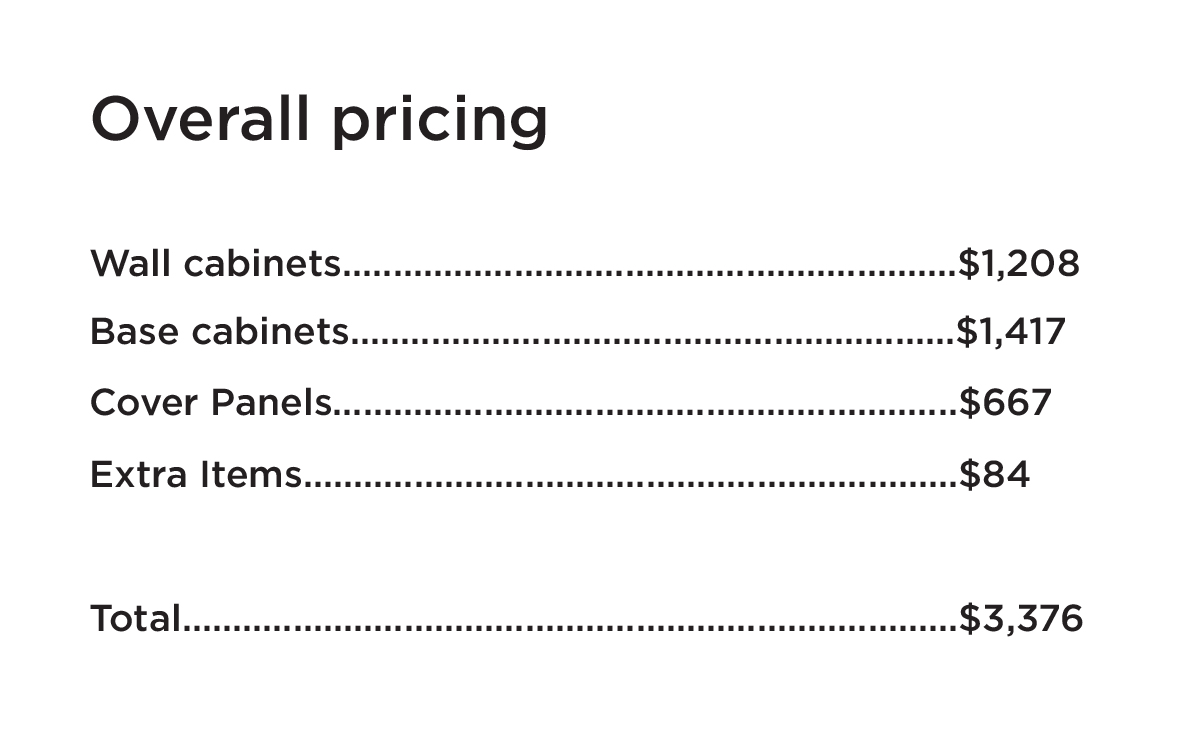 #3: An IKEA Kitchen with BODBYN Doors
Last, but not least, the third kitchen is from an IKD customer in Chicago. Here we have a classic basement level small apartment. The project owner just wanted a clean and practical kitchen for a single tenant unit. The kitchen is U-shaped, with a peninsula, measuring about 98″ x 93″.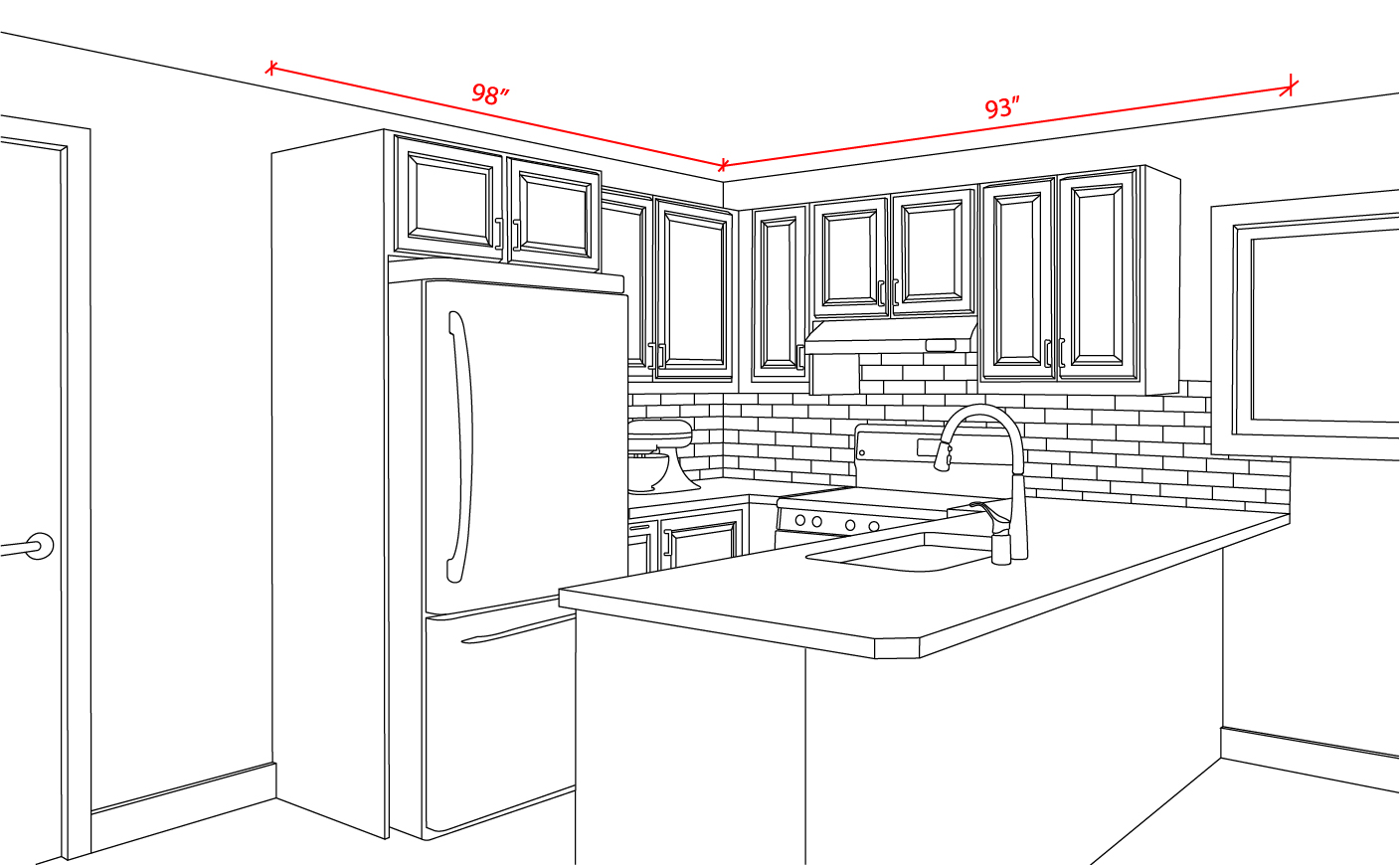 "BOBDYN gray is a popular color, and I really like it as well". "Let's use it, but no glassdoors!" said the owner.
The kitchen was a very visible and integral part of the apartment, so a built-in refrigerator was important. The customer wanted tall wall cabinets, but the ceiling height was only 93″. Since the apartment was relatively dark, we designed IKEA's UTRUSTA lighting beneath the wall cabinets.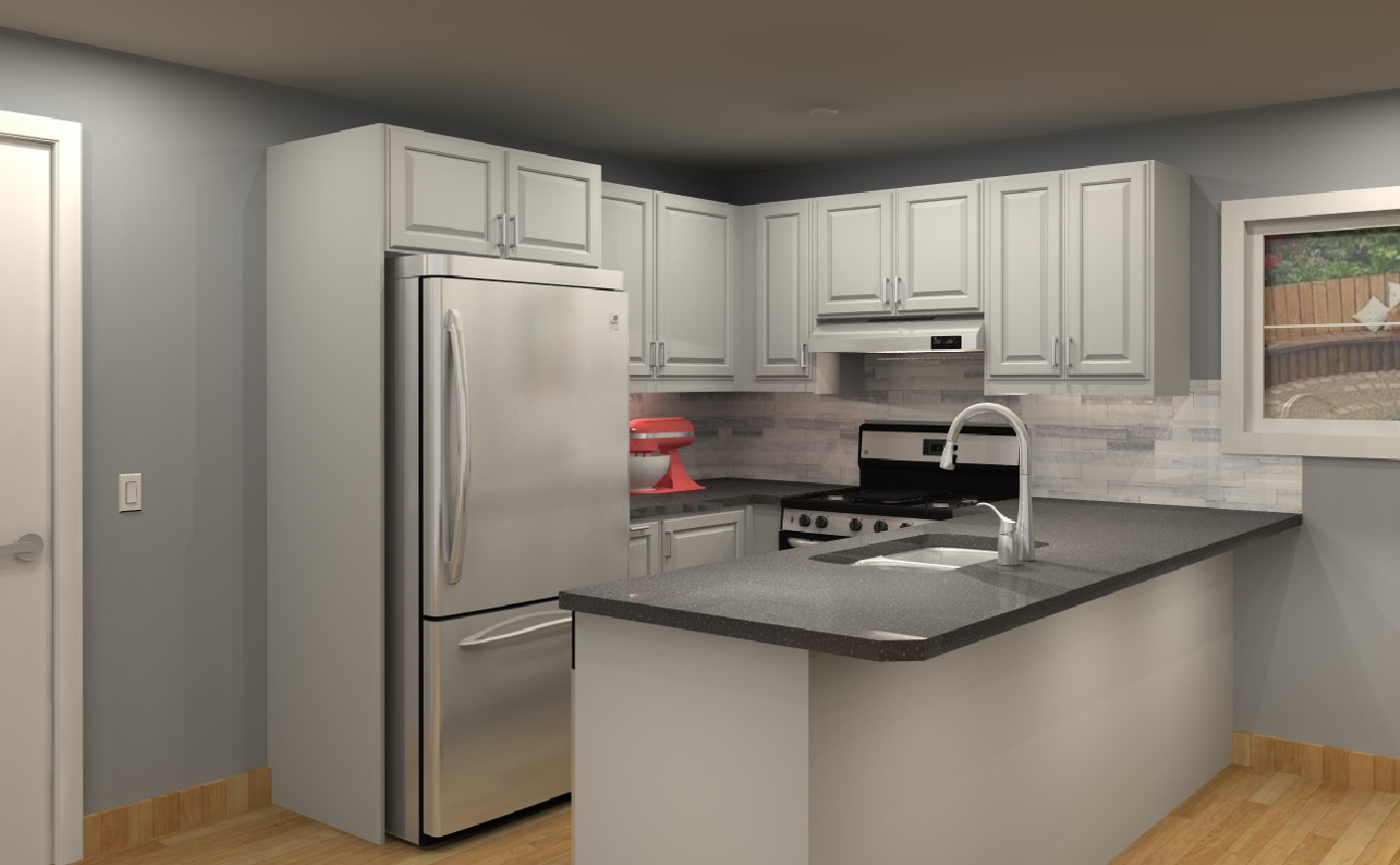 We worked together to give the backsplash a little style, but we also needed to keep the price down. Since the space was so small, we selected peel and stick subway tiles: (https://www.amazon.com/Tic-Tac-Tiles-Premium-Subway/dp/B07B6V7FCY ), and incorporated an IKEA sink and faucet.
An Install Connect company handled the install.
The final tally for IKEA's SEKTION cabinets and BOBDYN doors was $3,009.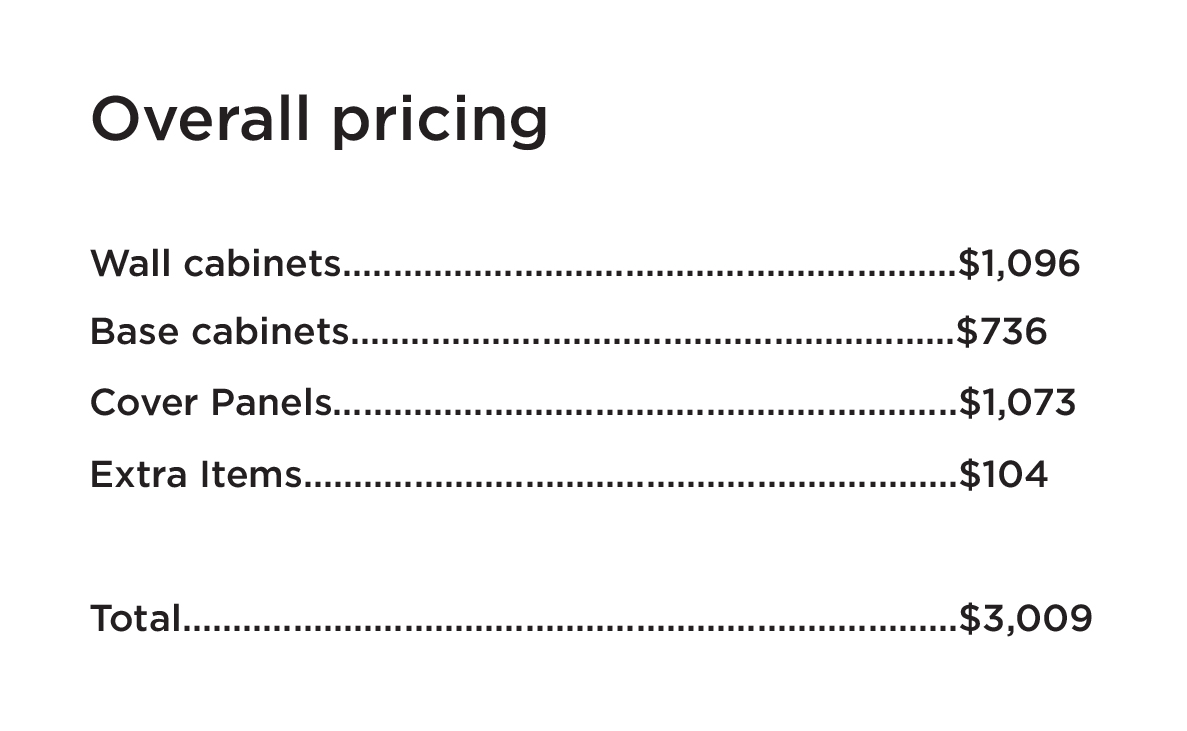 It's amazing how reasonably priced IKEA kitchens can be designed, with appropriate planning. At IKD, we create a concept design after considering our customers kitchen measurements, room and cabinet style, and function requirements. Then we work together to consider the cabinet costs and get our customers the information they need to quote countertops, appliances, flooring and lighting.
We'll see you next time with more IKEA kitchen projects and costs!