We're pumped up for Orlando´s newest attraction. A Bobdyn gray kitchen that rivals Mickey's kitchen.
Today we're sharing Nawaf's complete IKEA kitchen renovation.
Here's what Nawaf had to deal with considering his IKEA kitchen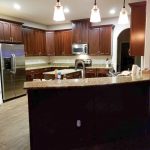 Here's another shot of the old kitchen.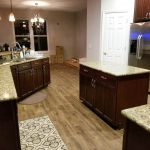 Why did you select IKEA's cabinets?
We liked the flexibility and functionality of IKEA cabinets.  They offer tons of options and accessories be it the cabinets themselves or the organizers that go in the drawers/cabinets. Of course, the idea of just going to Ikea and picking up a new drawer front or door if one gets damaged was very appealing.  It makes life easier.
Why did you select IKD's design service?
We wanted a turn-key design solution in a sense where we provide input of how we want the layout and receive the design as well a complete list of all the materials we need from Ikea. The reviews about the Ikea planner are about helping users to design a perfect kitchen but does not include everything you need.  We wanted to avoid making multiple trips to ikea during the construction phase.  The list that IKD provided was right on point and our contractors were thankful!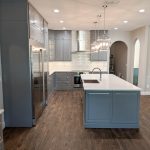 Did you hire a cabinet installer? If so, how was the experience?
We hired a general contractor because we wanted to change our kitchen layout.  Even though the contractors had never worked with Ikea kitchen cabinets, they perfectly followed the design plan from IKD
What were the obstacles to designing and installing your kitchen?
We wanted to change our kitchen layout as it was very closed off.  At the same time, be able to open the kitchen up to the main living area so we could have an open floor plan as well as put in a large island that we always dreamed about.  We needed to remove a wall that blocked the view into the living area.  This wall contained our plumbing.  We wanted to move the plumbing so we could have our sink and dishwasher in the island.  This also meant relocating electrical.  Wanting to remove a pantry closet and use Ikea's tall cabinets as a pantry instead was a clever decision.  Again this required removing walls and moving electrical.  All this would require extra down time for the kitchen but it was totally worth it.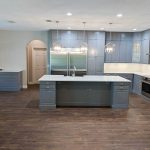 What were your principal concerns about your kitchen and its design?
Just envisioning how the kitchen would turn out once complete.  For instance, It is one thing to have it in drawing and another as a finished product.  We didn't want to have any regrets.  However when the kitchen was complete, it came out more beautiful than we could have imagined with the super-high IKEA Bobdyn kitchen look.
Were you influenced by HOUZZ or any design websites
Definitely HOUZZ and Pinterest.  No doubt, those 2 sites were the main inspirations of our design as well as some other sites.
The kitchen look was certainly nailed with this super-high IKEA Bobdyn cabinets all the way.
What were your top 3 design wishes?

Large island – We wanted a 9ft island and we achieved that. We wanted the dishwasher, microwave, sink and garbage drawer to be in the island
Nice Appliances –  One of the things we really wanted was a large refrigerator/Freezer but didn't know if it would be overbearing and if it would fit with the other things we wanted in the kitchen.  We were able to fit the Electrolux Icon 64" wide refrig/freezer units and we couldn't be happier.  It is definitely something everyone notices right away. In addition, we went with Bosch appliances for everything else.  (Range Hood, Drawer Microwave, 36" Induction Cooktop, Dishwasher and Oven)
No gap between the cabinets and the ceiling. On the other hand our ceilings were just over 9ft so we were able to use the standard cabinets with the 15" cabinets on top with deco strip. We definitely got the super-high IKEA Bobdyn kitchen we were looking to get.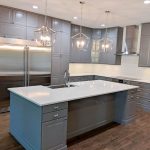 Clever storage design and custom island. It looks awesome!
What was your budget for your kitchen project?
We did not want to go over $45,000.  We came in at around $42,000
What countertop material did you use? Where did you buy it?
We went with Silestone Statuario Quartz.  It is exactly what we were looking for.  White with very light veining.
Your words of advice to future IKEA remodelers?
Use IKD!  It will save you tons of headaches since the design is all laid out for you with every parts list given to you including all the extra items that the Ikea Planner does not take into consideration.  It is worth the money and more!
This was such a helpful post! Thank you for sharing Nawaf!
And of course, we haven't left you empty-handed. We've designed  a lot of IKEA kitchens using tall cabinets: How to close the space between the ceiling, along with some extra tips to keep in mind as we create your online IKEA kitchen design.