For IKD customers Jeff and Natalie of Perrysburg, OH, their new IKEA kitchen was simply saving the best for last. "We had already remodeled our entire 1980s house, so installing this IKEA kitchen in a modern farmhouse style was our final project," Natalie explains. With a budget of $40,000, and inspired from kitchens found on HOUZZ, the couple worked with IKD's design team and general contractor Renovate (also in Perrysburg, OH) to remodel their previously dark and undersized kitchen (that didn't even feature a pantry!). "We wanted to open up our kitchen into our dining room. Therefore, taking down a wall was our number-one priority. After that, we wanted to maximize space keeping a great kitchen flow throughout," she says.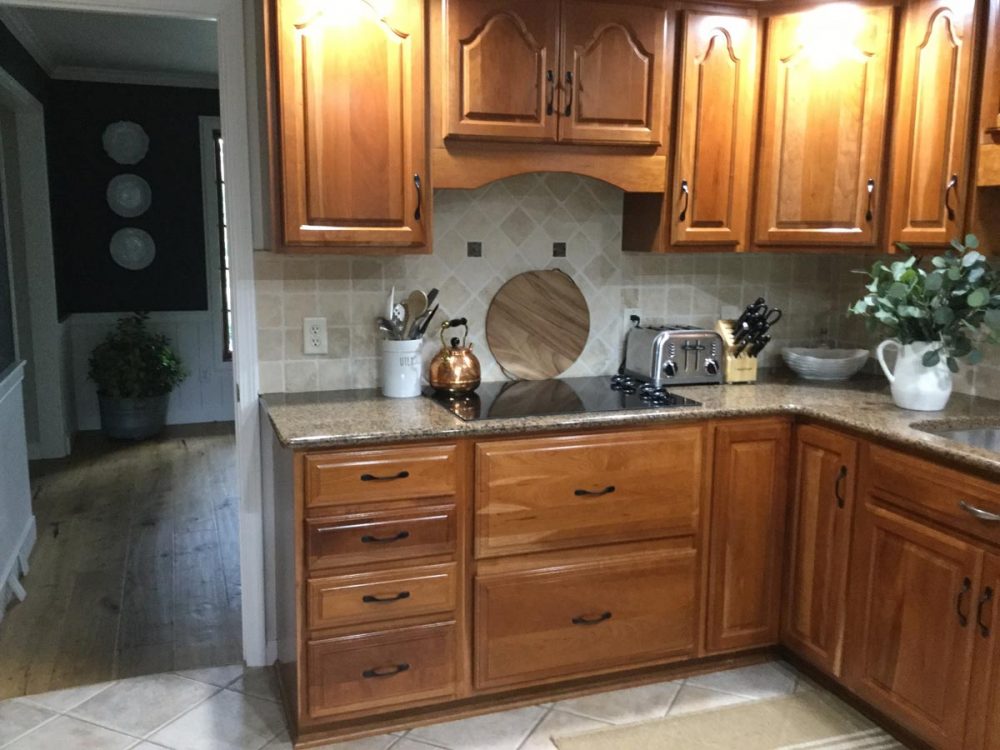 To accomplish this, the couple combined IKEA SEKTION cabinetry framework with 30″ white Supermatte Shaker cabinetry and white Supermatte Shaker drawers from Semihandmade, along with IKEA UTRUSTA shelving and drawer fronts in white, and white IKEA MAXIMERA drawers and pullout interior fittings. "We selected IKEA cabinets because our contractor suggested them. He's had IKEA cabinets in his house for 20 years and we agreed IKEA cabinets would work great in our kitchen!" she says. And by taking down a wall the kitchen went from roughly 270 square feet to 430 square feet – with the entire project being completed in a tidy 12 weeks.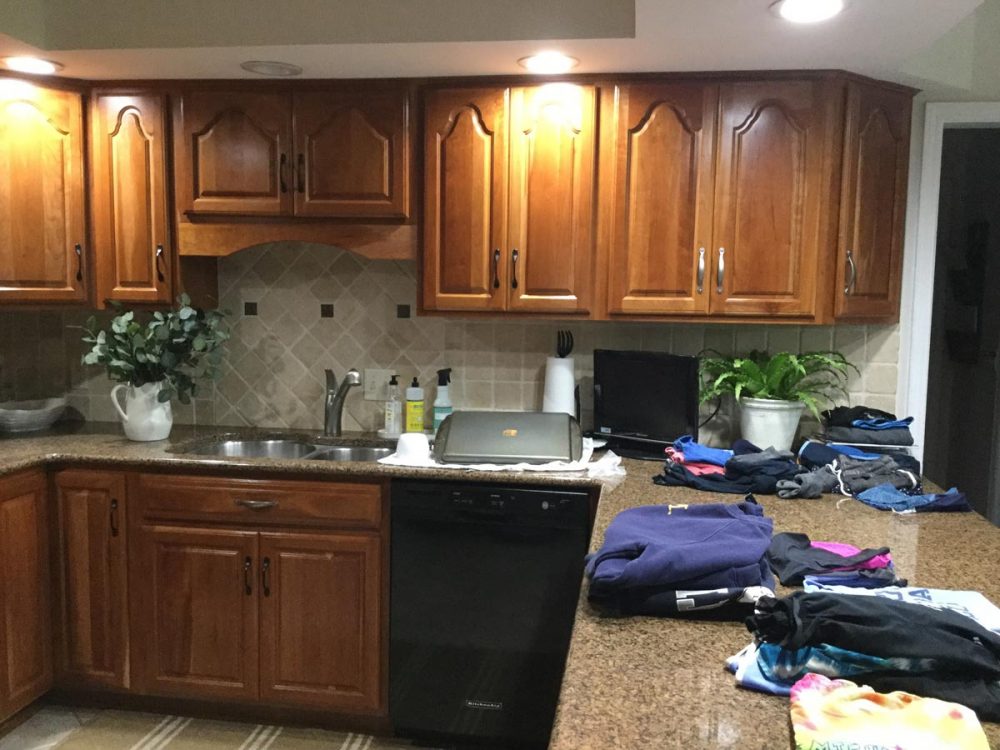 Natalie offers her assessment of the process and finished project."We really enjoyed making over our space to better fit our needs and to match the rest of our home. We really loved how much taking down the wall between the kitchen and dining room opened up the space and let in more natural light and absolutely love how our custom vent hood turned out," she says.
Let's see how Jeff and Natalie's kitchen was created!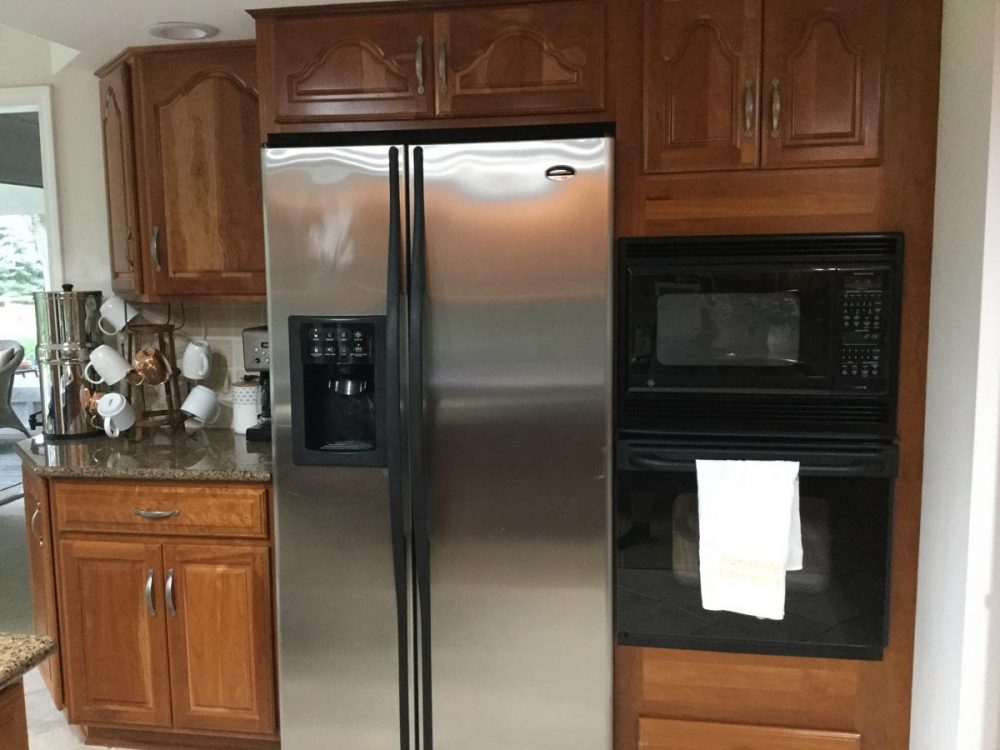 All in the Family
Jeff and Natalie had three very specific design requirements for their U-shaped kitchen: Open up a wall for more space and better flow; incorporate great cabinets at an affordable price, and have a modern farmhouse design to match the rest of the house.
Natalie explains: "We really wanted our kitchen to function better for our family of four. We have two teenage daughters who are involved in multiple sports and theatre, so we have crazy schedules – as do most parents."
Knocking down a wall not only added more space and efficiency, it also made the kitchen much more lively.
She explains: "We were able to let natural light into the kitchen from both the east side and west side of the house. Before the remodel, our kitchen was dark because of the color scheme and having only the one window on the east side of the house. Now our kitchen/dining room is full of natural light!" The couple chose Semihandmade's 30″ white Supermatte Shaker cabinetry and Shaker drawers along with white IKEA UTRUSTA shelving and drawer fronts and corner base cabinets with pullout fittings; white IKEA MAXIMERA drawers and pullout interior fittings.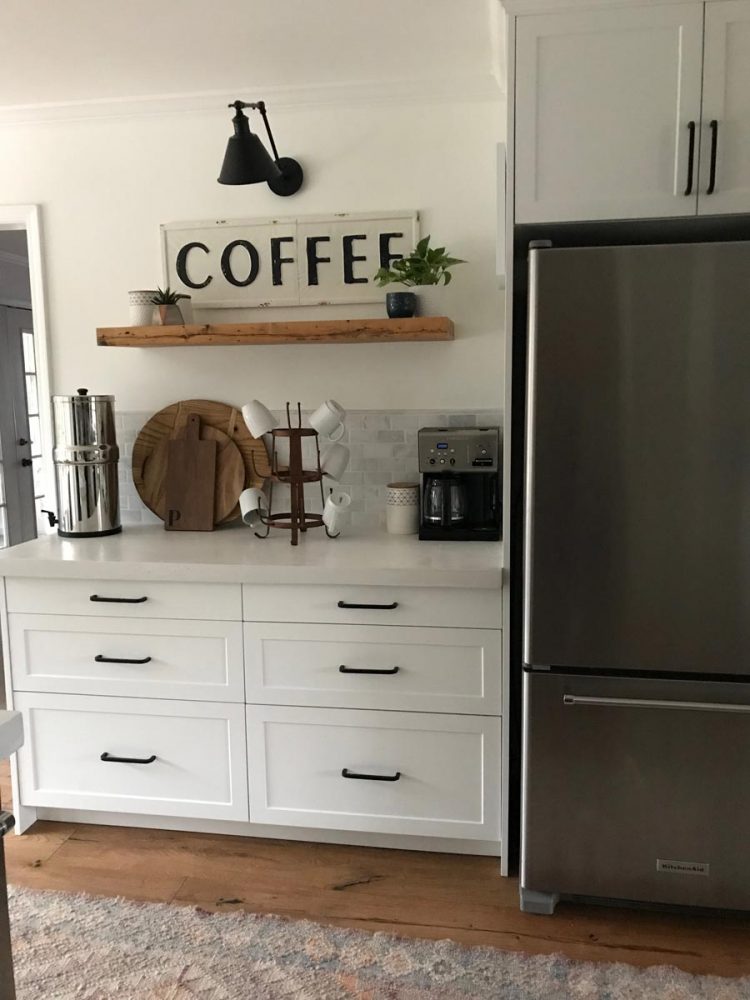 Complementing the cabinetry are cabinet pulls from IKEA and Semihandmade; Kitchenaid appliances, concrete countertops; a faucet, pot filler and chandelier from Wayfair; a backsplash with honed marble subway tiles from The Tile Shop, and lighting from HOUZZ. She adds: "The pantry used to be a coat closet, so by adding the cabinets we created a pantry with both pullout drawers for food and small appliances as well as space to store our vacuum and cleaning supplies. The beverage area was a small desk area with a cabinet before the remodel." Other elements include barstools and border rug from Serena and Lil, a runner from Rejuvenation and swivel chairs from Pottery Barn.
Interesting Elements
There are a couple of other interesting elements that make this IKEA kitchen unique. One element was pre-existing and the other was an addition. "The kitchen had a U-shape before we remodeled and I didn't really want to keep it – but that's what best fit the space," she says. "There wasn't enough room to do an island without having a good triangle flow for cooking." She concludes: "We also wanted to bring a warm wood element into our design and we did that with both our custom hood as well as our floating shelf above the adjacent coffee area. The custom vent hood was actually created onsite by our carpenters using leftover Baroque Forli European Oak Hardwood that is featured on our flooring."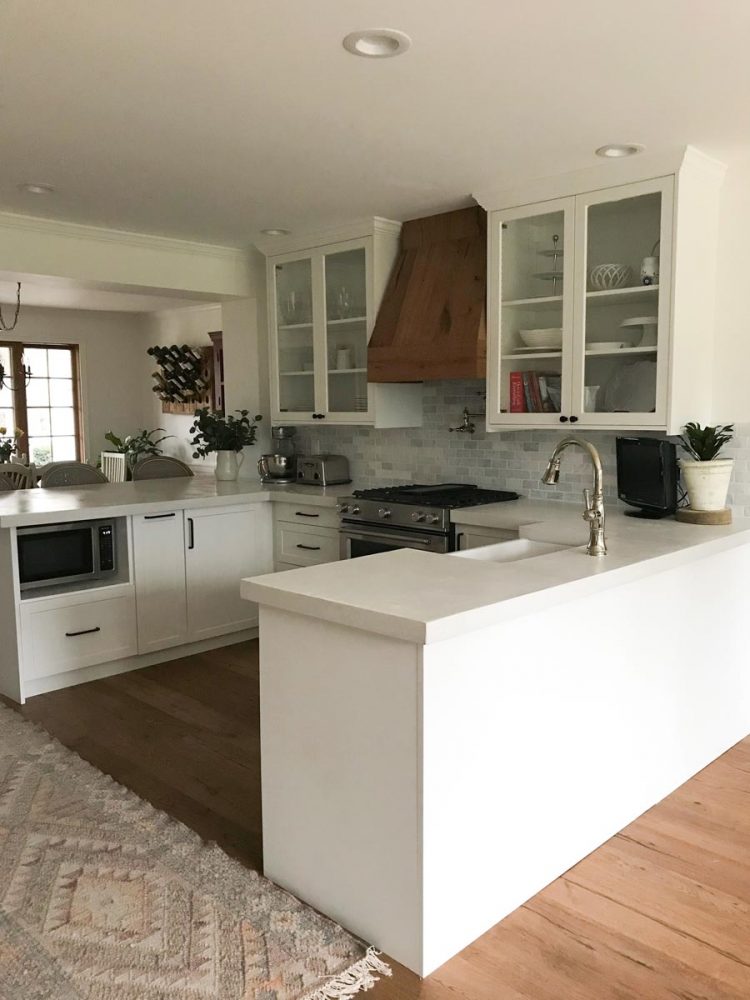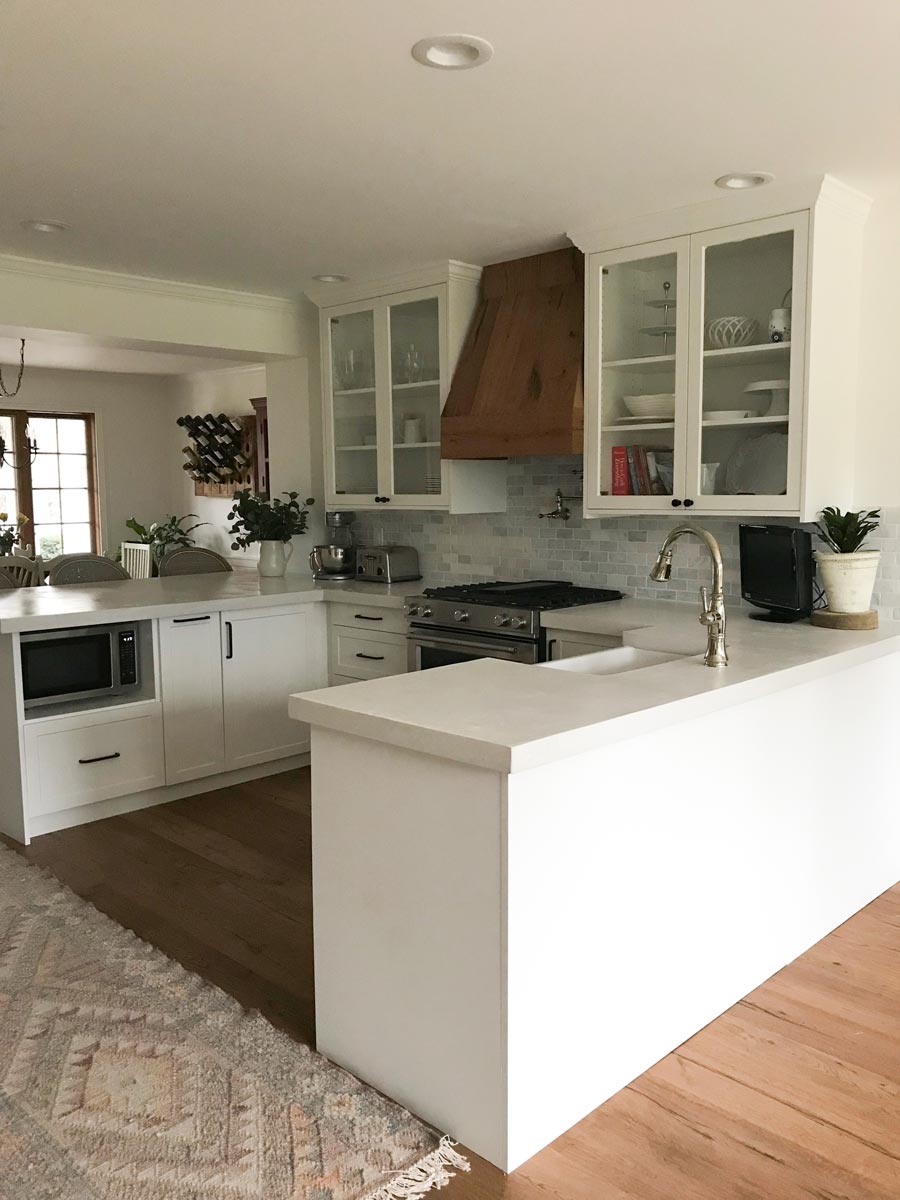 Service With a Smile
According to Natalie, the kitchen is the result of inspiration and professional design services.
"We pretty much knew what we wanted with our design, but looked at Semihandmade's Instagram for some clarifications. I also looked at HOUZZ to see some white concrete countertops," she explains.
"We selected IKD's design services because we wanted to incorporate Semihandmade into our design and they recommended IKD." She continues: "The design was made really easy with IKD. They used most of our wants and needs to design the kitchen. They were really helpful throughout! For the most part, installation went really well. We ran into a little snag with our concrete counter tops being a little too thick, but that was easily remedied by the contractor." She concludes with simple advice for future IKEA remodelers. "Go for it! IKEA cabinets are a great product for the money and Semihandmade will make them look high end!"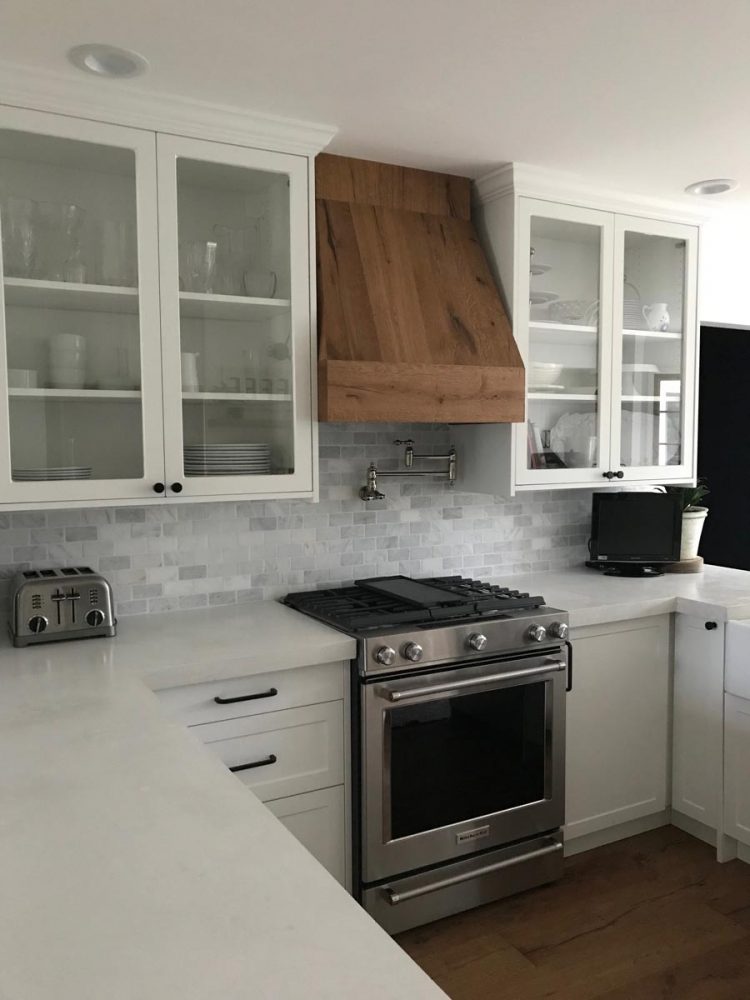 Learn more about how we can design your IKEA kitchen, bath and closet at https://inspiredkitchendesign.com.