If you're new to kitchen renovations, you're probably thinking that some of the kitchen fixtures are all the same and that the only big difference is the price. Especially with faucets.
However, a serious cook and and experienced IKEA kitchen designer will know that there's a faucet for every cook. This time, we're going to review the HJUVIK IKEA kitchen faucet that comes with a hand-spray add-on.
The HJUVIK is a very modern, industrial-looking faucet that could be better used at a secondary sink. Why? Because this is a faucet meant for vegetables or heavily-soiled dishes. The hand-spray is used to spray hard enough to knock off all the food or dirt before putting dishes in the dishwasher or get those veggies ready for the salad.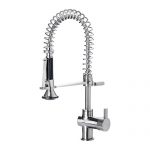 Hence, it has such force that you may have to face a few splashes here and there. This is why it's best suited for a secondary sink. If you want heavy-duty tools for your kitchen, the HJUVIK is a good choice for you.
Some of its main features are:
The detachable handspray makes washing and rinsing dishes easier, it's especially useful for dishes or pots that don't always fit in your sink.
It has a double function: use the handle to switch between a concentrated water stream and a handspray.
There's a function to reduce the waterflow without affecting the pressure.
Cost-effective: At $239.00, it easily competes with faucets of the same kind, that usually cost more than $400.00
Things that you should know before installing the HJUVIK faucet:
To be mounted in a 1 3/8″ hole in a max. 2 3/4″ thick sink or countertop.
Never use scouring powder, steel wool or a detergent that is calcium-dissolving, sour or contains alcohol or is an abrassive.
It can only be used in high-pressure water systems, not gravity-fed.
Use the FIXA 2-piece tool set to cut the copper pipes for your faucet or to get through a stainless steel sink, you'll need to purchase them separately.