For this recent IKEA kitchen, IKD customer Seth from Dallas, TX didn't just have a vision; he was a visionary.
"My desire was to create an IKEA kitchen that was functional, gorgeous to entertain in and felt like home," he says. The project was part of a larger remodel of his home – which included the bathroom – and required a lot of dedication to complete. In fact, Seth spent a ton of time researching images on HOUZZ, Pinterest and Google photos, and remained very involved throughout the entire process, assembling over 200 cabinetry boxes! "Getting photos of my vision was paramount to explain to the IKEA team and the IKD team as well as my contractors to ensure the project would be completed to my vision," he says. Specifically, Seth selected IKEA's GRIMSLOV cabinetry in off white along with IKEA's SEKTION cabinetry framework throughout the kitchen. To complement the existing Whirlpool refrigerator, he selected a Whirlpool gas stove, hood and dishwasher, and combined those with quartz countertops for warmth.
However, the project was not without its design challenges. He explains: "The kitchen went from an enclosed layout to completely open, so I lost many upper and lower cabinets. The sink was moved and is now in the island, and the loss of cabinet space needed to be made up with smarter storage and a more functional layout." He adds: "My goal was to create the most functional space in the floor plan. Since I was cutting out two walls and creating an open layout between the kitchen, dining room and living room, knowing exactly what the space would render like was important to me." And he relied on IKD to make sure that happened. "I wanted to use IKD to make sure I didn't miss a hack or tool to help with my experience," he says. He concludes: "This house presented the best opportunity to experiment with IKEA and save money on a total remodel home."
Let's see how Seth accomplished his vision!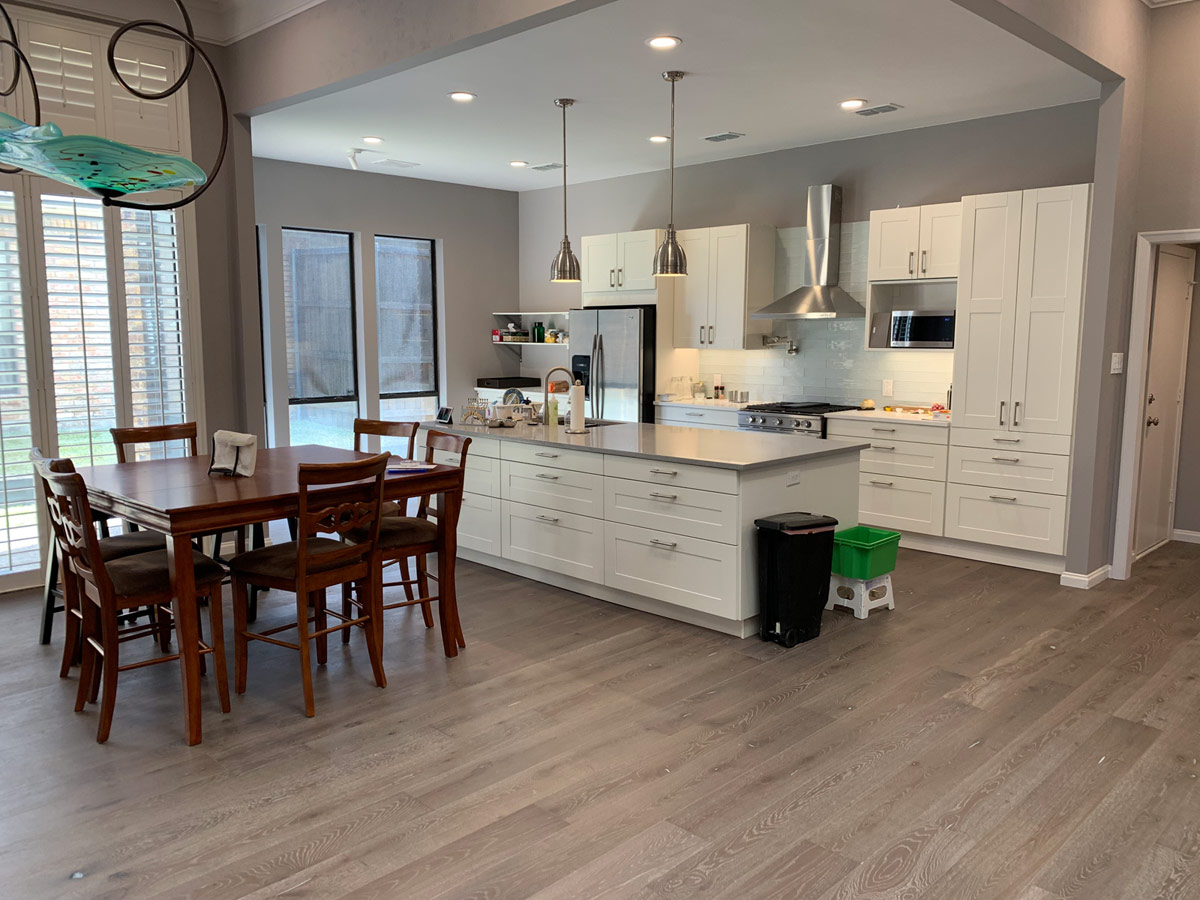 The Great Wide Open
Ironically, the open layout concept created space concerns for Seth. "The biggest obstacle with the IKEA GRIMSLOV cabinetry was setting the height of the wall cabinets, which would relate to the entire kitchen," he says. "Understanding how the 96" tall pantry would float on the wall and have the legs fit underneath was incredibly difficult." "That tall cabinet weighed over 125 pounds, and the feet that IKEA supplies are meant to support it vertically – not to move it a bit here and there. That's a lot of weight to balance and position. It was a very complicated task," he says. He continues: "My general contractor offered to install the cabinets for me on an hourly basis. I had built every cabinet and watched a few hours of videos online to ensure I understood what the experience would be like." Impressively, it took only about two days from laying out the cabinets to the finished install. He also notes there are elements that tie together the stainless steel look and the soft, white finish behind it, such as efficient under cabinet lighting. He concludes: "I wanted to ensure that the house resale value would be intact while using higher-end looks and features while staying within my budget."
Stored Style
Seth included a lot of storage options in his IKEA kitchen.
"After all the time and work, my favorite part has to be the storage. To have a kitchen that is designed to be so functional is amazing! All of the additional items in the kitchen – like the drawer accessories, are so much fun to explore. No more digging through the back of the pantry for the spices. I just open the drawer and there it is."
On the island there are ample drawers next to the dishwasher and lower cabinets under the sink, plus extra storage racks and an outlet for devices.
"You need a place for all the 'things' a family cooks, serves and uses in a kitchen space, so being as generous as possible to the size and layout of each cabinet and drawer was very important," he notes.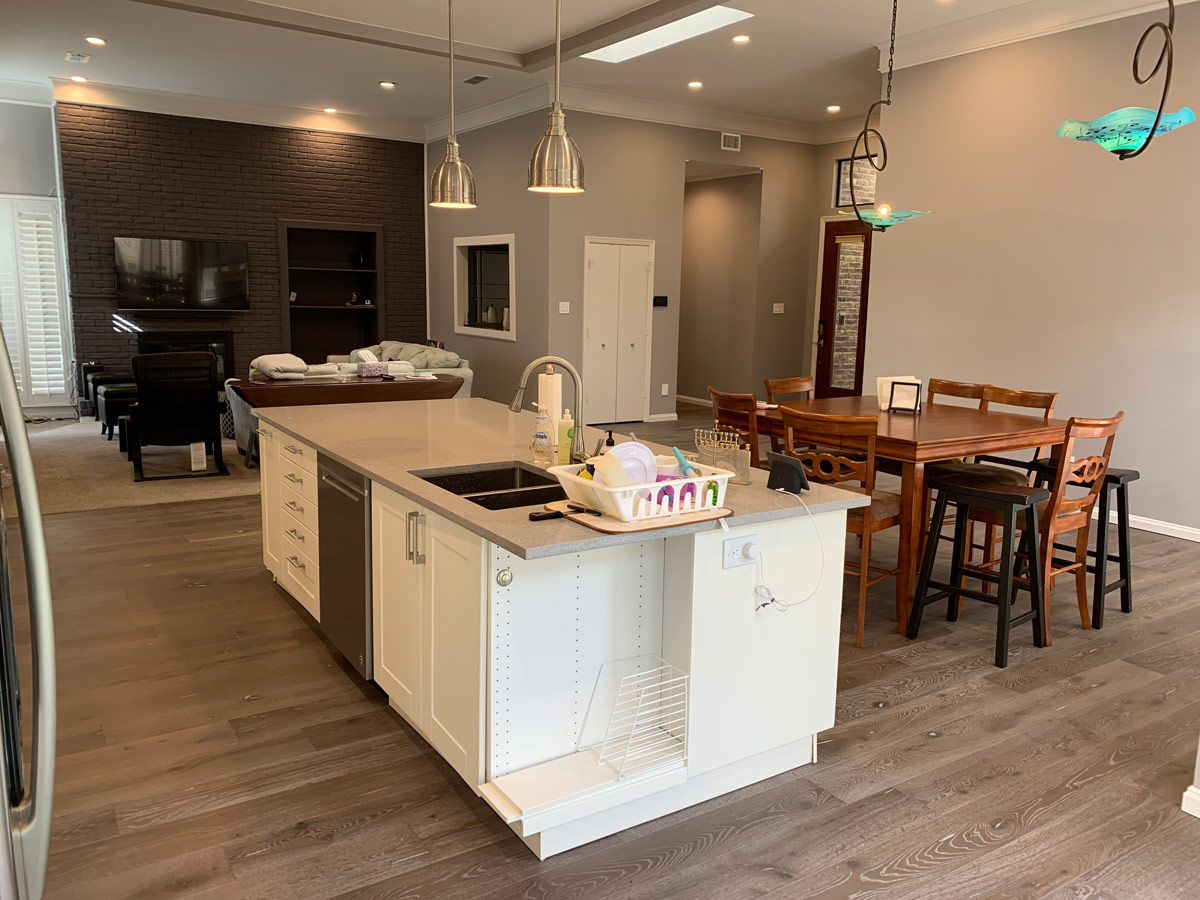 Working Together
Seth needed some expert guidance to complete his vision.
"I had designed the kitchen using IKEA's online kitchen planner tool, but the total purchases for the bathroom and the kitchen was over $10,000. My budget was $7,500 . I was able to return a few things and made a tweak to the IKD plan that got me closer to $6,500. For the price of the design, it was certainly worth their amazing team and shared expertise." In fact, this helped Seth focus on practical items, such as the number of side panels needed, where to put the trim, and how to incorporate the under-cabinet lighting. "My advice is to ask questions to both the IKEA staff and your IKD team and make the best decision and move forward. Don't get stuck in analysis paralysis," he notes.
Words Of Advice
Seth also offers tips for customers just starting their IKEA kitchen.
"There's a lot of trial and error involved. Be sure that whomever is assembling your cabinets understands what they're doing," he says. He also suggests relying on YouTube videos and to not be intimidated to ask questions at your local IKEA store. "I live about 10 minutes away from my IKEA store and made many trips to ask questions and look at the showroom examples. That greatly helped my project completion and final look," he says. "I cannot emphasize enough that this was a very doable project, but you have to understand the next steps of the process before you start. Directions are a very good thing to follow and read the whole way through before you begin!"
Learn more about how we can design your IKEA kitchen, bath and closet at
https://inspiredkitchendesign.com.