Customers often ask us if IKEA's kitchen cabinets are as inexpensive as everyone says. They know that IKEA's a great brand, and their cabinets are well-built — but how do they compare in price to Home Depot or Lowes? Or other brands? It's hard to know, especially since IKEA just offers their product pricing, with no assembly or installation costs. While the other retailers include both.
There's very little information or references about IKEA's complete kitchen cabinet pricing. So we've decided to help by showing a series of IKEA kitchens that we designed — and the actual cabinet costs. Of course all IKEA kitchens are different, but you'll get a clear idea of the price and design ranges.
#1: An IKEA Kitchen with TINGSRYD wood effect black doors
Our goal for this Atlanta home remodel was to create a big open space from two smaller rooms. The kitchen was all about the island — along with an L cabinet configuration mea- suring 166″ x 253″ along the perimeter. She didn't want wall cabinets but really liked floating shelves.The island is where her cooking and eating really happens. It includes a Nutid under-counter microwave and slide-in range, drop in apron front sink — and Renlig paneled dishwasher. All covered with a waterfall designed Ceasarstone quartz countertop. And a curious sink base cabinet with a drawer (https://www.ikea.com/us/en/catalog/products/S79040852/)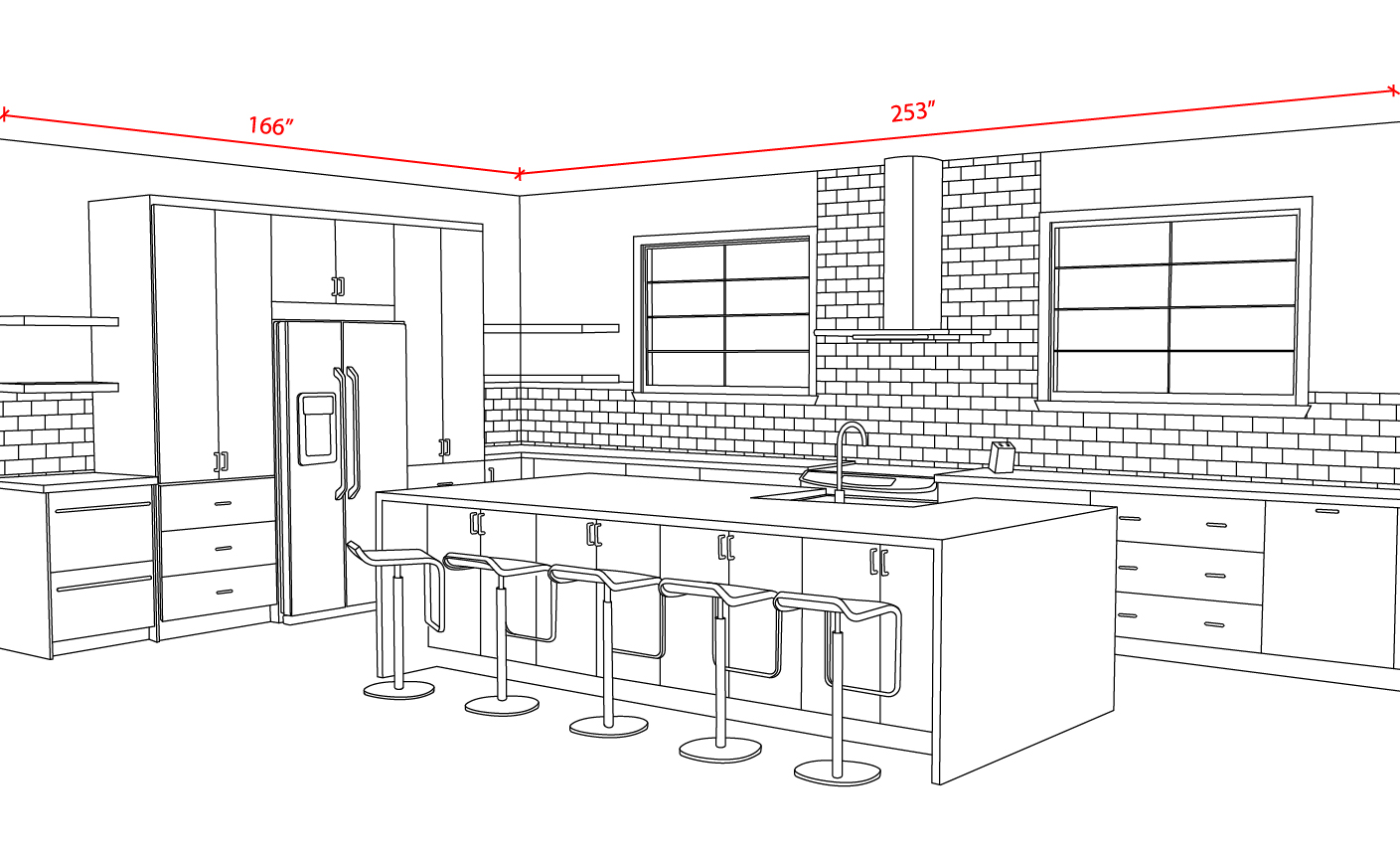 At the ends of the L are a pull-out Variera waste sorting bin — and the other an under-counter wine fridge. The combination of IKEA's Tingsryd doors, white quartz
countertops and subway tile — with all base drawer cabinets — was just what she wanted.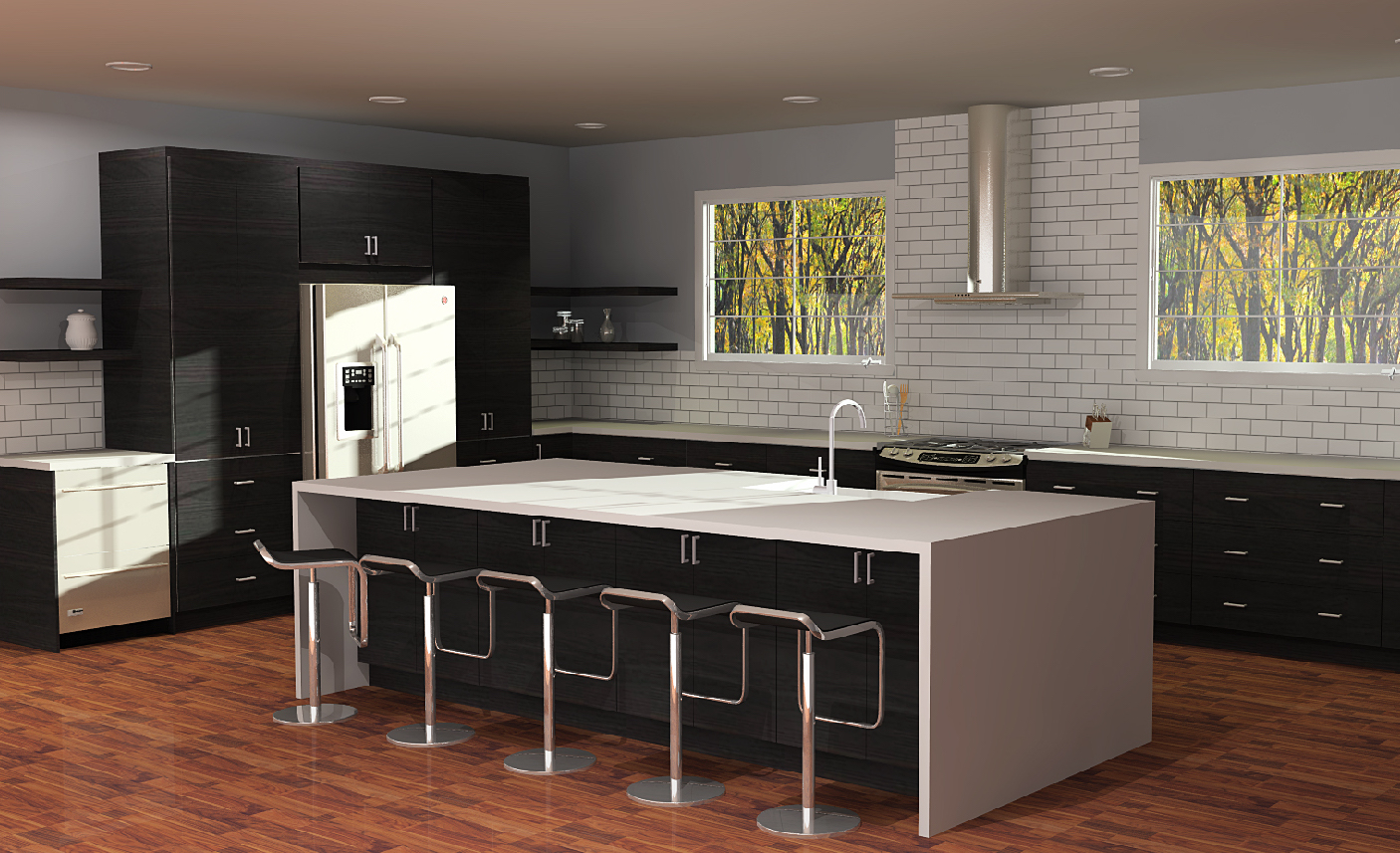 Other product sources:
Cabinet pulls, Range hood, Farmhouse apron front sink, Under counter wine fridge, Subway tile, Bar stools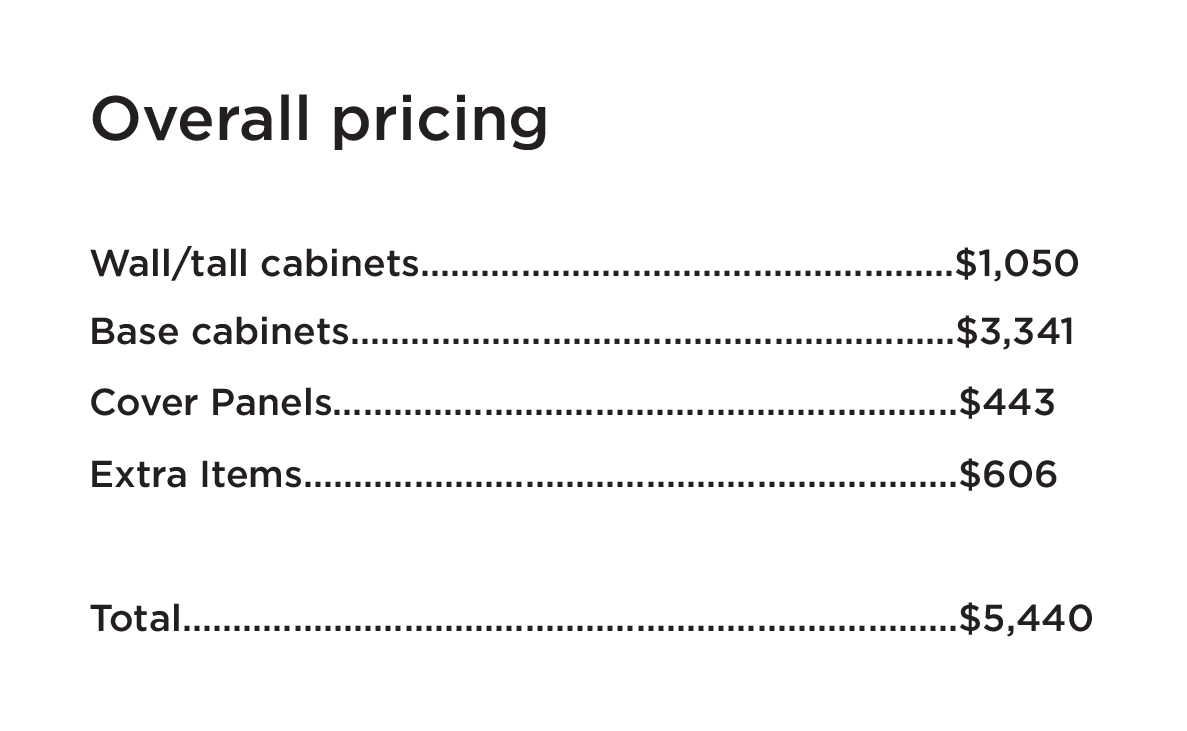 #2: An IKEA Kitchen with BODBYN gray doors
We designed this kitchen for a young family in the Tampa, FL suburbs. They wanted a compact kitchen to cook — and be with their kids while they ate. The angled peninsula did just that with a view towards the food prep areas.
Their kitchen was a U layout ( 155″ x "127 x 115″ ) with a 45 degree 75″peninsula.
There was a lot to store and we were just able to fit in 40″ high wall cabinets within the 94" ceiling height.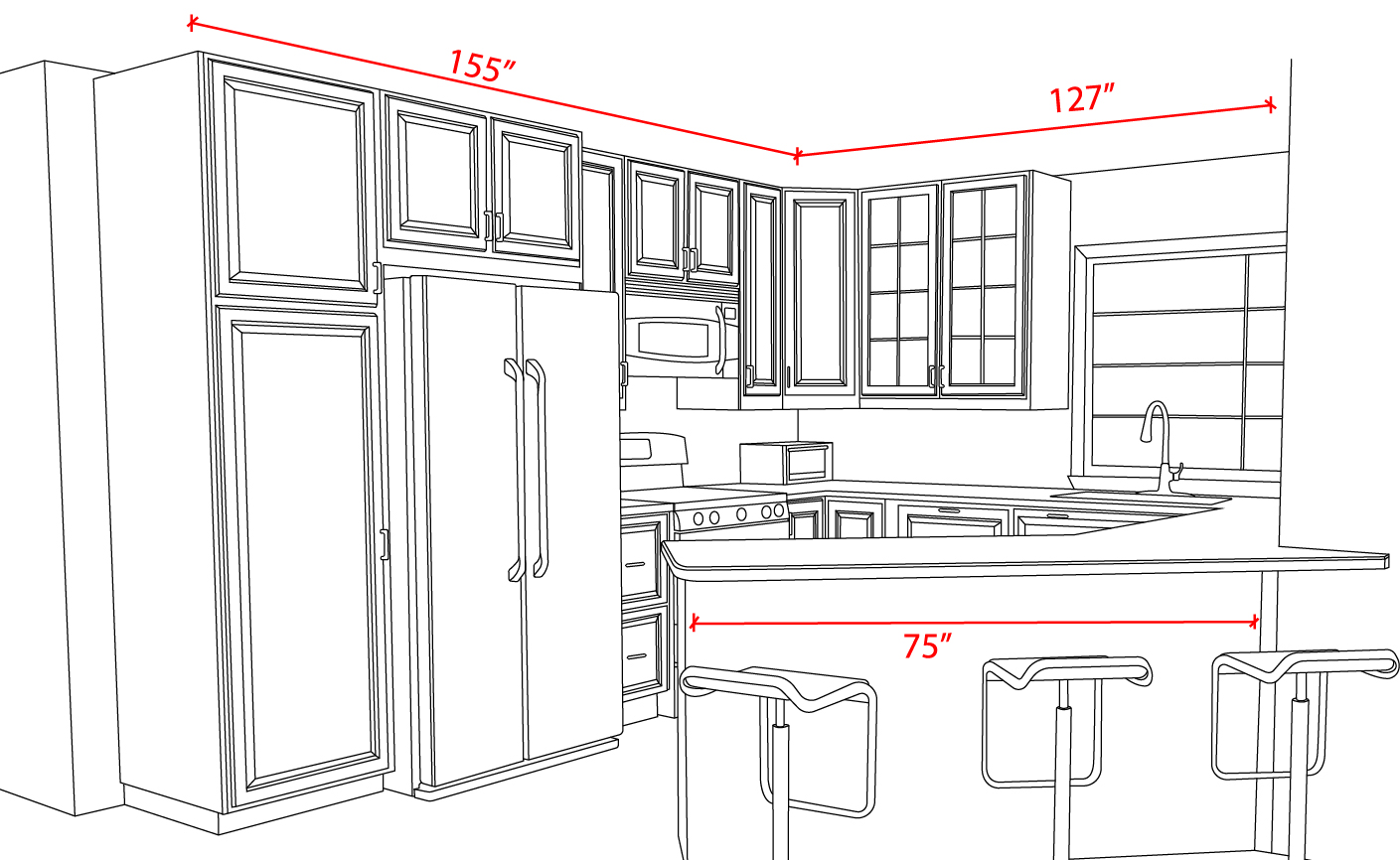 We designed two glass doors with OMLOPP lighting near the window for glassware. Abundant natural light worked beautifully with the recycled glass countertop; the color chips glistening differently throughout the day. They went full IKEA with the appliances — all Nutid.
The tall cabinet includes a pull-out accessory. They liked how the Domsjo double bowl apron sink looked and functioned. Tile or quartz countertop wasn't included along the backsplash because they wanted to frame the Bobdyn off-white cabinets with one of their favorite blue paint colors. We like how it offsetted the cabinets.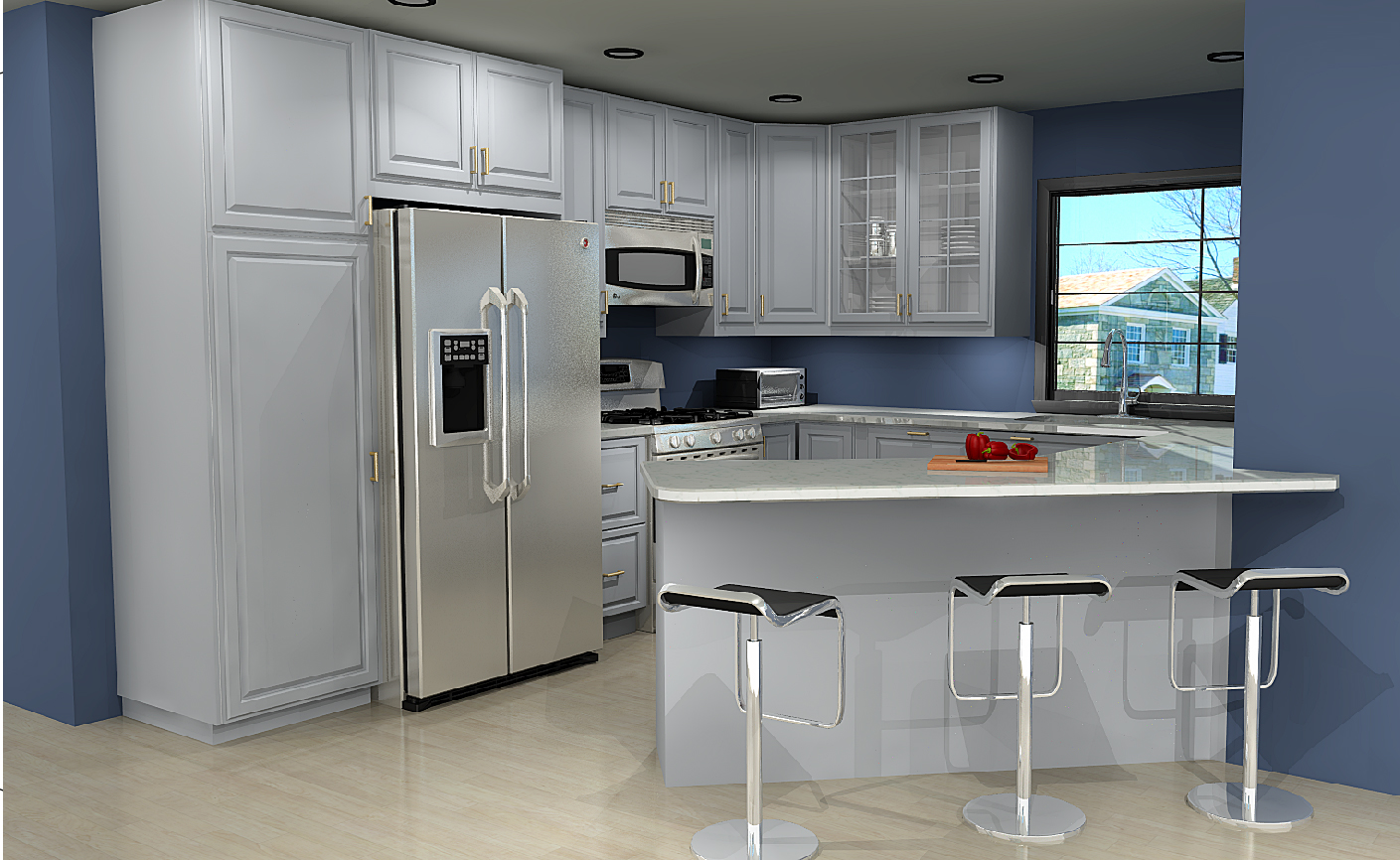 Other product sources:
Kitchen sink faucet, Bar stools, Cabinet pulls, Recycled glass countertop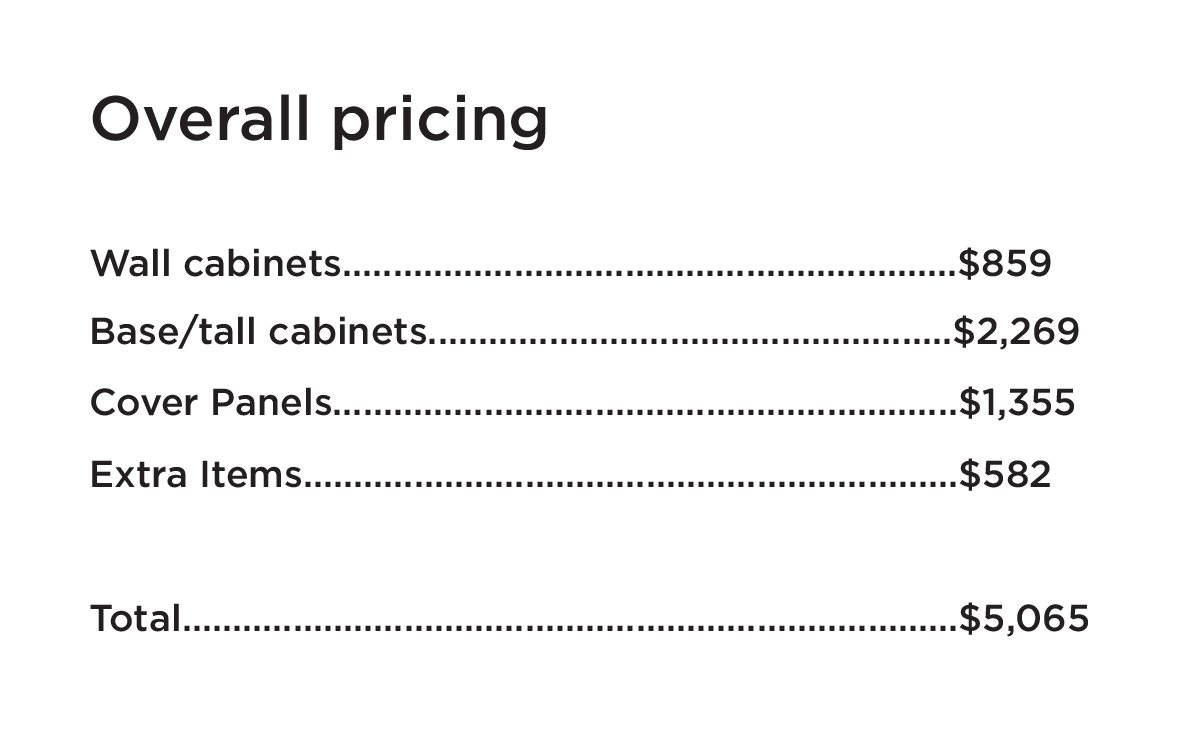 #3: An IKEA kitchen with BODBYN off-white doors
Here's a small condo kitchen in Santa Barbara, CA. Nothing extravagant here — just an efficient, well-lit kitchen with plenty of storage.Two design points were very important for this customer: that the oven was designed below the cook top and the refrigerator was built-in. OK, one more — she wanted a separate cooking area. The small peninsula was where most meals were eaten. She didn't want false doors along the back because they're too much work to clean. Ceasarstone white countertop and BODBYN off-white doors kept it all nice and tidy.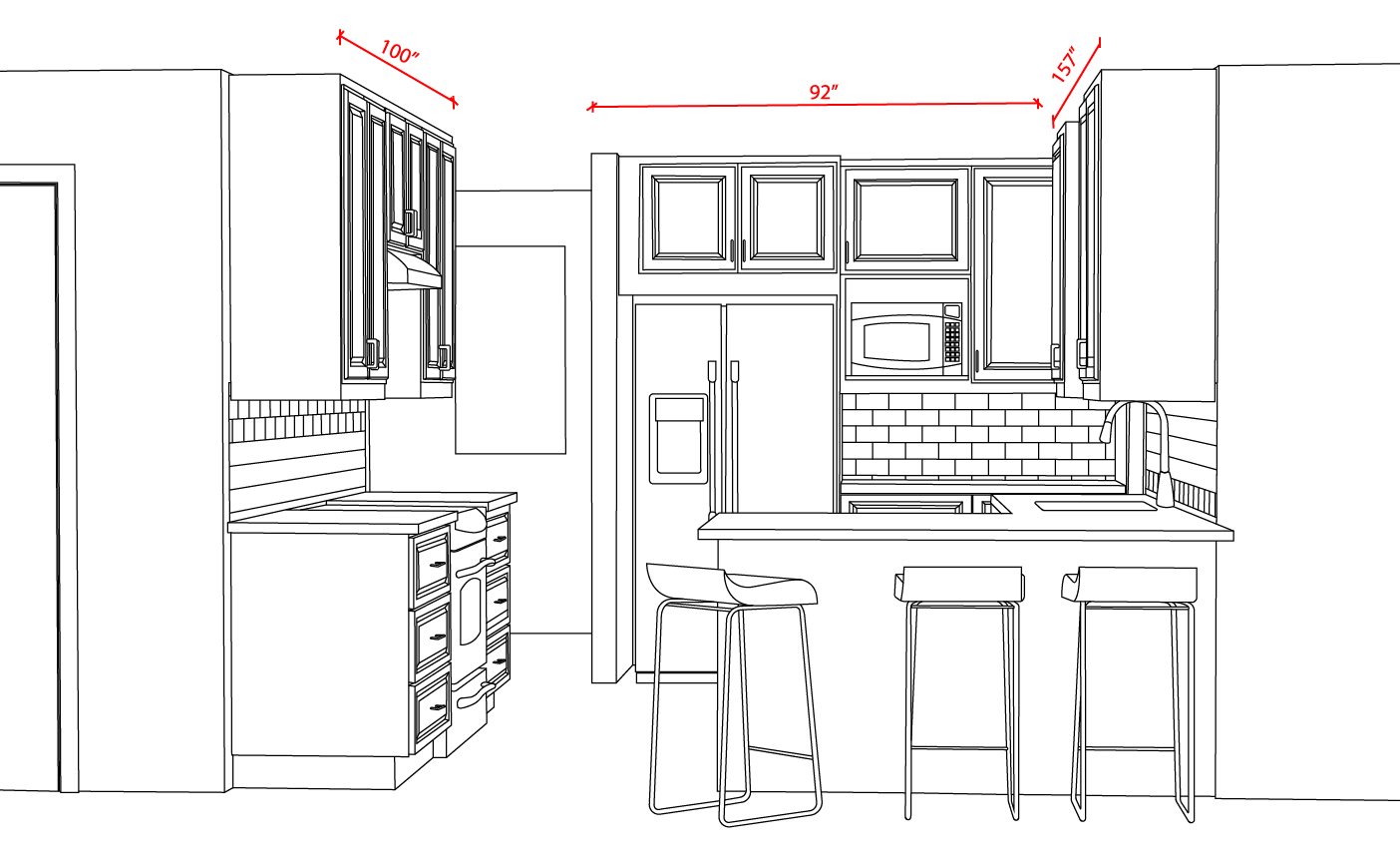 Appliances include an ELDIG cooktop, LUFTIG range hood, NUTID oven and refrigerator and BETRODD dishwasher The sink's a NORRSJON with a ALESKAR faucet.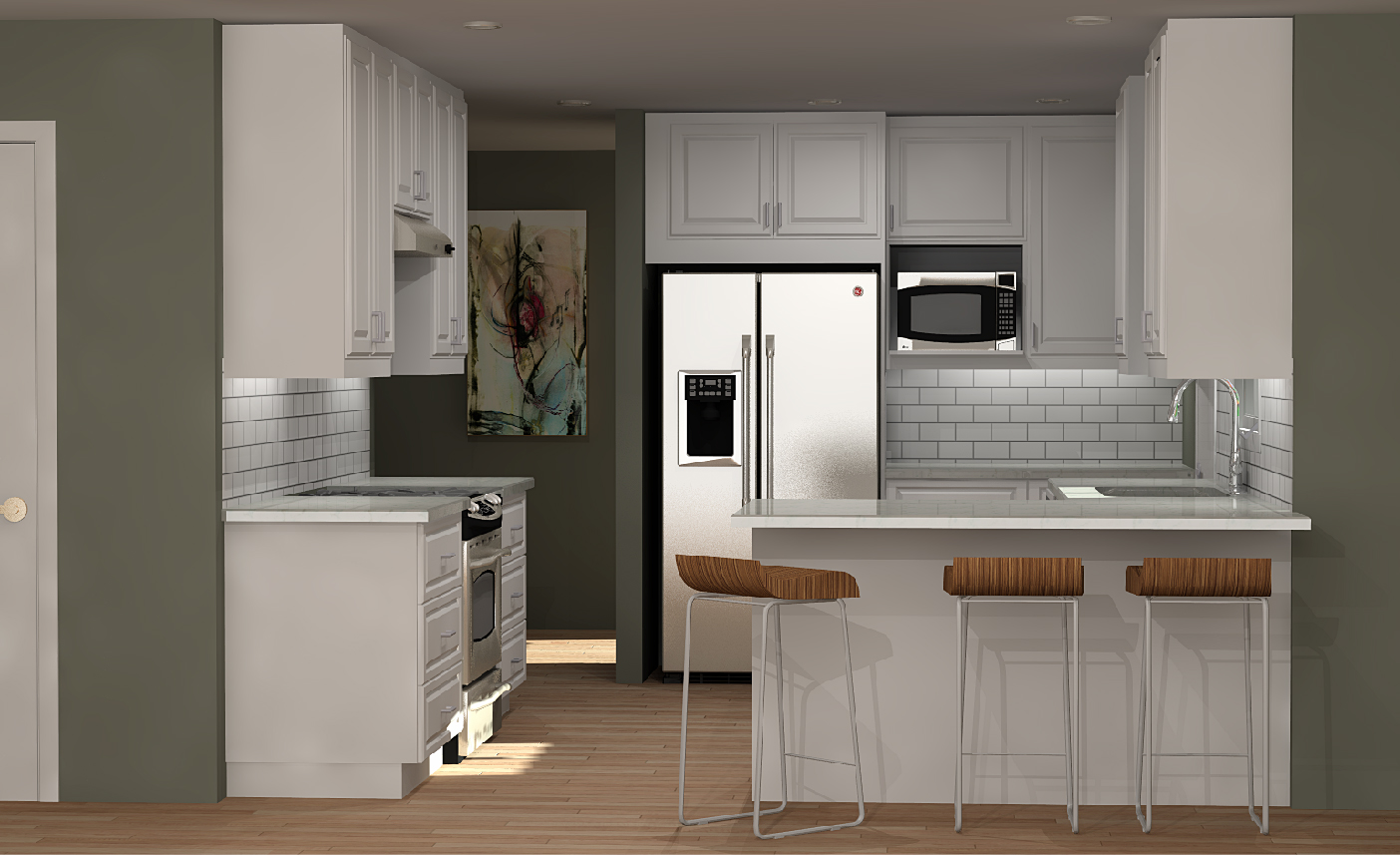 Other product sources:
Subway tile, Bar stools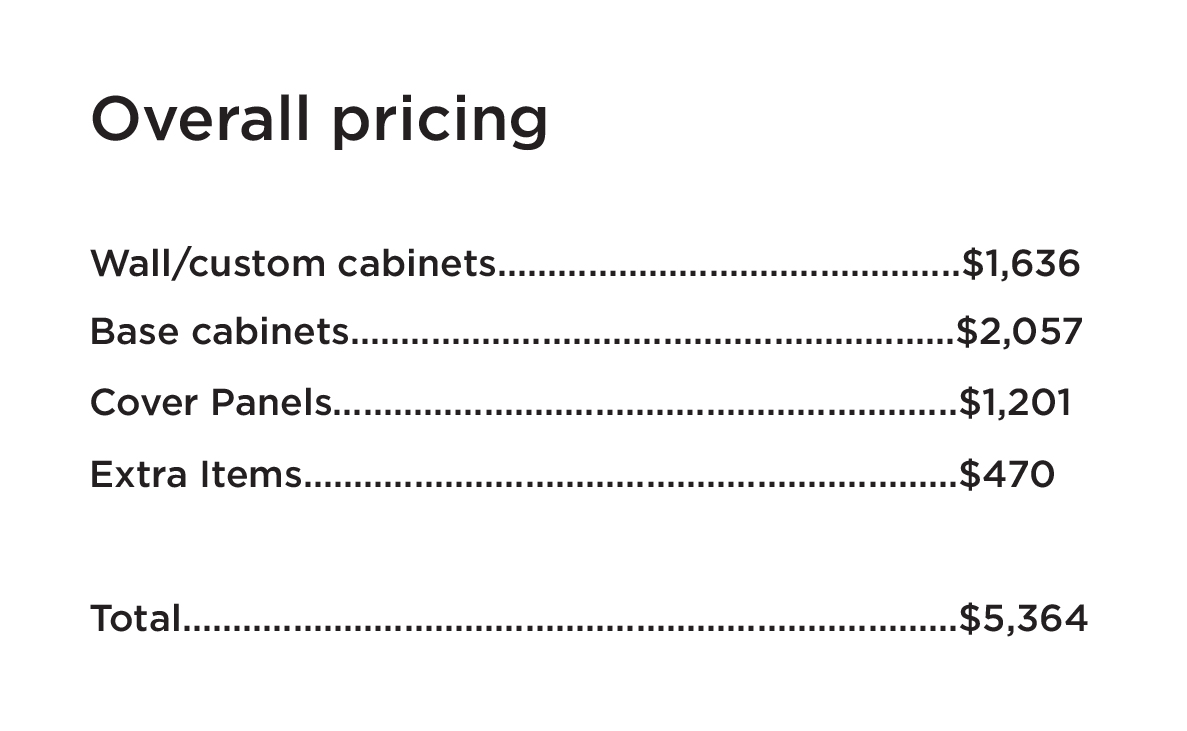 It's amazing how little IKEA kitchen cabinets cost. Our IKEA design team enjoys creating beautiful and functional IKEA designs — that are affordable.
Maybe you can't, or don't have the time, to visit an IKEA. You'd prefer to get your IKEA kitchen design online. In just four days. And work with our professional kitchen designers. We provide a simple online path to design, purchase and install your IKEA kitchen.
We'll see you next time with more IKEA kitchen projects and costs.