Is a small kitchen cramping your style? Not to worry, IKD is here to the rescue! We have the experience and know-how to help you maximize your kitchen's tiny footprint, even if you can't imagine how to accomplish it yourself.
Your older abode may ooze with charm, but if you're still living with a kitchen of yesteryear, you already know kitchen design concepts have changed dramatically in the past few decades. Kitchens of the past (even in very large homes) were usually minimized in favor of larger living spaces, but today's best kitchens are as much living space as cooking space. The kitchen is where modern families cook, eat, work, and play. 
But don't sweat it if you're low on square footage, because IKD's experienced kitchen designers know how make the most of the inches you do have. We're experts at creative space planning, and finding overlooked nooks and corners is just one of our many talents! Here are a few of our favorite tips for making the most out of a small kitchen (if you select one of our design packages, we may use some of these ideas to make your small space work like a big deal).
Think Vertically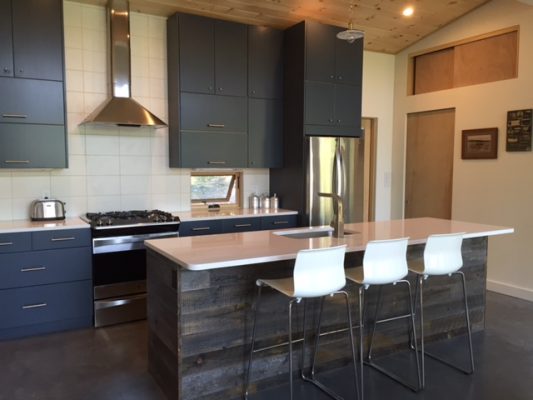 When floor space is tight, it's only logical to go up. Well-planned wall cabinetry and shelving (take wall cabinets to the ceiling for even more storage!) allow you to take advantage of precious space that might otherwise be wasted. Vertical storage will help keep the crazy clutter where it belongs: off the countertops and out of sight.
Island Living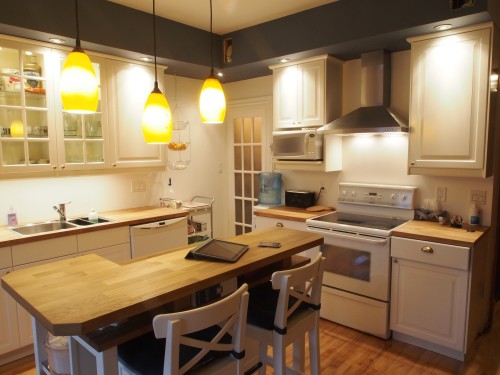 Even a small IKEA kitchen island will improve your life in the kitchen. These high-function beauties switch effortlessly from prep spaces to intimate dining stations. And, best of all, IKEA has almost limitless cabinet combinations to put together an island with the storage you need. Consider an IKEA kitchen cart on wheels that can be moved around as needed, such as closer to the stove for an easy-access work station or out of the kitchen altogether to accommodate a larger numbers of guests.
Turn the Corner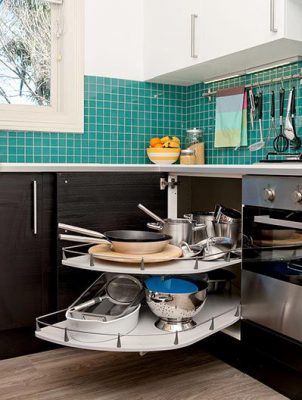 Corner cabinets allow you to capture every inch of usable space, and IKEA blind corner pull-out shelving is friendlier than the lazy susan styles of old, offering all the function without the pesky finger-pinching.
Get Creative with Storage Solutions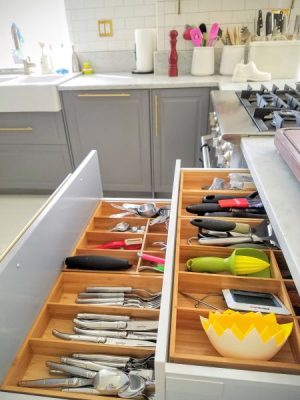 Space-challenged kitchens usually have limited counter space, so it is imperative to give everyday kitchen tools a home of their own. IKEA has loads of great storage and organizational solutions that are just the ticket for small kitchens. Pot racks, magnetic knife holders, wall-mounted dish drainers, and drawers-within-drawers are just some of the cool offerings that get your kitchen tools off the counters, but keep them within easy reach.
Organize, Organize, Organize
It's time to get real with yourself about what you use and what you don't. In a small kitchen, too much clutter can make cooking a chore and a bore. Cull your kitchen collection and toss out any one-hit-wonders that are simply gathering dust. We can't do that part for you, but we're here for moral support and to cheer you on if you need us!
Want to see how IKD can help you design a new IKEA kitchen that offers all the style and function of a large space? Click here to get started today!