Don't be scared of an IKEA kitchen remodel! Discover great designs and areas where IKEA kitchen cabinets can be used – and at a much lower price. Each year, Halloween seems to come with more and new kitchen-related horror stories; whether it is a haunted restaurant or a kitchen design that doesn't suit you at all.
We took advantage of this spooky month and asked our designers to describe the most frightful project they ever faced! Surprisingly, they had more than one story to share:
Don't let these IKEA kitchen design disasters happen to you!
At the beginning of this year, a customer from Texas wrote in about an IKEA kitchen design she was eager to try. She planned the kitchen layout and chose the door style and handles. She used IKEA's Home Planner to get a preview of her kitchen and item list. When the installation started, they all realized it was an incomplete design! Cover panels were missing and cabinets were uneven because of an angled wall in her kitchen that was not properly drawn. This monstrosity was redone with our help and with what she had already bought. A good start for a professional IKEA kitchen design is to read 5 reasons why IKEA Home Planner won't give you a professional design or  How to make custom-sized IKEA kitchen cabinets.

Chuck, designer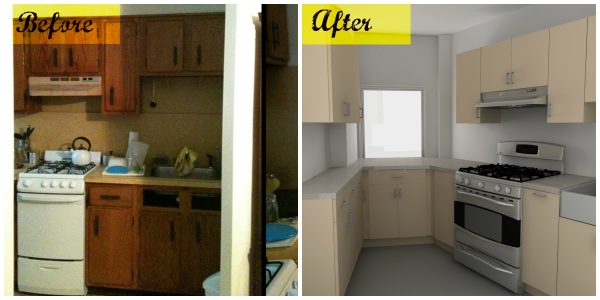 Oh, yes! That messy kitchen we remodeled for a customer a few months ago. She was looking for an IKEA kitchen remodel. As usual, we asked for pictures of her actual kitchen. I couldn't believe my eyes! That kitchen looked as if it had been hit by an earthquake. The whole countertop was uneven, cracked and dented. Cabinet doors were no longer aligned. It was a complete chaos. Luckily, we now have an eBook that can tell our customers to prevent catastrophes like that one: How and where do I use IKEA kitchen panels?

Frank, designer