The SOFIELUND doors in a light walnut effect with white glass & the RUBRIK doors from IKEA were discontinued by the manufacturer after the date this article was published.
From a party at home that simply rocks, to not having to worry about driving back home, a minimalist home bar offers plenty of advantages that go way beyond the aesthetics of it. While some may be intimidated when picking out furniture and accessories, creating a minimalist home bar that is as attractive as it is functional is relatively easy. Our option done with IKEA cabinets fits in any kitchen, the overall cabinet budget is $1,250.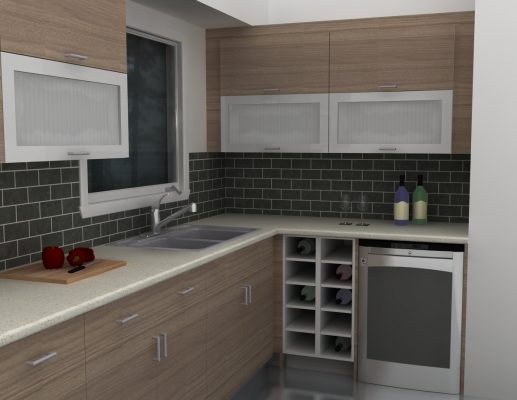 In order to plan a home bar, you need to consider all the things that can be included at this area:
Storage space for: silverware, glassware, drinks and mixers, utensils, smaller appliances, cups, napkins, etc.
A cleaning area nearby (a smaller, secondary sink is key).
Counter space as a prep area.
Tips from our designers:
Door style & color scheme: Although you can choose any color scheme that you would like for your home bar, using a modern or contemporary color palette will truly tie the look of your bar together. When picking out colors, try to pair neutral shades with just a touch of vibrant color. We used SOFIELUND doors in a light walnut effect with white glass RUBRIK doors.
Functionality & convenience: Wet bars, like our featured example,  make cleanup easier because they have a built-in sink; built-in ice machines or wine coolers, which add convenience by eliminating the need to travel back and forth to the kitchen.
Planning & sketching: Draw a simple floor plan for the minimalist home bar after taking measurements. This will help with visualizing the wet bar in the designated space. See our example for a reference: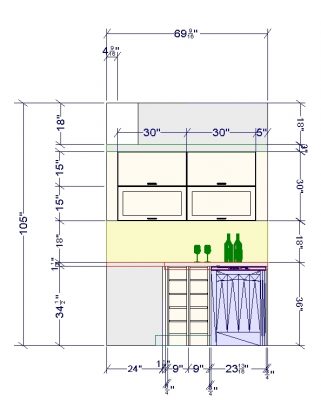 Adding a minimalist home bar can be a great weekend project that can add value to your home. You can get started with your design by clicking here.