Bojana and her husband have made Bozeman, Montana their home for many years, but they weren't ready to embrace the rustic design aesthetic that's so prevalent there. When they decided to build a new home, Bojana knew she wanted a major kitchen update, and she knew just where to go to find the clean, modern lines she loves—Ikea.
As Bojana's home is brand new, there really aren't any "before" shots, unless you count the photos they took during construction. Here's the kitchen in progress: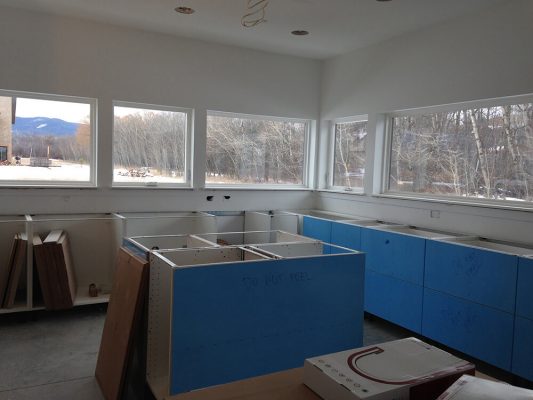 (Aren't those windows fantastic? So much natural light!)
And here's the finished product—no more cramped, rustic kitchen for Bojana!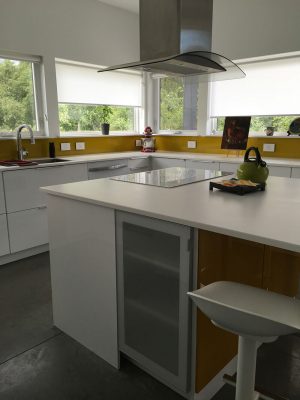 Of course, this gorgeous kitchen didn't come together immediately. Because they were building their home, there was a long wait between designing the kitchen and actually putting the plan into place.
Additionally, Bojana and her husband hoped to take advantage of one of Ikea's sales when they were making their purchase. (As it turned out, Ikea initially refused to give them the sale price on their kitchen, but eventually honored the discount, giving them 20% off in store credit. Bonus!)
Three Goals for the Kitchen Design
Modern Design

  As stated above, Bojana isn't a fan of the rustic lodge style for which Montana is noted; European by birth, she and her husband are attracted to a more modern design, white and bright and shiny.

Space for Entertaining

 Bojana and her husband love to entertain, and even when their kitchen was cramped, she found that her guests always gravitated there, making it difficult to prepare food. She loves the open and spacious design of her new Ikea kitchen.

Additional Counter Space

 Bojana's old kitchen lacked sufficient counter space, but the addition of an island has created ample space for meal prep. She and her husband can cook together without driving each other crazy!
"I grew up with a white and shiny kitchen; even though we lived in what people call a "communist country", the design was very important to us. Our kitchen was very modern," Bojana said. "When we go to kitchens here, everything seems bland and boring. Everyone wants stainless steel."  
Implementing the Vision
When they decided to go with an Ikea kitchen, Bojana attempted to use Ikea's home planner, but found the program to be time consuming, full of glitches, and not very user friendly. Frustrated, she Googled "Ikea kitchen design", and found a few companies that provided design services; after making a few phone calls, Bojana decided that she wanted to work with IKD.
Bojana was very impressed with the thoroughness of IKD's design list, as were the employees at the Ikea in Salt Lake City. "When we went to Ikea, they were impressed! They kept saying, 'This is the most detailed items list we've ever gotten from anybody, and the most accurate, too.' They wanted to know the name of the company," Bojana laughed.  
They chose standard two-drawer cabinets with RINGHULT white fronts and BLANKETT handles. Bojana's insistence on white cabinets coupled with the natural light pouring in from the windows on every wall make the kitchen feel airy, even in the middle of a harsh Bozeman winter.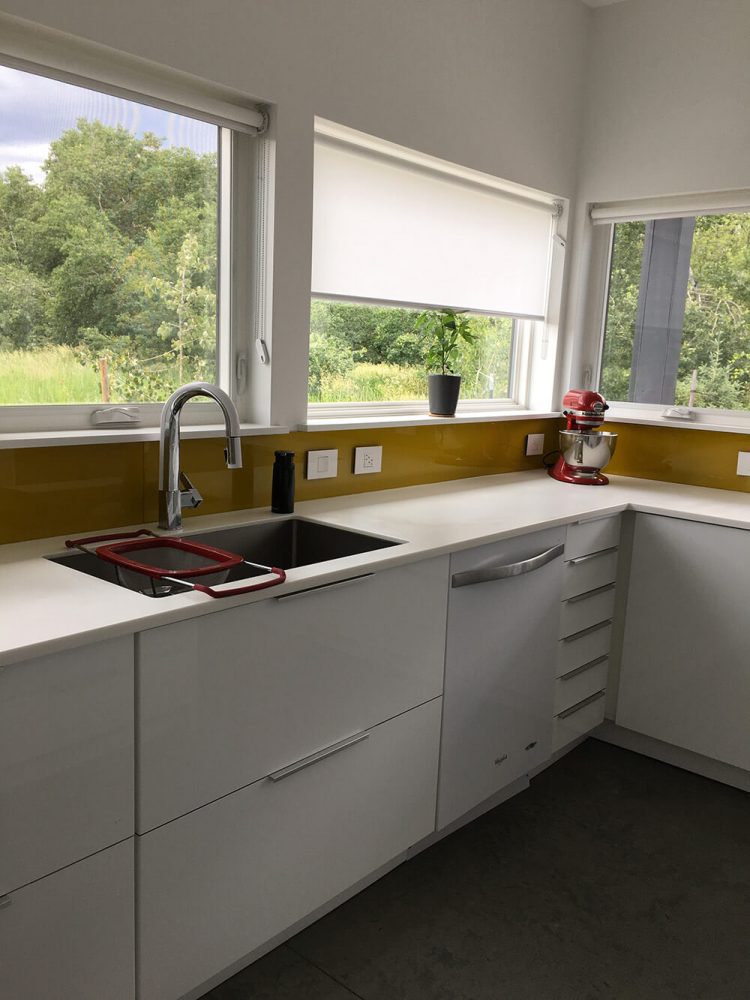 The dining table is an Ikea find as well– it's a GLIVARP glass-topped table. The fantastic light fixture isn't from Ikea– it's a pendant by Elan, and the model is Tintori. The combination of the two really bring Bojana's vision of a bright, modern kitchen into reality.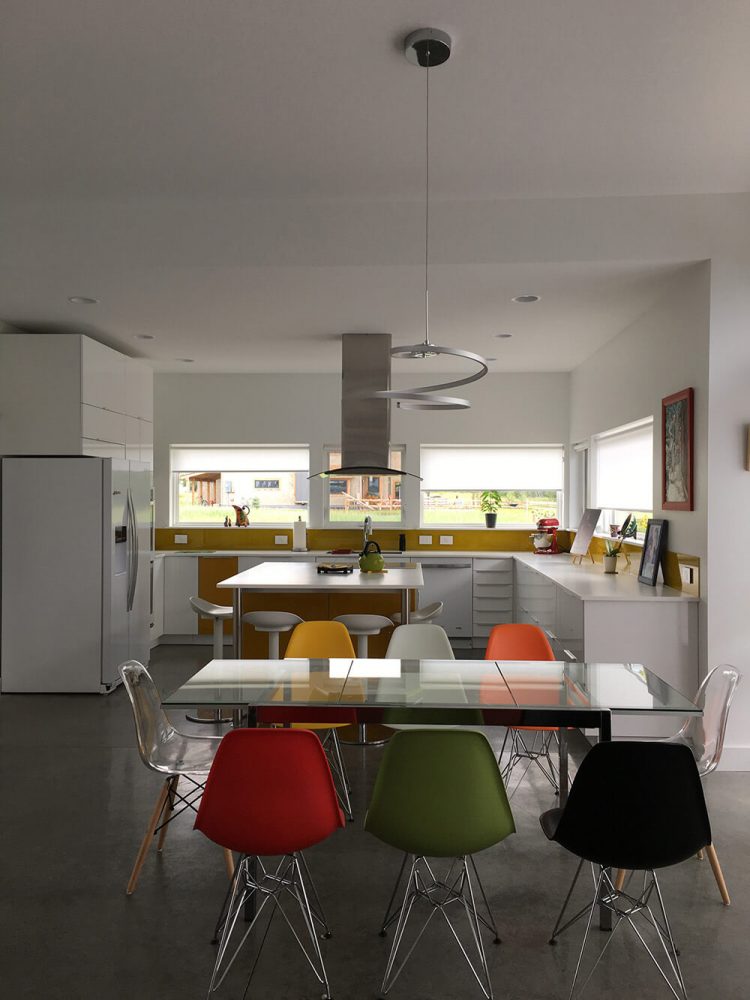 Bojana's range hood is a Whirlpool purchased from Sears. She had hoped to purchase a double oven from Ikea, but, unfortunately, they stopped carrying the white version just prior to her shopping trip. However, she found an option from Whirlpool, so she didn't have to compromise her vision. They chose a flat white LILLTRASK countertop, and their cooktop is a ceramic NUTID.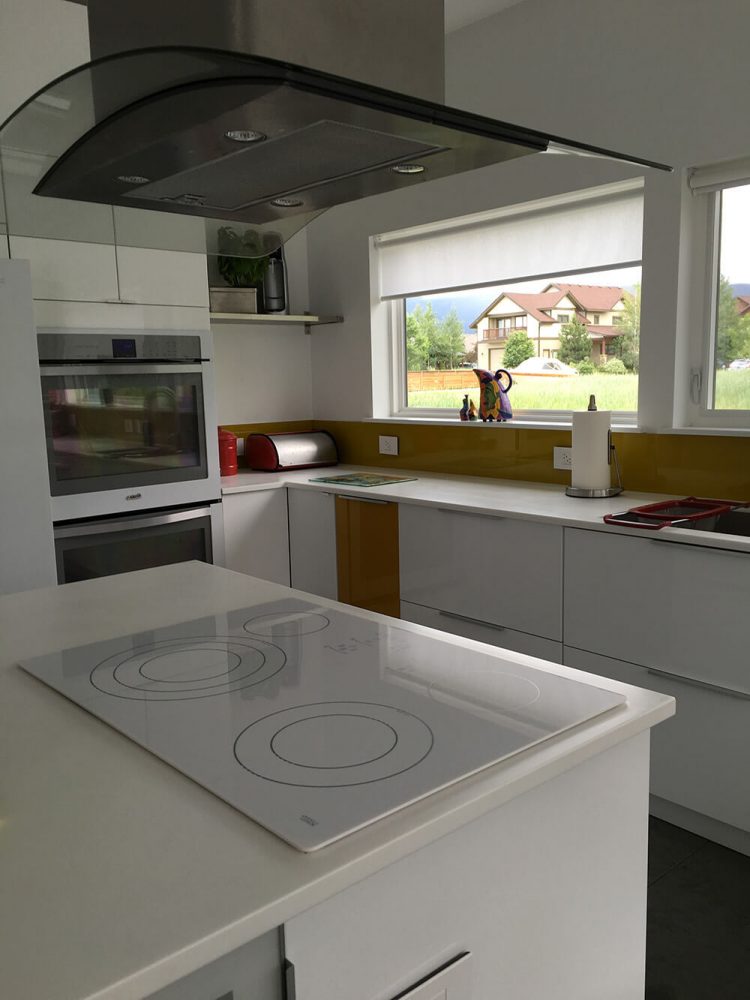 Overall, Bojana can't speak highly enough about her experience with IKD in general and her designer specifically. Her designer's knowledge about Ikea and their kitchens made their project a breeze— Bojana simply had to tell her what they wanted, and she made it happen.  Bojana was familiar with Ikea, and she recommended that you try to visit a store to get a feel for what they have to offer before you start to make decisions about your design, but even a quick search on the website is better than nothing. However, if you're really not sure what you need, your IKD designer can help you create the kitchen of your dreams.