Close your eyes and imagine you've inherited a historic yet swanky condo/apartment in Chicago with a kitchen that has a major case of DDD:
The solution to the DDD threat is obviously a new IKEA kitchen. (This is the IKD blog after all).
But now factor in:
You can update the kitchen, but you have to do it before you can move in
You live in Maryland at the moment and flying back and forth to Chicago or living in a hotel is out of the question
Your nephew is an architect and you're mildly concerned he'll scoff at your choice of IKEA for your Chicago kitchen
What would you do? If you're IKD customers Mitzi and Chris, you work online as much as possible. And it pays off because you go from DDD: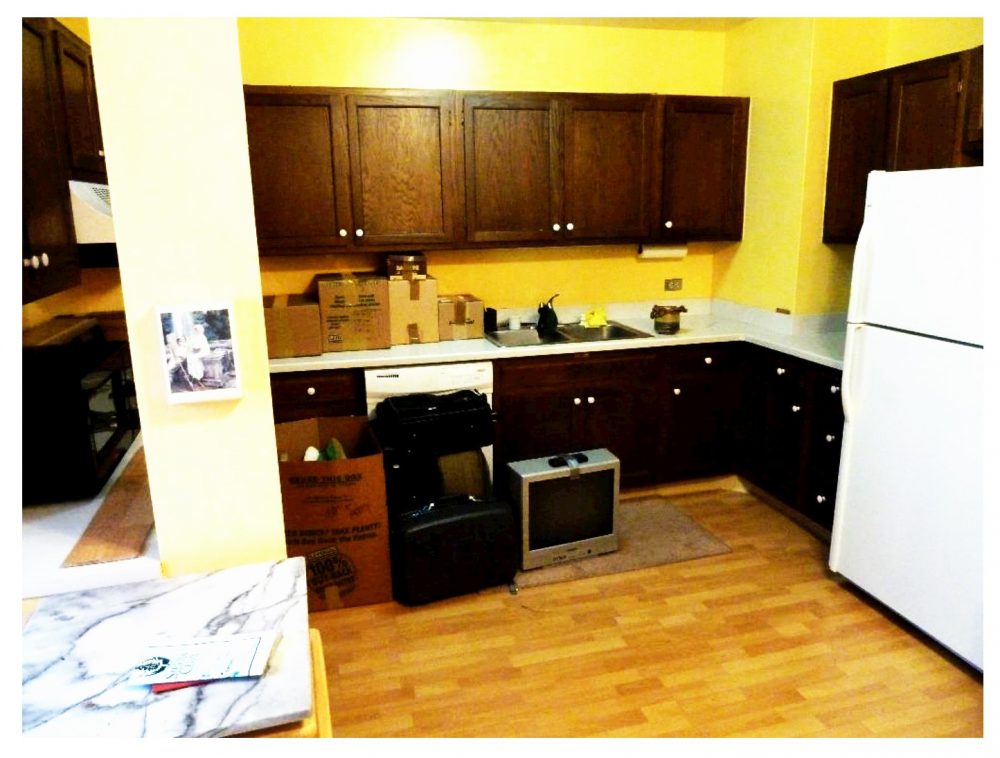 To this: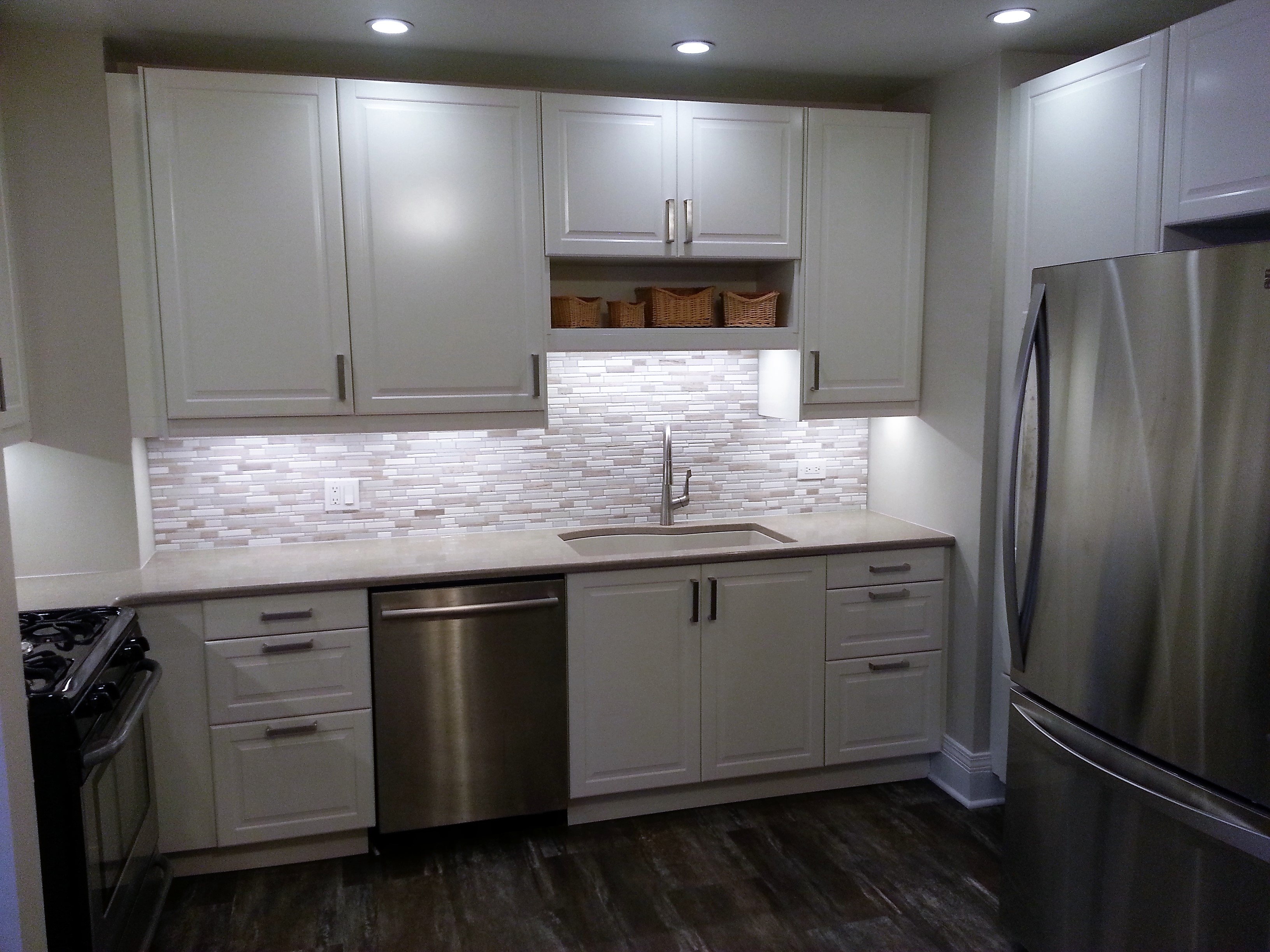 In other words, you get an updated IKEA kitchen that banishes your Triple D problem to The Upside Down.
And your brother-in-law exclaims, "What happened to my mother's dark and dingy kitchen?"
There are many interesting things to learn from Mitzi's IKEA kitchen design so let's dive in.
Solutions for the top 3 design challenges for this Chicago kitchen
Mitzi and Chris knew IKEA was the solution to their kitchen problem, but they floated it by their architect nephew just in case.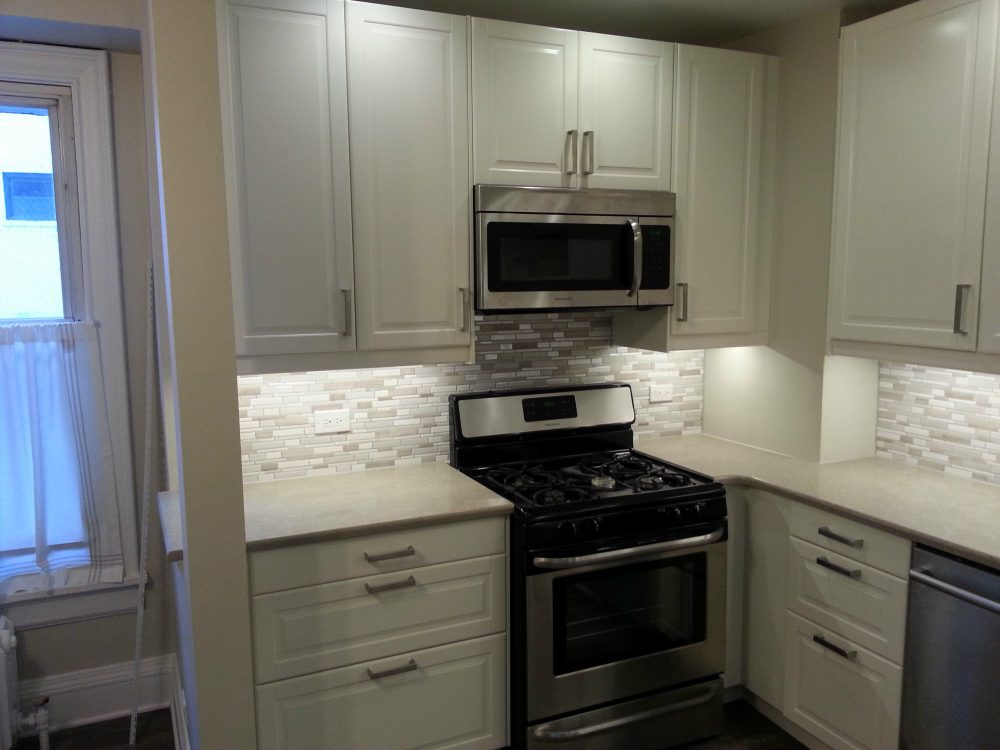 Architect nephew gave a thumbs-up to their choice of IKEA kitchen cabinets because of their quality and affordability. Endorsement from a design expert? Perfect.
So how do you solve a Triple D problem? With an IKEA triple threat, naturally:
Dated? Answer: SEKTION doors and drawers. The modern look of the IKEA kitchen cabinet line would naturally beautify the kitchen. But the drawers were crucial for Mitzi because she wanted an IKEA kitchen that would age with her and her husband. She knows in 10 years she will have even less desire to get on the floor to dig into base cabinets. Base cabinets with soft-close MAXIMERA drawers were just the ticket for now and
Dark? Answer: BODBYN doors in white. This Chicago kitchen was dark for 2 reasons: a lack of natural sunlight and dark wood cabinet doors. The solution was BODBYN doors in white and All Power Electric (a company recommended by Assembly Squad) for the updates.
Dingy? Answer: PERSONLIG countertops in shiitake, stainless steel TYDA handles, and a bright backsplash. White cabinet doors can do a lot to brighten a kitchen but the accessories can pack a punch too. A custom-cut PERSONLIG quartz countertop in a light grey plays nicely with a backsplash in neutral hues. Stainless steel appliances and TYDA handles are reflective and help multiply the available light.
But there were 3 structural obstacles in this Chicago kitchen, too
Older buildings like Mitzi and Chris's apartment have such character…as well as obstacles to modern design.

Before they could make all of those wonderful bright updates, they needed a solid IKEA kitchen design that could work around the 3 obstacles interfering with the layout: one column and two corner projections (or bump-outs).
Mitzi and Chris had a good idea of how they wanted to work around those obstacles but needed a second set of eyes for the design they'd made in the IKEA Home Planner.
Their IKD designer reviewed their design and:
Added fillers
Adjusted the clearances for the doors so they could open
Included custom-sized cabinets
Let's see the finished Chicago kitchen!
Thanks to a 5-star installation from Assembly Squad, one of our Install Connect-approved installers, Mitzi and Chris's Chicago dated, dark, and dingy kitchen is no more.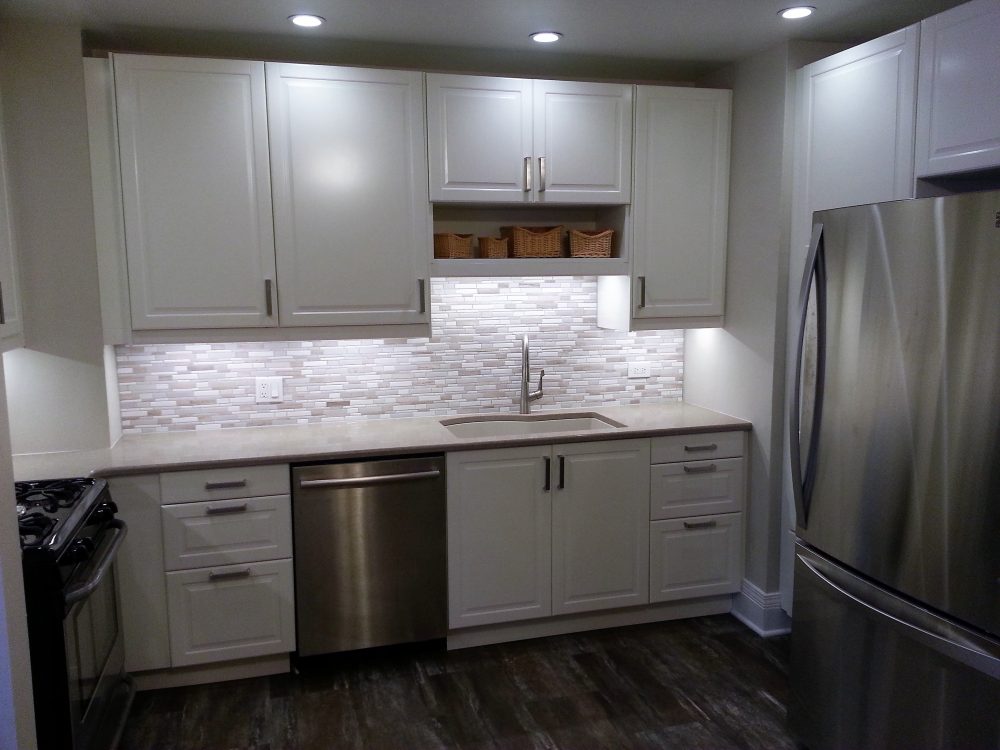 From dated to modern.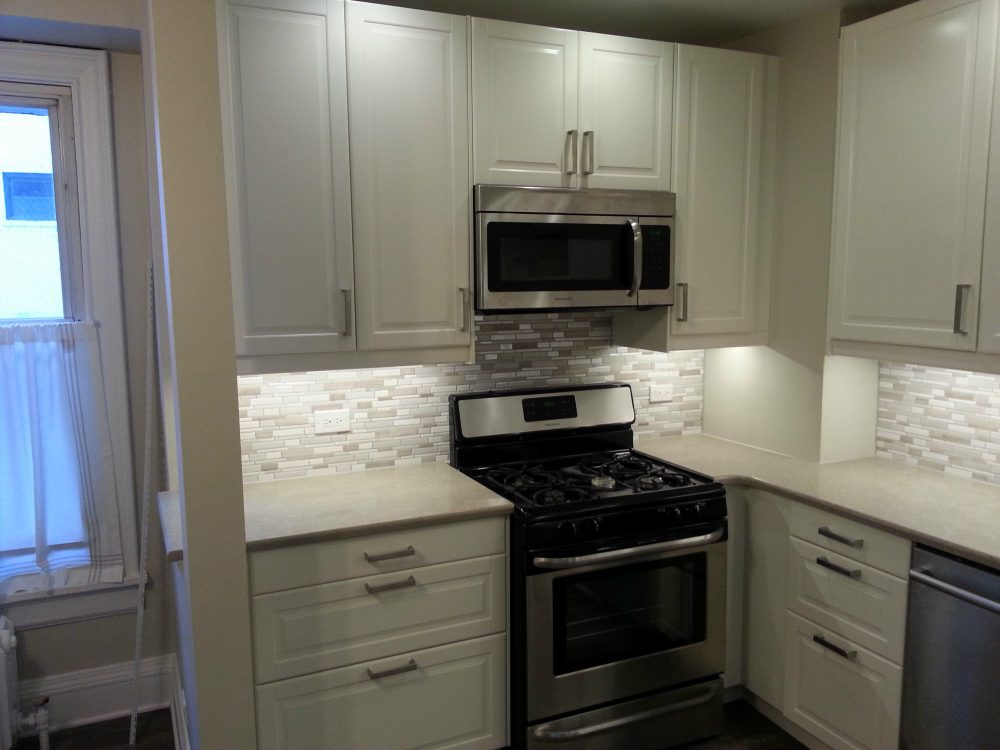 From darkness to light.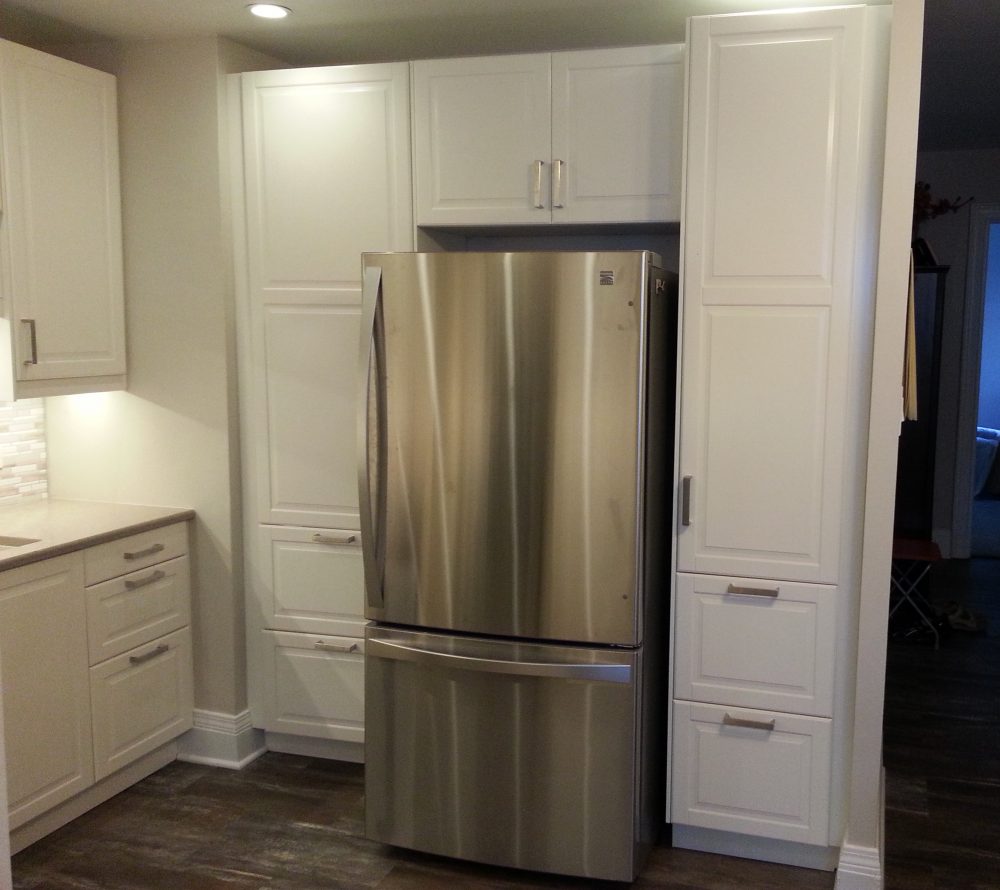 From dingy to bright and clean.
Assembly Squad were really good to work with and very patient. We contacted them about a month before we were ready to install the kitchen, but that was no problem for them. They stayed in touch, made sure everything kept moving along, and when we were ready to buy our kitchen they went with us. I highly recommend them. —IKD customer Mitzi
5 incredibly useful insights from this IKEA kitchen design
We wanted to pass on what Mitzi and Chris learned during this process. You may already know some of these things and if you do – tell us what you would add!
IKEA is not a national chain, but instead operates on a franchise model. That means each store is run independently. And as we learned in the case of Dainius's kitchen, it means you can't order your kitchen from Maryland and pick it up in Chicago. If you're planning to buy a kitchen in another state, you're planning to do your ordering online. And if you're ordering online, you must read this blog post that describes exactly what you'll be in for if you order online.
BODBYN doors are painted, not foil. This was a major deciding factor in why Mitzi chose the BODBYN over the GRIMSLÖV, the other white Shaker-style door.
TYDA handles keep the kitchen from looking too Cottage. As much as Mitzi liked the painted look of the BODBYN doors, she wanted more of a Classic style kitchen than a Cottage style. (Want to make sure your kitchen is Classic, not Country? Sign up for our 7-day email series to learn your kitchen style!)
Luxury vinyl tile is a better choice for flooring material. Mitzi and Chris had hardwood flooring in their Maryland home, and they were so over it. Why? Because it hurt their bare feet! "As you age, you lose that fat pad on the bottom of your feet, but I still wanted to be able to walk around barefoot without pain. So we chose commercial-grade luxury vinyl tile from Shaw and it's so comfortable." – Mitzi
Mitzi and Chris, thanks for sharing photos of your finished Chicago kitchen! We're so glad we could help you get an IKEA kitchen you love.