When Liz and Bennett moved into their new home 8 years ago, they knew the "really dark and hideous" kitchen was high on their list of renovations. Why?
Why? Because the kitchen really set the tone for the entire house because of the layout. Liz and Bennett enjoy having friends over for dinner frequently, and wanted their home to feel welcoming and comfortable.
But then life happened. Other home repairs, like the roof, demanded urgent attention.
Turns out the best things come to those who wait.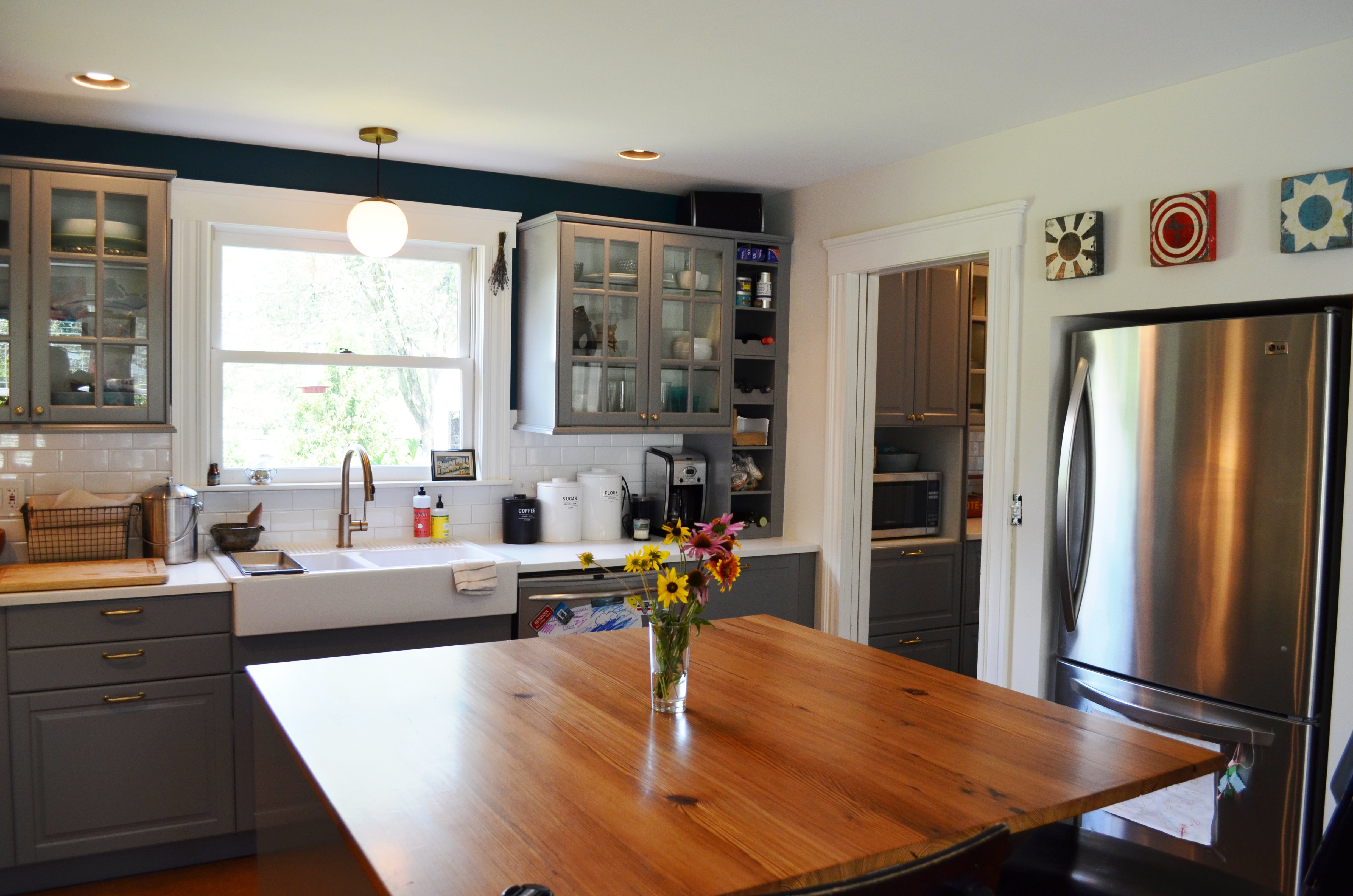 This beautiful classic style IKEA kitchen has several artistic touches we think our readers will really appreciate. Let's dive into Liz and Bennett's kitchen to see what it's made of.
The top 3 design wishes for this classic style IKEA kitchen
Creating a warm and welcoming classic style IKEA kitchen meant achieving these goals:
Increase the light. Opening up the kitchen and using some glossy surfaces, such as the highly polished kitchen island countertop and the white quartz counters, would go a long way to brightening up their kitchen space.
Maximize the storage space. The last house the couple lived in had an IKEA kitchen that was half the size, but so well organized, she described it as being "a ship" because it was so orderly and functional. Liz wanted a classic style IKEA kitchen because of the organization that comes built into IKEA kitchen cabinets and drawers.
Beautify it. Liz really liked the BODBYN doors in grey and brass ENERYDA handles and knobs. Her father-in-law owns a salvage shop, and there is a salvage shop up the road, so she had a real vision of how these elements could come together beautifully. In fact, Liz and Bennett were inspired by another IKD customer's kitchen! Can you guess which one?
We'll take a 180° look at how this classic style IKEA kitchen came together.
A classic style IKEA kitchen with artistic touches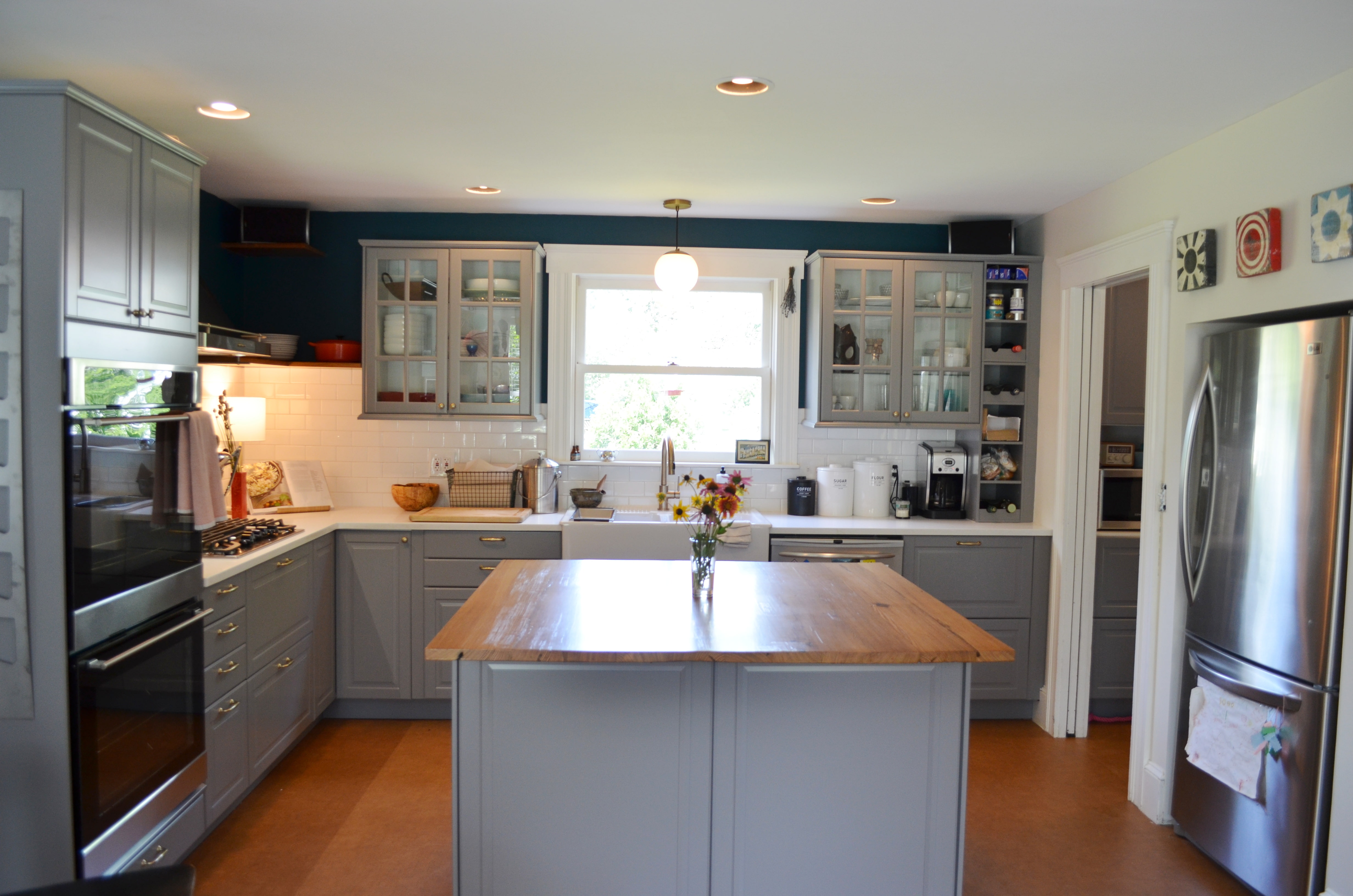 The classic style IKEA kitchen elements come through in the combination of traditional-style BODBYN doors, glass doors that make the cabinetry look more like furniture, the country-style hardware, the farmhouse sink, and the use of wood.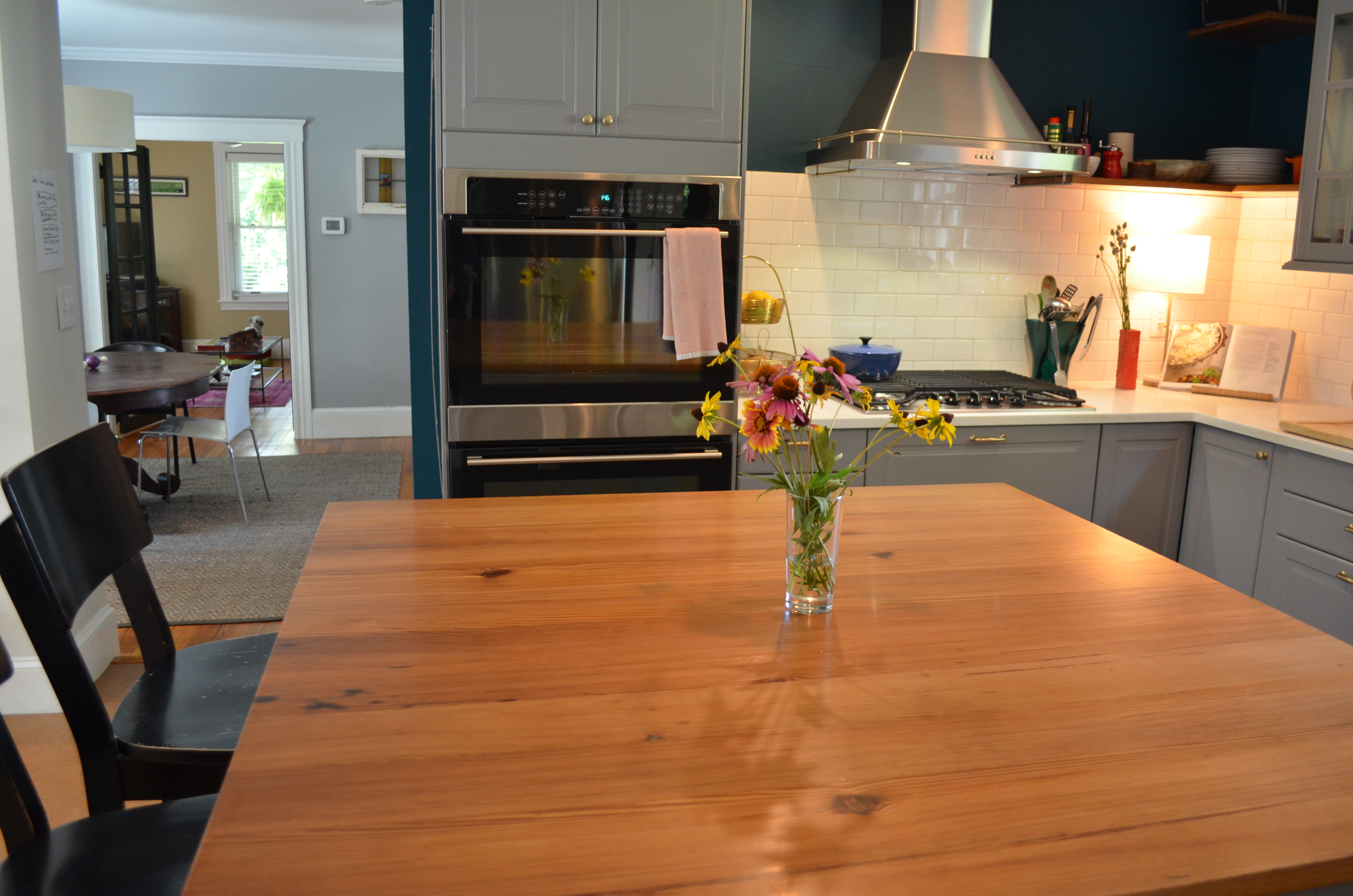 First, can we talk about the countertop on the island? It's longleaf pine that was originally flooring. Bennett's father runs 601 Salvage, an architectural shop in Natchez, MS (available through Natchez Architectural and Art Discoveries), and he is responsible for this beautiful find. Liz loves having that family connection built right into the kitchen.
The island is also home to seating and family pizza-making. It also stores infrequently used small appliances, but we're personally more interested in the pizza.
Next to it are the NUTID  double ovens from IKEA. Liz is very happy with them despite them being noisier than what she's been used to her. Their general contractor, Peter, says that all the ovens are noisy now and it's considered safer that way.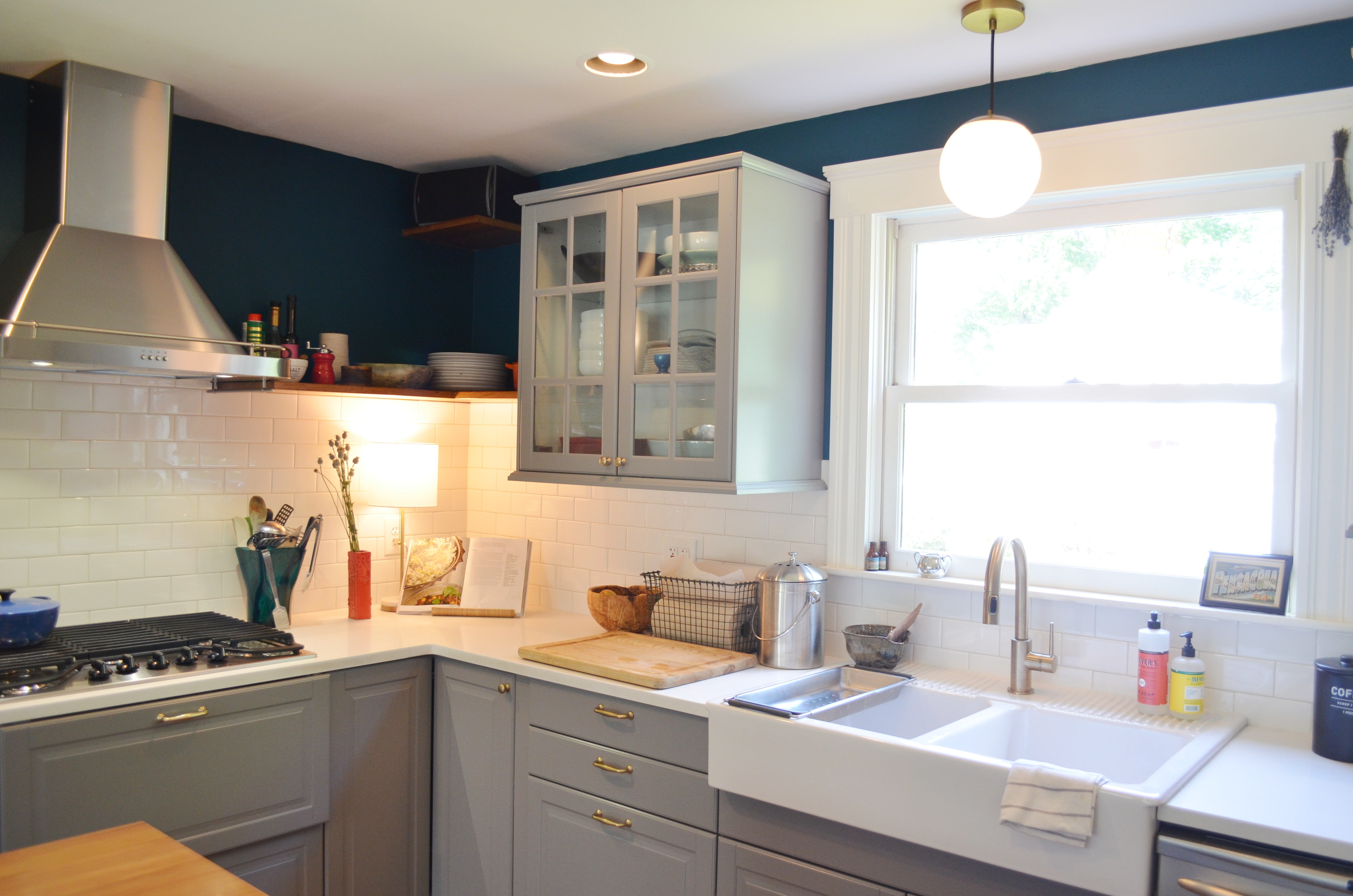 Liz stores her pots and pans beneath the IKEA cooktop and exhaust hood, which she just loves. The open shelf holds frequently used items, so grease build-up is less of a concern.
The DOMSJÖ farmhouse sink is paired with what Liz tells us is the most expensive item in the kitchen: the faucet from Delta. She really liked that color – Champagne Bronze – and couldn't find it anywhere else.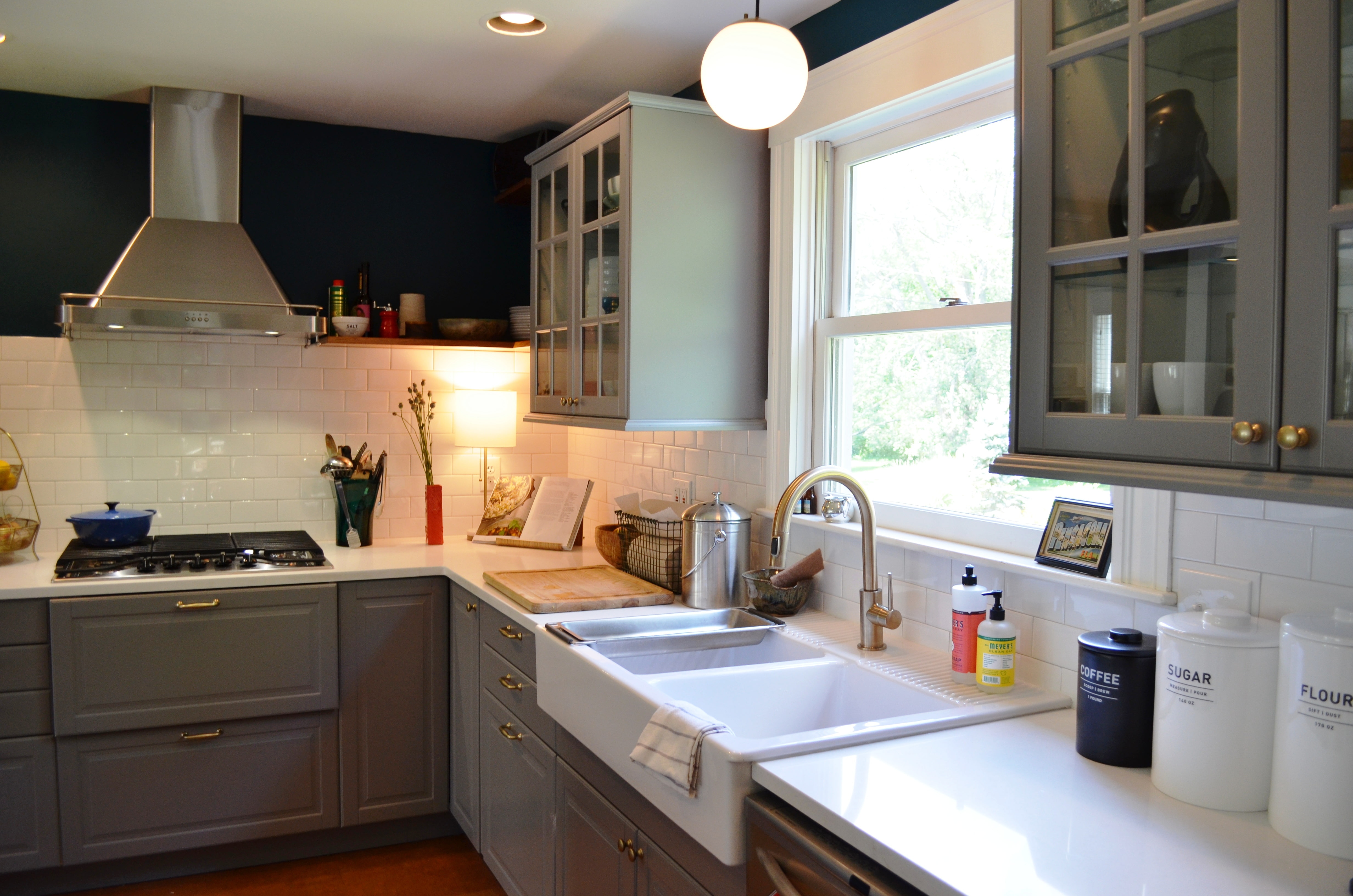 What I loved about our previous IKEA kitchen was that everything had its place. Everything went into a drawer and there were no big gaps of empty space left over. So for our new IKEA kitchen, we designed with smaller inner drawers, and purchased all the bamboo inserts so we could keep the kitchen really organized. I ended up adding more of them at the end. –IKD customer Liz
But wait, there's more (in the pantry)
IKD also designed the pantry that's just through the door to the right of the sink.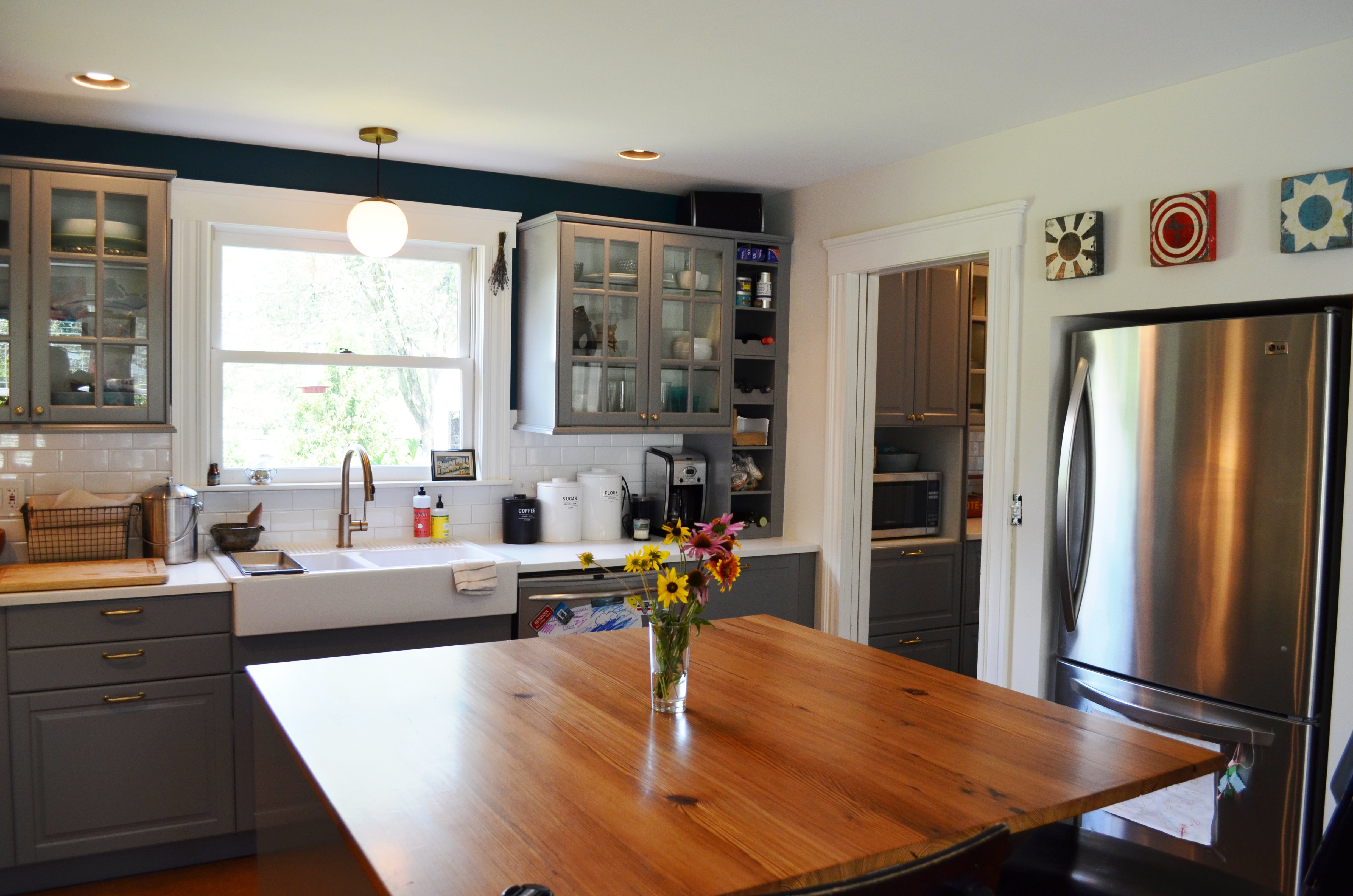 The pantry also acts like a hallway for going outside to the deck and hot tub. Previously it was just "raw wood and ugly space" but it's gotten an IKEA upgrade.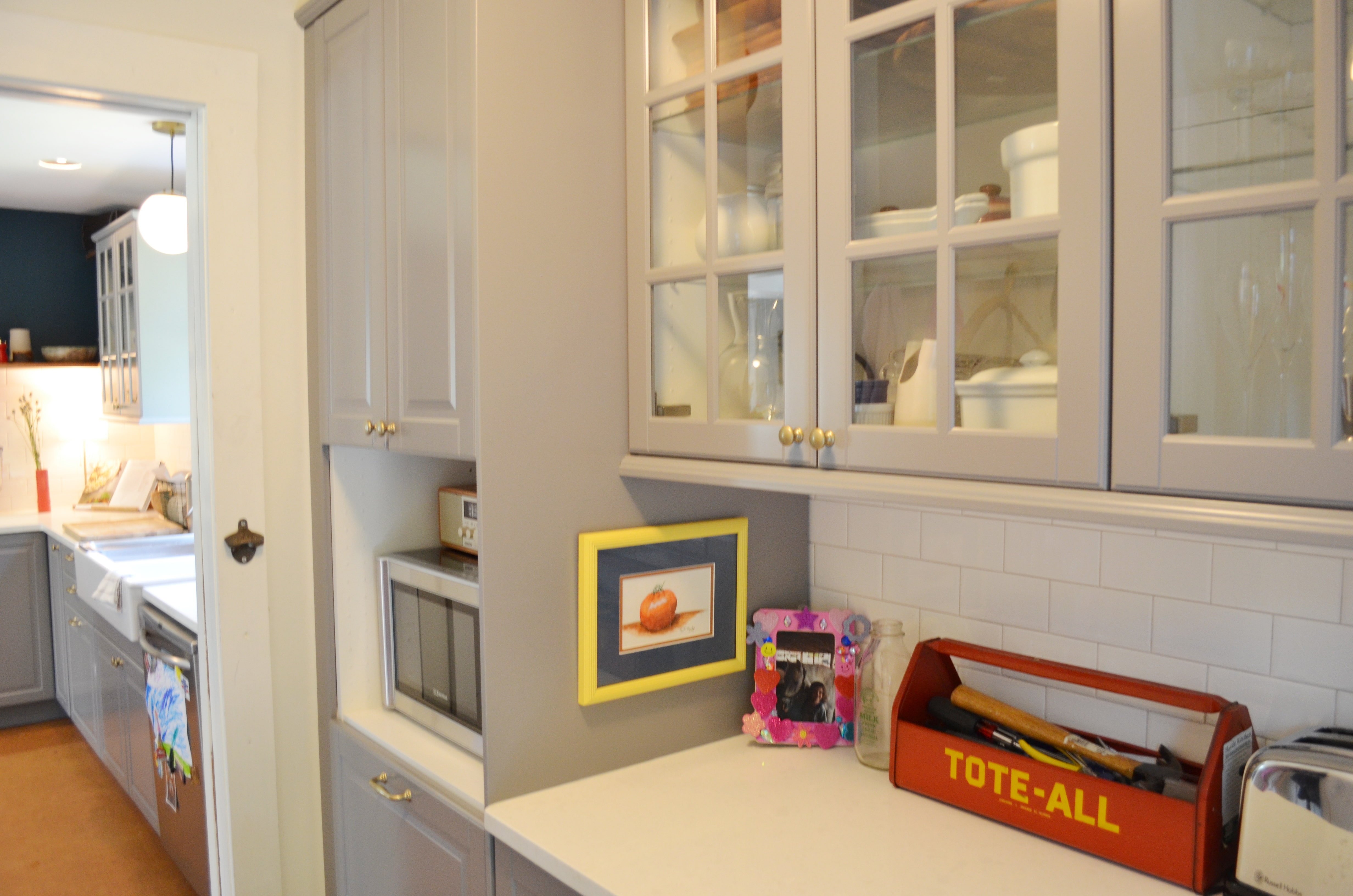 The very first cabinet you see is the IKEA cabinet for a built-in microwave. However, the microwave still works, so Liz and Bennett kept it. When it's time to upgrade, they'll have just the place for an IKEA microwave.
The cabinets underneath the microwave store food that's just for the kids. Liz highly recommends making a design choice like this, because it's given her young children some independence when it comes to snacks.
The wall cabinets and glass BODBYN doors display the stemware used for the wet bar contained in the base cabinets.
Remember what we said about the hot tub being right outside? One of the drawers is also for towels and other outdoor items. This IKEA kitchen pantry is multi-purpose for sure.
The 2 most important lessons from this classic style IKEA kitchen
When we interviewed Liz about her new IKEA kitchen, she had a really interesting perspective on hiring IKD.
Hiring IKD made perfect sense to me. I had a lot of trouble using the IKEA kitchen planner, and when I found IKD I thought to myself, I know that if I don't hire IKD, I'll make at least $500 worth of mistakes. The closest IKEA is a 2-hour drive away and if hiring IKD was going to prevent multiple trips, I was all for it. –IKD customer Liz
After Liz found us, she really took to heart our message of "Don't wait for the IKEA sale!" In the case of the IKEA kitchen sale, the best things may not always come to those who wait. Depending on when you purchase your IKEA kitchen design with IKD, we may not be able to finish your design before the end of the sale. IKEA has also run out of stock during their sales, which can put your renovation on hold for months.
Instead, take your time with your design, like Liz and Bennett did.
If you think about it, there's no risk in finalizing your design ahead of time. IKEA changed their kitchen line 2 years ago so there's no reason to think your design will suddenly be obsolete. Instead, when IKEA announced their next sale had the 20% discount, I was ready. I walked into the store and bought my kitchen.

I ended up stopping at IKEA toward the end of the sale and the line in the kitchen department was horribly long. People were angry and yelling at the associates. I was so glad I got to avoid all of that, and it was because I finished my design ahead of time. I highly recommend doing that. –IKD customer Liz
More proof that the best things come to those who wait: Liz was able to get 20 percent off (not gift cards, etc) her IKEA kitchen during the sale.
2 more design notes from this classic style IKEA kitchen
See that funky metal piece on the panel covering the double ovens? That is another salvage piece. This one was found at Loot: Found and Made, a salvage shop in Turner's Falls, Massachusetts. That metal piece was once a die-cut for making meat cleavers.
We had also mentioned that Liz and Bennett were inspired by one of the IKEA kitchens they found in our Portfolio. We love it when that happens! Can you guess which one inspired them? Here's their kitchen: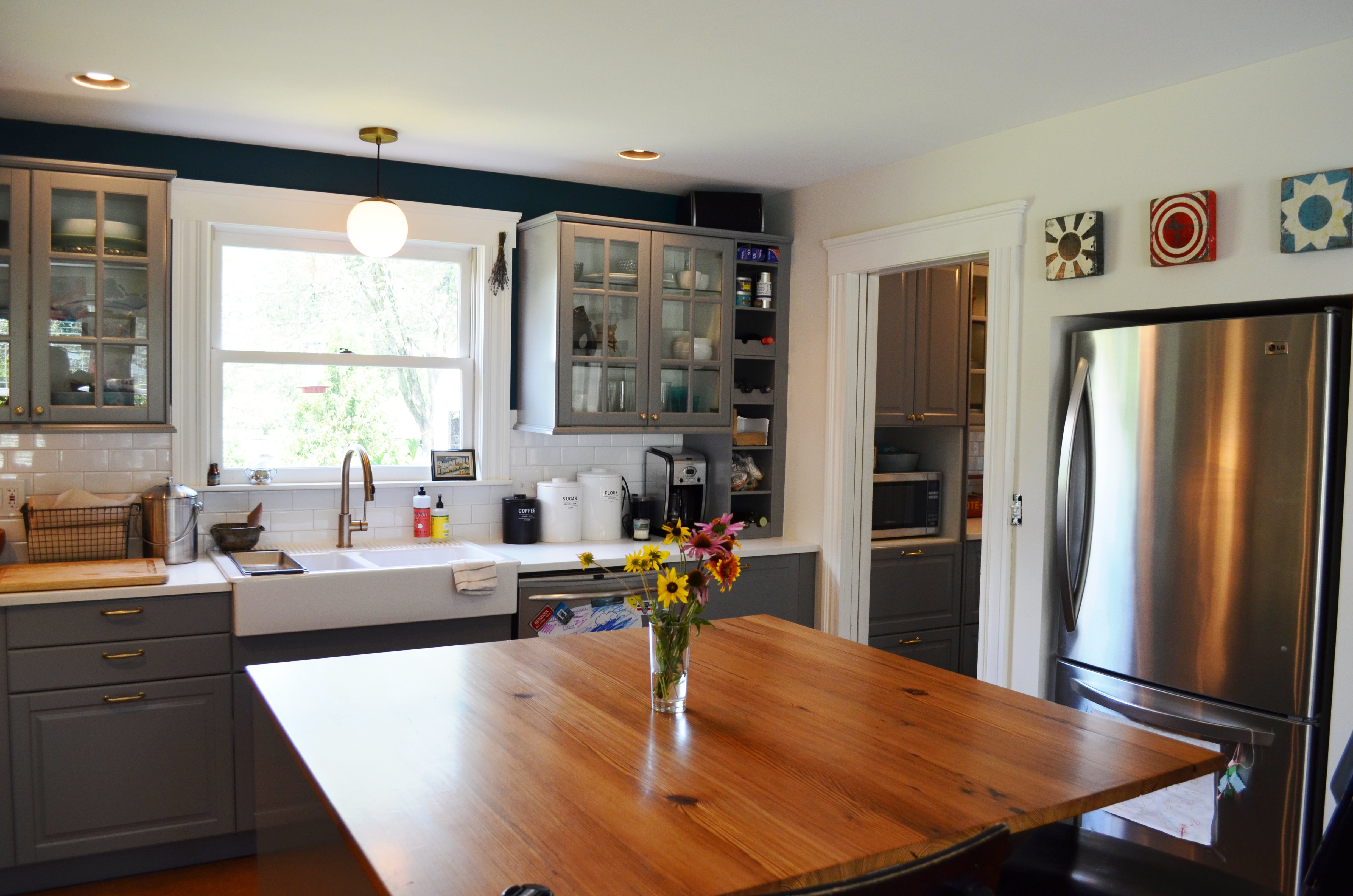 Can you guess?
No?
It was this one. Grey BODBYN doors, white subway tile, brass hardware? Check. Liz brought the peacock blue of Brooke's chairs into the kitchen with the wall paint above the subway tile and wall cabinets.
Thanks for sharing photos of your completed kitchen, Liz! We hope you and your friends enjoy gathering and relaxing in your new kitchen.