Perhaps you just realized it's April – and relatives will be staying with you in July for your sister's wedding. Guests will have plenty of places to sleep. But those guests will also need to eat, and your kitchen needs serious attention. Can you complete your kitchen redesign in three months?
Yes, you can. (We believe in you!)
IKD can turn a kitchen design around in as few as three days if we have the right information from you.
We have years of experience working with customers virtually. Whether you're in a hurry or not, here's what you need to do get the right information to us out of the gate.
Step#1: Take Excellent Photos
Believe it or not, photo quality is not dependent on the type of camera you use. You can take great photos with a smartphone. On the other hand, you can take bad photos with high-megapixel camera.
Poor photos of your kitchen:
Are too dark
Have too much glare from overhead lighting or shiny cabinets
Don't show all of the appliances
Miss the architectural details that will affect your kitchen design
Luckily we've got you covered. I wrote a blog post, "Read This Before You Take Photos of Your Kitchen for IKD." [And if that doesn't help, drop us a note in the comments.]
Step #2: Measure the Walls…But Don't Stop There
Kitchen design depends on accurate measurement. That's a no-brainer. So, you measure the length of the walls and you're set, right?
Look at your kitchen. Are there architectural details that change the measurements in certain places?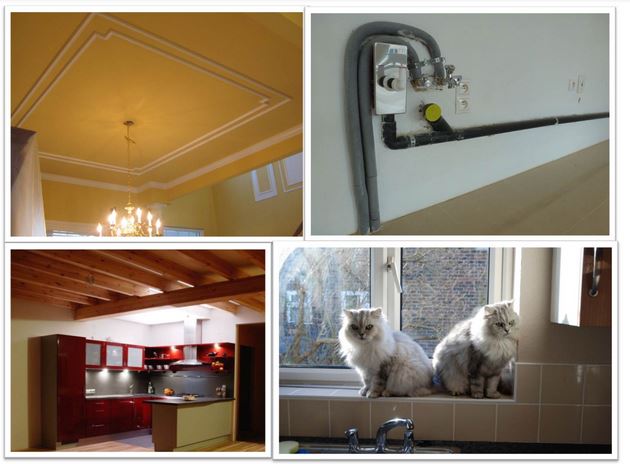 Ceiling moulding, exposed pipes, a recessed window, and exposed ceiling beams – all of these can affect your kitchen design. Take as many pictures of these as possible.
A client recently sent us this sketch. See how she allows for trim and crown, and the chimney?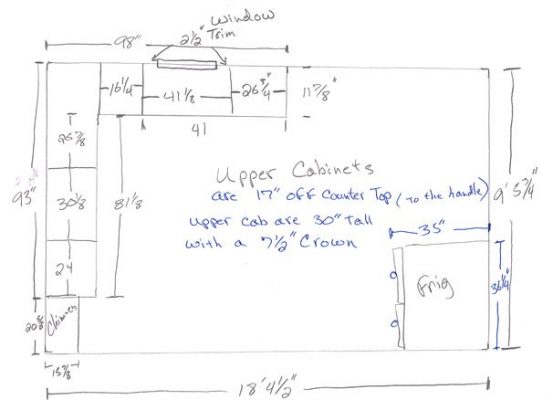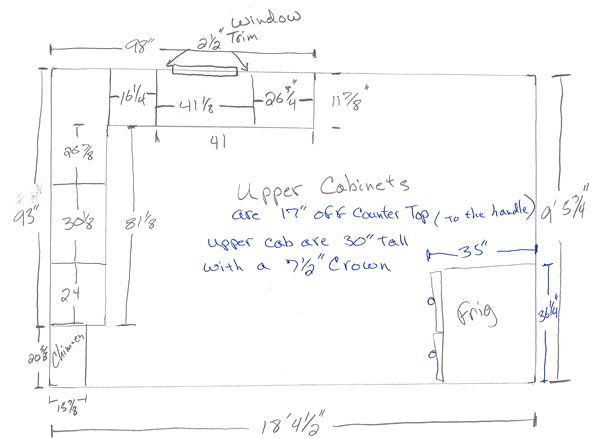 Your designer wants exactly those kinds of details before s/he creates your new kitchen design .
Step #3: Know Thy Appliances
All refrigerators are not made equal. Nor are ovens, sinks, stovetops, microwaves. We need to know the exact sizes (as in the example above) so we can design your kitchen.
Seems obvious, right? Well, no. If you haven't selected and purchased new appliances it's difficult to accommodate them in the space. For an efficient design process we highly recommend coming to us with the measurements and photos of the pieces you fully expect to buy.
Step #4: Think About How You Really Use Your Kitchen
Form follows function. As much as I know I like to cook in my kitchen, I can still be swept away by beautiful kitchen designs that have nothing to do with how I use it!
Greta and Ron made many of their meals from scratch. Their new kitchen needed to accommodate their many cutting boards, mixing bowls, and ingredients.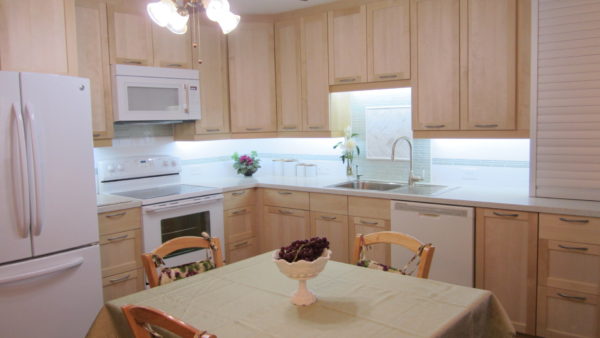 Their new kitchen moved several appliances and included an appliance garage to create more counterspace.
Brandon and his wife wanted a big open kitchen where they could socialize with guests during food preparation.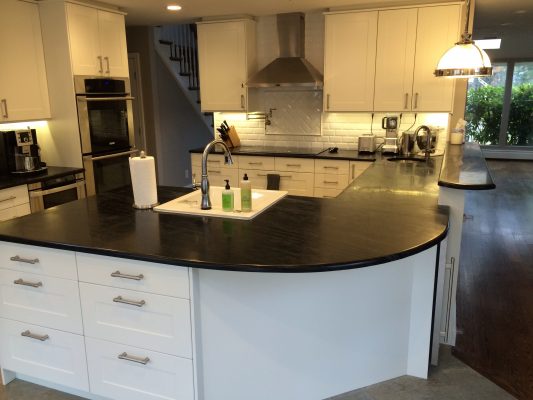 See how the high counter is a place where guests can rest a drink while talking to the busy chef?
And if you're a serious chef like me, you must absolutely have this one thing in your kitchen.
Be very clear with your designer about how you want to use your kitchen so s/he can make the best recommendations.
Step #5: Grow Old with Your Kitchen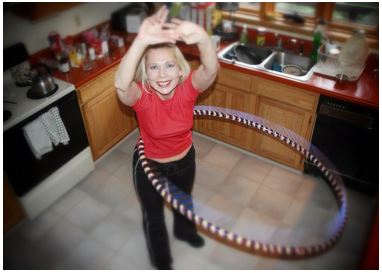 Think about today and tomorrow before you work with us.
Yes, today, you can easily forage through base cabinets to find just the right saucepan, then stand on your tiptoes and ull your breadmaker out of a wall cabinet – all while in your dancing shoes, too.
If you plan to have a long marriage with your kitchen, plan for tomorrow. Instead of base cabinets, you'll want to use pull-outs and drawers. Or, you can insert a RATIONELL carousel in a base cabinet or a slightly smaller version of the RATIONELL in a wall corner cabinet. These options will prevent you from needing to get on your knees. As you age, you'll appreciate it.
Getting Back on Track
You've followed the five steps for an efficient kitchen design. Now you've got your high-quality rendering of your IKEA kitchen design and your shopping list. You're well on your way to having a brand new kitchen in time for July!
"Creative Commons moldings on ceilings" by Brian Moloney is licensed under CC BY 2.0
"Creative Commons Day 87, August 7, 2012" by Sonia Belviso is licensed under CC BY 2.0
"Creative Commons Bookends" by allen watkin is licensed under CC BY 2.0
"Creative Commons Virtuvė 2" by Albertas Agejevas is licensed under CC BY 2.0
"Creative Commons Hula Kitchen" by Rob Lee is licensed under CC BY 2.0