Recently we received this question through our contact form,
We're expanding our kitchen and need a good flow, but I'm no expert. I need a better visual than the one the IKEA Home Planner can give me. If I use your service, will your design show me only the kitchen cabinets? Or can you include a dining room table (not to buy) so I can see how it would look? Can you provide other items such as lighting, under-cabinet lighting, or crown molding?
We're so glad you asked. First let's look at the visual IKEA's Home Planner can give you.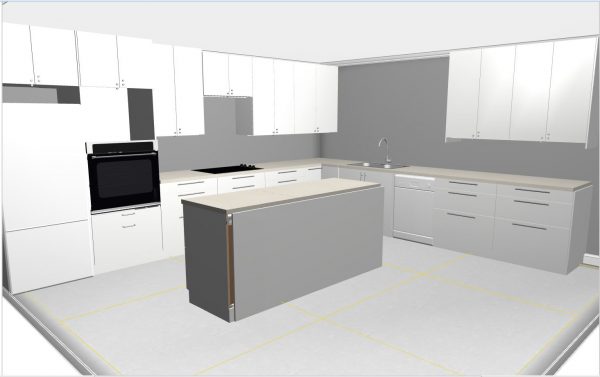 Now, for the same kitchen, here's what IKD's full-color, 3D image of what your IKEA kitchen design will look like in your home.
A picture really is worth a thousand words, isn't it? Here's another view of this kitchen.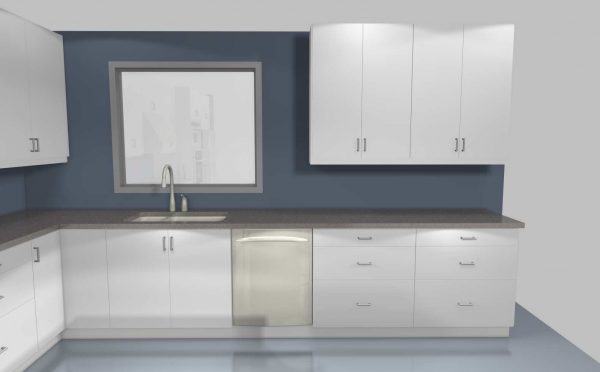 This is a close-up of the back of the kitchen island: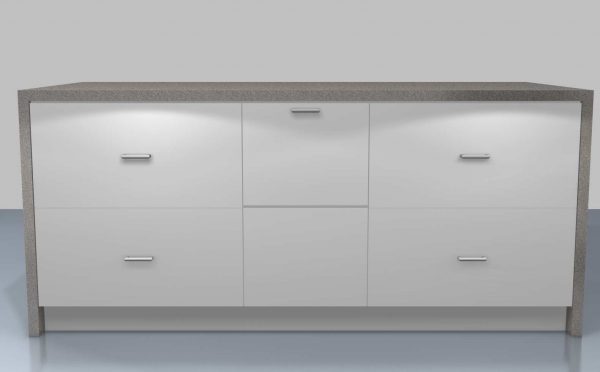 And finally, a birds-eye view: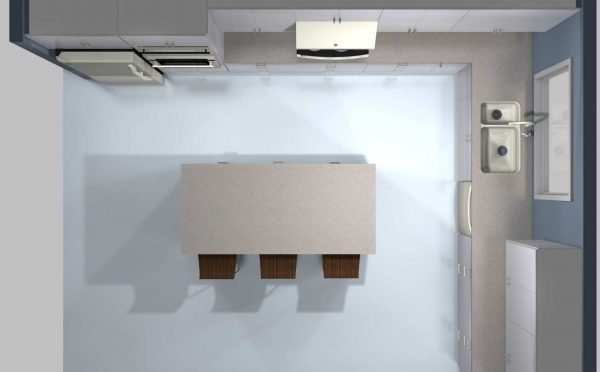 We think our design image is prettier than IKEA's, but that doesn't answer the questions about what's inside.
First thing's first: learn the lingo (it will take 1 minute, tops)
The IKD design package has several components, but the ones that concern us here are:
Kitchen design image: a 3D, full-color rendering (fancy word for image) of your kitchen design
Kitchen design file: your kitchen design, uploaded to your IKEA Home Planner account
Our full-color, 3D images of your IKEA kitchen design bring our technical design files to life. You'll be able to see in detail – from multiple angles – how your new IKEA kitchen will look in your home.
Your kitchen design file includes the floor plan, elevation drawings, and overall schematic of your kitchen for the IKEA Home Planner.
We're not usually so exacting in how we use these terms, but in this post we'll be really specific so you know what goes where.
We can include IKEA cabinets, appliances, countertops and more in your kitchen design image
We can include just about anything in your kitchen design image, for visual purposes only. Yes, we can include your dining room table so you can get an idea of how it would look (and how it would affect your available space!).
Here's what else we can include in the image:
All of your IKEA kitchen cabinets
All of the custom cabinets we design for you, including a kitchen island or peninsula
IKEA appliances and countertops (upon request)
Visual approximations of non-IKEA appliances and countertops (upon request)
Flat colors for the walls, floor, and backsplash (upon request, if samples provided)
Visual approximations of IKEA chairs and stools (upon request)
Basic doors, windows, openings, or pass-throughs (but no arched doorways, detailed columns, vaulted and other intricate ceilings)
Sometimes we're asked if we can make recommendations for countertops, paint, flooring, or tile. The short answer is no, we don't. We're kitchen designers, not decorators, and that's what we do best. So we stick to the design and let the experts figure out the more cosmetic details.
Now, here's what we can include in your IKEA kitchen design file
If we can include it in your design file, it will either show up in your IKEA shopping list, or in our special "Extra Items" list.
All of your IKEA kitchen cabinets
IKEA appliances
IKEA's melamine or wood countertops*
Important note: The custom cabinets we design for you will not appear in your Home Planner file or IKEA shopping list. If you see a gap in your Home Planner file, don't panic. All of the items you need to purchase for custom cabinets will appear in your Extra Items Shopping List.
*Unfortunately, we can't include IKEA's quartz or granite countertops in your design because IKEA's selection varies from store to store. But, we can include them in the 3D color image as we had mentioned previously.
And finally, here's what we cannot include in your IKEA kitchen image or file
While we give all of our clients our complete design package for a custom IKEA kitchen that fits their unique space, there are a few things that we can't do.
Our designs don't include specific handle styles or drawer inserts such as knife racks, cutlery trays, drawer dividers, pot lid organizers or trash cans.
Our designs also don't include wall organizers (magnetic knife racks, rails and hooks, etc) or floating shelves.
We do not include light fixtures in design files or in the 3D rendering, even if the fixtures are from IKEA. Due to vast variations in electric codes and standards across cities, states, and countries, we recommend you plan this separately with your electrician, contractor, or IKEA sales representative.
The IKEA Kitchen Sale Begins March 4, 2016 in Many USA Stores
Yes, the IKEA kitchen sale begins this week. We can't emphasize this enough: start your kitchen design with IKD as soon as possible! That way you can shop the sale without having to rush.