Why oh why is the IKEA Kitchen Planner so difficult to use? Or, in the words of an IKD customer, a real PITA (pain in the a**).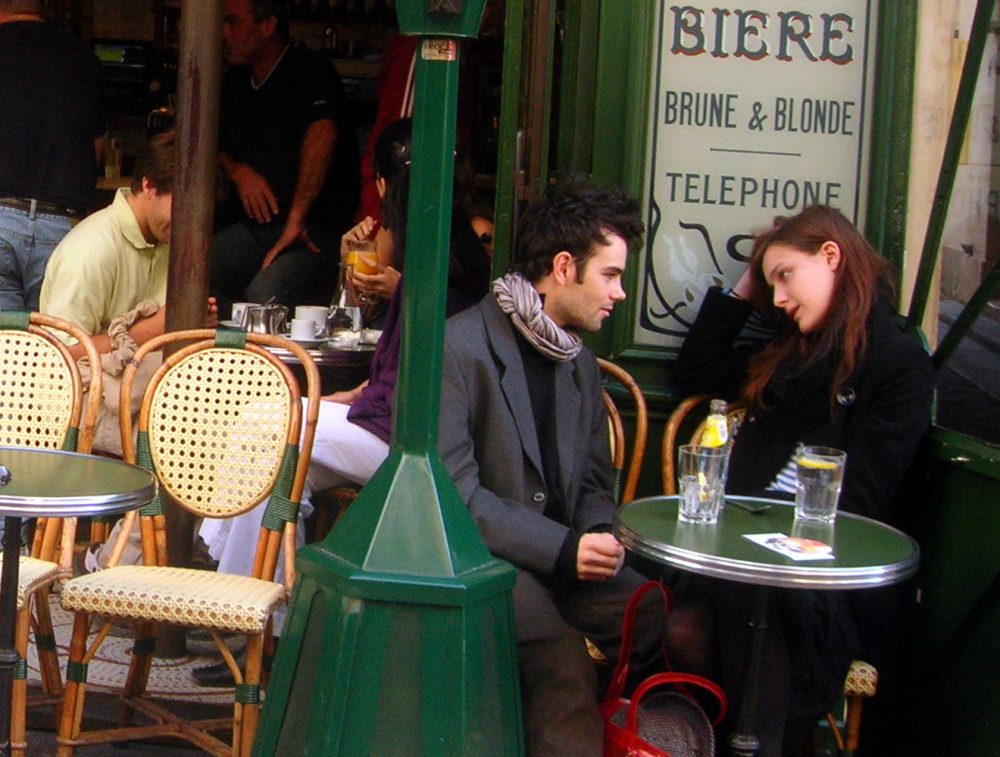 It's almost like the IKEA Kitchen Planner is just not that into you. But instead of just dumping you, it tries to annoy you so much that you dump it.
Is the IKEA Kitchen Planner really that bad?
Don't believe us? Browse houzz.com and you'll see lots of frustration. The common theme was, "You really have to fight with the IKEA Home Planner."
This post, "Does the [sic] IKEA Kitchen Planner Actually Work????" is pretty typical of the experiences we hear from our customers.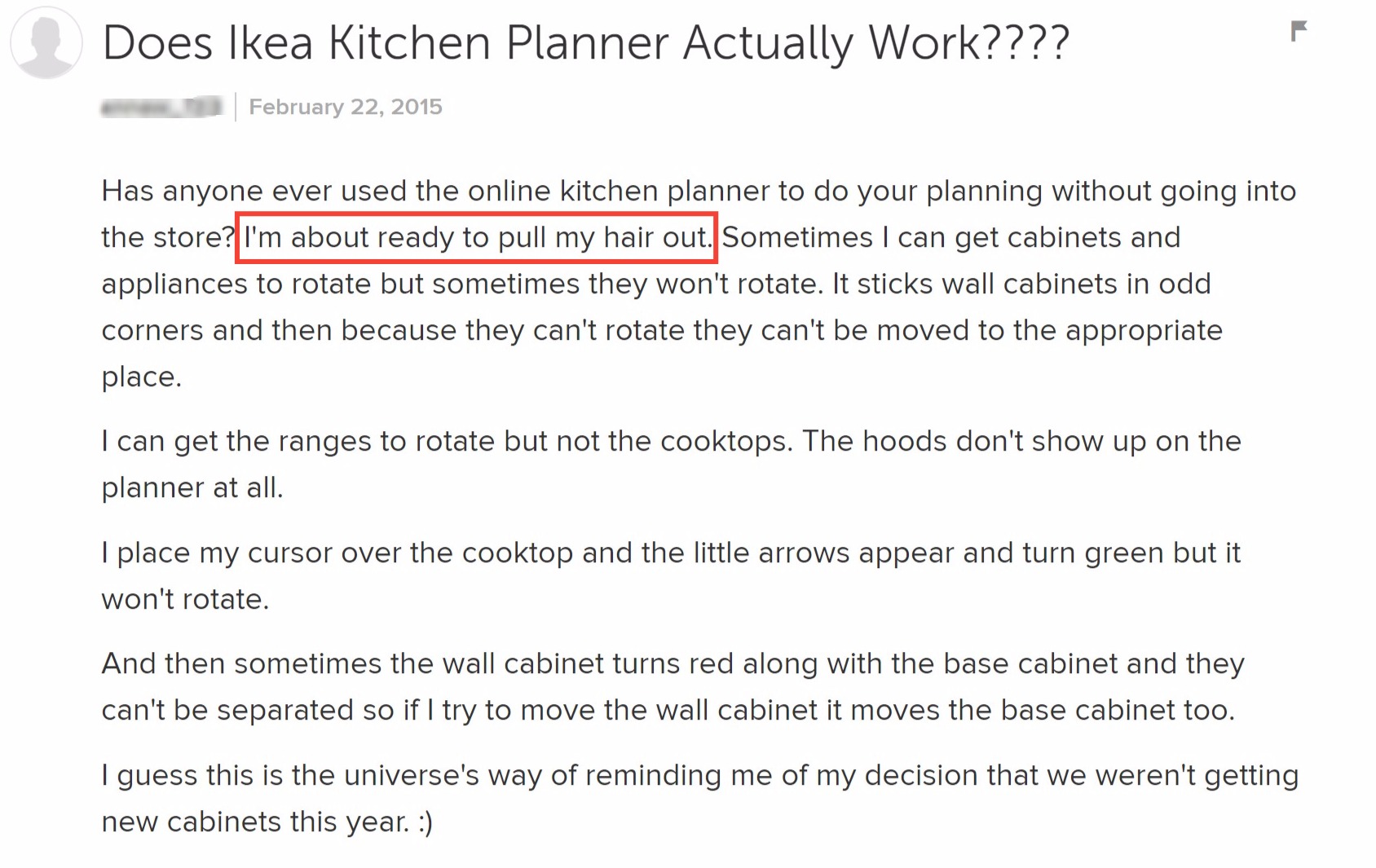 This commenter was having a problem with being unable to rotate cabinets and appliances in the kitchen planner. Enough of a problem that their hair was put on the endangered species list.
So maybe that was just the OP's problem. Right? Wrong. There was an outpouring of commentary from Houzz forum members!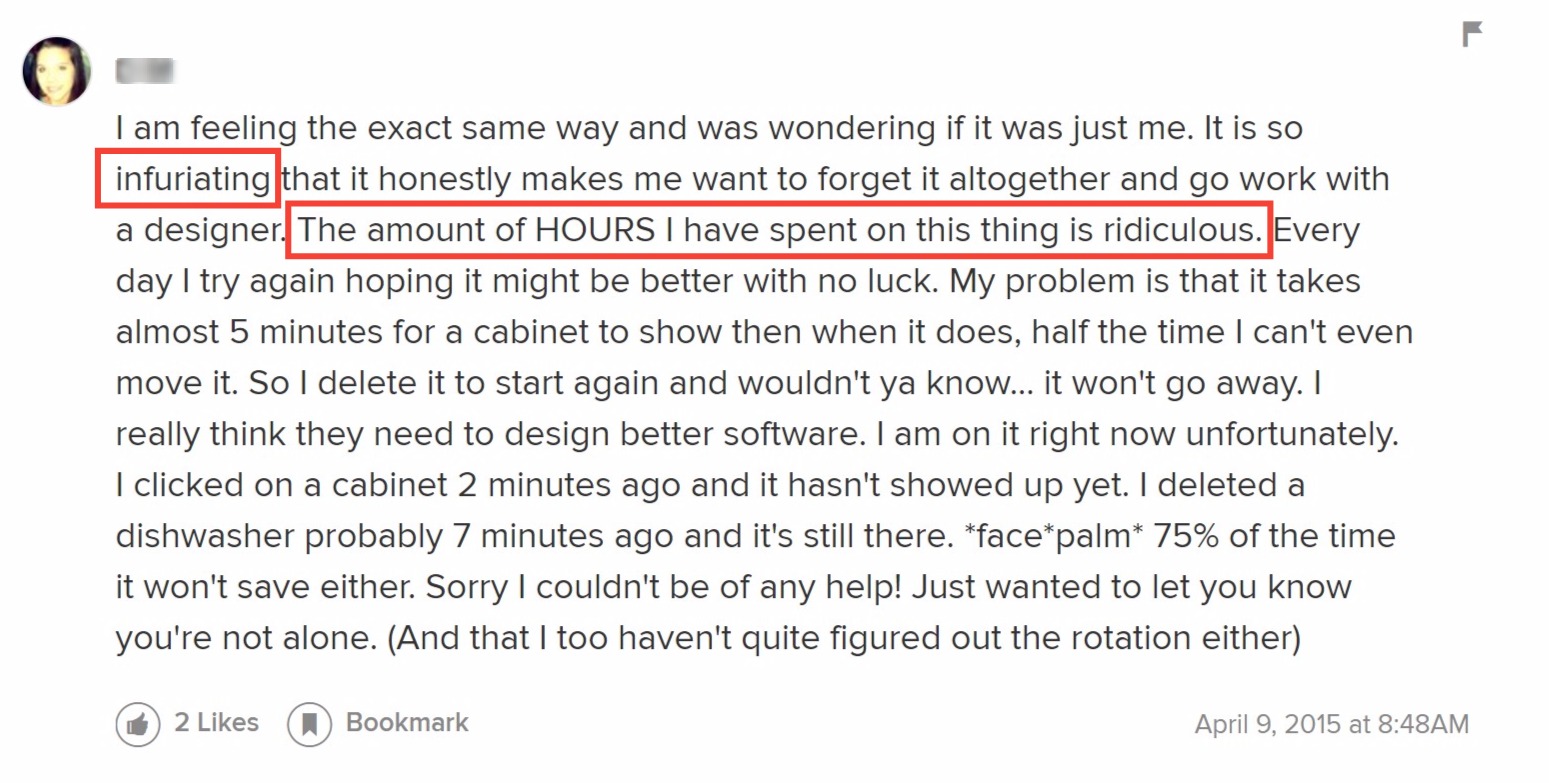 Call us crazy but we don't think designing a kitchen should be "infuriating"! We also hate to see people losing hours and hours of time trying to make cabinets show up (or go away) in the IKEA kitchen planner.
Should it really take the IKEA kitchen planner more than 7 minutes to remove a deleted dishwasher from the design?
And after all of that frustration, this commenter can only save their hours and hours of work with the planner 25 percent of the time?
Do you really want to go through all of that just to get an IKEA kitchen for your home?
So why is the IKEA Kitchen Planner so horrible to use?
The IKEA Kitchen Planner is glitchy and full of bugs, which makes it a real pain for people to use.
In fact, it's so glitchy and problematic that IKEA and its contractors have a secret version of the IKEA Kitchen Planner that they use!
We learned from our Secret Shopper, Ray S., that IKEA have access to a better version of the app that doesn't have the glitches and problems in the one the rest of us are stuck using.
Even worse, IKEA has no plans to roll out this better version of the IKEA Kitchen Planner to the public.
Forget the Kitchen Planner – Maybe it's IKEA that's just not that into you!
Has the IKEA Kitchen Planner gotten any easier to use?
That Houzz post was from 2015, just after IKEA rolled out its new kitchen line, SEKTION. Maybe IKEA was still working through the issues. Right?
Wrong.
That thread has 85 comments on it with the most recent from April 21, 2017.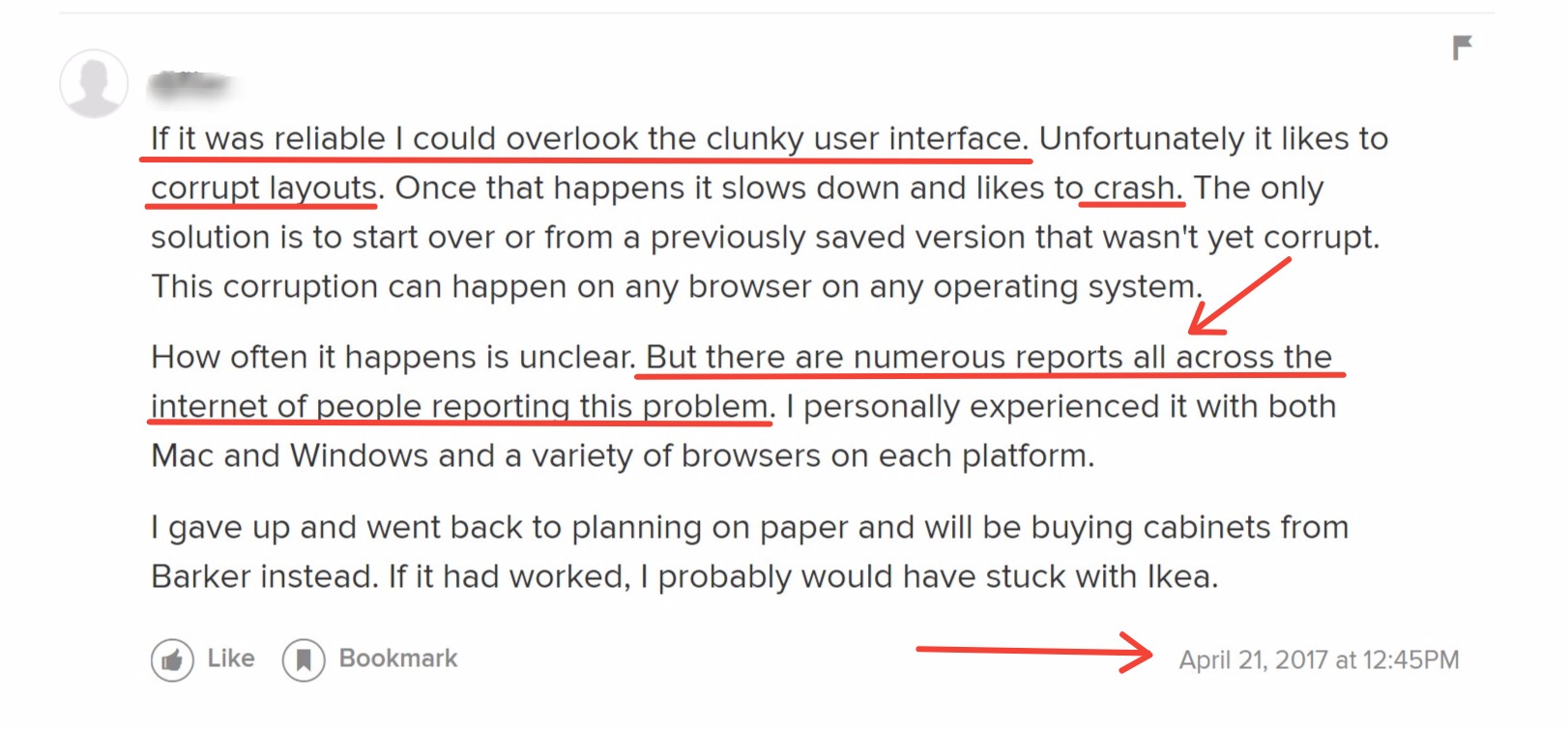 The IKEA Kitchen Planner is still clunky, it still crashes, and it still won't give you the kitchen design you want!
It's time to take the hint about your relationship with the IKEA Kitchen Planner: it's just not that into you, girl.
Does that mean you should forget getting the affordable luxury of an IKEA kitchen? No!
We wish that last commenter had found us before giving up and buying kitchen cabinets somewhere else.
Sometimes I joke that IKD is the IKEA kitchen whisperer, or the great relationship saver. The IKEA kitchen planner may not be that into you, but, with an IKD intervention, we can make that kitchen planner behave so you get the IKEA kitchen you've been dying for.
We know all of the problems and pitfalls of the IKEA Kitchen Planner and how to work around them.
We haven't even told you the worst problem with the IKEA Kitchen Planner yet. Even if you can get the Kitchen Planner to work, it will actually give you an unsafe kitchen.
The IKEA Kitchen Planner isn't just a pain to use. It will actually make your kitchen design dangerous
How do you feel about an IKEA kitchen that lacks important safety features?
We urge you to read this post that will tell you about all of the safety warnings you need to look out for in your IKEA kitchen design if you use the planner.
There's a better solution, however. You can hire us!
Our Premium Package is perfect for people like you who want to:
Talk to a professional kitchen designer about all of their kitchen ideas and their Pinterest inspiration ("pinspiration") boards
Work over the phone to get quick answers to those little questions that pop up during a design
Get creative, beautiful solutions to their storage, small space, and/or non-standard kitchen layout challenges
Don't pull out your hair or lose hours to the IKEA Kitchen Planner. It's just not that into you! Instead, let us wrangle it so you can get your new IKEA kitchen ASAP.
Image credit
"Yes or No?" by Flickr user Gideon is licensed under CC BY 2.0.