IKD customers are savvy and in the know about good design choices. That's why so many of them seek out custom cabinet doors from Kokeena. Kokeena in Oregon has a bevy of beautiful cabinet door options that make your kitchen look unique and stylish.
This week I interviewed Russell Edwards, the CEO of Kokeena. Kokeena is based in the greater Portland area and services both Canada and the United States.
Why do your clients choose custom doors rather than IKEA doors? Which of your options are the most popular?
Our customers are looking for something more unique, but also budget-friendly. Often they don't care for the IKEA door styles, but can tell that the interiors are good. That's where we come in. Many customers don't want a 'off the shelf' look.

Our more popular options are The Modernist (Walnut Slab). Modern English (Painted Shaker) is also very popular. We do a variety of custom colors. Right now those colors are trending in dark charcoals and black for the painted doors. We are also noticing that our Rift Cut White Oak has been a popular choice the past 2 years.
Why do your clients choose Kokeena?
Quality and service. Our website is a starting point for a concierge type experience up front, and designers and woodworkers with years of experience on the back end.
We take time to dive into all the details and possibilities. We make the effort to have an open dialogue with the customers about projects. Also, we do things as custom as possible, which is one of our best attributes. This requires a bit more customer communication and coordination between the homeowner, designer and contractor.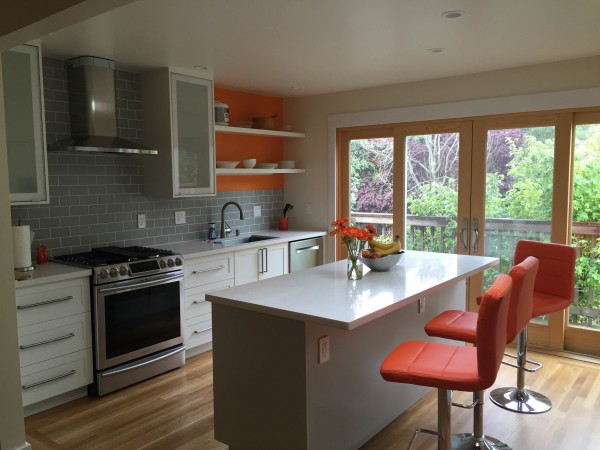 What do clients say about Kokeena?
They love our product. Also, they love the level of service that we offer them.
Do you ship outside of the USA?
We currently ship to Canada and the lower 48 in the USA.
What's the most valuable insight you can share about getting custom doors?
Never underestimate what a good designer and a good installer can bring to a project. It can be tempting to go it alone, but putting in a kitchen is one of those projects where you don't get a re-do if you don't get it right.
Of course, only you know your style, and you should come to any project with a strong sense of style, having a good idea of how your finished project will "feel."
Spend time researching inspiration kitchens on sites like Houzz and Pinterest. Once you have a strong sense of style, a good kitchen designer will help you figure out how best to apply that style to space you have. This will ensure that you end up with a kitchen that is beautiful, functional, and efficient.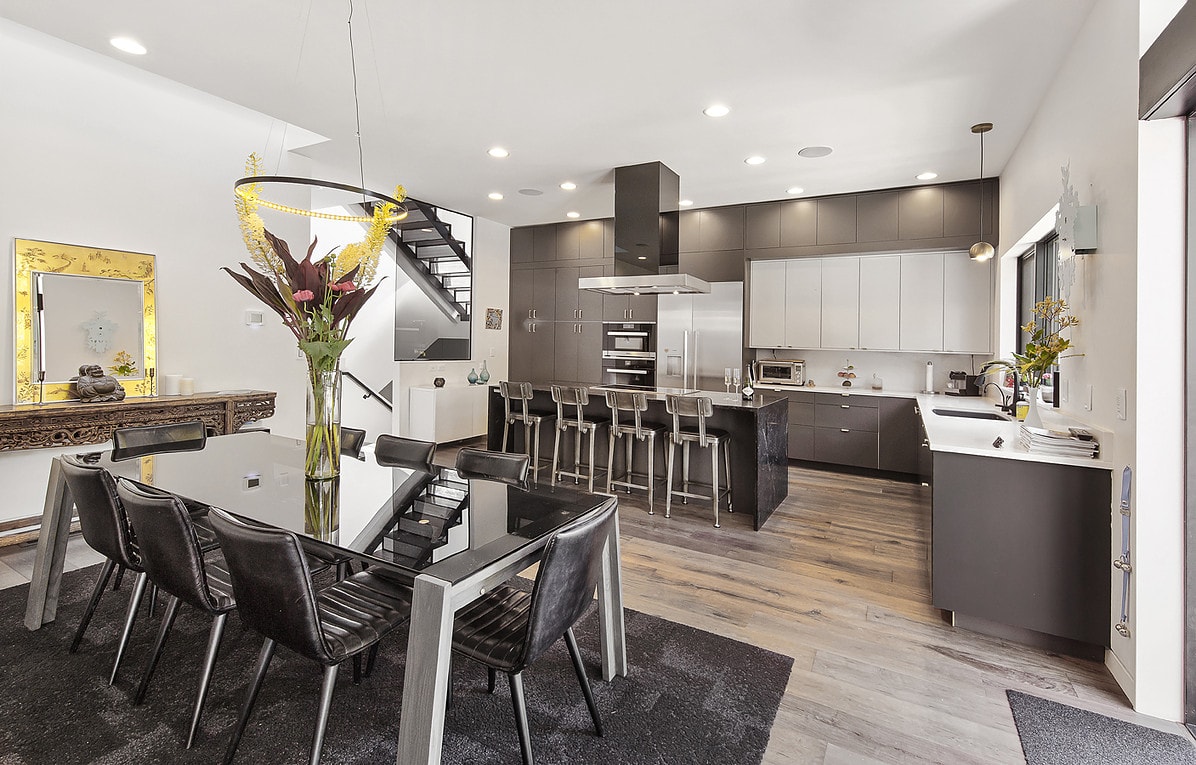 Having put all this work into the design, the installer has a very important job: transform beautiful drawings into a beautiful kitchen. Proper and careful installation ensures that your kitchen looks as great as you imagined. Beyond the look, the quality of installation also has an impact on the longevity of your new kitchen.
It's a small investment to make for a room where you'll spend a significant percentage of your time over the next 10 – 20 years. You're likely going custom because you care deeply about style. The quality of installation is as important to achieving that style as the materials and appliances you select.
What do you wish your clients knew?
Behind every project brought to Kokeena is a team of people who care deeply about the success of your project. We got into this business because we love kitchens and we care as much about style as you do.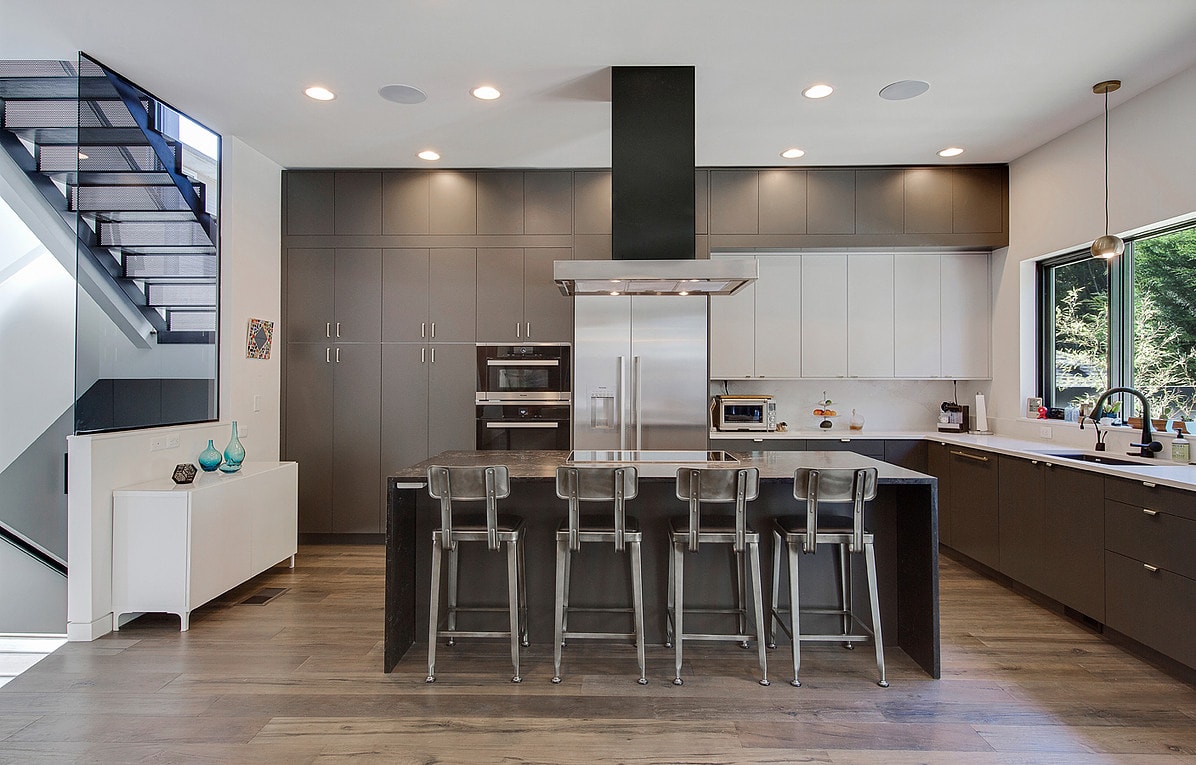 Things can get hairy in the middle of a remodel project—especially so a kitchen remodel. When they do get hairy, we're here to help you figure out the best way forward.
Is there one piece of advice you always give, or is there one piece of advice you wish clients would follow more often?
It's better to err on the side of caution if you are trying something that hasn't been done before with us, or an IKEA product. You can customize things, but there are limits.
Sometimes ordering extra materials is a good idea. It gives you more flexibility.
Also, I'd say that you want to do your research. Make sure you are getting what you want and know what you want to start with.
Are there door styles that are better for certain lifestyles? Homes with families, pets, entertainers, chefs?
I would say that a laminate style door is better for homes with kids or pets. Especially if they are in the kitchen a lot and it's a more rough and tumble environment.
A chef would want cleanable and durable surfaces. They would opt towards a paintable slab style that won't catch crumbs. A laminate would work well for them, too.
For the people who want a wood veneer, I'd tell them that it's a lot like having a beautiful table or a piece of furniture. You need to be careful with it! You will have to wipe it down, and keep dings to a minimum.
Our shakers have a solid maple frame. Years down the road, you will appreciate that they are a more solid material and easier to refinish. All you have to do is sand them down and apply new finish.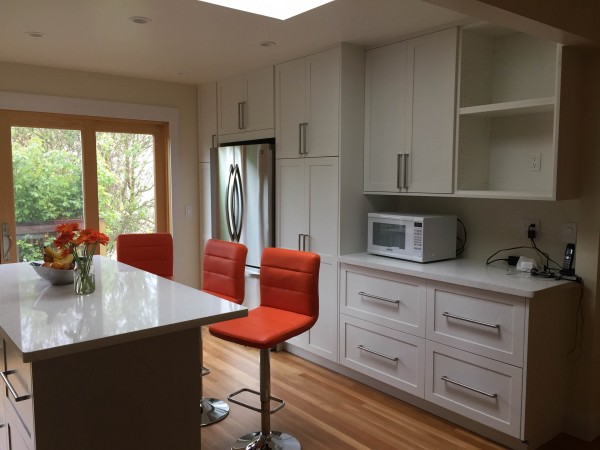 Shakers are our most popular style. Many American customers tend to go with a shaker style door, perhaps because it reminds them of the houses they grew up in. Or maybe this style fits into the style of the house they currently have. Many are remodeling homes built in the 1920's-1960's.
Our European customers love the idea of custom doors for the IKEA system, it's a no-brainer for them. Frameless cabinetry is very prevalent overseas. Painted slab style doors are the preferred look, especially when very sleek with all integrated appliances.
Do you recommend contractors or other professionals (architects, interior designers, installers)? If so, what's your process for vetting?
Most people we refer have worked with customers on past projects. We have a recommendation tab on our website. A lot of these recommendations come from their performance and happy customers. Word of mouth is tried and true.
Do you have Green/environmentally friendly options? Which materials do you use that are sustainable and which ones do clients prefer?
We're on the West coast, so green is a big thing. Most of our product line is built around being environmentally friendly: agriboard, recycled wheat product with no added formaldehyde or urea, plus a soy based adhesive to keep it all together. All of our veneers are FSC certified and our materials are sourced locally as much as possible. Local is the best!
Also, we use low VOC finishes for paint, stains and clear coats.
Doing these things in the furniture world is common, less so in our world. But that's changing and it's a good thing. The trend is for people to move over to the green side of things.
—
Thanks for being one of our trusted cabinet door manufacturers, Russell! We're glad to have your team working in tandem with IKD.
If you're looking for unique cabinet doors and live in the US or Canada, get in touch.