See how an outdated kitchen gets a Mid Century Modern makeover
There's really nothing that can prepare you for an IKEA kitchen as jaw-droppingly beautiful as Jennifer's.
You can visit the Louvre and gaze upon the Mona Lisa. Hike the Grand Canyon from sunrise to sunset. Or run your fingers over a Ferrari 458 Italia at an exclusive car show.
But then you see the view from this Mid Century Modern IKEA kitchen.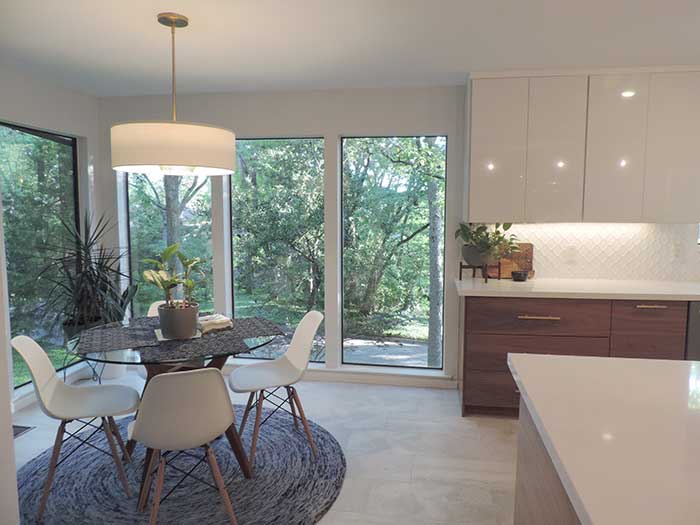 Gorgeous, isn't it? You might think we're waxing just a little too poetic. Until you see the rest of the house, that is.

An IKEA kitchen for a "tree fort"
Jennifer describes her home as being like a treehouse, and we'd have to agree. The floor-to-ceiling window panes bring the surrounding trees right into the home.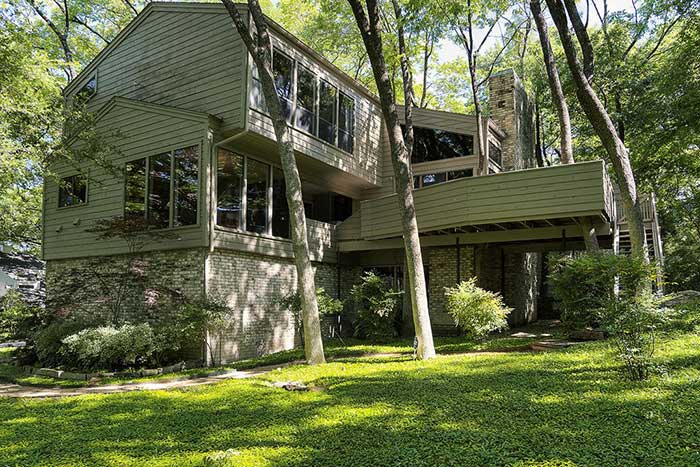 You can really get a sense of the trees from this photo of the old kitchen, back when there was a wall between the kitchen and the eating area. The wall is what you see on the left side of the photo.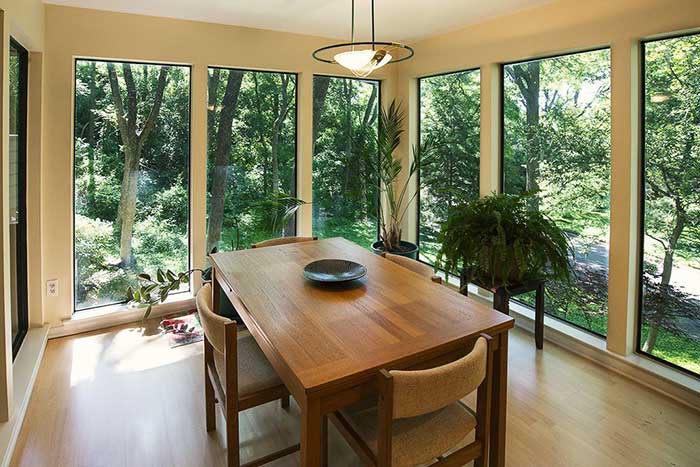 The actual kitchen looked like this: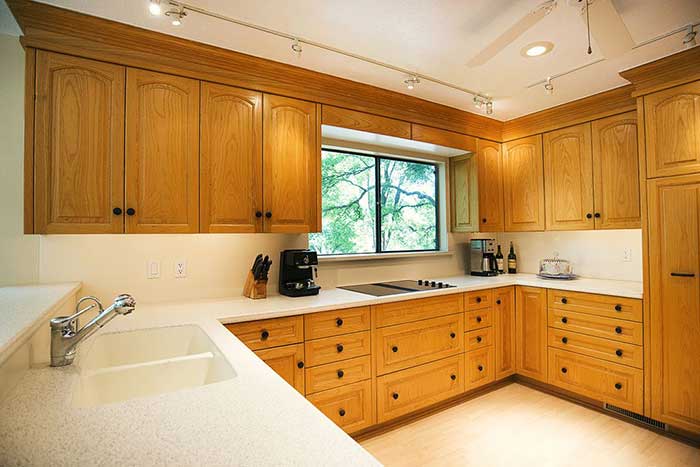 YIKES! What is this nineties blond wood monstrosity doing in this beautiful house?
Luckily, it's been removed and replaced with this Mid Century Modern IKEA kitchen.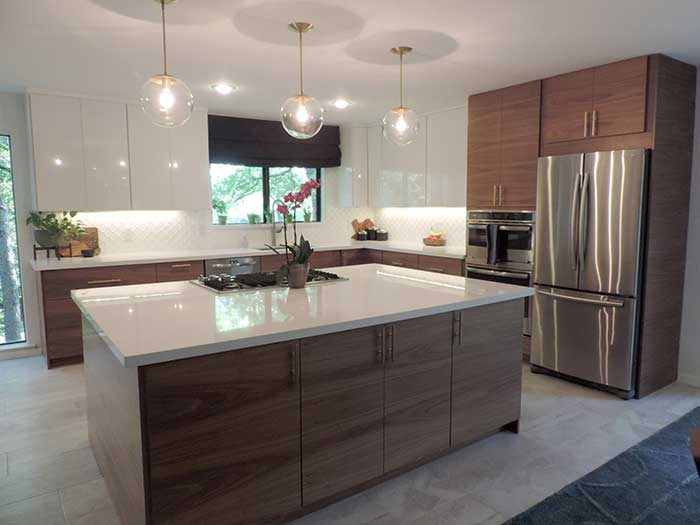 This kitchen is a much better fit for Jennifer's Mid Century Modern (MCM) style home, don't you think?
This wasn't Jennifer's first kitchen renovation rodeo, but it was the first time she was moving gas lines and plumbing. She wanted someone else – like IKD! – to make sure her new IKEA kitchen design would make sense.
Kitchen design lesson: what's the difference between kitchen decoration and kitchen design?
Before we talk about Jennifer's kitchen design in detail, let's talk about the difference between kitchen decoration and kitchen design. This will only take a moment, we swear.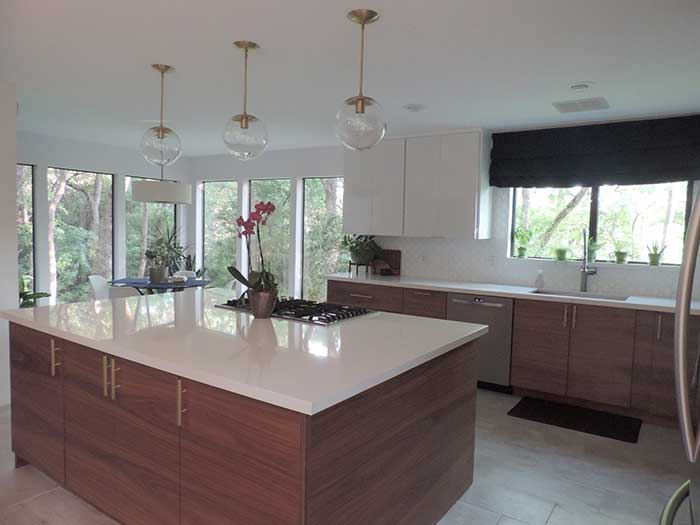 Kitchen decoration is concerned with details like the Semihandmade Flatsawn Walnut horizontally sequenced doors, the pairing of the wood veneer doors with high-gloss white doors, and the choice of hex tiles for the backsplash. Among other things. Those were all of Jennifer's choices.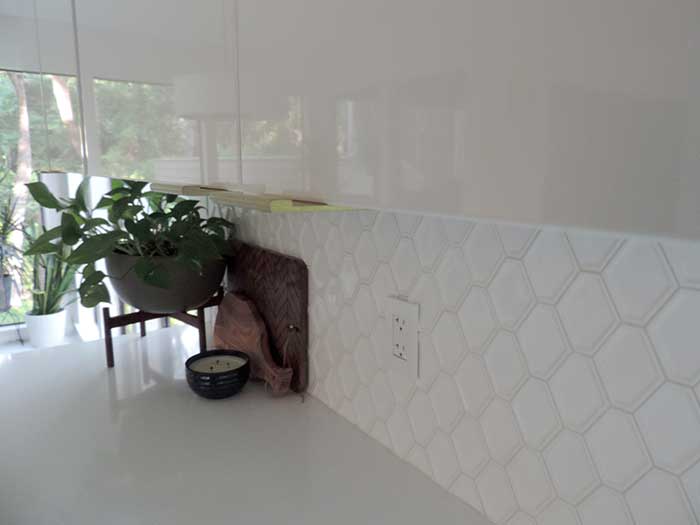 On the other hand, kitchen design is concerned with how the kitchen is laid out. That's where we come in. Our customers usually have an idea of where they want the refrigerator to go, for example, but IKD designers know how to get the most out of every inch of kitchen space.
You'll see why this is important very soon.
Jennifer's top 3 kitchen design wishes
So for Jennifer's Mid Century Modern IKEA kitchen design, she wanted:
A really big kitchen island. One of Jennifer's recent guests remarked "This island has its own ZIP code." Mission accomplished. The pendant lights hanging above are from Cedar & Moss.
Lots of good storage. When she ripped out the wall between the old kitchen and the eating area, she happily gave up many wall cabinets. Now she could replace them with the much more desirable drawers that IKEA is so known for.
A working kitchen triangle. Jennifer had designed this herself, but because it would mean moving plumbing and gas lines, she wanted a sanity check. For example, could she put the refrigerator next to the oven?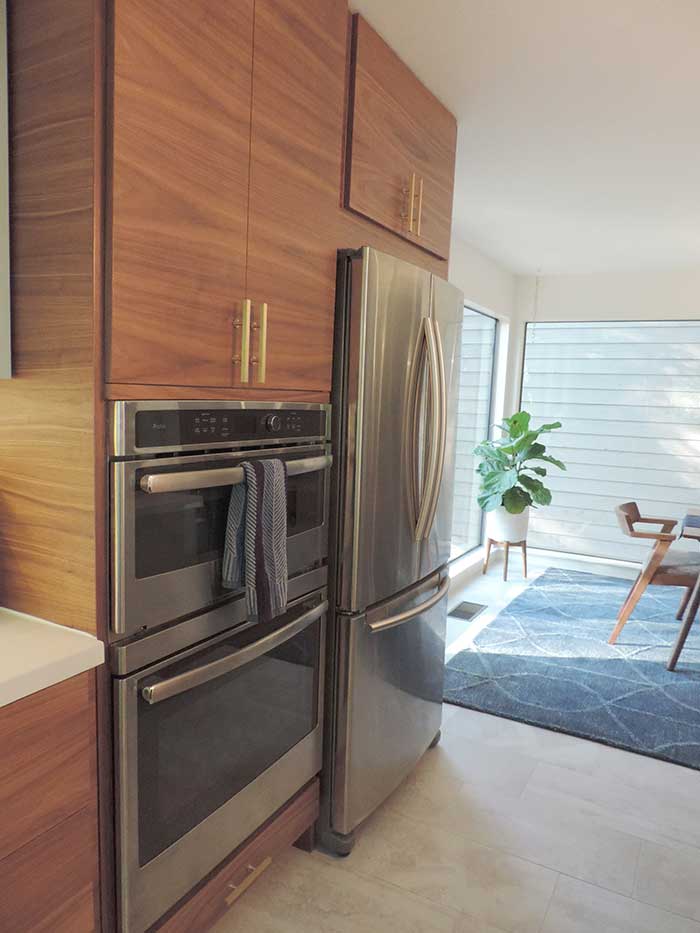 Looks like the answer was yes!
Now, about those wall cabinets….
The wall cabinets are not IKEA. They're Kraftmaid. This is where IKD's kitchen design knowledge comes into play.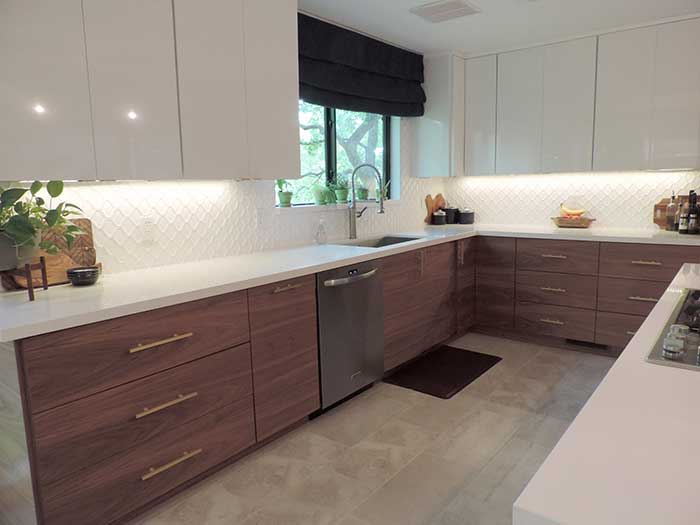 Jennifer had planned to use IKEA wall cabinets, but there was one snag. Her only option for that corner cabinet near the sink