A built-in hutch may be the best decision for your IKEA kitchen design, because it can add an ample amount of storage and still provide room for visual displays. This hutch area was done with a budget of $1,488 and ADEL doors in off-white.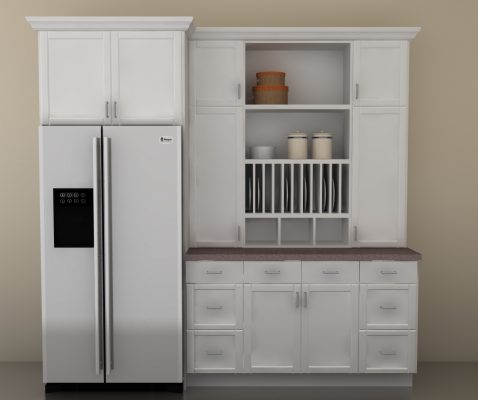 In this kitchen, the hutch doubles as a display unit and a pantry area, making the most out of the space. The white ADEL cabinets match the rest of the cabinets throughout the rest of the kitchen, and the dark countertop makes for a perfect workspace, adding a splash of color to the white doors. See which IKEA components we used to put this beautiful hutch together:
Here's what you'll need for your custom IKEA kitchen hutch (all in ADEL white):
 3 Cover panels (3'x8′)  (for plate rack dividers and cubbie storage units)
2 Base cabinets with 3 drawers, 15″ wide
1 Base cabinet with 2 doors and 2 drawers, 30″ wide
2 Wall cabinets, 15″ wide, 39″ high
2 Wall cabinet frame 30″ wide, 15″ high (for plate rack frame and middle open unit)
1 Wall cabinet frame, 30″ wide, 18″ high (for top open unit)
1 Tall cabinet cover panel (for the exposed, right side of the hutch)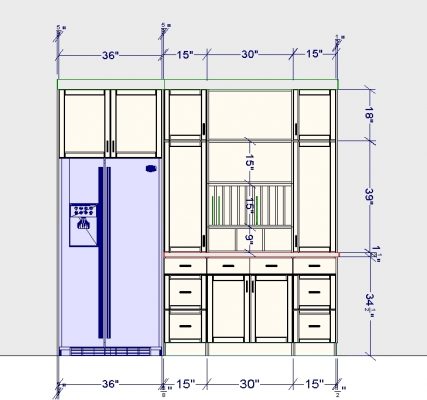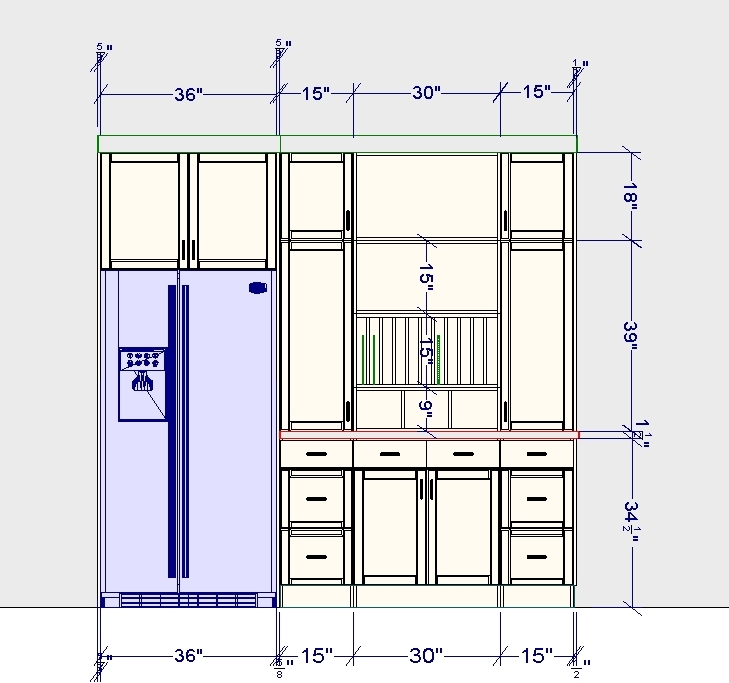 Design tips for your custom IKEA hutch:
Cut 'shelves' for the plate rack out of a 3'x8′ panel. The total inside height should be at least 12″ and the space between each divider should be about 1 1/2″.

Build the cubbies below the plate rack out of another 3'x8′ panel. The trick is using a sturdy wood glue or nails, think of something like Gorilla Glue.
Finish your hutch by adding crown molding to the top. This will give it a more personalized look. You can get from hardware stores such as Home Depot or your local lumber yard.
For a paint color match, we recommend using Paper Mache from Benjamin Moore. (Use this to paint your crown molding so that it matches your ADEL doors)
If the drill holes at the open cabinets bother you, you can fill them with caulk and then gently wipe off the excess with a slightly damp rag.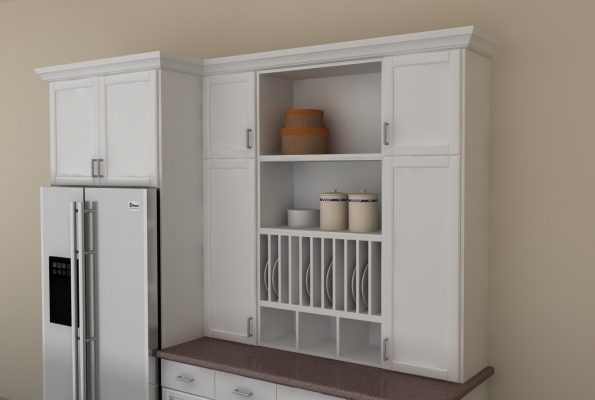 For more custom cabinets you can create with IKEA components, check out these other entries: