The ABSTRAKT , APPLAD, and GNOSJÖ doors from IKEA were discontinued by the manufacturer after the date this article was published.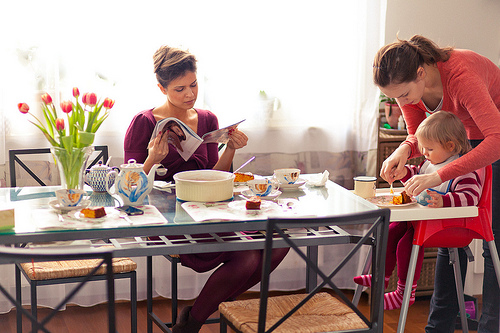 Did you know that an IKEA kitchen remodel doesn't have to cost you an arm and a leg?
Let's face it, we'd all love to be able to afford a kitchen remodel like famous kitchen like the Dunphy's in Modern Family, or perhaps celebrity chef Jamie Oliver's kitchen.
The truth is, kitchens like theirs can cost a lot of money. Many of us can't afford them. At Inspired Kitchen Designs we've worked with budgets of all sizes. So we can certainly work with yours.
An Affordable IKEA Kitchen Remodel
When you go to the IKEA store to buy your kitchen, there are three areas where you can cut costs.
Kitchen layout

Accessories and  little extras

Cabinet doors
Here are Inspired Kitchen Design's three tips for saving money when remodeling your kitchen.
Tip One: Keep Your Kitchen Layout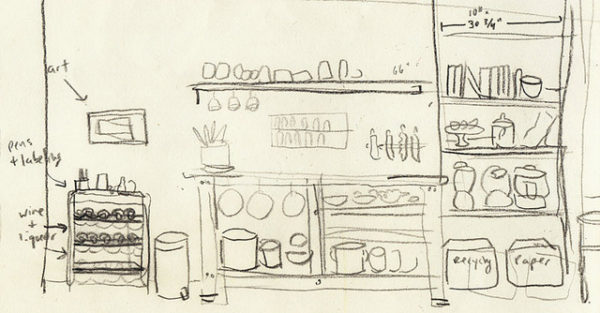 The simple way to understand this tip is to think about what doesn't need changing. What already works? Keep your kitchen foot print the same. This may not affect your budget directly with us, but it will affect your overall budget.
Wherever possible, leave appliances, plumbing, gas lines, and electrical in the same places. Removing a wall, or moving or sealing a window, can increase the cost of your kitchen. So can removing a soffit.
If you are considering remodeling the structure of your kitchen, definitely think about the materials you plan to use. Changing dry wall is not the same as changing concrete, and both of these make for different approaches – and costs – when hanging your cabinets.
Tip Two: Choose Accessories and Those Little Extras Wisely

 Many people think they'll get a better deal if they don't buy certain items from IKEA. Oftentimes, this is not the case! Farmhouse sinks, for example, are popular right now. Did you know IKEA sells them? You certainly don't need to buy everything for your kitchen at IKEA. But first make sure you can really save money by buying from somewhere else.
What about those smaller items?
Fancy accessories can eat up your budget so that you have little money left over for anything else. Glass cabinet doors, horizontal cabinets, drawer organizers, special cabinet legs and different-sized cabinets can really rack up a bill. So think think about where a less expensive version can work for you.
IKEA's CAPITA cabinet legs, for example,  are a stunning addition to your kitchen, but AKURUM legs are considerably less expensive. Don't like the way they look? Hide them behind a toe-kick, the little niche under a cabinet that keeps you from stubbing your toes.
EKEBODA handles look smart with their rectangular look, but if you have a lot of cabinets and drawers, they can really add up. Consider IKEA's less expensive LANSA handle or if you're willing to sacrifice the angularity, take a look at the ATTEST handles, the least expensive of the bunch.
Tip Three: The Secret to Choosing Attractive Cabinet Doors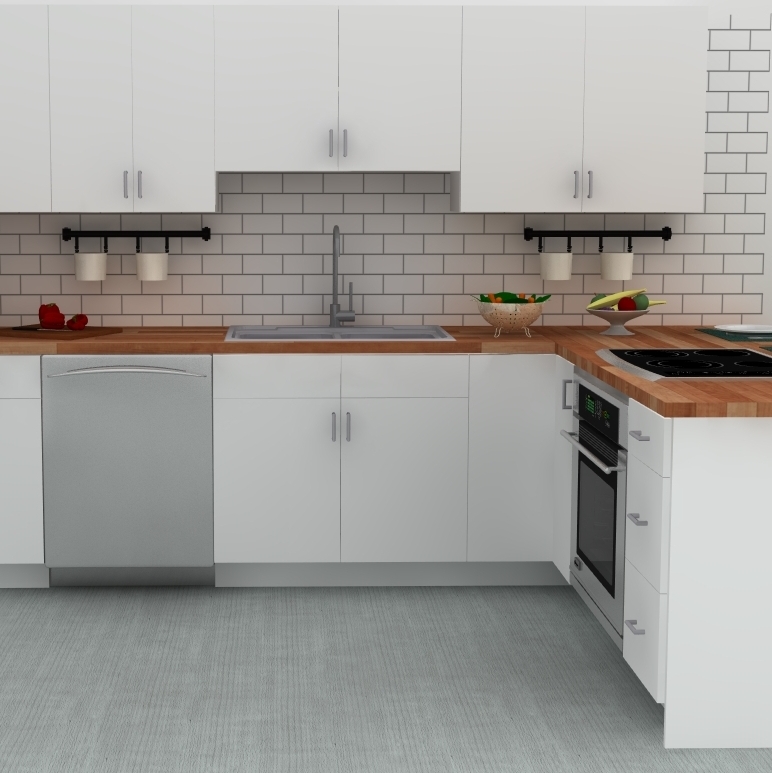 Cabinet doors are the most decorative feature in your kitchen. Aside from appliances, this can be the most expensive part of your kitchen remodel. But even here you can save money! Because it's IKEA, the cabinets don't have to be expensive to look fresh and custom. ikea kitchen remodel
Glass doors and wooden doors can be pricey. ABSTRAKT doors are very popular right now and are beautiful with their high-gloss white finish, but you can get a similar white kitchen look with APPLÅD doors.
If you're really looking to save money on your cabinets, GNOSJÖ IKEA doors have a horizontal wood grain effect and are the least expensive option for your ikea kitchen remodel.
How to Create an Affordable IKEA Kitchen
Because we're experienced, professional IKEA kitchen designers, we can get the most bang for your buck when remodelling your kitchen. We pride ourselves on being  creative with your budget – without sacrificing the beauty of your ikea kitchen.  We've had years of experience designing kitchens and will help you balance beauty with budget.
"Creative Commons Kitchen" by Gatanass is licensed under CC BY 2.0
"Creative Commons Kitchen Plans Sketch 1" by bainesmcg is licensed under CC BY 2.0