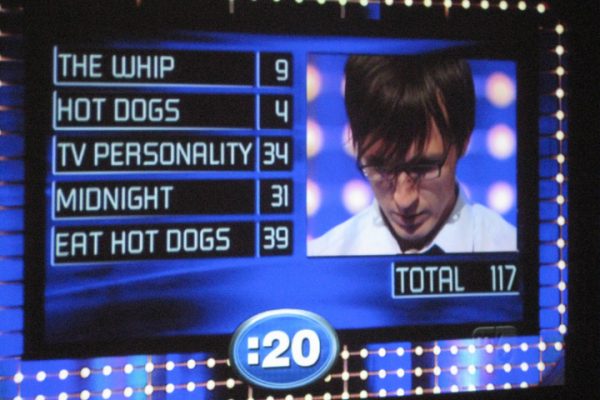 Ready for a flash round of IKEA kitchen Family Feud? What's the first thing that comes to mind when I say "kitchen renovation" ?
Because the survey says, "Can I afford a kitchen renovation?" was the top answer!
If you think an IKEA kitchen renovation will be too costly right now, you're not alone. Even though IKEA kitchens are known for their affordability.
Luckily, there are ways to save money on your IKEA kitchen renovation
In fact, we know of 6 tips to save money on your IKEA kitchen renovation. Don't give up on your dream of a beautifully updated kitchen design.
You can accomplish an IKEA kitchen remodel within a reasonable budget. And whether your "reasonable budget" is lean or large, you'll still want to spend wisely.
So, pay close attention here. We're going to show you 5 ways to save money on your IKEA kitchen renovation – without skimping.
#1: Make a priority list
It's always wise to prioritize! (Hope that didn't sound too much like your mom!)
Having a non-negotiable list of must-haves for your IKEA kitchen redesign is the best thing you can do for your budget during a renovation. It can be a quick and easy task, too.
Think about the most important ways you use your kitchen:
Got that all written down? Here are the steps to follow:
Think about how you do and would like to use your kitchen, and then start your priority list accordingly.
List all the things you want to improve or change up—more storage, additional countertops for food prep, pretty stuff like a tile backsplash, and so on.
Put them in order of most important to least important.
Now you know where you should splurge and where you need to get creative!
#2: Work with an IKD designer
Spend money to save money? Yes, absolutely. Working with an IKD IKEA kitchen designer will definitely help you save money on your IKEA kitchen renovation.
Some of the pitfalls of DIY-ing your own IKEA kitchen remodel:
Unless you're in the kitchen design business, you're bound to make mistakes – and they can range from inconvenient to costly to catastrophic! (Read our ebook to learn about the 3 things the IKEA kitchen home planner cannot do for you)
You can end up overspending and buying things you don't actually need or that won't work in your space. Overspending does not help you save money on your IKEA kitchen renovation, that's for sure.
You'll miss out on all of the creative ways to keep your kitchen budget-friendly that only a team of IKEA kitchen designers would know!
We can assure you'll sleep better at night knowing we're guiding you through the process.
#3:Watch for IKEA sales…or learn how to get the sale prices any time of the year
If you're reading this blog, you probably already know about the infamous IKEA kitchen sales. We're not affiliated with IKEA, but we do have something of a spidey-sense about knowing when they'll start.
But, just the facts ma'am:
These sales may pop up with little notice and run for about six weeks
If you spend at least $4,000, you get a 15% discount that's applied as a store credit. That means you can really stretch your dollars and get a lot of the appliances, cabinetry, and other pieces you need—all while saving money.
Sales and terms vary by store, so be sure to get the correct scoop when managing your IKEA sales strategy.
But, most importantly, why wait for the sale? Why not get those sales prices whenever you want? We wrote a free ebook so you too can learn the secret of IKEA kitchen sales and save money on your IKEA kitchen renovation.
You can also watch this video featuring our 3 top tips by clicking here.
#4: Don't move the big stuff…such as walls and plumbing
One of the easiest ways to save money on your IKEA kitchen renovation is to keep the same "footprint" for your kitchen.
It's not cheap to bust out walls and move plumbing and drain lines. Unless you're really dying for that open concept kitchen, etc., keep walls and pipes where they are and work them into the new design layout.
Choosing to not move the big stuff will save you thousands of dollars during your renovation. And that's money you can spend elsewhere on the things you prioritized from Tip #1. Review that list! Remember that refrigerator upgrade you've been eyeing for the last six months or that new range that will finally let you get in touch with your inner chef? Stay focused.
#5: Buy countertops locally
Don't buy your countertops from IKEA if you want to save! They are not a good value for the money.
You can get granite countertops at a fraction of the cost if you check out local sources. If you don't need a single large slab of granite because you have limited counterspace that's broken up, remnants from local granite suppliers could save you a hefty chunk of change.
And on top of that, you might be able to add some more money back into your budget if you haul the stone yourself instead of paying to have it delivered. We have even more insights on this topic over on our YouTube video: click here to watch.
And here's a bonus tip for saving on your renovation (you're welcome!)….
#6: Think efficiency, not square footage
Taking down walls is not the only way to expand the size of your kitchen!
Whether you're working with a big open space or a tiny kitchen, focus on making the most of every inch you already have. Be careful not to confuse efficiency with square feet. Taking down walls isn't your only option!
There are some great space-saving solutions available these days—like drawers-in-drawers, trash bin cabinets, and adding cabinets in the dead space above the fridge. We can work all kinds of creative solutions into your design draft to help you make the best use of all your space. IKD knows all the tricks for getting the most out of a small kitchen.
Thinking outside the box can save you hundreds—if not thousands—of dollars when you're heading into your IKEA kitchen project. And these are just 6 options! There are so many more ways to build the kitchen of your dreams without breaking the bank. As we share on our video over on YouTube, IKEA products can help you save money (click here to watch).
We're here to help you throughout the journey, from prioritizing what you want, designing your new space, and bringing your IKEA kitchen to life. And the survey says: Contact us today to get started!