Small kitchens may appear to be a design challenge, but they can also be functional, stunning and efficient. If you have a small kitchen to remodel, then the problem of creating a fabulous IKEA kitchen design simply comes down to what you can fit and where. These small kitchen design ideas from IKEA can make a BIG difference!
Take a look at these
5 small kitchen design ideas
from our designers: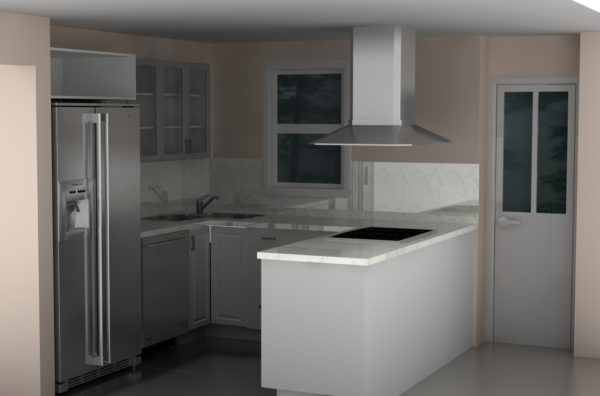 Small IKEA kitchens take a great deal of thought and fresh new ideas to get it right. Don't be rushed. Take the time to think about all of the things your small kitchen will do and how you'll move within the space.
Check out these design ideas for small kitchens:
1. Open shelf storage
Boost storage and display space in a kitchen by capping off a run of cabinets with open shelves. For example, these shelves face the adjoining living room and offer a convenient spot for storing cookbooks without weighing down the kitchen with closed-off cabinets. The open shelving unit provides plenty of storage space without weighing down the kitchen with more closed cabinet fronts. You can use an AKURUM cabinet frame and cut down additional shelves from IKEA 3'x8′ panels.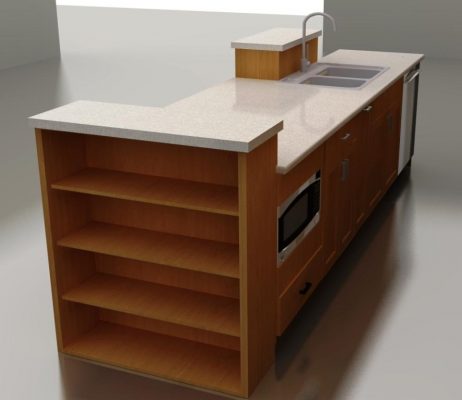 2. Creative island organization
Island storage doesn't need to be enclosed. Removing a few cabinet doors from this island provides easy access to items while adding an open feel to the small kitchen work space. Wicker baskets corral the contents of each shelf to ensure everything stays neat and tidy. (BRANAS baskets from IKEA, $12.99 each)
3. Declutter with an Appliance Garage
The less clutter on countertops, the more spacious your kitchen will appear. Create a storage space on top of a counter on what would normally be a dead space, and use the cubby for hiding small appliances. Include an electrical outlet at the back of the cabinet for convenience. (IKEA no longer makes the AVSIKT aluminum roll-front cabinet shown here, so read our IKEA kitchen hack post about creating your own appliance garage here)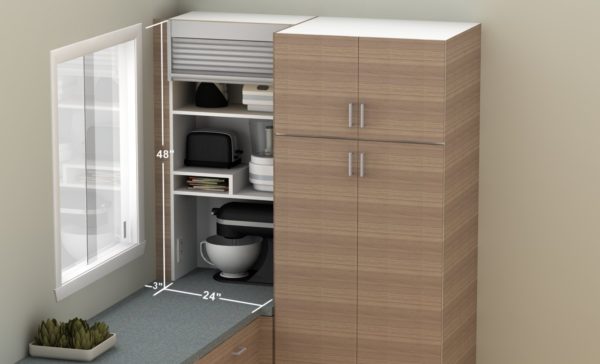 4. Creative Counter Space
Creative stow-and-go solutions are a must in a small kitchen space. Here, a BEKVAM rolling cart ($60) tucks neatly into this island to offer additional workspace as needed. The tiny cart can be wheeled throughout the kitchen to give multiple cooks room for meal prep and staging.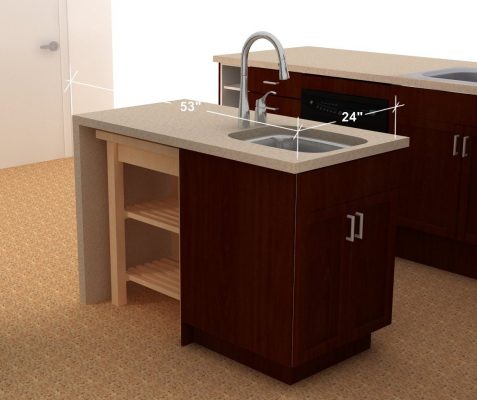 5. Sleek cabinets
Did you know that IKEA has reduced-depth drawers? Take advantage of those hard-to-plan walkways and still use the available space for storage without sacrificing comfort or functionality.