The holiday season is upon us! With all the upcoming festivities that means your kitchen will be doing double duty. Do you have visions of a new IKEA kitchen dancing in your head? We here at IKD don't blame you! A beautiful, functional kitchen can make the difference between a memorable holiday party and a complete fiasco. But if you're tempted by the IKEA Home Planner, be warned: it has some serious (and sneaky) shortcomings.
I know: the IKEA Home Planner sounds so easy. Go online, click around a bit, add a few measurements and, hey presto, out pops a fantastic 3D design and shopping list. Everything you need to get that kitchen you've been dreaming of. Right?
The reality is very different.
Yes, the Home Planner gives you a rough idea of what might look good in your kitchen but, as our customers tell us, it's far from user-friendly.
It also doesn't tell you the whole story. You'll have to return to the store, get caught up in endless cues to talk to support staff and typically end up having to make extra purchases.
How simple is that?
Going Beyond DIY
IKEA's business is built around the whole concept of DIY. Modern Scandinavian furniture that's easy to assemble — that's IKEA's cornerstone.
"Come to the store," the ads seem to say, "grab a few things, put them together and then you're good to go."
Now this might work for a lamp, a table or desk. But everyone knows assembling IKEA furniture isn't always a piece of cake.
Just ask actor Ryan Reynolds!
More than just cabinets
Your kitchen isn't a few cabinets, thrown together on a weekend – no matter what the adverts say. When you're making a big investment that will affect the look and feel of your home for years to come, a kitchen requires detailed planning and design work. Even if you're planning to handle the kitchen install yourself.
Now, this isn't to say you don't get help in IKEA stores with the Home Planner. Ultimately, however, it's not the same as working with a professional kitchen designer with years of experience.
Tread Carefully
As we see it, if you're planning to work with the IKEA Home Planner this holiday season, there are three major limitations of the IKEA Home Planner that can make-or-break your kitchen remodel!
Limitation #1: You Can't Close that Gap Between the Cabinets and the Ceiling
A gap between the cabinets and the ceiling of your kitchen is inevitable. Kitchen ceiling height is typically 96". But wall cabinets tend to end up 3" to 12" underneath that.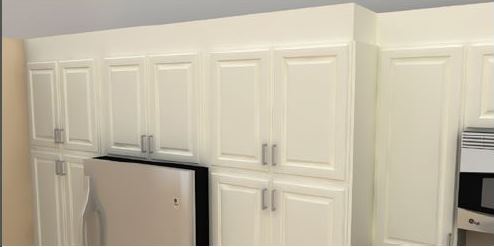 Homeowners usually want to get rid of this "dead space" because it doesn't look good and (worse!) is a dust trap.
A PERFEKT 3'x8' cover panel is used here to close the ceiling gap.
With other cabinet brands, this procedure is done with a combination of moldings or strips made specifically for this purpose. IKEA, however, currently doesn't offer these options.
The solution with IKEA kitchens is an IKEA plinth or a PERFEKT cover panel. In either case, depending on the size of the gap, you'll need to cut it down to size to close the space d.
Here's the tricky part: the IKEA Home Planner won't allow you to design with these pieces. Not only that, it doesn't calculate the costs of these in the shopping list. Imagine being in the middle of installing your kitchen only to find out you need to go back to the store to buy more items! Between in-laws, food allergies, and gift exchanges, you've got enough on your plate this holiday season.
Limitation #2: Forget About Countertop Support
Most countertops need extra support when there isn't enough cabinet support.
If you're not sure what that looks like, check for:
a dishwasher at the end of a row
two appliances together, such as a trash compactor and dishwasher
an open space for a desk without a cabinet at the end
A 30"x 40" front for integrated appliances serves as an extra countertop support.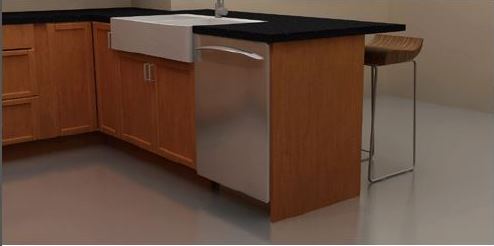 These examples all need extra countertop support.
The IKEA Home Planner does not allow you to design with these panels. What's more, it doesn't calculate them in the Home Planner price list. The panels need to be purchased separately, in addition to your cabinet selection. The panels also need to be cut down! Oh, and don't forget to match the color with your cabinets.
Limitation #3: Your Refrigerator Will be Naked and You Can't Do Anything About It
Most good kitchen designs frame the refrigerator with panels on either side. The benefit of this is that you hide the ugly side of the appliance, better integrating it with the overall kitchen fittings. More importantly, however, is that, the panels offer better support for the deep (and ultimately heavy) cabinet over the refrigerator.
Again, you need to be aware that you will need to buy PERFEKT panels that match your cabinets, and cut them down to frame the refrigerator. The Home Planner does not include them in the design and the extra cost is not worked in.
The Benefit
The kitchen design process has a lot more going on "under the hood" than IKEA's Home Planner lets on. When you work with kitchen design professionals, you take the guess work out of these decisions. You'll also get an accurate cost for the units you'll need to buy, potentially saving you trips back to the store.
Aren't the holidays stressful enough as it is?
Still want to Do it Yourself?
If you're still set on designing your own kitchen, why not download our ebook, There are 3 things IKEA can't do for your kitchen design. We wrote it to help customers like you how to get around the limitations of the IKEA Home Planner.
It's critical to get your design right the first time. Why tear out your hair using the Home Planner, when you can hire us? We have years of experience designing beautiful IKEA kitchens. We use our IKEA kitchen design tool to give you a beautiful, 3D rendering of your kitchen design, complete with accurate shopping list.