IKD customers frequently ask us for our opinions about choosing kitchen appliances. "What brands and product options are the best? Should I buy IKEA appliances?"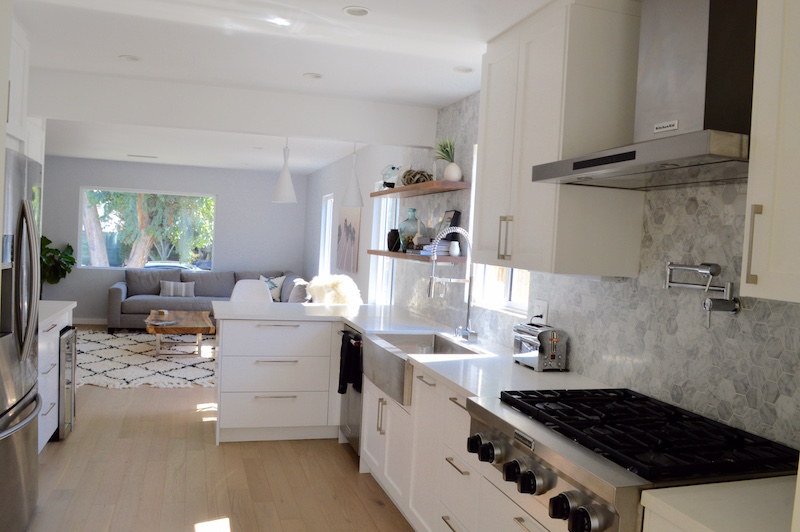 Major appliances like dishwashers, ovens, and refrigerators are extremely important to the function and fashion of your kitchen. While we can't and don't make specific recommendations about which appliances you should buy for your IKEA kitchen, we think there are 5 things you must know before choosing kitchen appliances.
1. Any brand of appliances works with IKEA cabinets.
No matter what appliance brand you buy, it will work with IKEA kitchen cabinets. That's because IKEA's modular system means we can fit cabinets around your choices. We can also get creative with some IKEA cabinet hacks if need be.
Many of our customers aren't interested in choosing kitchen appliances from IKEA. We strongly you encourage you to read this post where we debunk the 4 most popular myths about IKEA kitchen appliances.
In short: choosing IKEA kitchen cabinets for your home will not limit your appliance brand options.
2. Not all refrigerators are the same size, which can have a big impact on your design.
For those who love sleek, European-style IKEA kitchens, integrated refrigerators are necessary for maintaining those beautiful clean lines. IKEA USA does not offer an integrated refrigerator solution, however, so let's look at what you can and can't do in your IKEA kitchen.
There are 3 types of refrigerator configurations we typically see in designs.
Warning: Understanding the difference between a traditional refrigerator, a counter-depth refrigerator, and an integrated refrigerator involves juggling some numbers and doing some math. Consider yourself warned.
The 3 basic types of refrigerators
A standard refrigerator is 70" tall. The depth is usually between 31" and 25″ and as a result it sticks out beyond the surrounding base cabinets, which are 24" in an IKEA kitchen.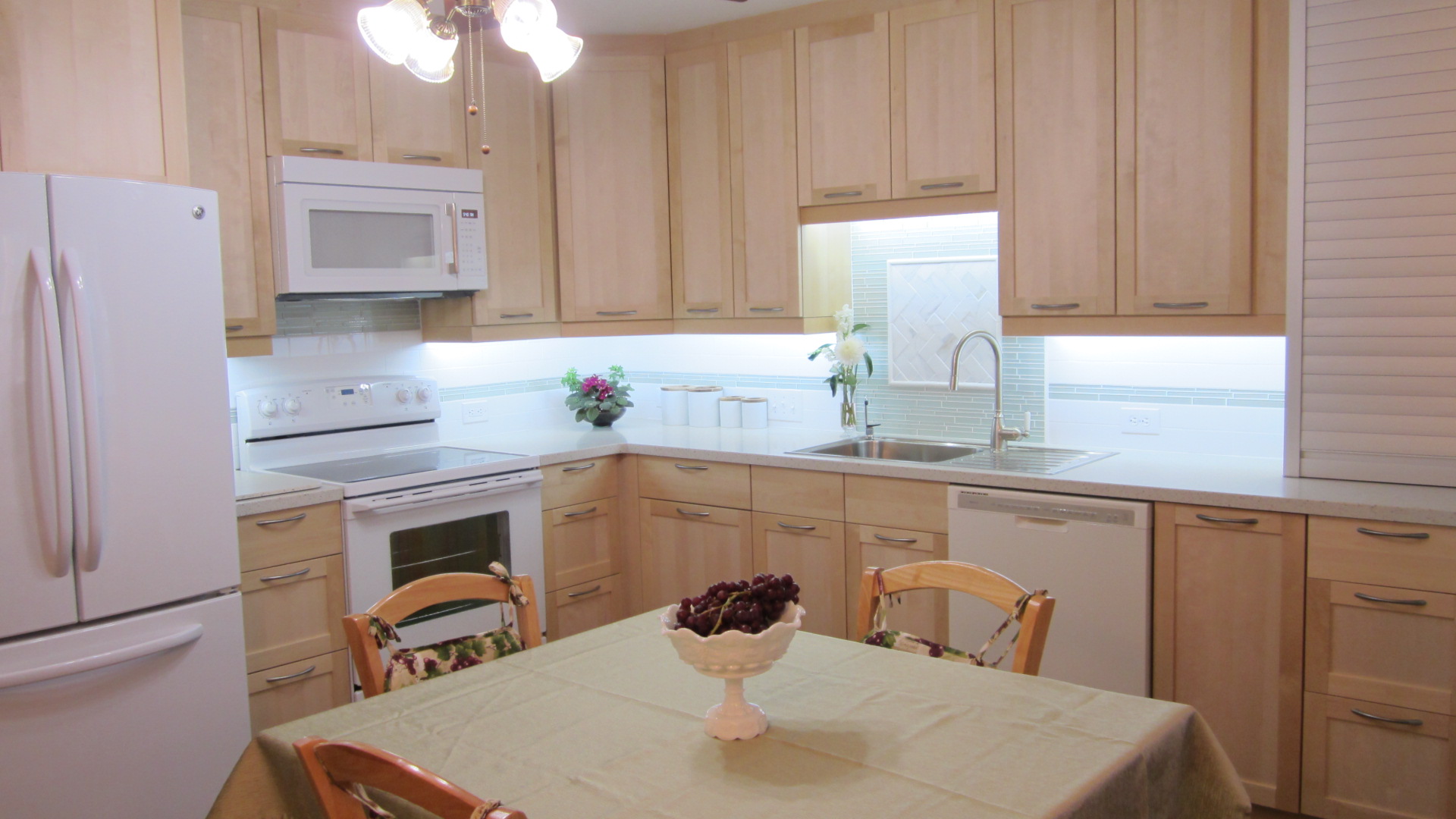 A counter-depth refrigerator is typically 70" tall and 24" to 26" deep…not counting the depth of the door. That means the entire refrigerator does not sit flush with the cabinets. This is true of IKEA-brand refrigerators as well, so be wary of IKEA employees and contractors who tell you otherwise.
That's because the refrigerator box itself is flush, but the door adds about 2" for hinge clearance AKA, so the door can open.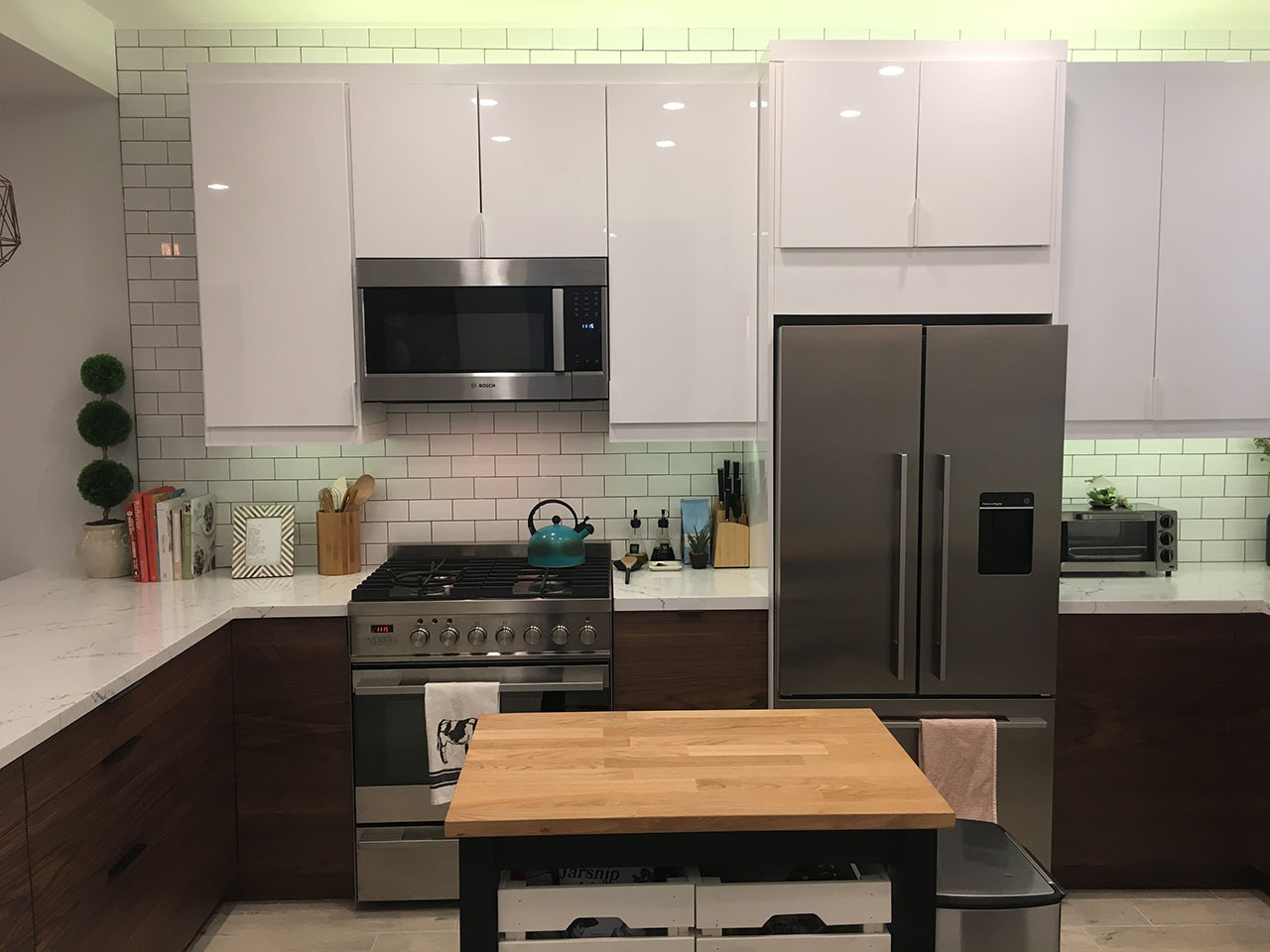 Manufacturers consider anything between 24" to 30" of depth to be counter-depth for a refrigerator. This look is popular with those who want the look of an integrated refrigerator but don't have the budget for what is actually a professional refrigerator.
Finally, an integrated refrigerator is 24" deep and truly flush with the cabinets, and is anywhere between 80" and 84" tall. They are either completely camouflaged by a built-in appliance cabinet or else they are stainless steel. Since SEKTION does not have a refrigerator or a cabinet like this you'd have to hop the pond over to Europe or Australia to get one in their METOD line.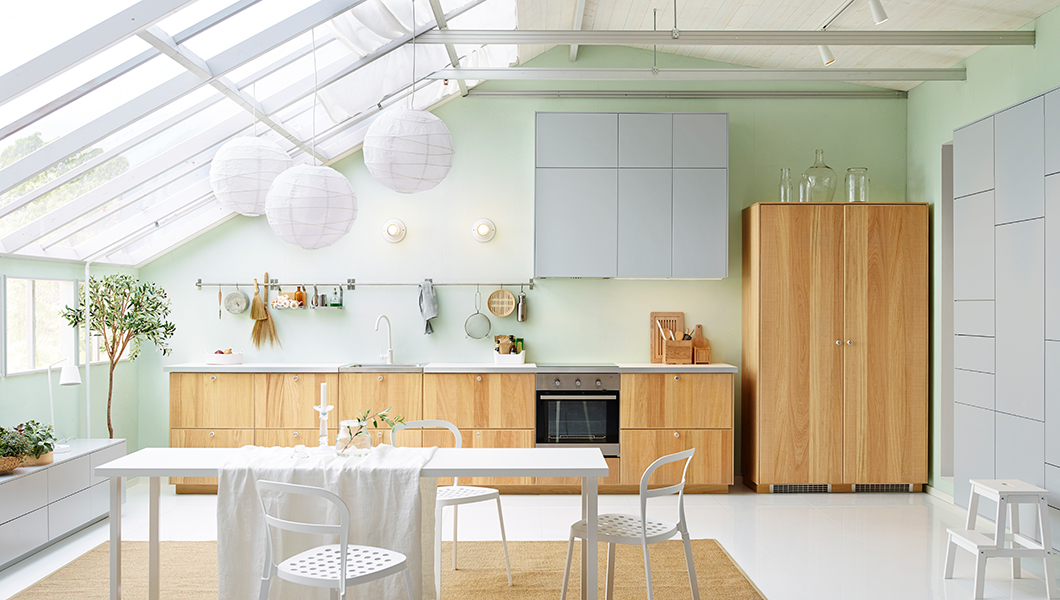 All of this means if you want an integrated, truly counter-depth refrigerator for your kitchen, be prepared to shell out some serious skrilla for a top-of-the-line professional refrigerator.
What you need to know before you choose your refrigerator
Oh and you should definitely measure the height of your kitchen ceiling before you get your heart set on a Jenn-Air or (other). Why? Kitchen ceilings in most American and Canadian kitchens are either 84" or 96" tall.
So here's what you'll need to know before you start designing your IKEA kitchen with IKD:
The heights of your refrigerator and ceiling
Can you fit the refrigerator into your kitchen?
Do you want cabinets above your refrigerator?
Bottom line: a counter-depth refrigerator can mean you have less room to work with. If you're only left with a few inches between the top of the refrigerator and the ceiling, your IKD designer will finish the space with panels or drawer fronts.
3. There is no such thing as a "standard" microwave size.
Microwaves sizes are not standardized. This only becomes an issue if you want a built-in microwave fitted into a base cabinet. If you want to fit a built-in microwave into a high cabinet, IKEA has many options like this one and they even make a cabinet that can fit a single oven and a microwave.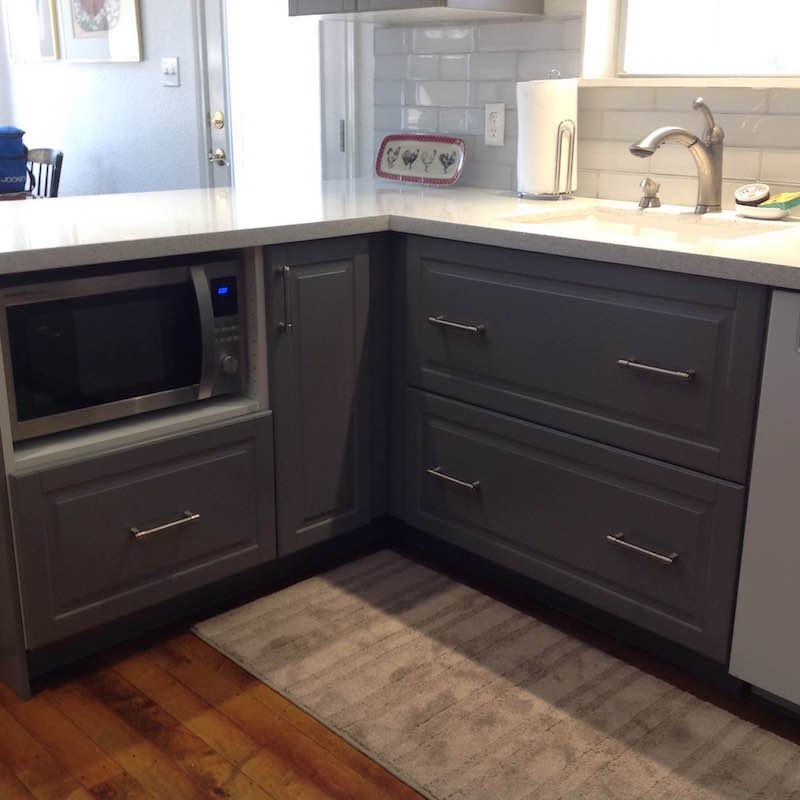 Why the issue with base cabinets?
Built-in microwaves are typically 15" and 20" high. They're also typically 24" or 30" wide, although there's the occasional oddball that's 27" wide.
SEKTION base cabinets however are 30" (not including the height of the toe-kick) high, which can leave you with 10" to 15" of leftover space. They're also 30" wide. IKEA has one base cabinet intended for a microwave, but because there's no standard microwave size, you could end up with a lot of extra room to the right or left of the microwave.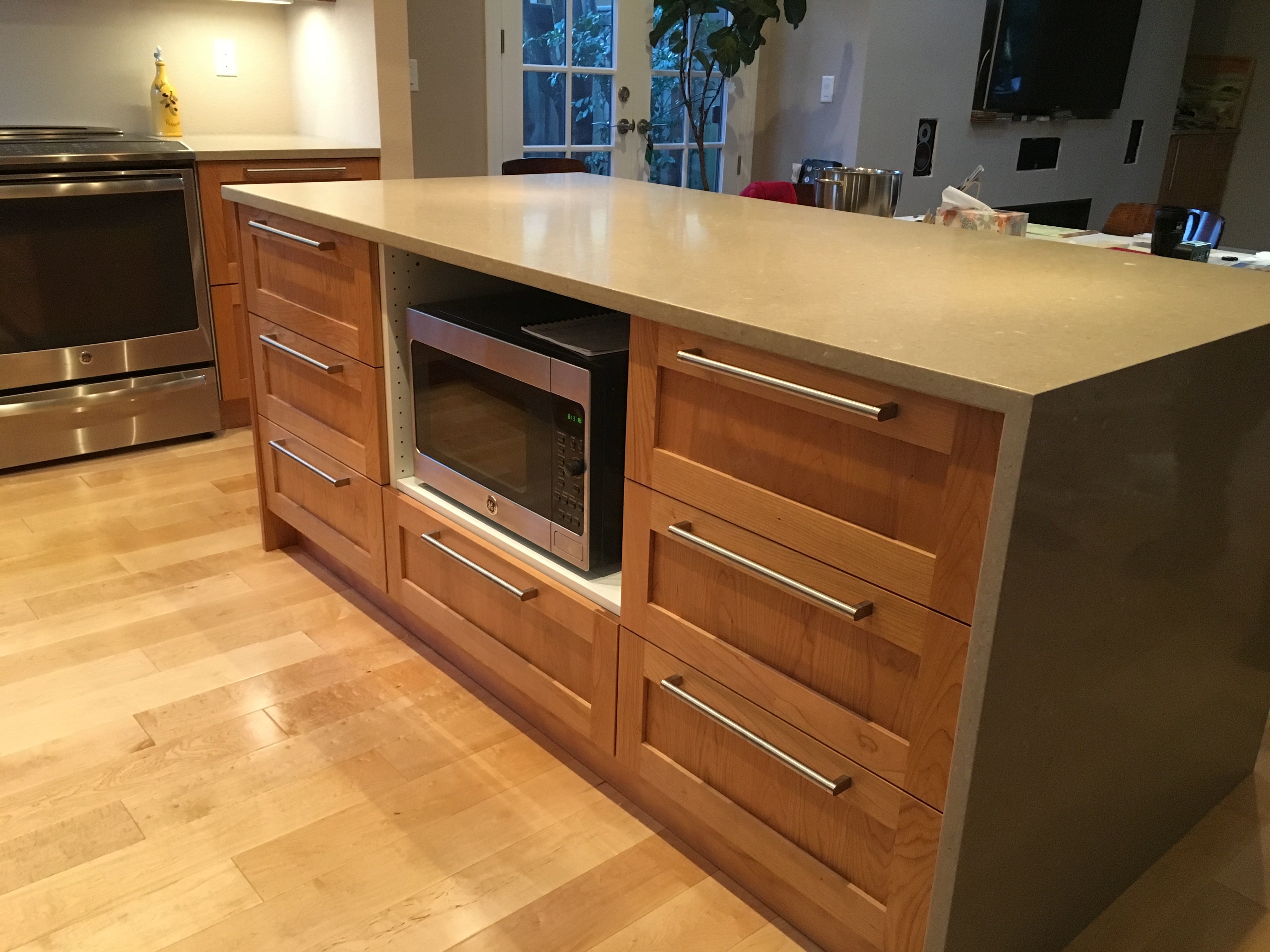 The path of least resistance may be just to buy an IKEA microwave.
4. Some double wall ovens are too tall to fit inside IKEA's tall oven cabinet.
Many of our serious chefs love choosing kitchen appliances that will really let them cook and bake to their hearts' content. If they have room for a double oven, they want it!
IKEA sells different tall cabinets for double wall ovens. Regardless of the configuration of the cabinets, they are either 80" or 90" high.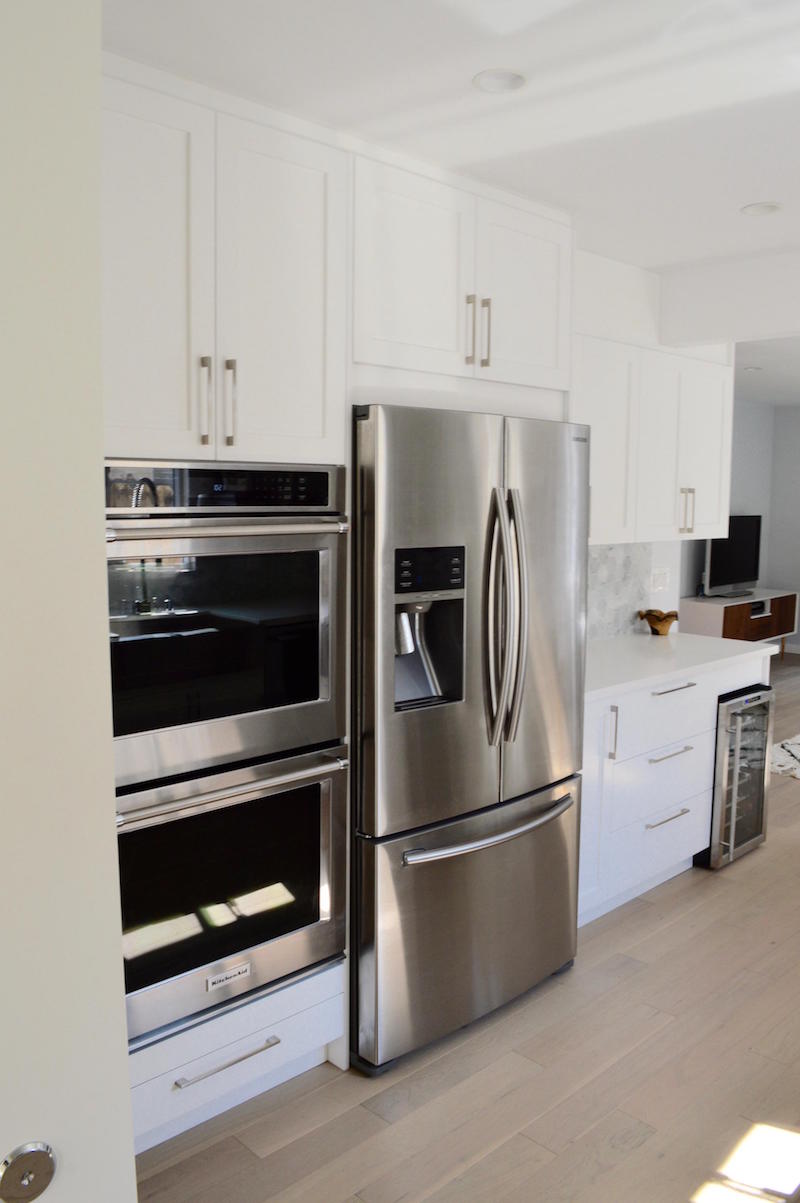 What can change is the amount of space available for the double oven itself. Depending on what else you put inside the cabinet, you can have anywhere from 50" to 55" of room.
IKEA's NUTID double oven is 51 5/8 " tall. In fact, most double ovens are between 51" and 52" tall .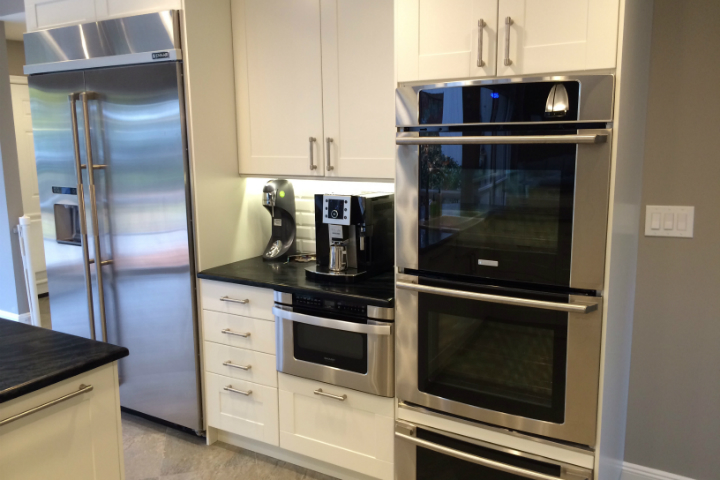 Therefore, to fit some double ovens into an IKEA kitchen design, we must modify the bottom drawers or the doors above. You can – and should! – pick the double oven you prefer! Just be aware that configuring your kitchen properly may take a little extra effort.
5. Front-control ranges take up lots of space.
Front-control ranges make so much more sense than a standard range. I mean, why reach over a very hot surface to change the temperature?
If you select a front-control range for your IKEA kitchen, you must know that they require more space on either side.
You'll need to install panels on both sides so that the surrounding cabinet doors and drawers don't bump into the appliances. (Want to create a cabinet for your front-control range oven? Read this hack post).
Choosing kitchen appliances and designing a new IKEA kitchen is tough
Choosing kitchen appliances that fit with the cabinets and countertops is a lot to think about. Does it just feel too complicated to juggle all of these numbers while you design your IKEA kitchen?
If yes, don't juggle. Let IKD handle your kitchen design instead. We know all of the important details when it comes to putting your kitchen together in a way that works. Contact us today to get started!