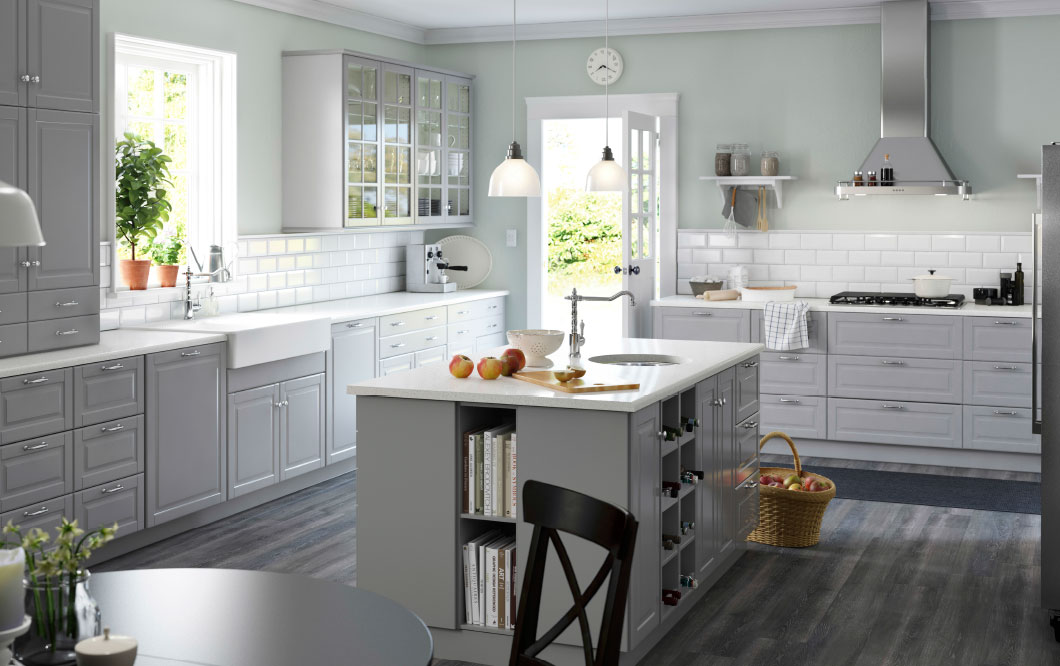 So you go to your local IKEA. See a fantastic showroom kitchen. And then you need to figure out how to get it into your place.
Bummer.
This happened to my friend Esther when she was renovating her two room condo in Connecticut. In the showroom, the BODBYN kitchen, which she told me she totally loved, was massive. And I mean seriously massive: it was at least twice the size of her place.
Still, she told me she wanted that minimalist, clean, Scandinavian design. She'd already decided she wanted pale blue walls and white Italian tiles, to make it feel more roomy: the BODBYN kitchen would match perfectly.
Esther's the kind of person that needs to see something in the store a couple of times and think it through before she gets hands dirty. So she visited her local IKEA in New Haven a couple of times, trying to figure out what she could and couldn't get away with in her small kitchen.
"Although I spent a good hour trying to get a feel for it," she told me when I interviewed her for this piece, "I didn't quite figure it."
It wasn't a wasted trip though. She ended up buying the JÄPPLING leather sofa (pronounced something like Yepp-ling, according to my Swedish friend). She told me she hadn't planned on getting it but there was a great deal that weekend in the store.
"Plus I was going through a Mad Men stage, having binged six seasons of Don Draper & Co on Netflix and the JÄPPLING sofa really has that sixties New York vibe," she told me.
So how do you design for a small kitchen?
The most important thing is to get your measurements down before you visit the store. Know how much space you have to play with. That's a strict rule !
Then, when you get there, make sure you focus on the key items you need. And be really, really harsh on yourself. Ask yourself: Do I really need this? when you look at those funky cabinets.
It's much, much harder than you think. Remember, IKEA want you to want everything! That's why they put everything you can think of into their showroom displays. It's like they're saying "You need this to have the perfect IKEA kitchen" – which really isn't quite fair, is it?
Another great tip is to try and work out how much cabinet space you really need before you get there. There's always more kitchen cabinets on show in the store than most of us would need. Yes, you can design your kitchen from the space you have in your small condo. My tip for this is to try and work out how much stuff you really have before you go to the store.
When I was living in my first condo and getting some kitchen cabinets (although not from IKEA, admittedly!!!!), I put my pots and pans in a big cardboard box to get a sense for the amount of space I really needed. I realised that with my two saucepans and skittle I didn't really need a cabinet to store lots of pots of pans. I ended up hanging them from the wall next to the hot plate and saving myself a few hundred dollars.
There's a risk that when you get to the store, you'll go overboard on the cabinets because they are made to look necessary in the store.
The other thing I think you need to be aware of when trying to design your small kitchen is to work out whether you really need one of those kitchen islands that seem to be all the rage nowadays.
I really like the STENSTORP kitchen island. The white legs and oak top are very classic. My friend Sebastian and his wife Shima have one in their super tiny room in Nara, Japan and it's perfect. Their kitchen is tagged onto their living room so they're really pushed for space.
But the STENSTORP would not work in Esther's apartment because she needs more cabinet space! She's simply got more stuff to store away, whereas Sebastian and Shima, like many young couples in Japan have absolutely no workspace in their kitchen. So it's vital.
So that was one thing I told Esther she definitely didn't need when I talked to her.
Takeaways
Unless you hire a professional design service to help you figure out how to get that IKEA showroom kitchen into your small kitchen, you're going to have to find strategies that make it work for you. The bottom line is that you can do it: just take your time. Don't let yourself be persuaded you need everything. Look carefully at the amount of stuff you have and ask yourself: can I get rid of some of it? After all, if you haven't used that breadmaker in two years that you got from your Aunt Elsa for Christmas, it's time to kick it out.
So what about you ? What are you tips for getting that showroom kitchen feel into a small kitchen?
Image from IKEA.com.