The classic Downton Abbey kitchen was the source of inspiration for Laura and Tayloe's kitchen design. Unlike Mrs. Patmore, however, the couple happily embrace modern technology like whisks, refrigerators, and IKEA.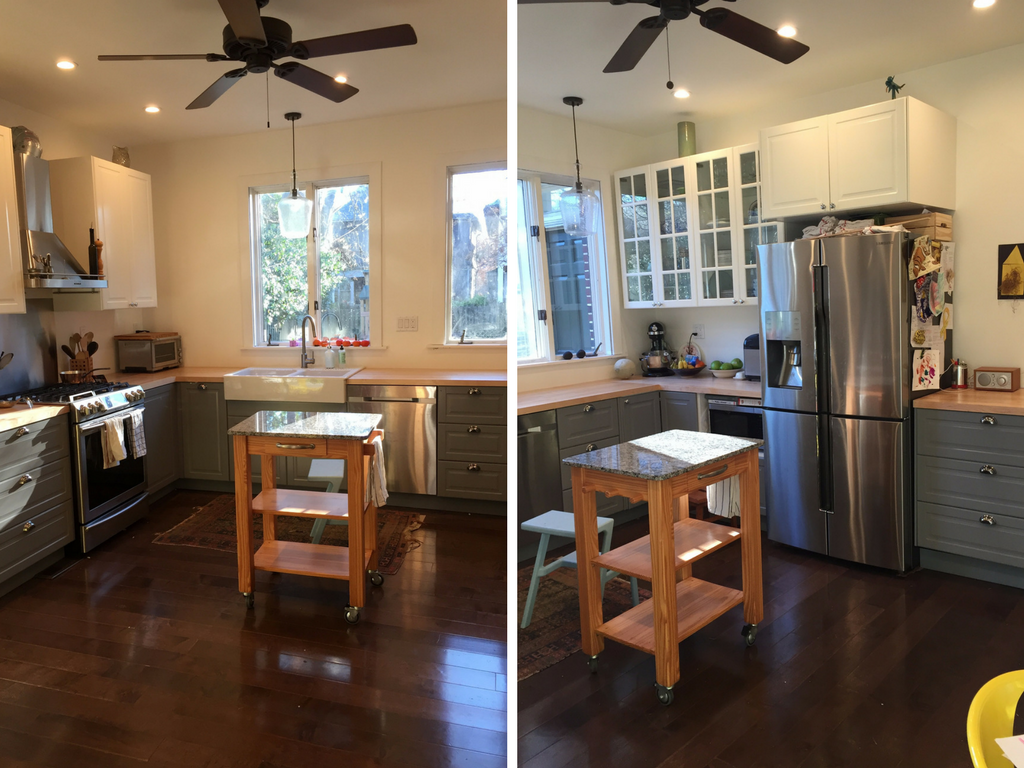 (What would Mrs. Patmore make of IKEA, I wonder?)
Let's take a look inside this Downton Abbey inspired IKEA kitchen with BODBYN doors, cup handles, and butcherblock countertops.
And for you home renovation junkies, you're in luck. Laura and Tayloe are DIYers who took a lot of "during" photos so you can see just how involved this process really is! After you look at them you may want to just leave it up to one of our IKD Install Connect approved installers to do the dirty work.
When a minor update becomes a full-blown IKEA kitchen renovation
A full-blown kitchen renovation was not the original plan for Laura and Tayloe. The couple had just wanted to do a minor kitchen update.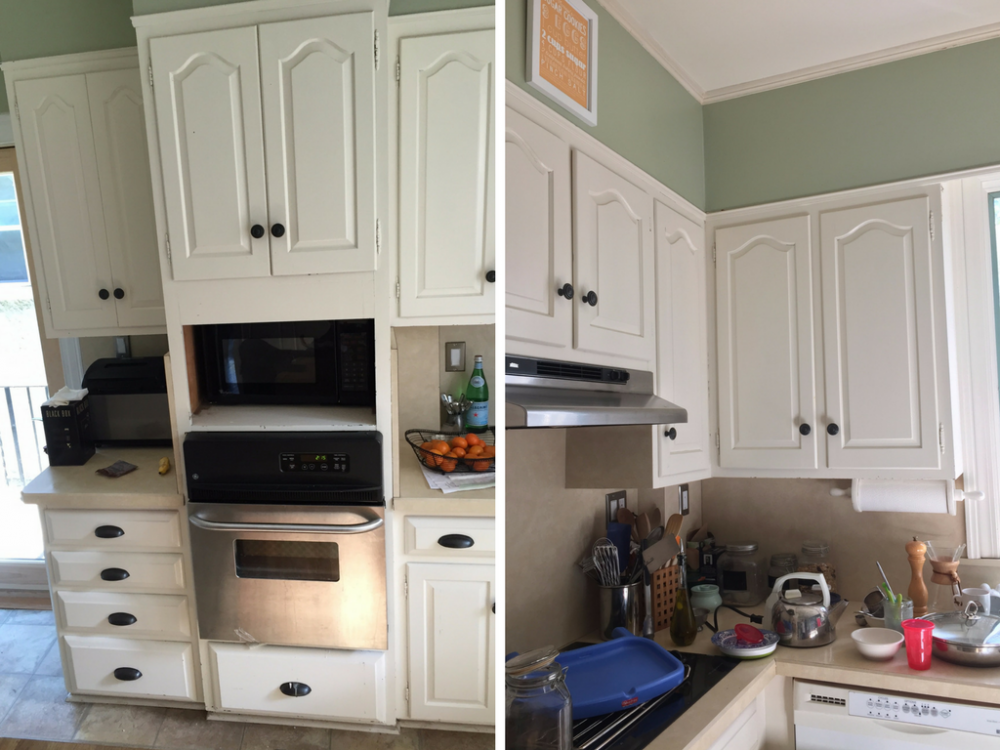 When they ripped off the backsplash they opened a Pandora's box of consistently poor workmanship. They chose not to put their energy into a kitchen with no value. So the cabinets started coming out.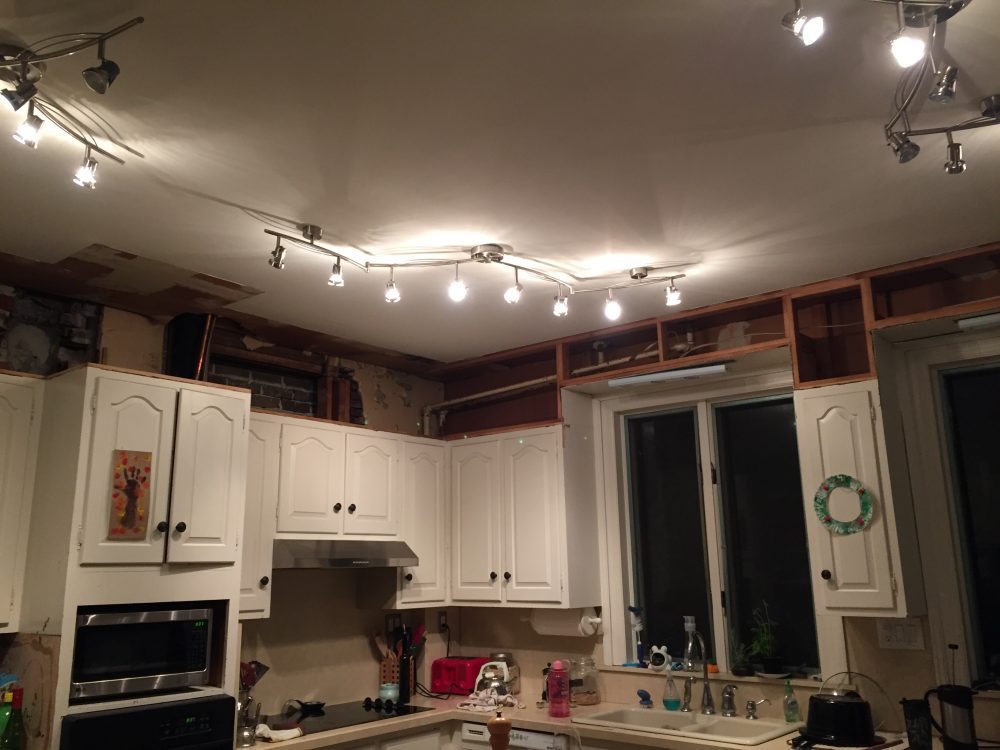 There was another expensive surprise just waiting for them at every turn. For example, they tried to save the flooring as they'd done in other renovations, but after 3 weeks of trying to save this, they gave up: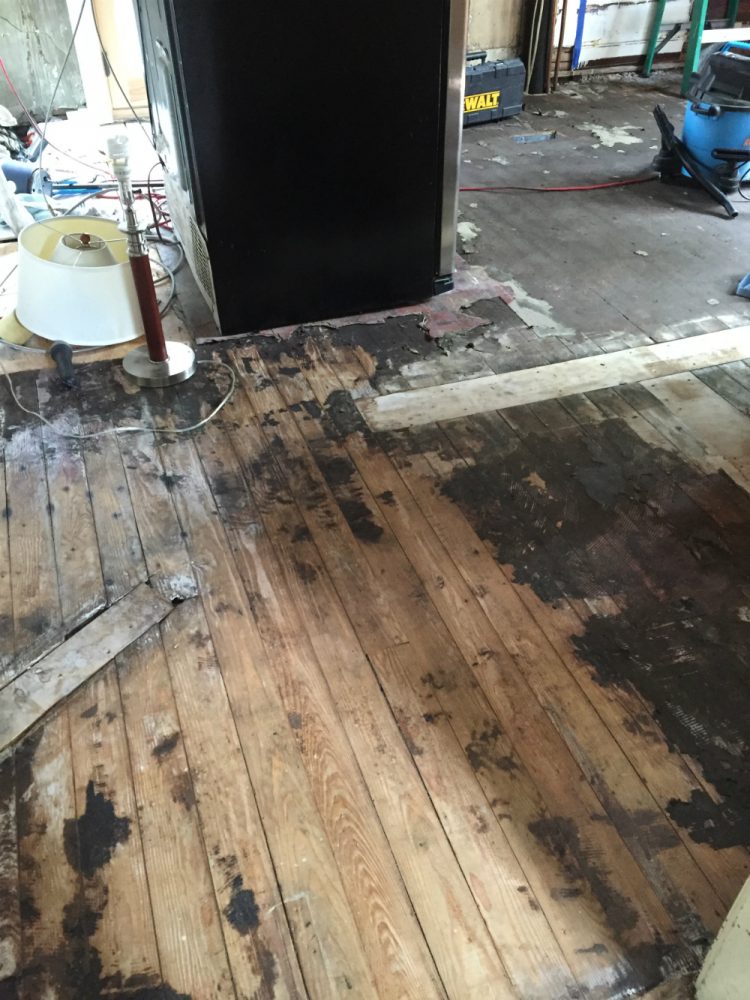 This wasn't exactly what they had in mind at the start of their project!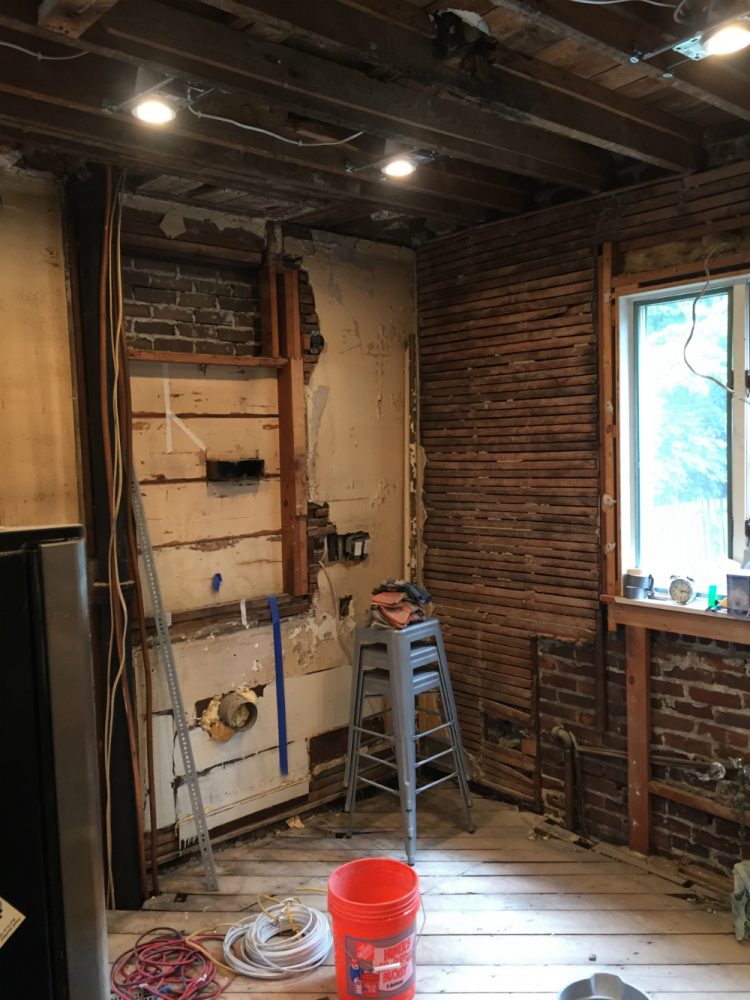 On the upside, it meant these big IKEA fans got to buy an IKEA kitchen for their home. Several of their family members had done so and loved the results.
Tayloe's cousin had used IKD for his design, and he recommended us. Can you guess how much we love it when our customers like us so much they pass it on?
The top 3 design challenges for this Downton Abbey inspired IKEA kitchen design
If you've seen Downton Abbey, you know that the kitchen is huge. Laura and Tayloe's kitchen space was not.
Prior to even touching the kitchen, I pinned so many kitchens on Pinterest for ideas. What I realized later was that the kitchens you see there tend to be huge. Our kitchen is only 10' x 12' which limited what we could do. –IKD customer Laura
So how do you fit Downton Abbey into a small kitchen? You solve these 3 challenges:
The existing footprint was limited, but they wanted to change it as little as possible. We can't say we blame them: Laura and Tayloe hadn't exactly budgeted for a renovation. So Downton Abbey would need to fit into the space somehow.
They wanted to swap out the separate cooktop and wall oven for an all-in-one range. The new arrangement contributed to the floor plan restrictions, but the couple wanted something simpler. They also converted from electric to gas and moved the refrigerator across the room.
They wanted to remove the big kitchen island (not pictured) and as many wall cabinets as possible without losing storage. Thanks to the SEKTION line's drawers-within-drawers this was an easier challenge than you might think.
So how did IKD do at creating this Downton Abbey-inspired IKEA kitchen?
Who knew Downton Abbey could look quite modern? (We're sure Mrs. Patmore would come around eventually).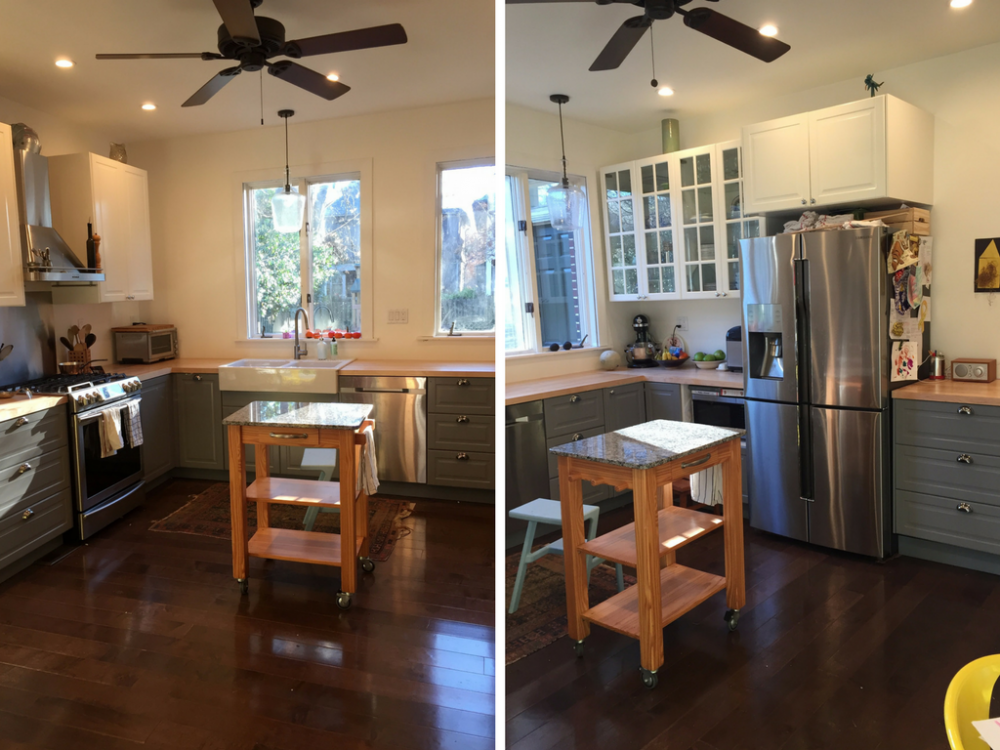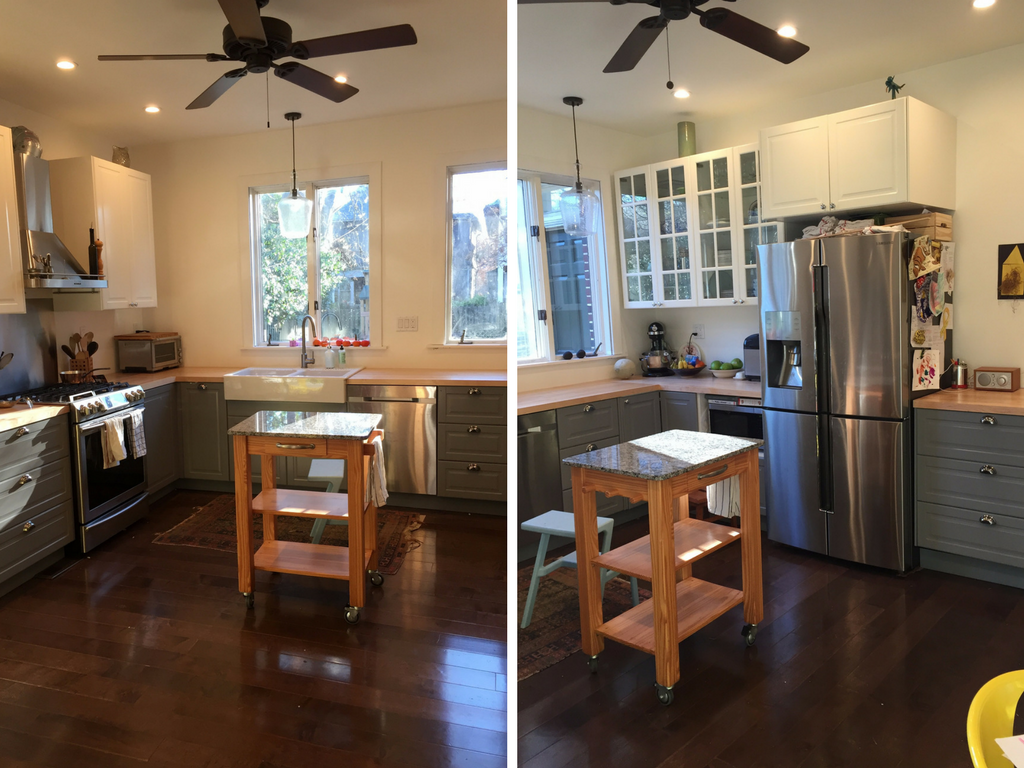 It's not possible to see the entire kitchen all at once. So let's start from the new oven range.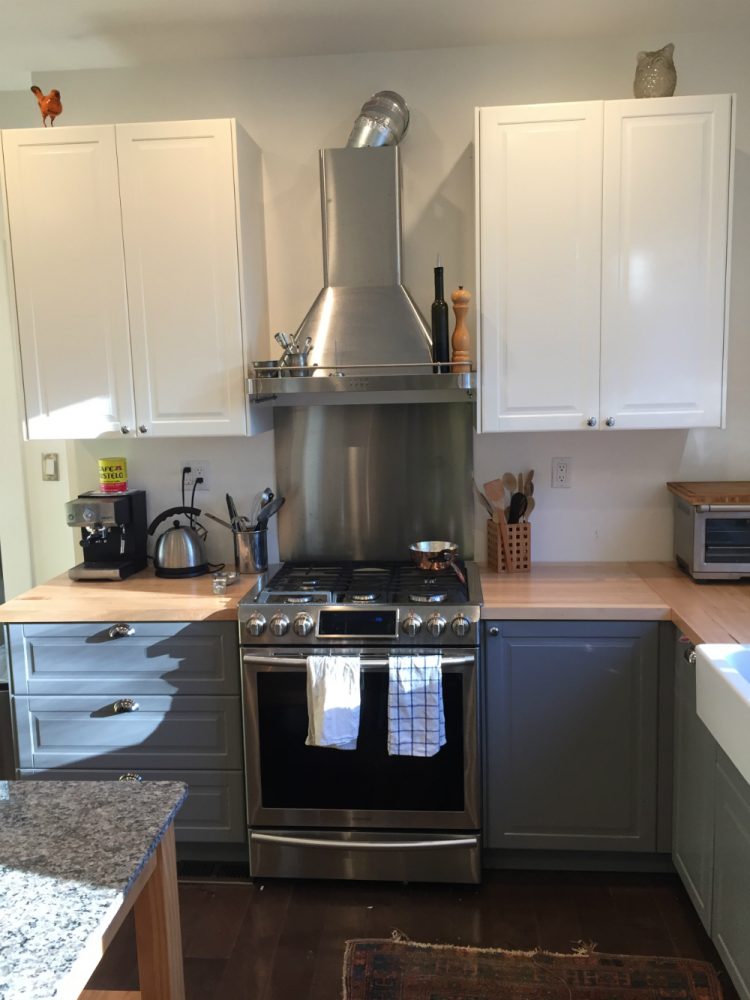 Aside from being reminiscent of the look and feel of the Downton Abbey kitchen, Laura and Tayloe wanted a kitchen where they could cook side-by-side without getting in each other's way. They also wanted their young children to have room to hang out in the kitchen during meal preparation.
The oven range is not from IKEA, but the DÅTID exhaust hood is (and so are the dishtowels). You'll notice the placement of the DÅTID is a bit off; it's the one thing they need to do before the kitchen is officially finished.
The butcher block countertops were sourced locally.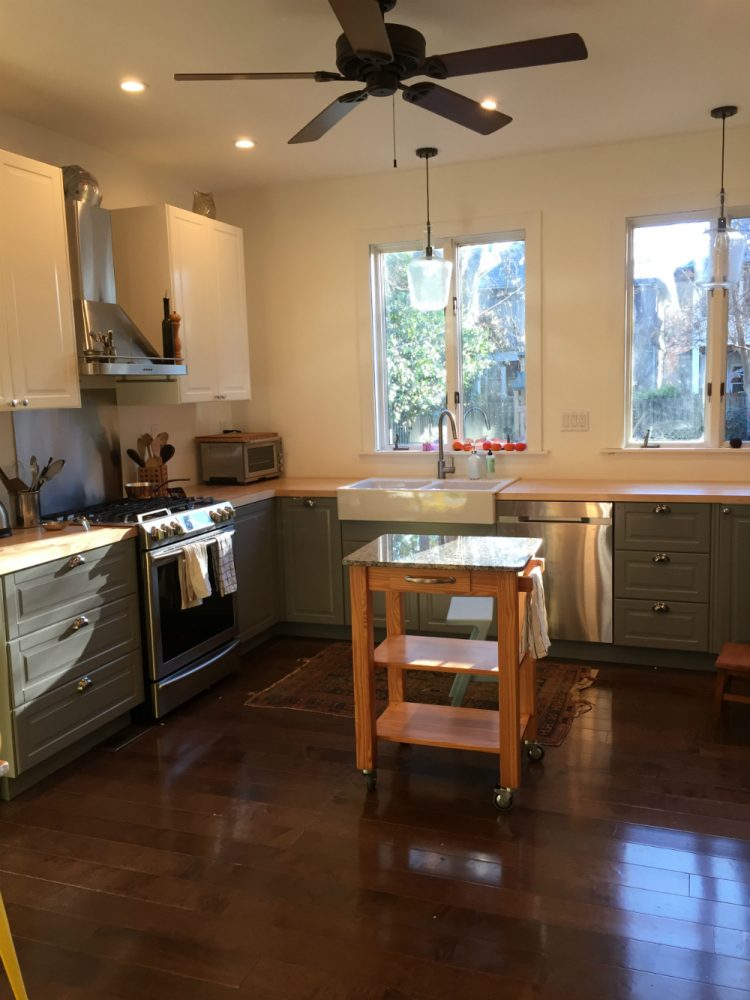 The two-tone kitchen has BODBYN white doors on the top and BODBYN grey doors on the bottom. You also can't have a classic kitchen without a farmhouse sink, hence the addition of the DOMSJÖ.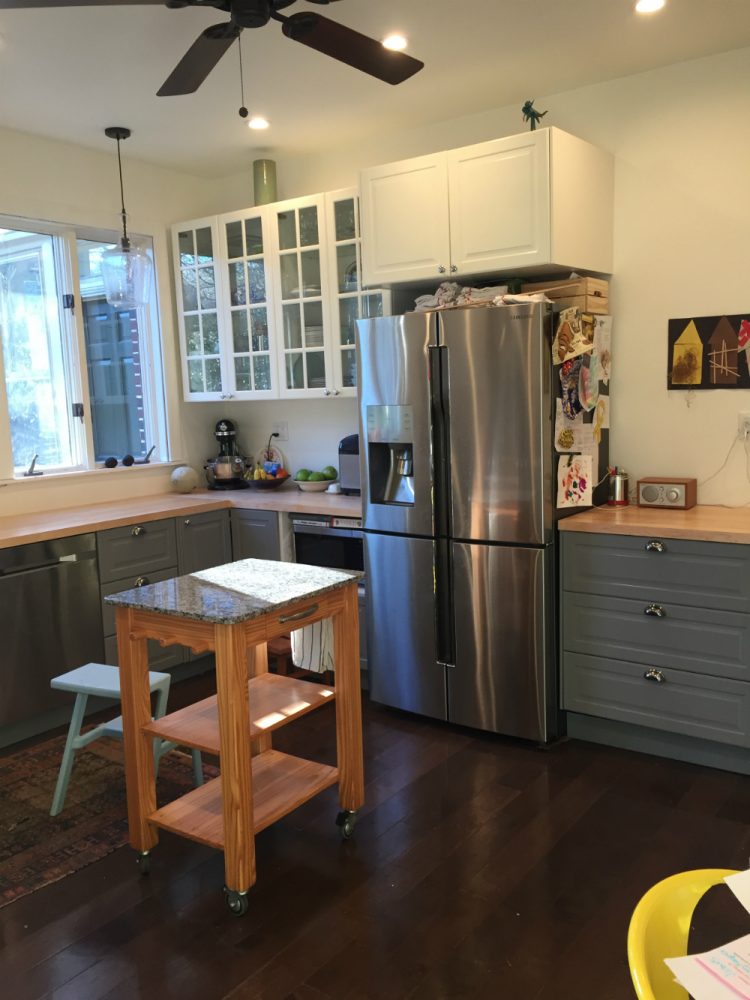 This small kitchen cart replaces the big island and creates room for everyone to be in the kitchen at once.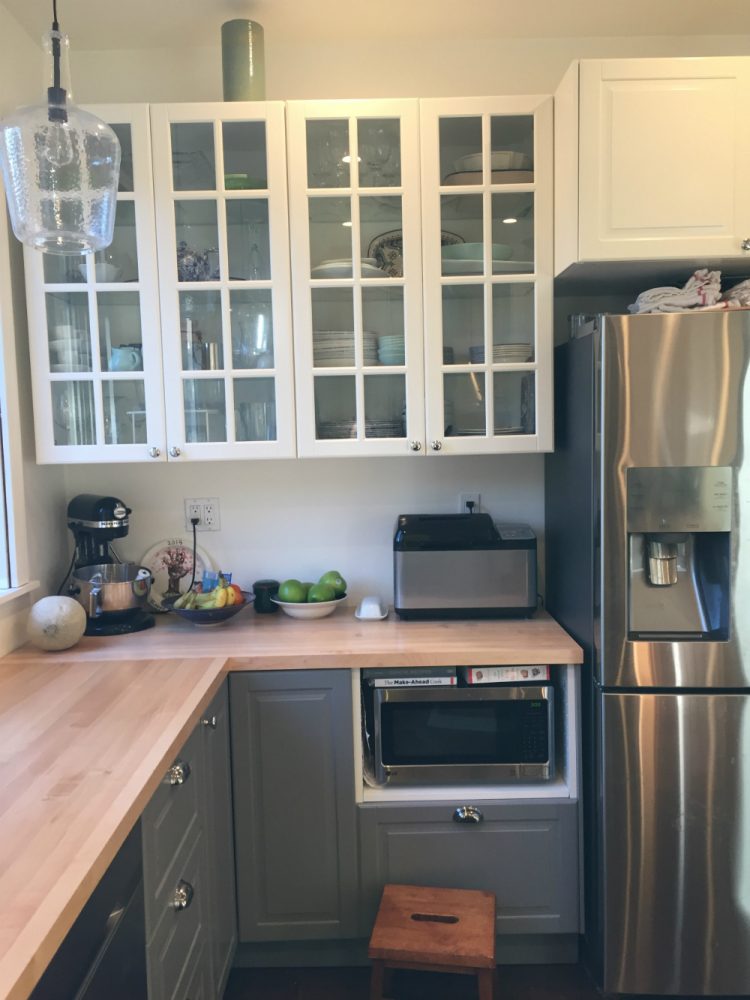 To the right of the sink is the dishwasher and in the corner are the glass BODBYN doors that display Laura's glassware. Glass doors like the BODBYN create the effect of furniture in the kitchen, like a hutch or a china cabinet.
So where did all the storage go?
The SEKTION line made their dream of a Downton Abbey inspired IKEA kitchen possible…
…because the inner drawers provide so much storage. Laura's kitchen drawers are a miracle of organization. She even leveraged the design further in that she used the smaller inner MAXIMERA drawers to help childproof her kitchen.
We think you can learn a lot from her and she was nice enough to share photos.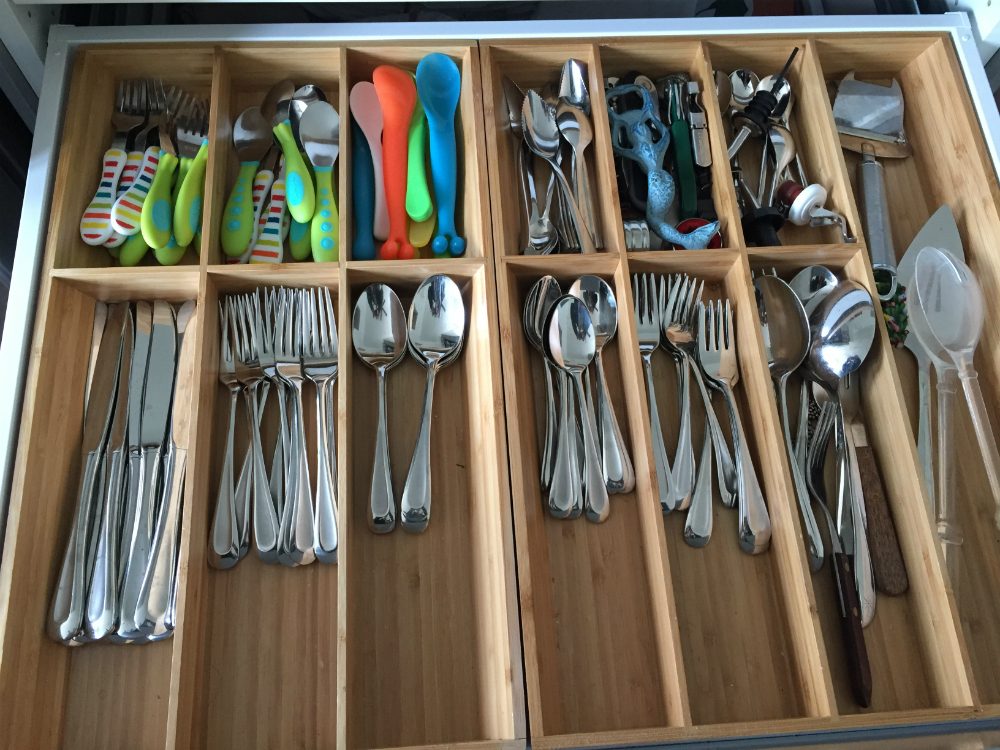 IKEA bamboo organizers keep the daily silverware right at hand.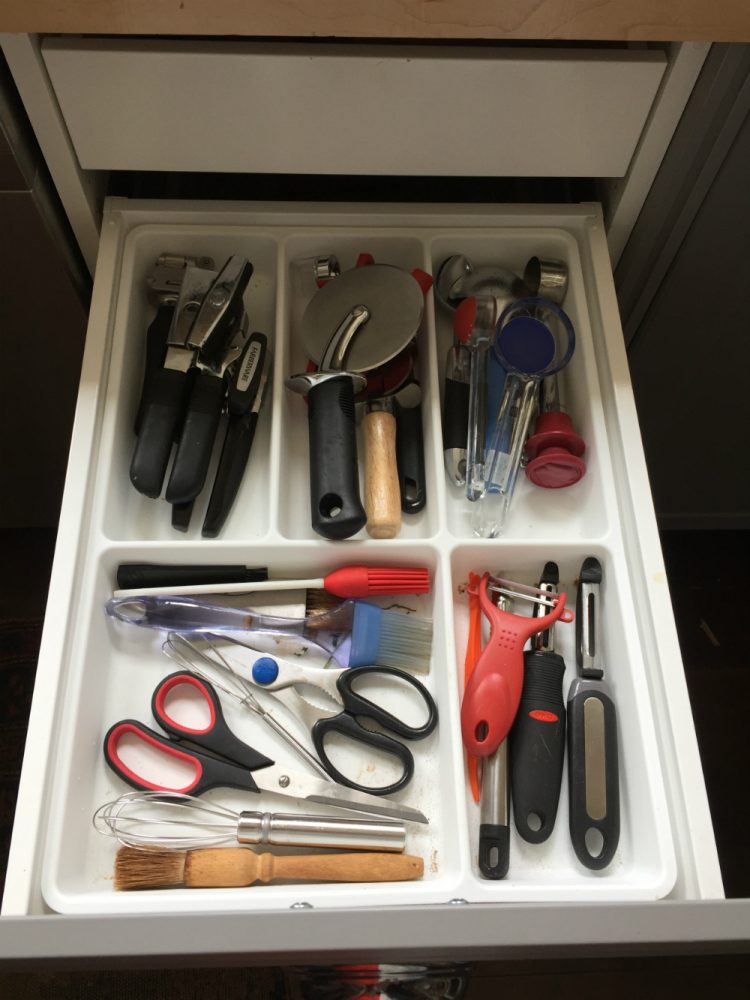 You know all those oddly-shaped kitchen tools that won't play nice with organizers, but you can't live without them? Laura knew how to make them play nice. This organizer is in the "main" drawer of the cabinet. See the white plinth above the drawer? It's no plinth, it's the front for the smaller inner drawer.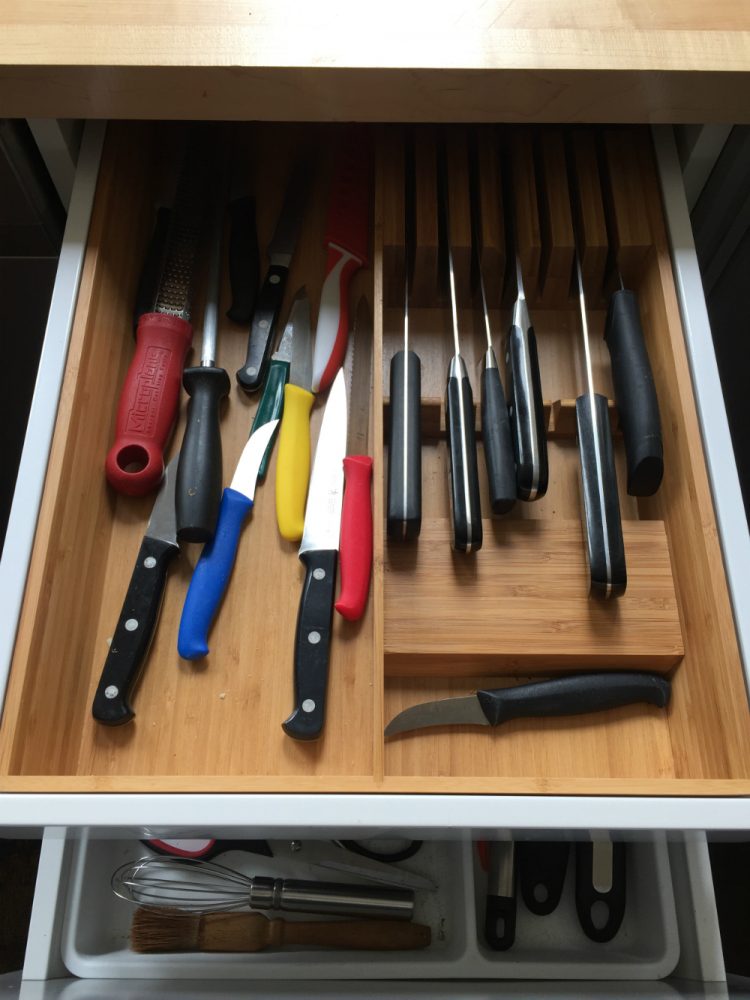 What's inside? Oh, just the (well-organized) knife drawer that the kids can't easily get to!
Laura and Tayloe's tips for figuring out the kitchen drawer organization
Laura says she and her husband spent most of their time in the IKEA store looking at the organizers. In fact, they grabbed up the different inserts they wanted and walked them back to the showroom kitchens to see how well they'd fit.
At the same time they really thought through where everything should go. For example, Laura really wanted the silverware drawer on one side of the refrigerator because that's closest to the dining room.
That dining room sure came in handy at IKEA kitchen delivery time.
Any utensils, pots, pans, and other items used in cooking were placed closer to the oven range based on frequency of usage.
IKEA is just SO good with organization and that's why we used so many of their organizers. That's why we were able to cut back on wall cabinets. Each drawer is so well organized we didn't have to include any cabinets we didn't want to. –IKD customer Laura
Pinterest board: What an IKEA kitchen renovation really looks like
We put together a Pinterest board for all of you DIY and/or kitchen makeover junkies. We have to say it's not for the faint of heart. Although if you want to persuade your partner to hire an installer, showing them this board may do the trick.
Looking for a Downton Abbey inspired IKEA kitchen for your own home?
We've designed lots of classic IKEA kitchens. Get started today designing the IKEA kitchen of your dreams.