One of Jason and Shannon's top wishes for their new home build was a kitchen that made the most of their view of Okanagan Lake and the surrounding mountains.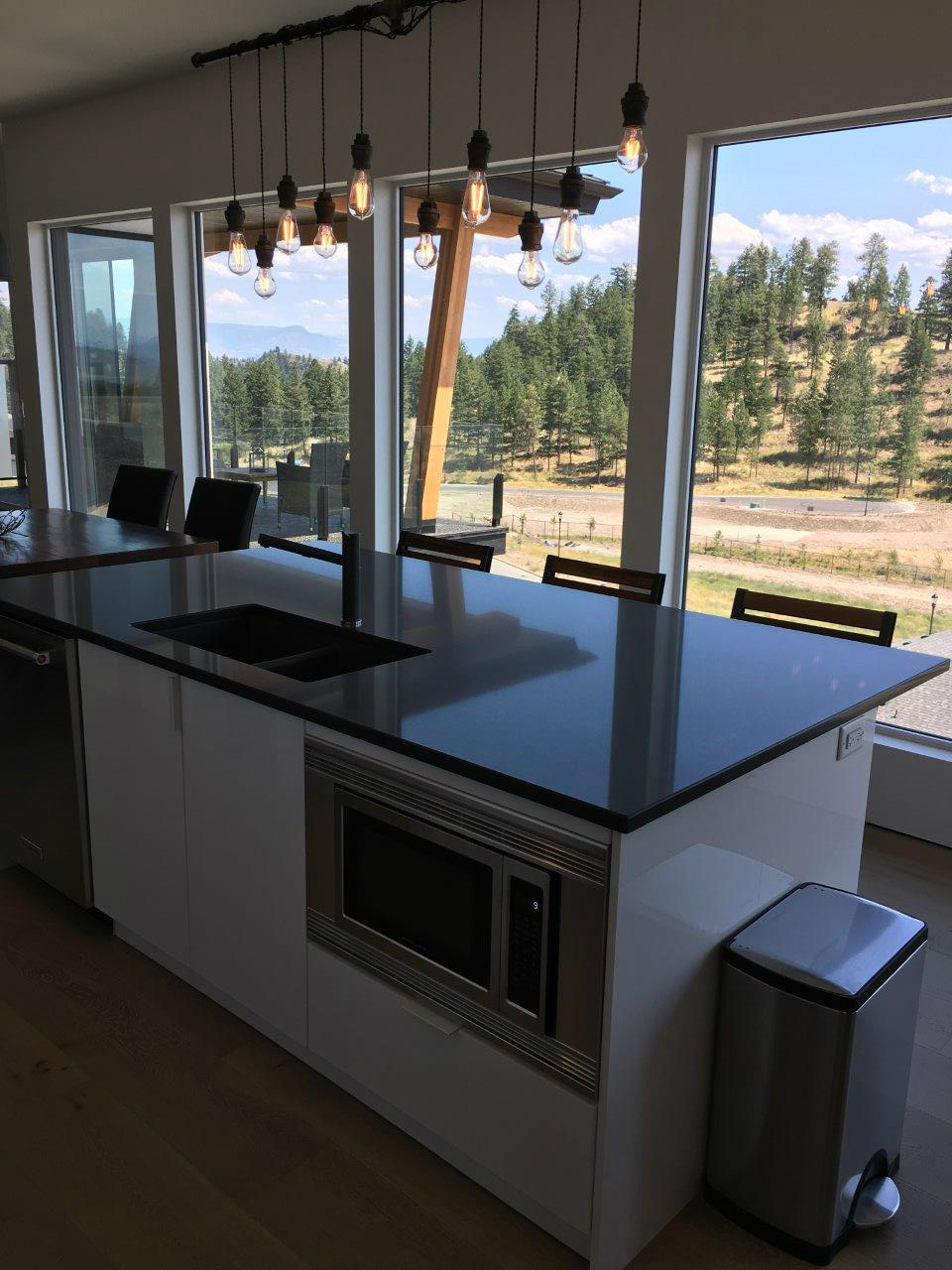 We spend so much time in the kitchen preparing food, eating meals, and cleaning up. I thought, we should be able to look at something nice while doing it. – IKD customer Jason
The couple also wanted a European style IKEA kitchen laid out in an open way. After struggling to make the IKEA Kitchen Planner work, they found IKD and it handed it over to us.
IKD helped make the vision of a European style IKEA kitchen a reality
Jason and Shannon had a rough idea of what they wanted:
A single wall of cabinets for a pantry
Floating wall shelves everywhere else to keep an open look
A European style IKEA kitchen with glossy white RINGHULT doors
In truth they hadn't wanted an IKEA kitchen at first. But the custom version of their kitchen would have cost them 3x as much as an IKEA kitchen, and that wasn't in budget.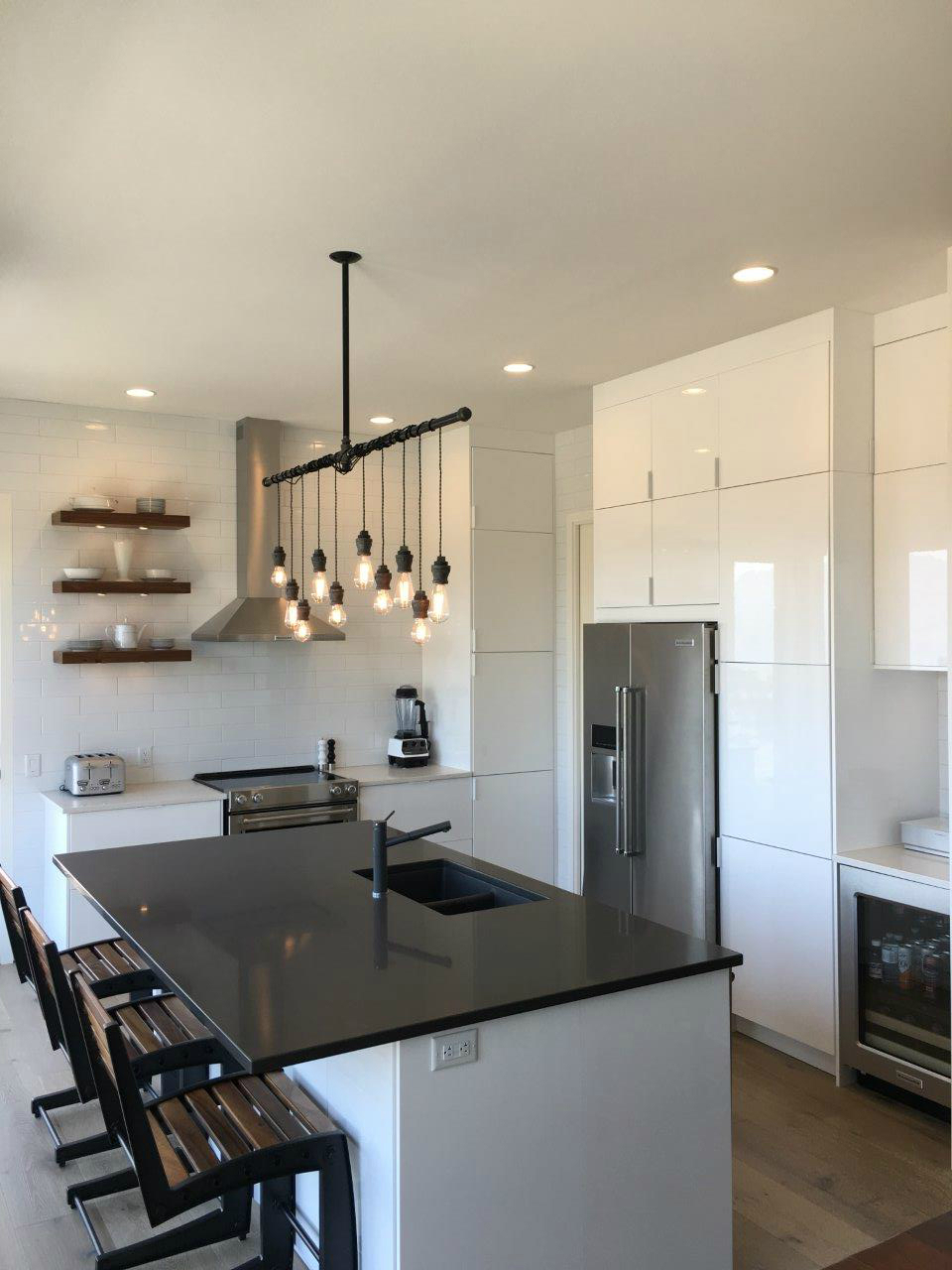 They sent in their rough sketch and got really valuable feedback from their IKD designer.
We wanted a particular layout of cabinets in our kitchen, but IKD let us know it would be difficult to do with IKEA cabinets. But our designer offered us a solution. We could use shallower cabinets to make it work. We really like how it turned out. – IKD customer Jason
The storage around the refrigerator acts as a big pantry for all of their dry goods and other food items. The cabinets on the adjacent wall store all of their dishes and servingware.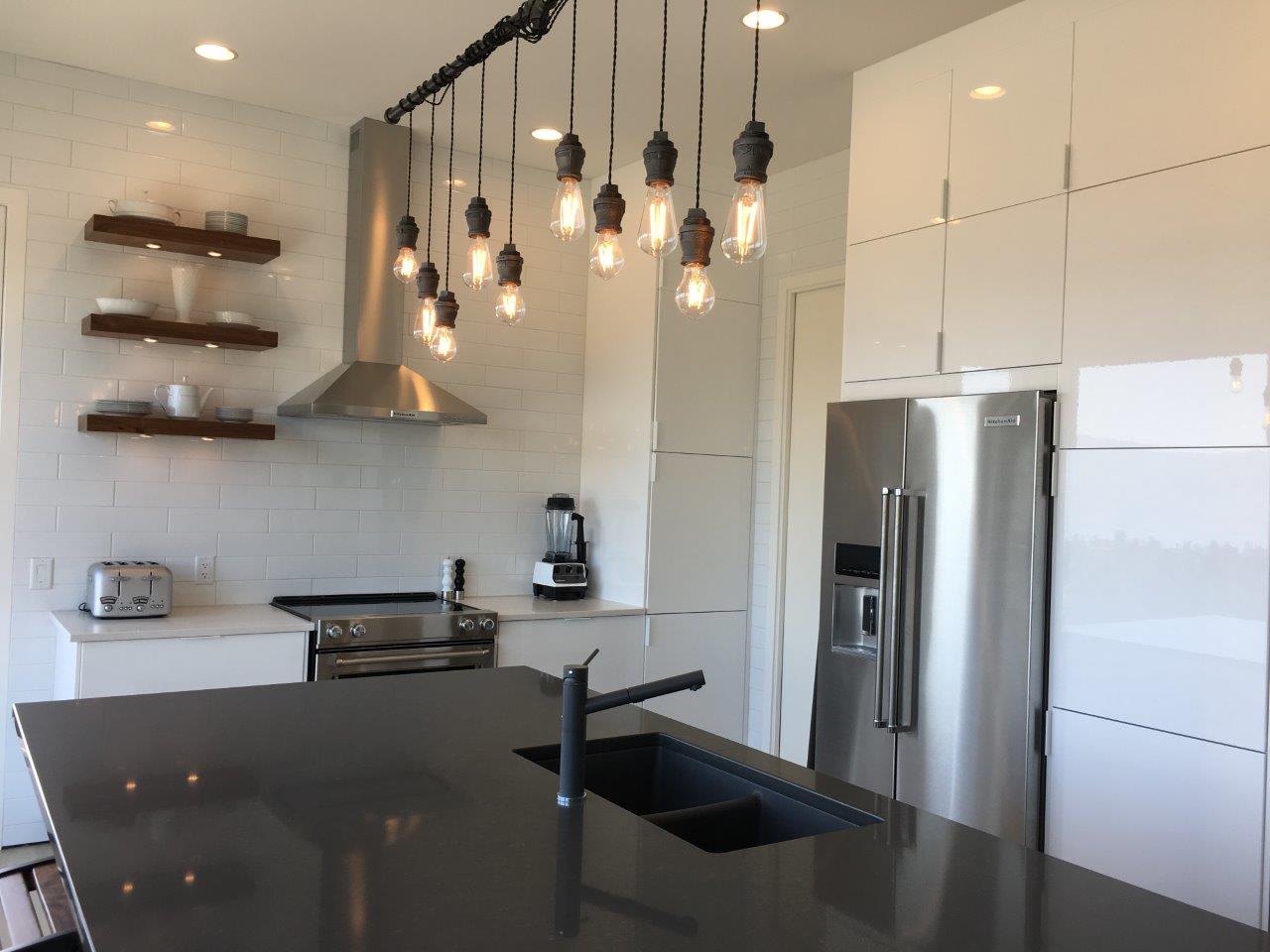 Jason and Shannon got the wall cabinets they wanted, but how do they reach those high cabinets?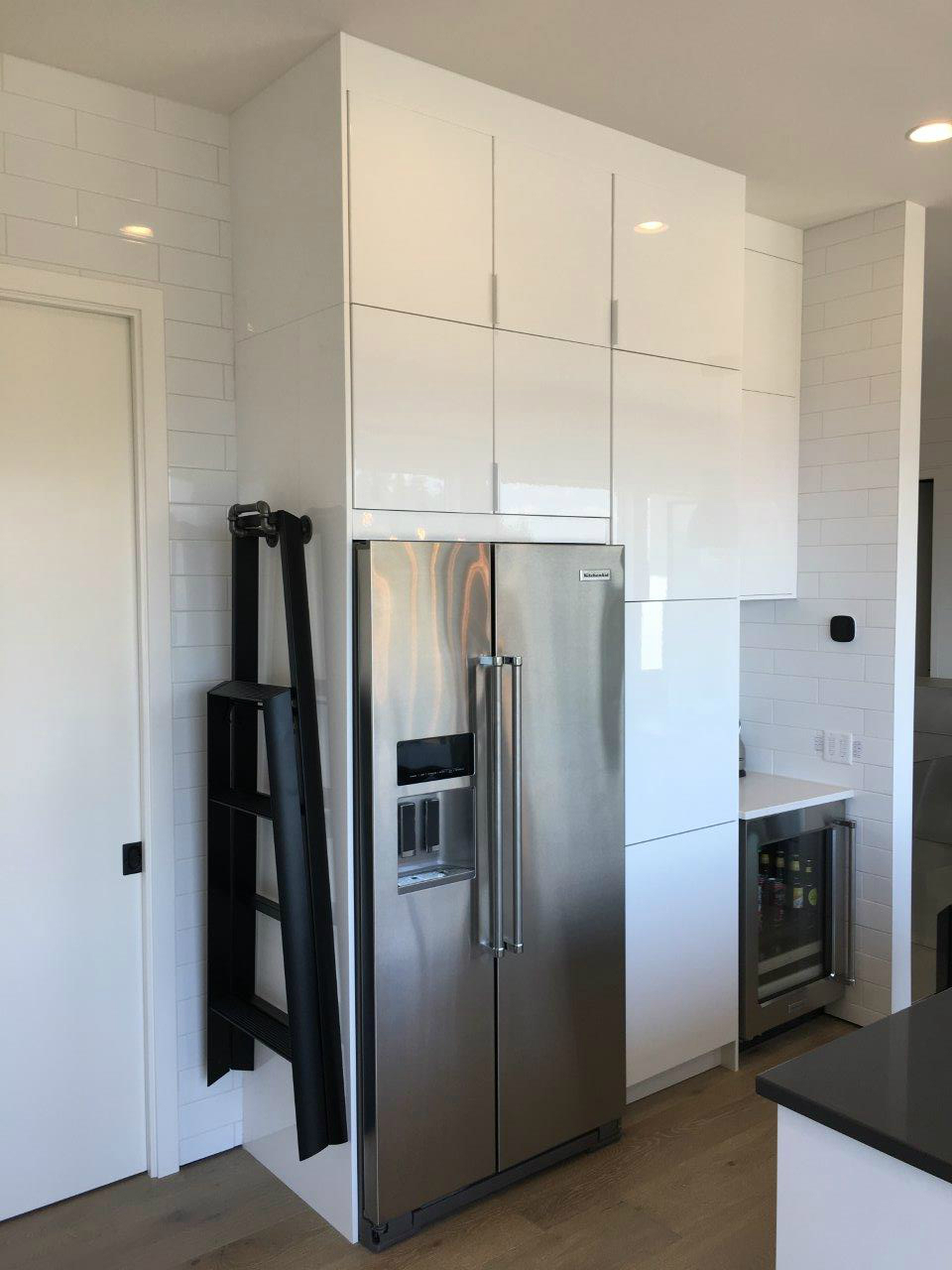 For a European style IKEA kitchen, we always recommend covering the exposed side of the refrigerator with a cover panel. The more appliances can be tucked away and hidden behind cabinet doors and panels, the better you can achieve this style.
In this case, the cover panel it also provides a valuable mount for a much-needed step ladder.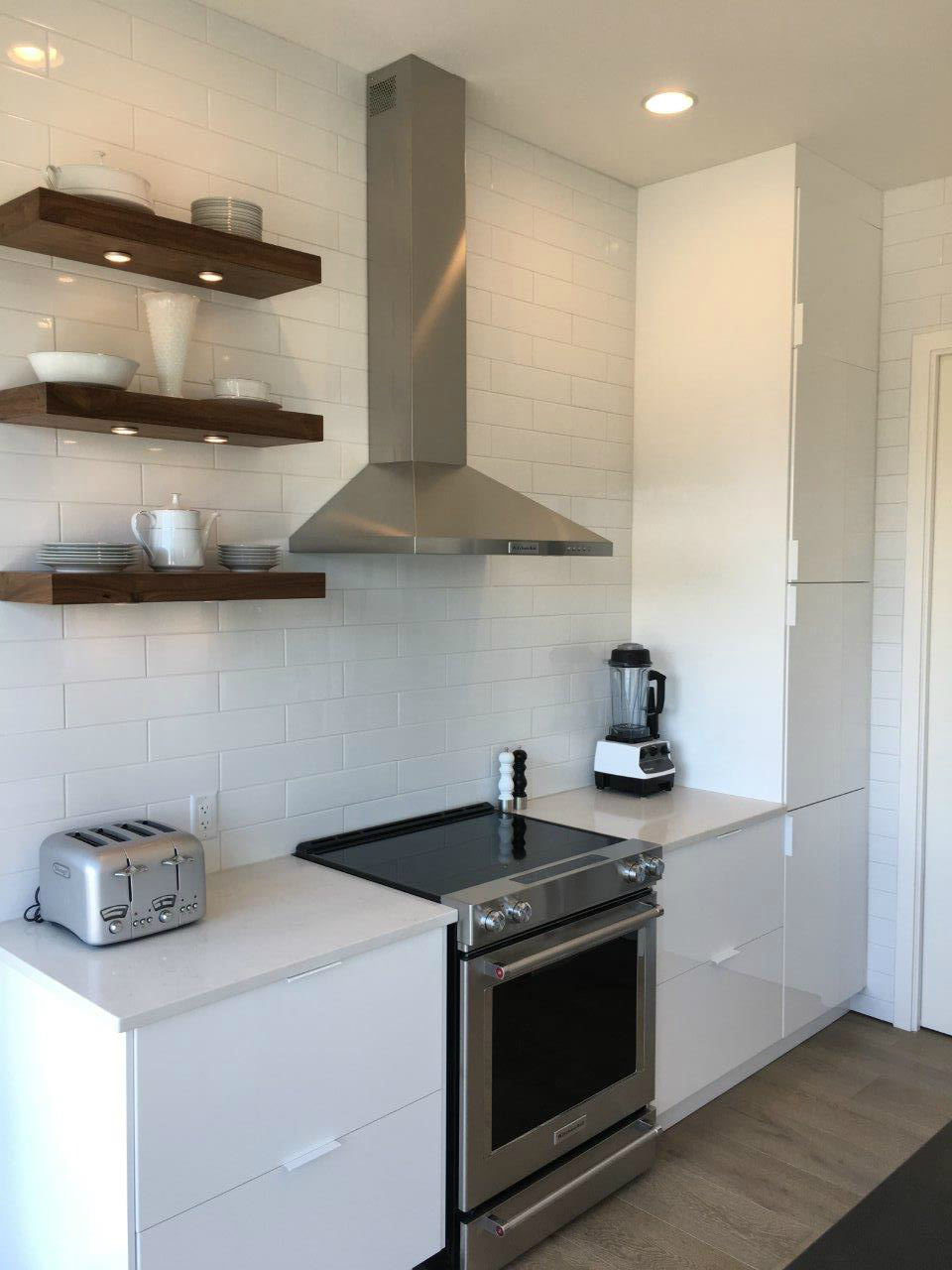 Shannon found the floating shelves on Etsy. They turned out to be the hardest thing to install in the kitchen. Because there's a 2"x4" cleat inside the floating shelves can hold a lot of weight.
Also, that ceiling light you've been admiring? That's from Etsy too.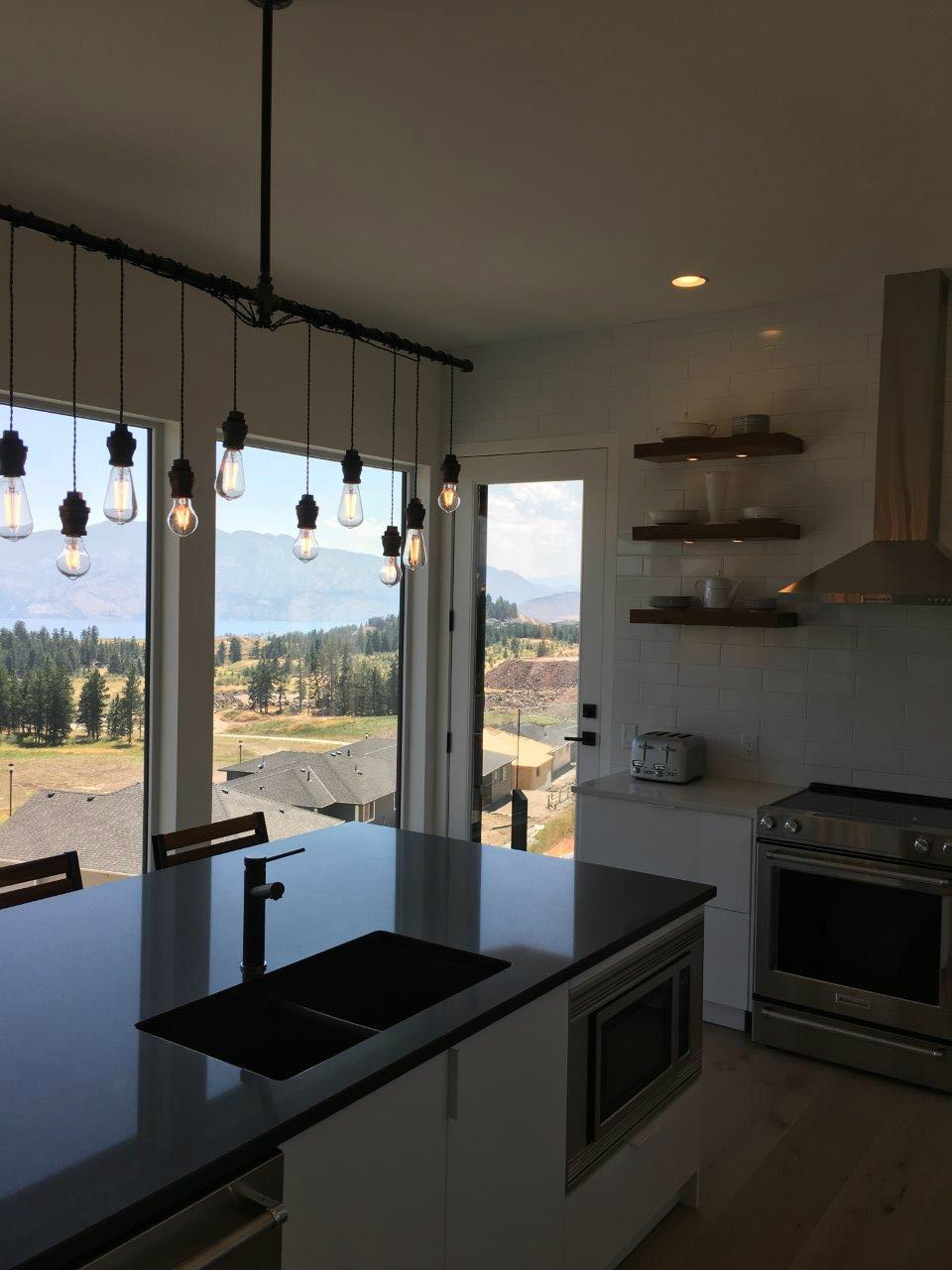 The kitchen island is also home to a lot of storage. Besides containing the sink, microwave, and dishwasher, there are also cabinets in the back that store the good china and board games.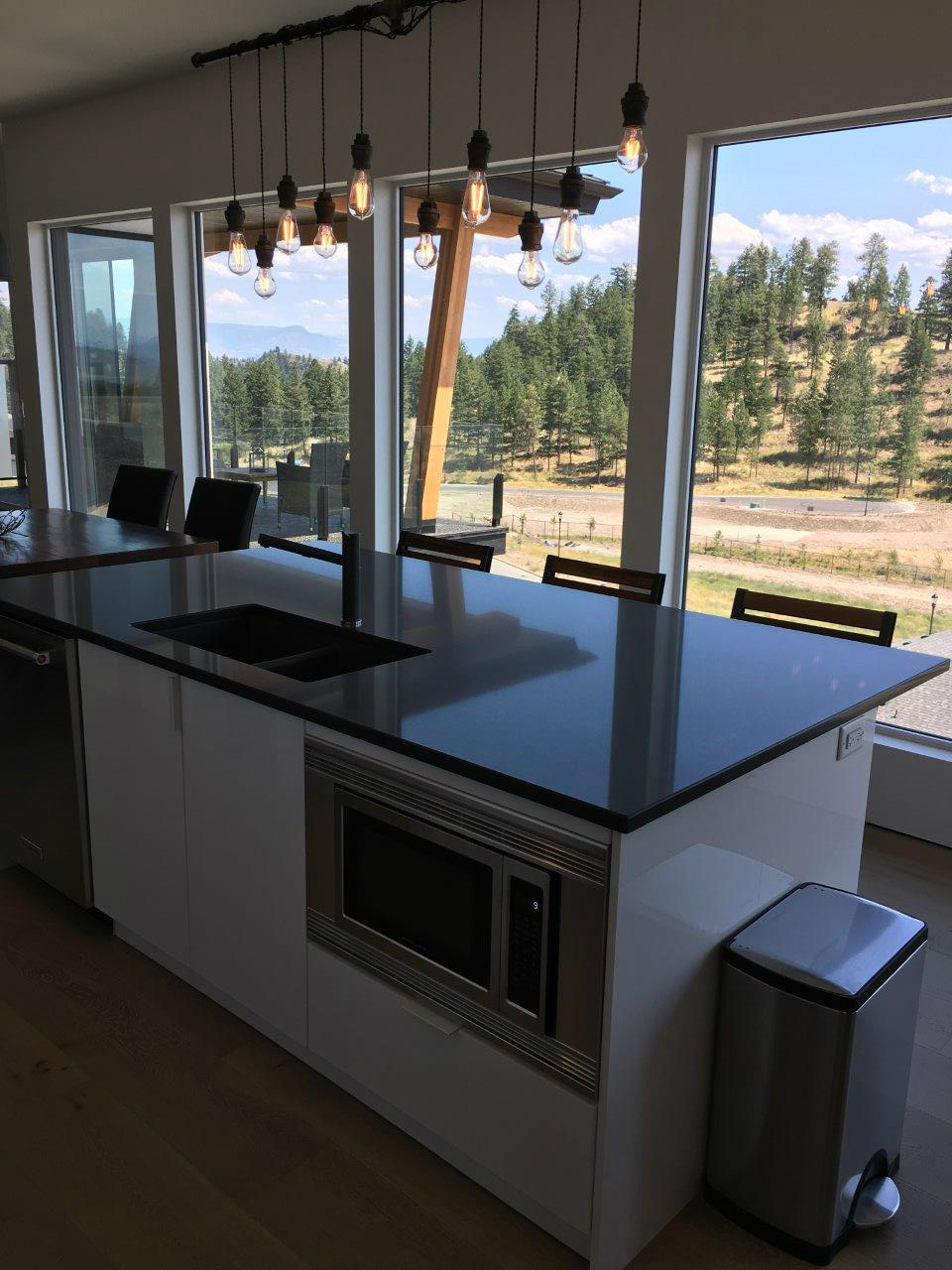 Jason and Shannon, with help from friends, installed the entire kitchen themselves, from cabinets to subway tile to countertops. Our hats are off!
The #1 most important thing IKD did for this European style IKEA kitchen
IKD provided valuable design advice and we'd like to think it shows! But hands down, the most important thing for Jason and Shannon?
The extra items list. Why? Because they have a 5-hour trip, one way,  to the nearest IKEA. And that, Jason tells us, is on a good day.
Unfortunately it was a bad day driving home from IKEA, because of a snowstorm. They were there until the store closed because they bought cabinets for a laundry room and a PAX wardrobe.
I can say there was not one missing piece from the list IKD provided. We got every single thing we needed in that one trip. – IKD customer Jason
Jason and Shannon did go back for items later, but because they wanted to. For example, they weren't wild about the drawers-within-drawers of SEKTION, but once they started using them they wanted more.
The final verdict on this European style IKEA kitchen
Jason and Shannon couldn't be happier with their kitchen.
We've both been really impressed with the quality. In many ways, we think our IKEA kitchen is better than the semi-custom kitchen we'd originally priced out. – IKD customer Jason
We're so glad you love it, Jason and Shannon!
Are you considering getting an IKEA kitchen for your home? We highly recommend taking Jason's experience to heart: IKD can give you valuable IKEA kitchen design expertise that will prevent you from making a costly mistake in your kitchen. And, we can help you make only ONE trip to the IKEA store! Get started today.