Alyx and her husband's lake home was a new build in upstate New York, so they started with a blank canvas. They hired an architect to design their open-concept home, and brought in IKD to figure out the IKEA kitchen details.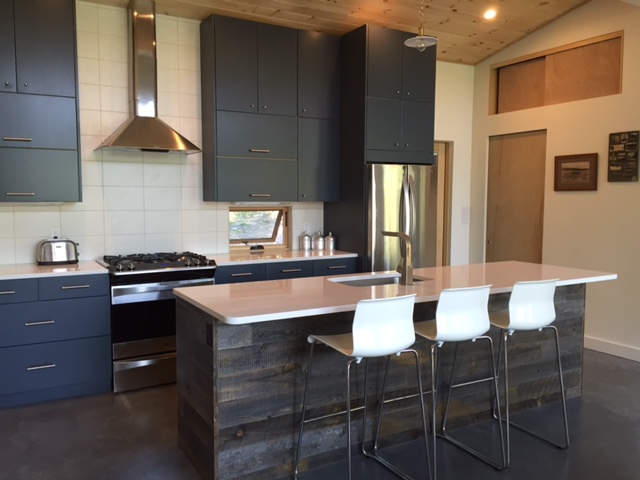 In a word? Stunning.
An IKEA Kitchen for Family Gatherings
Family visits are frequent at this vacation home, so Alyx's architect chose an open layout for the kitchen, dining and living rooms. The kitchen was designed to be a social focal point of the home.
Alyx's wishes for the kitchen were fairly simple: an island, a gas stove, and a decent amount of cabinet storage to make up for the lack of storage elsewhere. That's why the cabinets go up to the top of the 10' ceiling.
Semihandmade Doors Make This Kitchen One-of-a-Kind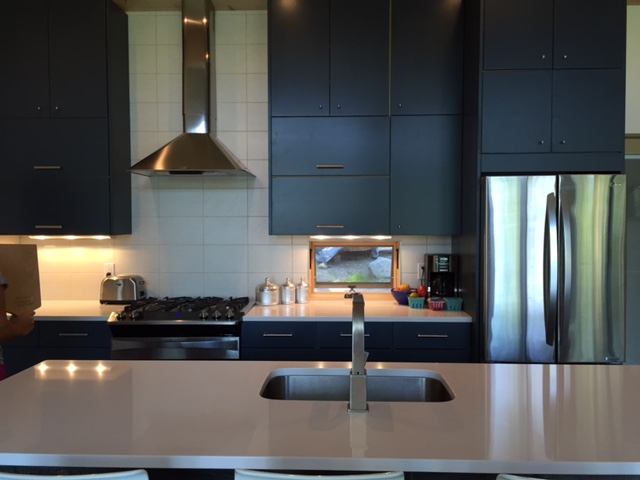 The doors from Semihandmade are what make this kitchen a true knockout. Semihandmade (SHM) makes custom doors for IKEA cabinets for the kitchen as well as the bathroom, living room, and wardrobes. SHM doors are perfect for people who want high-quality yet affordable IKEA cabinets, but don't want their kitchen to look "too IKEA." (Take a peek at one of our other SHM kitchen projects here).
Alyx chose two different styles for her doors. The wall cabinets have SHM's DIY slab doors, which they gave a dark finish. The kitchen island, however, uses the reclaimed wood doors. See the back of the island: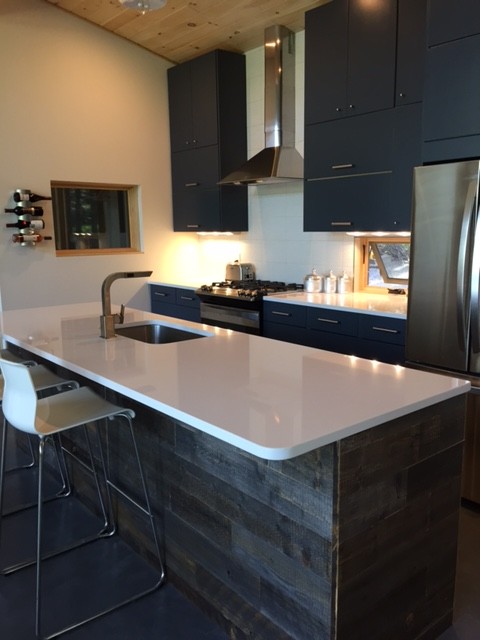 And here's the front: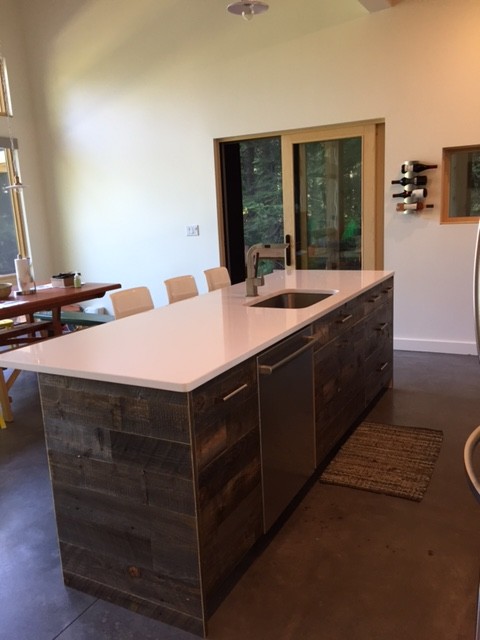 The combination of the high ceiling and two different veneers creates a dramatic effect, don't you think?
The Fine Print on this IKEA Kitchen
The IKEA parts of this kitchen are:
AKURUM cabinet boxes, including the island
GOTTLÖSA knobs and ORRNÄS handles
As for those wall cabinets closest to the ceiling? The jury is still out on those. Alyx's intention was to maximize the storage, but in reality when she wants to get to them she needs to pull out a ladder. Her husband thinks they're great, however.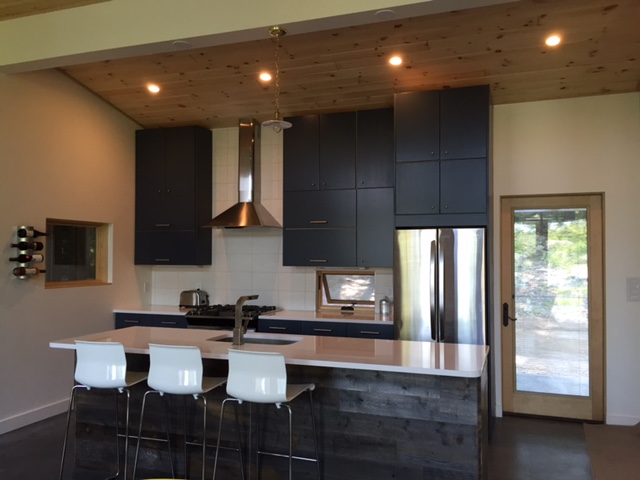 Thanks for sharing your beautiful kitchen with us, Alyx!
Get a Free IKD Express Design When You Buy from Semihandmade!*
IKD customers like Alyx use Semihandmade doors because of the custom look you can achieve with the 50+ material options offered.
After years of partnership, we are pleased to announce Semihandmade now offers an exclusive discount to IKD customers. *With a minimum purchase of $2000, Semihandmade will refund you $195 back from your IKD order (discount not valid with any other Semihandmade offer).
What are you waiting for? Get a gorgeous custom IKEA kitchen of your own today.