An IKEA store is a fun place to visit. And it's even better if you venture into the kitchen showroom. The kitchens within the showroom—each having a perfect mix of IKEA cabinets and accessories—look almost perfect.
And even better, a thorough kitchen showroom visit is a soup to nuts experience where it feels as if nothing has been left out or forgotten. You can see all of their available door styles, and visit a display showing all cabinet boxes in their SEKTION system, including measurements, and various sinks, appliances, and accessories.
They even have a team of kitchen specialists available to help you every step of the way and to give you access to the IKEA Home Planner.
On the surface it looks like the perfect kitchen design experience that covers all your needs, from A to Z. But our experience tells us this system is not as perfect as it appears.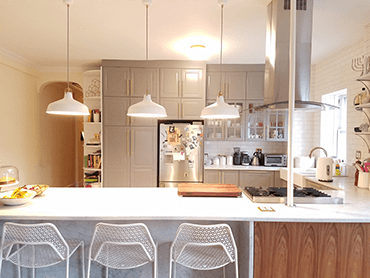 The services mentioned above can really sour the process and we want to help you avoid that. We want to give you the information you need to design your new kitchen without the pain.
At IKD we've been helping people design IKEA kitchens for years and we want to pass on what we've learned from our customers. This way you don't have to go through a painful experience that's so easy to avoid.
So without further delay here are three things IKEA can't do for your kitchen design.
1. IKEA can't really help you with kitchen design
After reading this post on the Home Planner you'll understand why "plan" might be a better way to describe what IKEA offers. "Design," especially stylish and efficient kitchen design, is a professional skill that takes years to master.
IKEA's Home Planner is basically a browser-based tool that is decent at giving you a virtual kitchen to add cabinets and appliances. And in the end, that is really what you are doing, filling up your kitchen space with a basic plan.
And if you opt for their kitchen planning service you get pretty much the same thing—four hours or less with an individual who will help you fill your virtual space. IKEA planners are not seasoned kitchen design professionals and the practice of kitchen design is a world away from planning.
A skilled kitchen designer will get to know you, your style, the unique way in which you use your kitchen, and will introduce creative solutions.
The best way to design the most creative and efficient kitchen design is to hire a professional designer, not to waste hours trying to master a limited tool like the Home Planner.
Take a look at the IKD Premium package and see what we have to offer you.
2. IKEA won't help you save money on your kitchen design
IKEA is a place that appeals to the budget-conscious consumer. From their seemingly unlimited supply of stylish accessories to top-rated yet affordable cabinets, a frugal shopper can get a beautiful new kitchen without emptying their piggy bank.
But that thrifty shopper also needs to be savvy. Why? Because when you plan your kitchen with IKEA they don't help you find where to save money.
You can use their Home Planner or have a designer come to your house using their Kitchen Planning Service. However you use them, pointing out savings opportunities is not part of the deal.
Here's a good example: If you like IKEA you might be in love with the spartan yet classic white kitchen. Heck, they're  known for this and they have quite a few white and off white door options, from BODBYN to VEDDINGE.
These doors are white but each style is unique. And if saving money is a priority, experimenting with door options is a great way to do this.
The problem is that you'll have to do this on your own because IKEA's Home Planner does not let you easily switch door styles. And any IKEA design consultant coming to your home will be using the Home Planner as well.
An experienced kitchen designer knows the details and will present the options you need to save money.
3. IKEA misses the small but very important details
Think about how cabinets support a kitchen countertop when you add appliances to the mix. If your cabinet run ends with an appliance, added support is a must. Without it your kitchen will fall apart.
The Home Planner doesn't show you how to design with the proper countertop/appliance support panel. You need a panel with the correct thickness but if you are not an experienced kitchen designer you won't know this.
You are also going to need a variety of knobs, handles, and other accessories to complete your kitchen. Problem is, the Home Planner often includes too few or too many of these items.
Too few pieces–a common occurrence—means you're going to end up back at your local IKEA store wasting precious time and money.
Just a few of the things IKEA misses.
But you can have an IKEA kitchen you'll fall in love with
All this doesn't mean you can't have a beautiful and functional IKEA kitchen. A space that is perfect for you and your family. You can design a kitchen you'll love for years to come, but there is a better way.
We of course love IKEA and all the great products they offer, but it's important to know what they can and can't do for you.
Check out IKD Premium today and if you need help, we are here for you every step of the way.