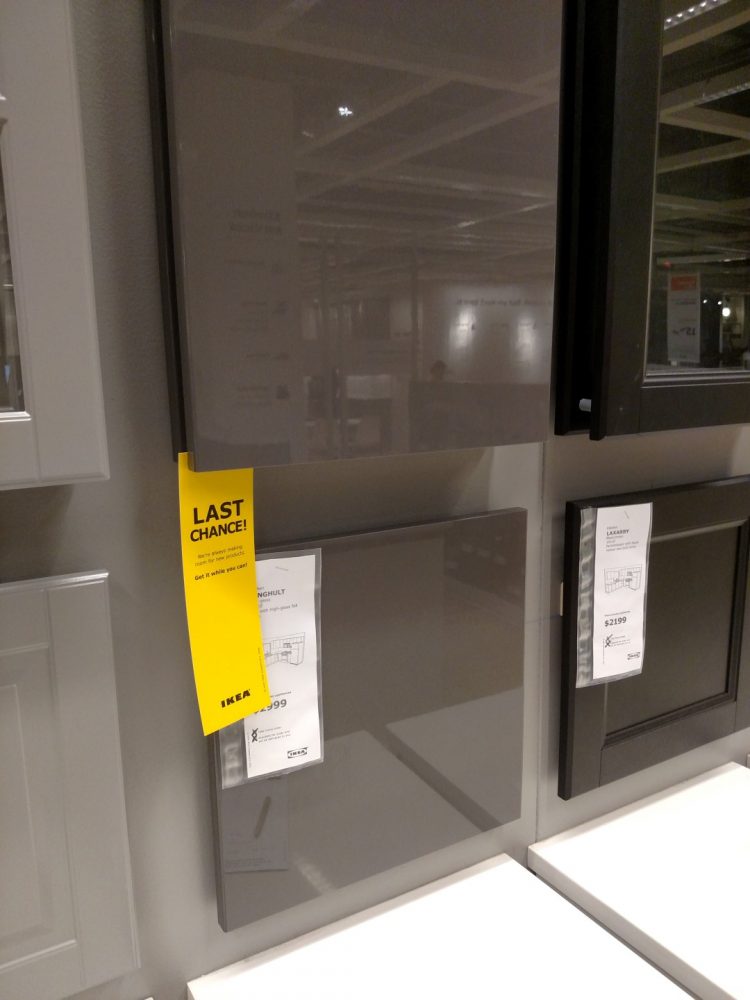 SEKTION is only 18 months old – not even a toddler yet – but IKEA is already discontinuing several of the door styles.
IKEA retired its previous kitchen line, AKURUM, in late 2015. When IKEA unveiled its SEKTION doors, several of us were surprised to see that they were the same doors, just with new names (and sizes). For the most part.
As of right now, these doors have been marked as "Last Chance" in the IKEA showroom:
Color us surprised. The RINGHULT doors in both white and grey are bestsellers. Why would IKEA discontinue a bestselling door style?!
As for the EDSERUM and the FILIPSTAD we can't say we're surprised. If our IKEA kitchen design customers don't choose a white kitchen or high-gloss grey doors, they opt for a very dark brown kitchen, such as the LAXARBY. We haven't designed many kitchens with a traditional wood look in quite some time.
Doors aren't the only items on the way out. IKEA is also discontinuing their iconic TAG handles as well as the KANSLI handles.
Sneak Peek: IKEA to discontinue these door styles in 2017
The IKEA kitchen staff person we spoke with said that these door styles will be discontinued next year:
These 2 doors were intended to be discontinued this year, but IKEA decided to wait. Why? The person we spoke with just kind of threw up her hands as if to say "The whims of IKEA corporate are not for us to discern!"
What will replace the RINGHULT high-gloss grey door?
Whenever IKEA discontinues one item, they typically replace it fairly quickly with a "better" item. What better will look like, our source didn't know.
We've heard a rumor that IKEA is moving away from medium brown colors for the time being.
So if you're looking for an IKEA kitchen in the warm wood brown tones of the FILIPSTAD, EDSERUM, or GRIMSLÖV, hurry and buy your IKEA kitchen design from us, before IKEA runs out of stock!
And you need to do it double-time if you're interested in the RINGHULT grey. Those very popular doors won't last long.