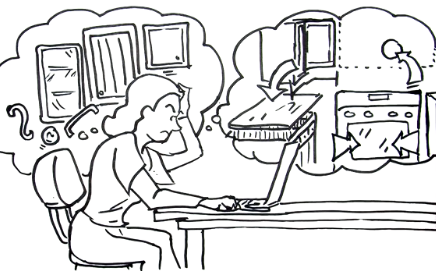 The IKEA Home Planner strikes again and it's affecting our clients who choose to include custom-made cabinet doors and drawer fronts in their IKEA kitchen design.
Never fear, there is a workaround. You can still include the beautiful kitchen cabinet doors you plan to purchase from Semihandmade.
Here's What You Need to Know
We've written before about how the Home Planner can be frustrating. Many of our customers find us by searching on the terms, "why is the IKEA Home Planner such a pain in the you-know-what."
We create your design using our 3D-rendering software. But at some point, we do need to upload it into the Home Planner. So, the Home Planner is still involved, but you don't have to deal with it.
The Home Planner previously had a one-click option to remove only the doors from your kitchen design. Everything else would remain in the cabinet or drawer configuration.
What we've discovered is that the Home Planner won't let you remove just the cabinet doors from your design anymore. Take the doors out, and everything else disappears.
This Has a Big Impact on Your IKEA Kitchen Shopping List
The shopping list is generated from the Home Planner design.
Don't want IKEA doors to appear in your shopping list? If we remove them, all the other items for those cabinets will disappear from your shopping list too.
This glitch in the Home Planner isn't particular to any one market. We've seen this happening in IKEA USA and IKEA Canada.
A Workaround for the IKEA Home Planner Glitch
We talked to our friends at Semihandmade doors and came up with this strategy for our customers who are creating an IKEA kitchen design with custom cabinet doors and drawer fronts:
If you are using all custom doors, we will design your IKEA kitchen with their doors. When you go to the store with your list, you will want to ask IKEA staff to remove all of the doors and drawer fronts from your quote.
If you are using a mix of custom and IKEA doors, we will use a consistent IKEA door style in place of the custom doors. At the store you can ask IKEA staff to remove only that door type.
Let IKEA do the hard work for you. Don't try to correct the IKEA shopping list by yourself!
Nobody seems to know why this is happening, but we can't help but wonder if this is IKEA's not-so-subtle way of trying to increase sales for their door styles.