Level of Difficulty: Medium
When I smell freshly baked cookies, I'm instantly transported to Christmas at my grandma's house. Somehow my grandma always managed to keep the kitchen neat while I helped her roll out the cookie dough. At most there was maybe a little flour on the counters to clean off, or a stray M&M for me to grab sneakily and eat.
I never did quite learn her trick for staying neat while baking. When I'm done making my grandma's world-famous chocolate chip cookies, my kitchen it looks like an explosion of flour, batter, and mixing bowls.
The one thing I have in my kitchen that helps is a custom-cut cabinet for baking trays. The cabinet, created from a simple IKEA hack, stores my trays vertically, making them easier to reach. If only the cabinet would scrub the pans for me – then it would be perfect!
3 Steps to Make this Custom IKEA Cabinet for Baking Trays
First, you'll need a 12"x24"x30" SEKTION cabinet to get started. From here, you need to reduce the width from 12" to 10" to make a narrower cabinet.
This is the only step that can be difficult, because SEKTION base cabinets don't have a full panel at the top, just a rail. If you don't have the tools, cutting those thin metal rails will be more challenging.
After you cut the rails, assemble the kitchen cabinet according to IKEA instructions. Then, it's time to attach the door.
The door for this IKEA cabinet isn't actually a door. It's a drawer front, turned on its side. This means you can't use the IKEA door styles with a horizontal grain: BROKHULT, HITTARP, MÄRSTA, or TINGSYRD.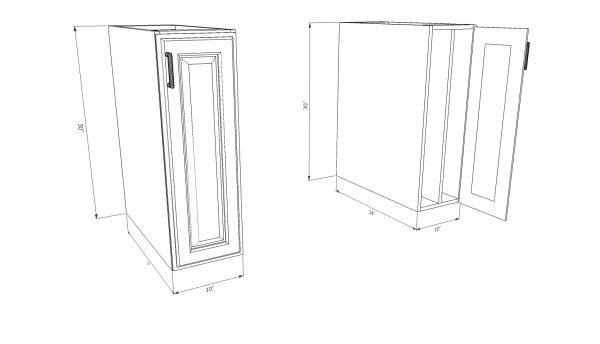 Because you're using the drawer front the non-IKEA way, you'll need to drill holes, too.
Lastly, you'll need a tray divider in the middle. The tray divider we recommend is actually an appliance panel, which is 5/8″ thick. The only panels that are this thick are large panels (read this post for details on IKEA panel size and thickness).
We highly recommend you measure the actual insides of the cabinet you have assembled before you cut the appliance panel.
Where can you put this IKEA hack in your kitchen?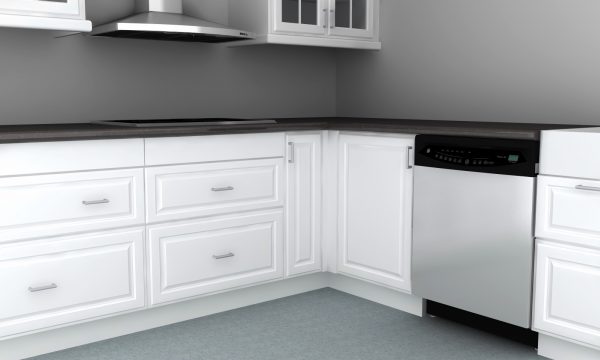 There are many places you can put this custom IKEA cabinet, but for this hack, we've placed it next to a corner.
But with some modifications you can make this custom cabinet concept work just about anywhere in your IKEA kitchen.
or here, without doors: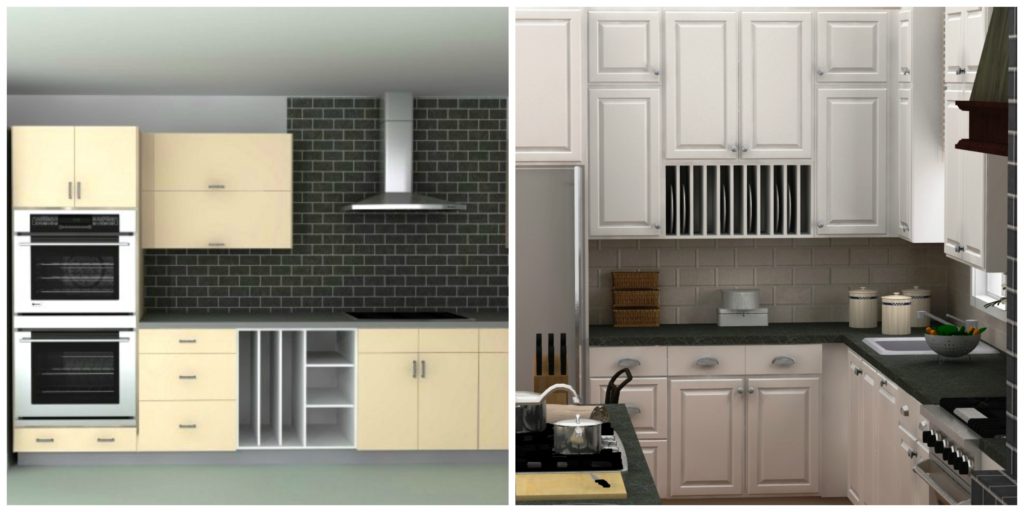 No matter where you place it, this IKEA cabinet hack will keep your cookie sheets organized and out of the way. Looks like the Christmas cookie exchange party is at your house this year!