Difficulty Level: Easy to Medium
True wine conossieurs are collectors. Many of them dedicate entire rooms to storing and even aging prized bottles of wine. For those who lack the space but not the love of wine, there are all kinds of built-in, large-scale, and temperature-controlled wine storage options.
This IKEA kitchen hack is for the rest of us who enjoy wine but only buy expensive bottles for special occasions. Typically, we don't get fancy when we're picking out our pizza wine, or wine for a girls' night out. Just call us wineaux.
Us wineaux need to store our wine too, but we don't the wine rack equivalent of 128 gigabytes of space with retina HD display. We just need something simple to keep those bottles from taking up valuable counter space.
Leftover Space in Your IKEA Kitchen Renovation? Not Anymore.
Every kitchen redesign ends up with leftover space. For a small space, a filler panel will do, but larger fillers can look tacky. At IKD we take those spaces as a challenge! Our mission is to turn those empty spots into useful storage spaces (like this one for spices) that still leave enough breathing room for cabinet and appliance doors to swing open.
IKD customers typically do not want their refrigerators smack dab in the middle of a wall. Typically they want their refrigerators off-center, if not right up against a wall. Because the door still needs to open, the leftover space ends up there.
How much leftover space you have dictates what you can do with that space.
The smallest IKEA door size is 12" wide. Any space narrower than that means not having a cabinet with a door.
At their smallest, IKEA high cabinets are 15" wide and need at least 2" of filler against a wall. If you have less than 17" of space, this won't fit.
But a wine rack only needs 6" of width. That's all you need! Here's what it would look like: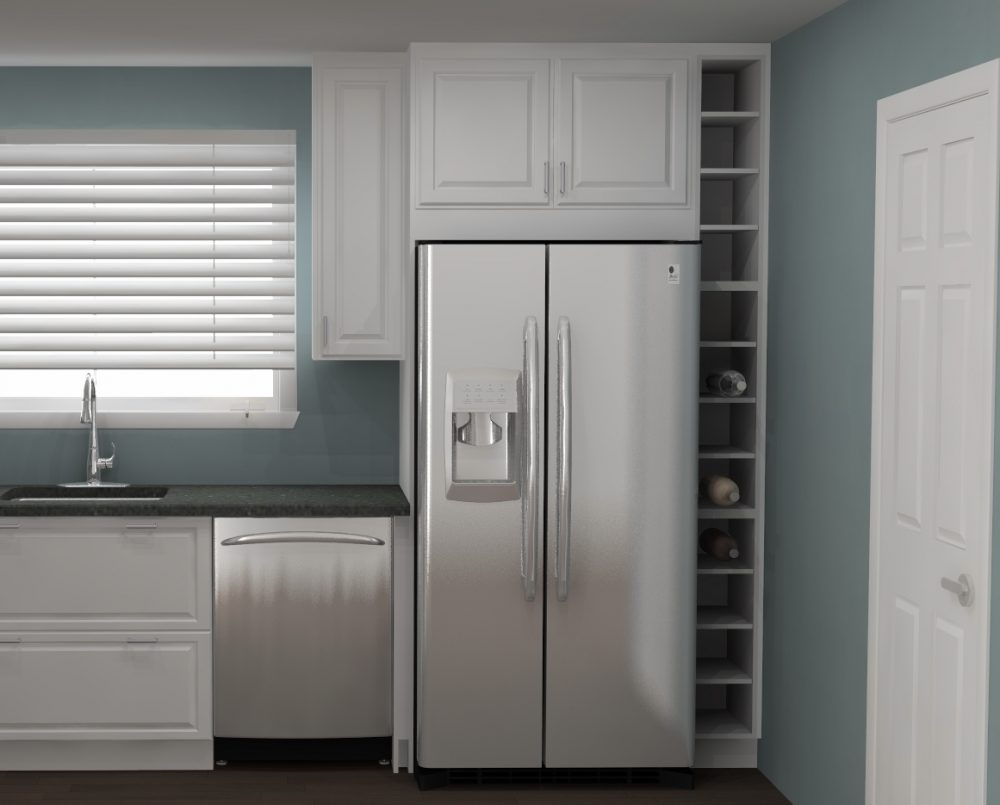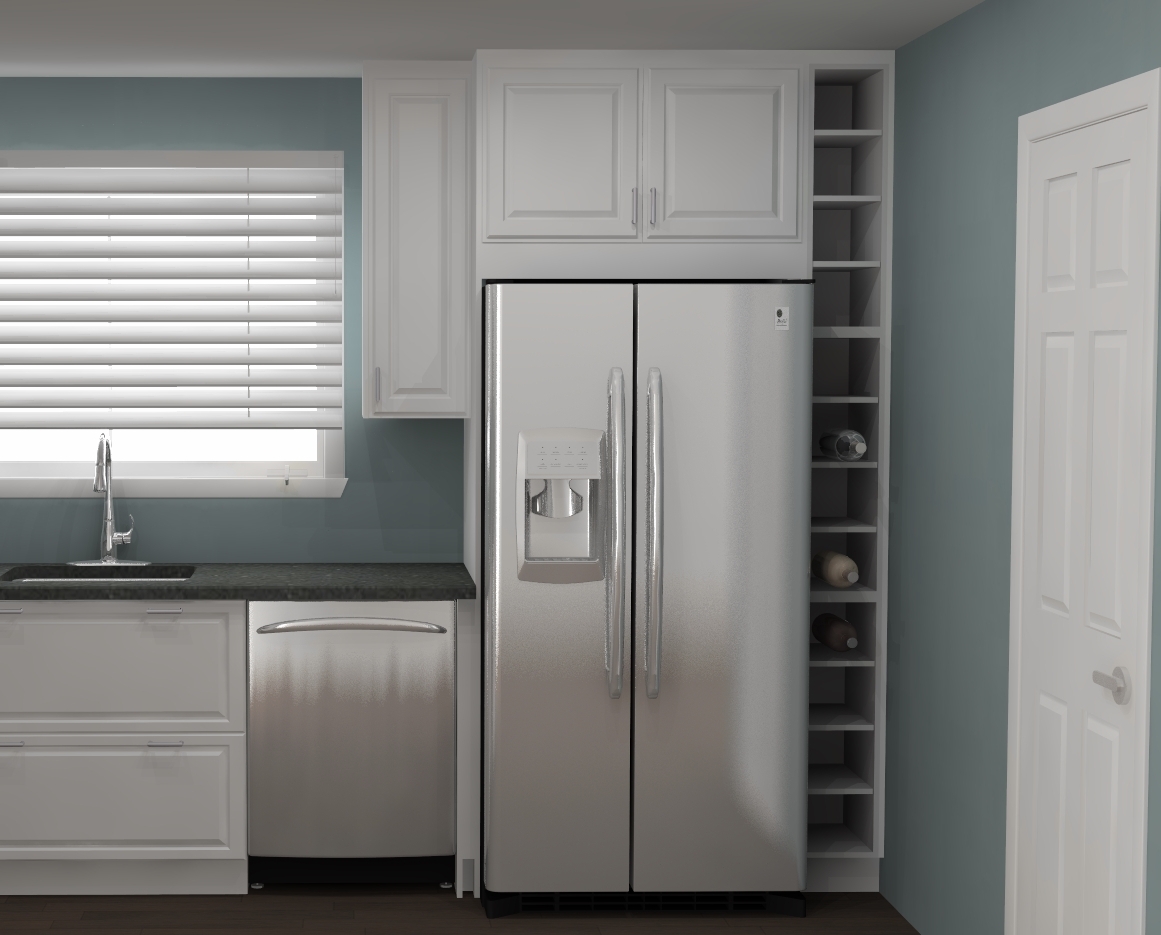 3 Reasons Why This IKEA Hack Works:
Storing wine next to an appliance is usually a no-no. But we're not recommending you store the Bordeaux you're planning to age and then sell in 10 years to pay for college tuition.
This wine rack only holds 12 bottles, which is more than enough storage for wine lovers who plan to drink soon after they buy.
The depth of the cabinet mitigates heat exposure from the refrigerator motor. This IKEA wine rack will be 15" deep. Bottles of wine are 12 – 14" deep. This allows ample space behind the cabinet and next to the ceiling for proper air circulation.
It's perfect for inexpensive bottles of red wine, because red wine is served at room temperature. Unless you're completely out of space, keep the white wine in the refrigerator.
There are 3 different ways to create this IKEA kitchen hack.
#1 Option for an IKEA Wine Cabinet Hack: HÖRDA
If you have a 96" high ceiling and at least 9" width of space, you can use IKEA's wine cubbies, called HÖRDA. Stack 3 of the HÖRDA cabinets that are 9"x15"x30". This is the easiest option.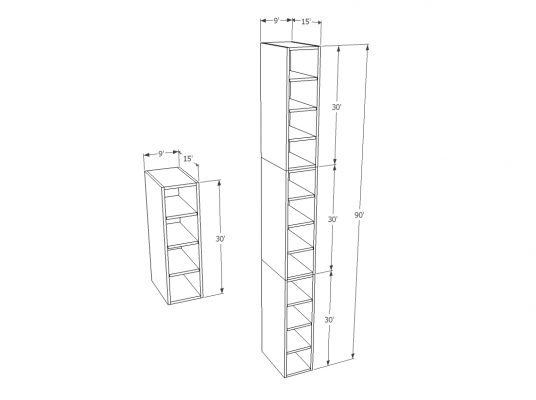 If you have enough space, you can make it look even more custom by adding refrigerator panels. Learn what you need to know about IKEA cover panels here.
#2 Option for an IKEA Wine Cabinet Hack: SEKTION High Cabinet
If you have less than 15" of space and your kitchen color scheme is white or brown, you can cut a high SEKTION cabinet frame down to the width of the space you have.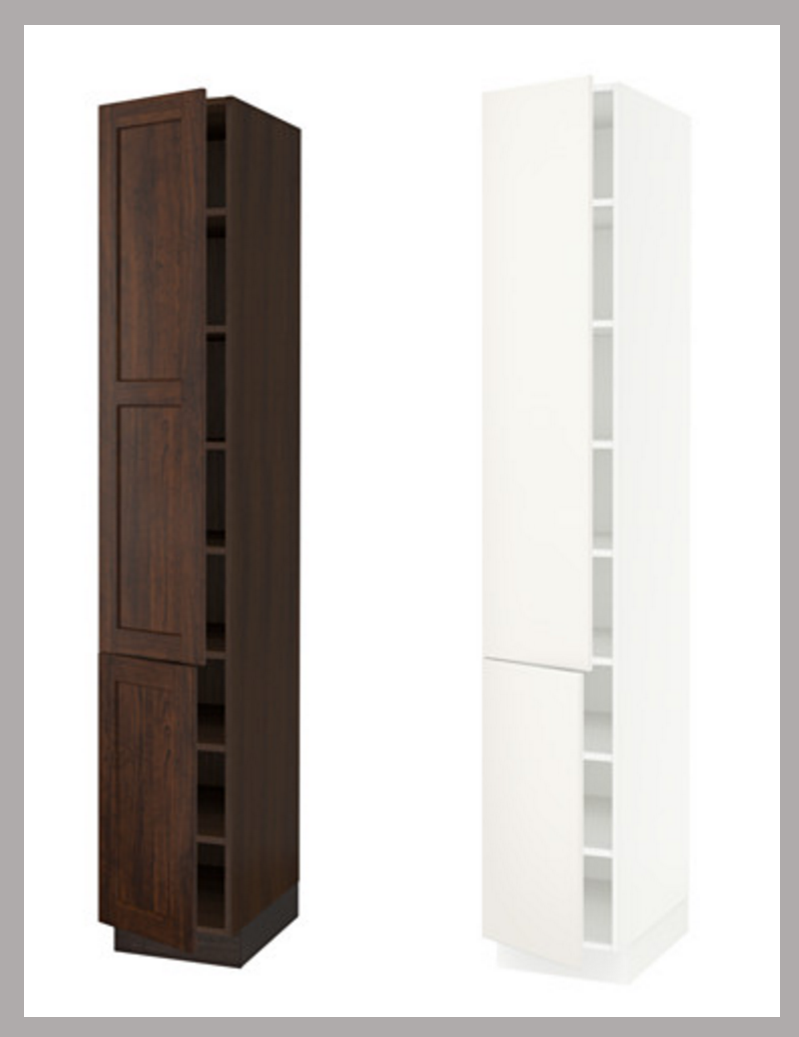 Why only white or brown? Because SEKTION cabinet frames are available only in a white or brown melamine finish. Typically this is not a problem because you only see the cabinet frame if the doors are open. This cabinet will not have a door, so the frame will be exposed. If you don't mind, neither do we! But some IKEA customers may not like this.
This option is a little more difficult than the first, but not by much.
#3 Option for an IKEA Wine Cabinet Hack: Build it Yourself
If your IKEA kitchen color scheme isn't white or brown, this is the option for you. It's the most difficult option of the 3, but here, the size of the space isn't as important.
With this IKEA hack you'll cut and build your wine rack out of 2 refrigerator panels that match your cabinet doors. For example, if your kitchen is using grey BODBYN cabinet doors, you'd buy BODBYN refrigerator panels. If you're planning to use custom doors, you'll need to purchase additional panels from your door manufacturer so your wine cabinet matches the cabinets.
Pro-tip: Make sure the panels you buy are the correct thickness. IKEA cover panels vary in thickness by overall size of the panel. Refrigerator panels, and any panels providing countertop support, must be 5/8″ thick. Read our panel thickness guide before buying any IKEA panels.
Ready, Set, Go!
Your shopping list will vary depending upon which option you choose. You can anticipate however needing these items in addition to the IKEA parts:
Screw gun
Circular saw or hand saw
Drill
Coarse/thread screws
1″ nails
Wood glue
This price list reflects option #1.