Last week we showed you IKD customer Sharon's stunning modern farmhouse kitchen. But, we also designed her laundry room and master bathroom using IKEA kitchen cabinets, too.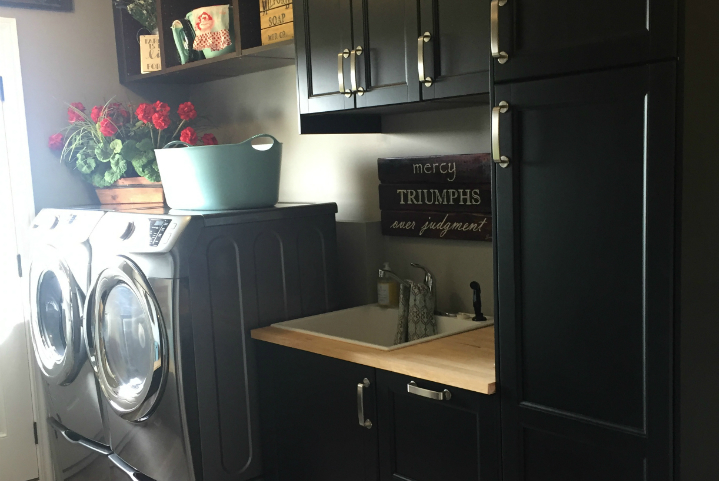 Surprise! IKEA kitchen cabinets are not just for the kitchen. You can use them anywhere in your home:
Bathroom
Laundry room
Office
Garage
IKD designs IKEA kitchens, but we are also in the business of doing these rooms too. Today we'll show you Sharon's laundry room and master bathroom.
A master bathroom designed with IKEA kitchen cabinets
When Sharon got in touch with IKD to see how we could help her with an IKEA kitchen, she also asked about the 2 other rooms in her new home build: the laundry room and master bathroom.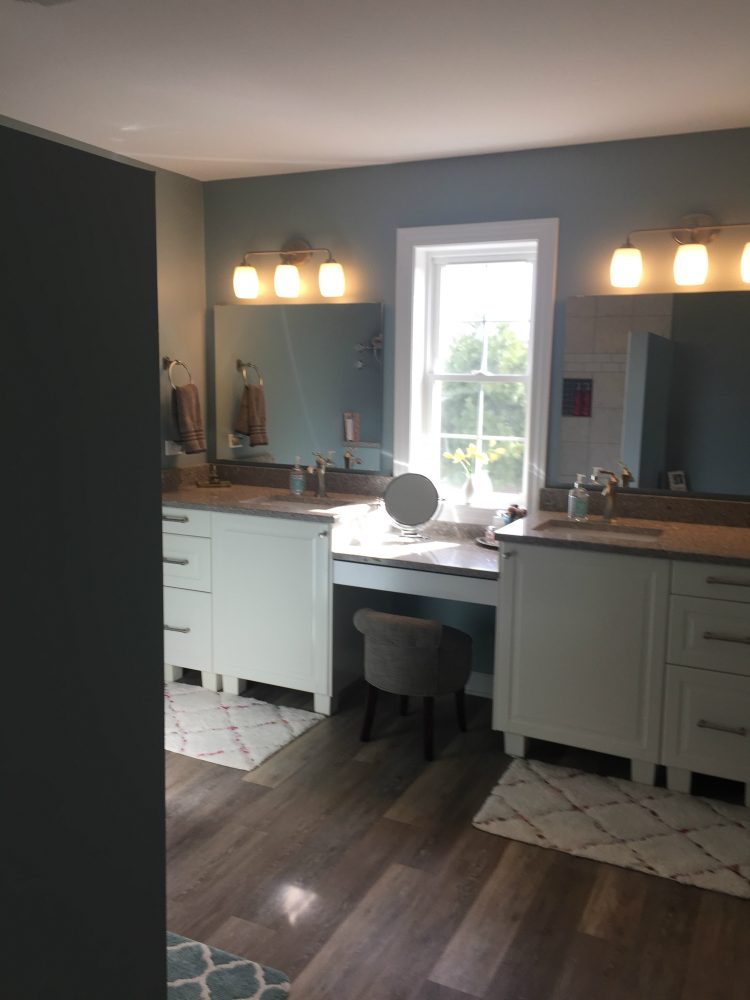 You might wonder why you would want to use IKEA kitchen cabinets in the bathroom, when IKEA makes a separate bathroom line called GODMORGON (it means "Good morning!" in Swedish and is a standard greeting at the start of your day).
TIP: Hands down, SEKTION is a better choice for the bathroom than GODMORGON. SEKTION cabinets are deeper and provide more storage.

We wanted to make Sharon's bathroom cabinets look more like a vanity, so we didn't include toekicks in the design. Instead you can see the legs, which makes them look more like furniture. –IKD designer Ana
Sharon also worked with Norman Arias, Countertop Designer at our countertop division, Inspired Kitchen Counterop (IKC).
I can't decide if the cabinets or the Silestone are my favorite part of the bathroom. The cabinets are so deep I can stand up a full can of hairspray in the bottom drawer on each side. But I really like how Norman suggested using Silestone countertop for the walls near the shower and the toilet area. It looks so much classier than plain drywall. –IKD customer Sharon
Another design recommendation IKD made was to put the bathroom sinks on either side of the vanity area.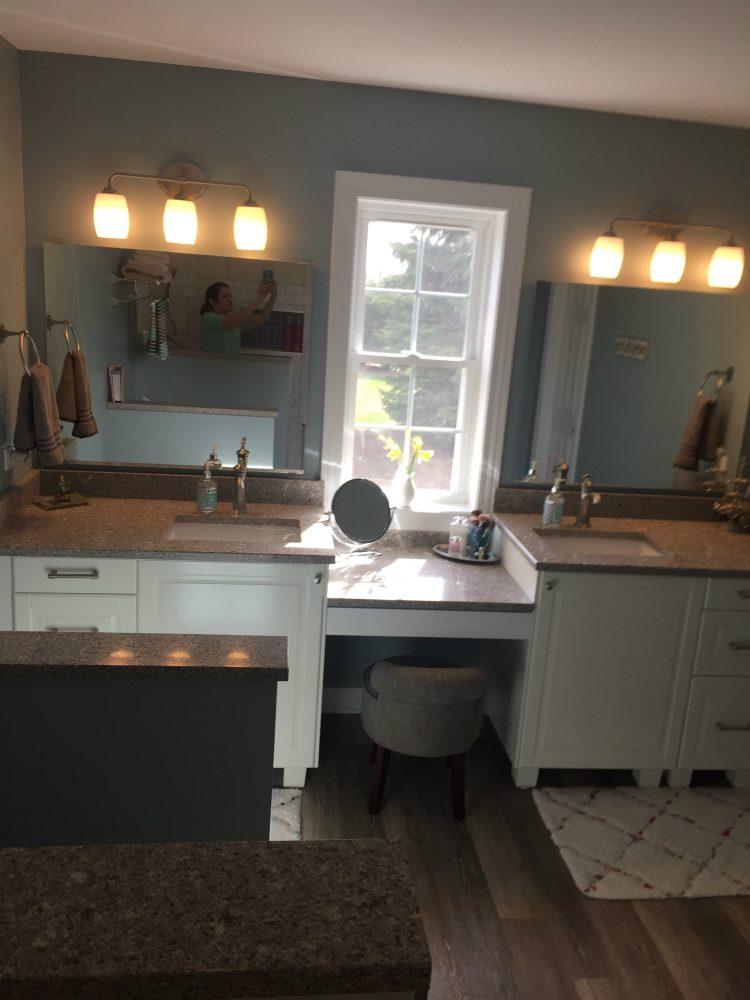 When customers choose to have 2 sinks in their bathroom, we try to offset the sinks rather than put them in the middle. This gives our customers more space for when they're getting ready in the morning.  –IKD designer Ana
Sharon chose BODBYN doors for her master bathroom, just like she did for her modern farmhouse kitchen. Did you also notice the VALLMORA wall lamps? Sharon really does love IKEA!
IKEA kitchen cabinets are perfect for designing a laundry room
IKEA's deep kitchen cabinets are also good for laundry rooms.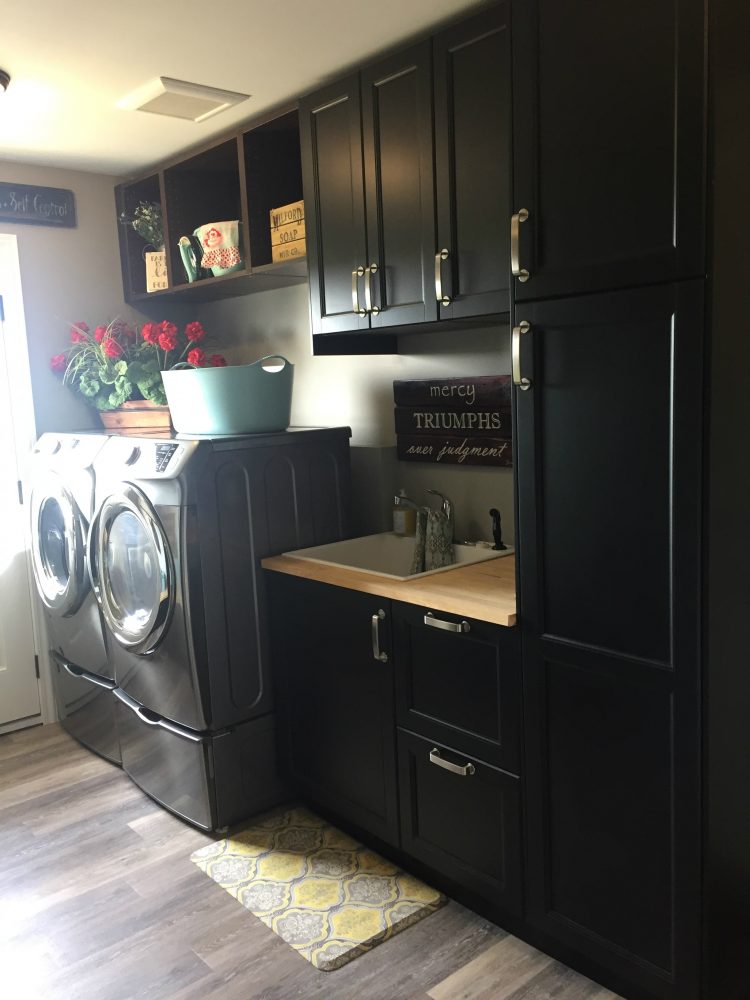 Instead of continuing the BODBYN door style into the laundry room, Sharon chose LAXARBY doors (with VÄRDE handles). Why the color switch?
My husband is a landscape architect, which means he often comes home covered in mud. Because the laundry room doubles as a mudroom, I needed a bench so my husband can remove his muddy items, stick them in the wash, and the dark LAXARBY doors hide any evidence of dirt. –IKD customer Sharon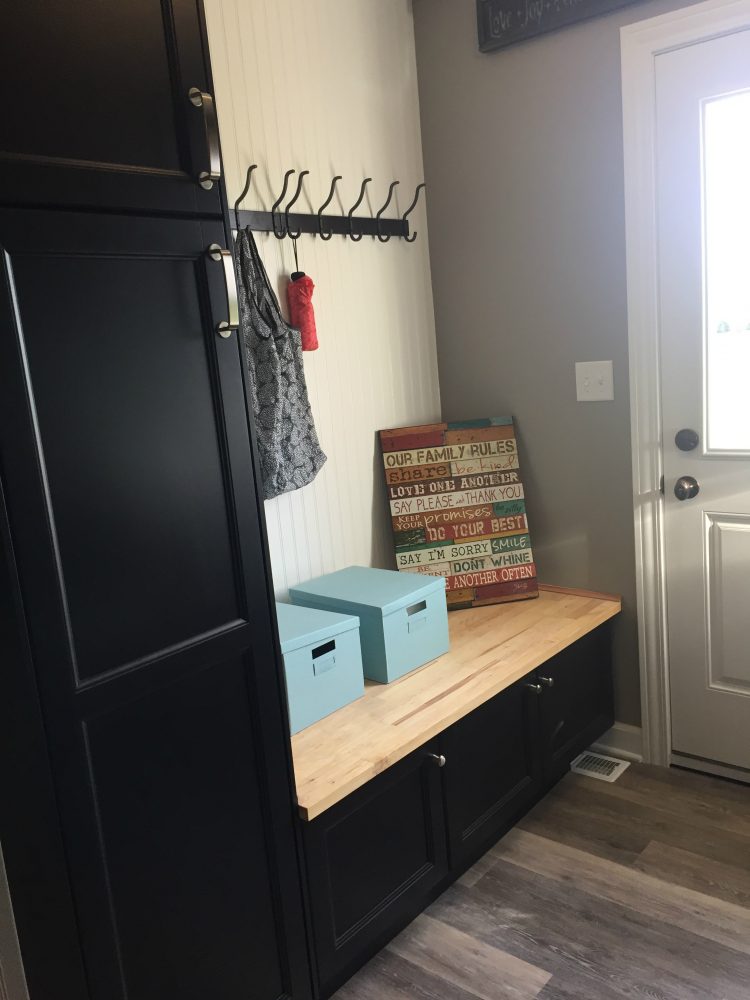 Shoes and boots can be tucked away under the bench, which Assembly Squad created from IKEA butcherblock countertop. FÅGLAVIK , LEKSVIK hooks, and even the TJENA boxes, KNALLA umbrella and KNALLA shopping bag are from IKEA too.
We can design any room in your home using IKEA kitchen cabinets
Feeling inspired by Sharon's master bathroom and laundry room? Get in touch to find out if we can help you use IKEA kitchen cabinets to design other rooms in your home. The answer will be yes, so purchase a design from us today.