This is Ryan's old kitchen. Can you spot the big design challenge that's just visually screaming for your attention?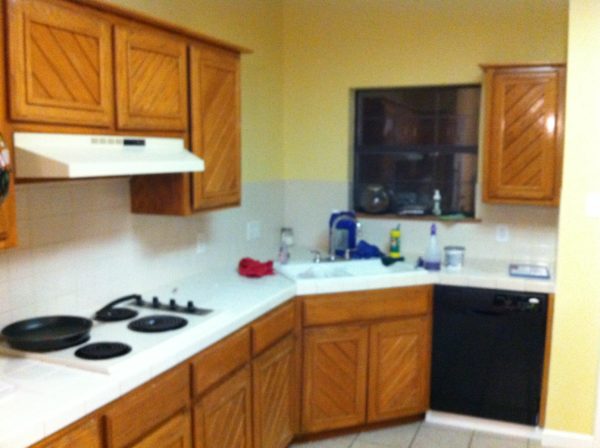 Look at the odd sink configuration. The base cabinet is set on an angle between the dishwasher and the range top, which also looks strange with the lines of the window. Or, as Ryan put it, "awkward."
But now, this is the IKEA kitchen that welcomes the family home every day:
Why IKEA's SEKTION was Perfect for this Texas Kitchen
Ryan researched his cabinet options and found what many IKEA kitchen veterans know by now: IKEA's cabinets are of similar quality to other custom solutions, but at a fraction of the cost.
But what really appealed to Ryan was how using IKEA meant he could build the kitchen himself.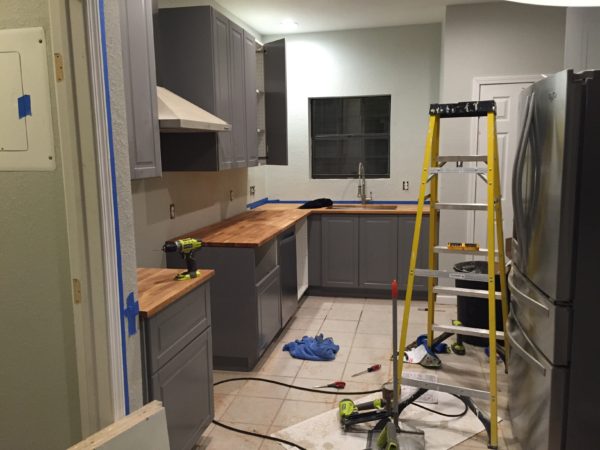 Since this was a DIY endeavor, Ryan wanted someone else to check his design in the IKEA Home Planner. For peace of mind, he needed  to make sure it was right. One Google search led to another and he found great reviews about IKD's IKEA kitchen design service and Home Planner help. Inspiration!
Constructing the New Kitchen
Ryan wasn't interested in changing the footprint of his kitchen, so the plumbing and electrical were "staying put." That left him with a long narrow kitchen with no room for an island or a work triangle. His only real big decision concerned the sink: did he care more about centering the sink to the window, or straightening out that corner cabinet?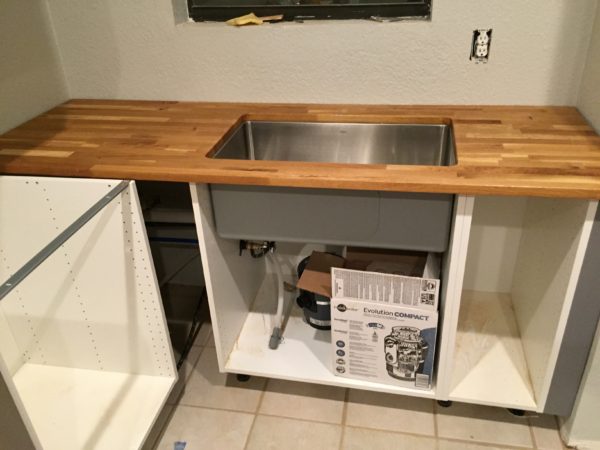 Ryan chose IKEA's NUMERAR butcherblock countertop in oak. NUMERAR is discontinued, so try KARLBY instead if you're looking for a solution like this right now. Ryan shared that working with the butcherblock was more challenging than he had anticipated because they had chosen to pair it with a BREDSKÄR undermount sink. This required careful measuring and fitting to prevent deterioration in the future.
A SEKTION Kitchen in BODBYN Grey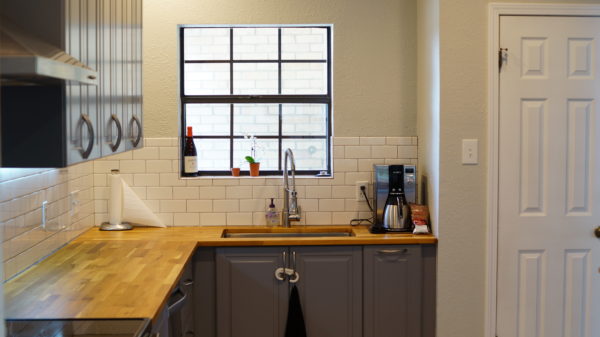 Ryan, with IKD's help, chose to put the sink off-center with the window and definitely not in the corner. You probably recognize the HJUVIK kitchen faucet and the BODBYN door in grey.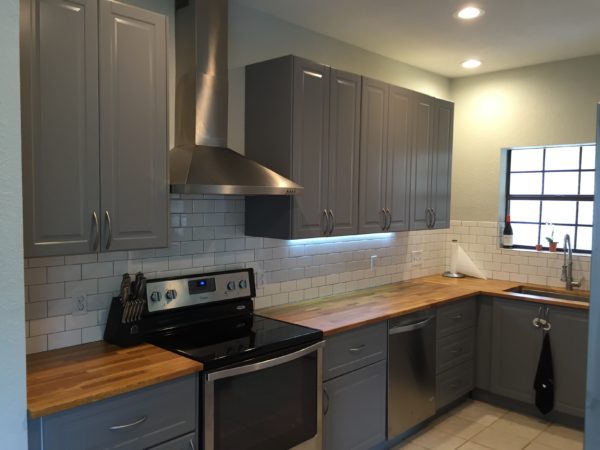 While you see the LUFTIG exhaust hood here, this is the only IKEA appliance they got for their kitchen. They chose white s
ubway tile for the backsplash which brings the BODBYN grey together with the darker oak countertop. Those are classic TAG handles on the cabinet doors.
A limitation of SEKTION is that it does not have a cabinet with a hole in it for a microwave, or a special shelf like AKURUM did to support a microwave in a cabinet.
Adding to this, SEKTION wall cabinets are 15" deep. In short, if you really want to keep your microwave off the countertop, you're going to have to find a pretty small microwave.
Ryan did! A minimal amount of electrical work allowed for him to use his microwave and hide it too.
SEKTION's Hallmark Feature is in This Kitchen
IKD customer Ryan and his wife Rachel want to set the record straight: SEKTION's drawers-within-drawers are great.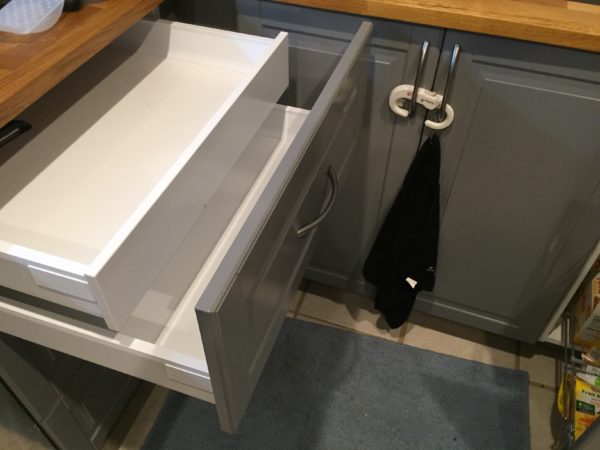 When some people saw SEKTION's hallmark feature, they asked: why open one drawer only to have to open another drawer? Meanwhile, Rachel likes them so much she's asked Ryan to change over the configuration of the other mid-height drawers. She's found it easy to hide the knives in the upper MAXIMERA drawer, and their two-year-old hasn't figured it out yet.
But the two-year-old has figured out the pull-out cabinet with wire baskets! And that's where he keeps his snacks.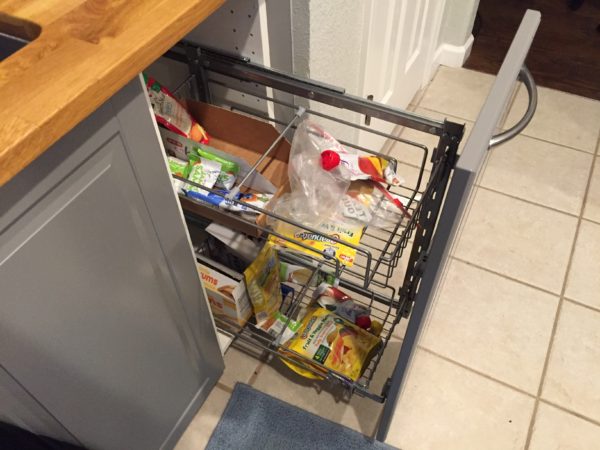 Let IKD Figure Out The Awkward Spots in Your Kitchen
Do you need help figuring out where to put that pesky sink, like Ryan? Or maybe your kitchen has a different quirk. When you hire us, take advantage of our years of kitchen design expertise to help you find good-looking solutions for the unique setup of your kitchen.