IKD designed a modern farmhouse kitchen for Sharon and Steve's brand-new home. We always have fun designing IKEA kitchens in new home builds.
Without further ado: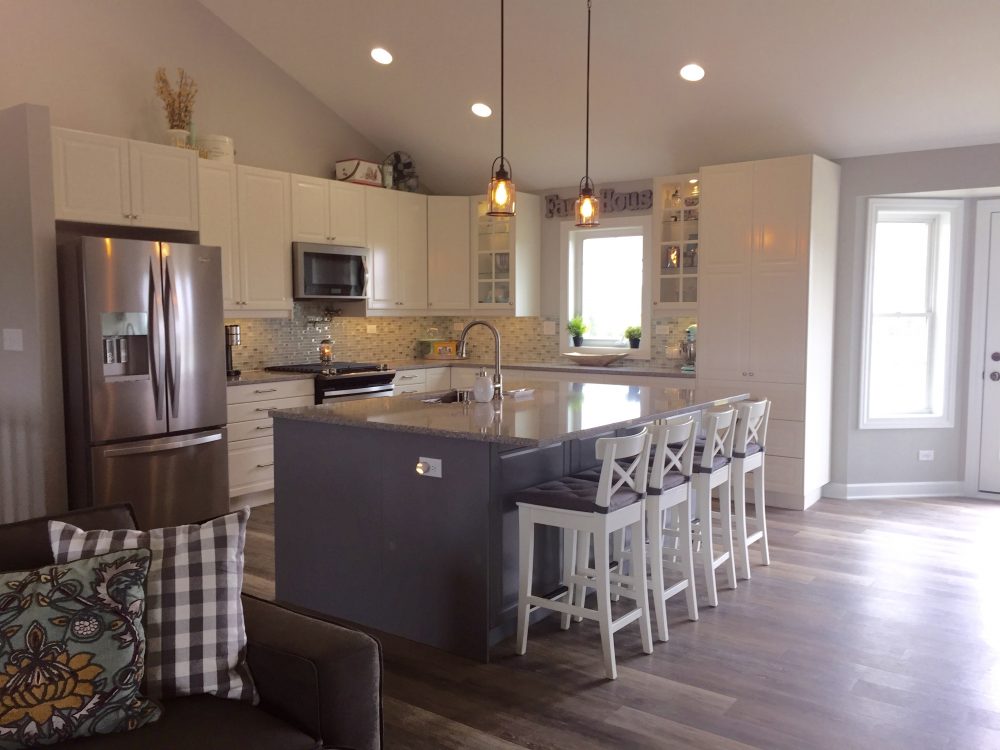 Sharon describes herself as an "IKEA freak" and if you look closely in the photos you can see other IKEA touches, such as the pillows on the sofa and the INGOLF bar stools.
Because they were starting with a blank slate, Sharon and Steve gave IKD full rein over the design. They loved the first kitchen design draft we came up with and made no changes – a first in IKD history!
"The only thing we told IKD we wanted was the kitchen island," Sharon told me. "That's all they had to go on, and we got this beautiful IKEA kitchen in return. It was incredible."
What makes this a modern farmhouse kitchen?
The sign above the window is accurate: this IKEA kitchen can be described as modern farmhouse because of how all the different elements come together.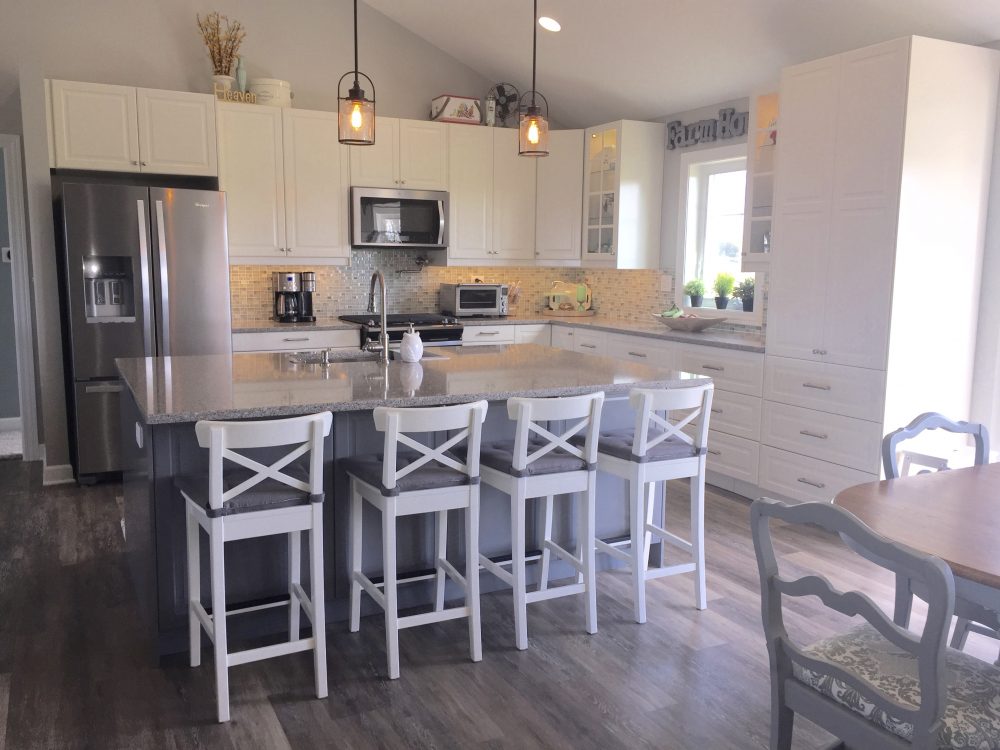 Those elements are:
BODBYN doors in both white and grey
INGOLF bar stools
Pendant lights from local boutique shop The Little Traveler
Backsplash, faucet, and appliances
Ana

BODBYN doors show up in Classic, Cottage, Transitional, and Modern Farmhouse style kitchens. Put the same doors, backsplash, and appliances together with other decorations, and it could be a Classic kitchen.

This is a modern farmhouse kitchen because of how all the items come together.
This Modern Farmhouse kitchen has a special surprise – a pot filler!
Did you notice the pot filler above the oven range?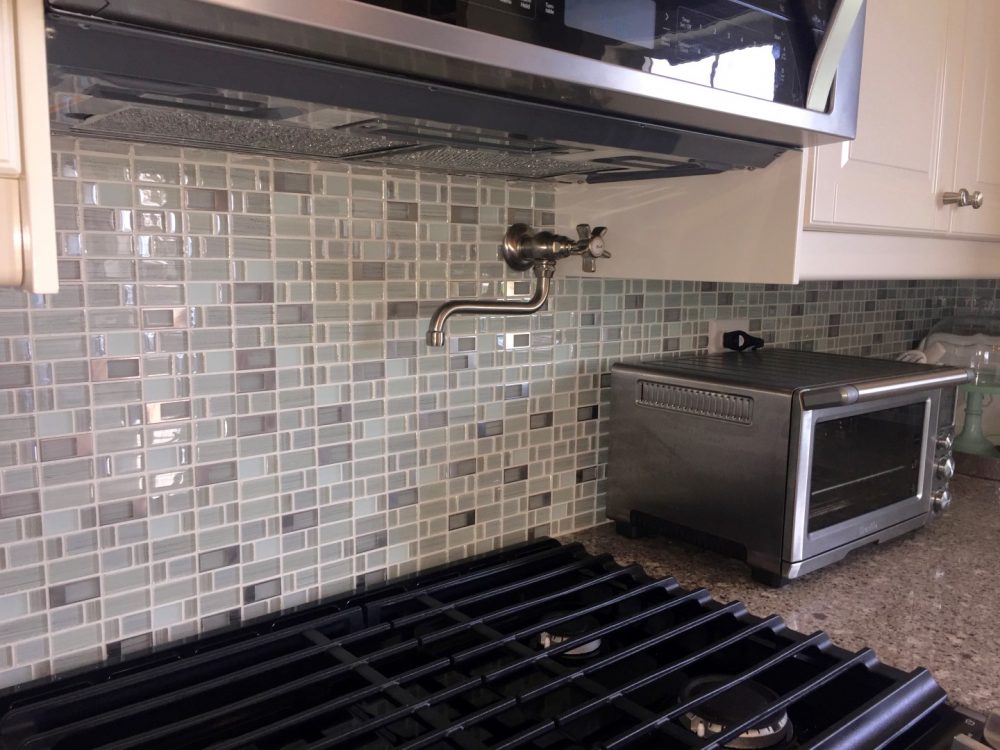 A pot filler is a special faucet that is exactly what it sounds like: you can fill a pot, tea kettle, or whatever you like, right above the stove. It's so convenient and it adds to the Modern Farmhouse style in Sharon's kitchen.
We think our customers who are serious chefs will definitely want a pot filler in their kitchens! A note of caution: unless you're building your home, this can mean a serious reconfiguration of your plumbing. Meaning, it will add to your kitchen renovation costs. Make sure that's what you want to do.
The countertop in this Modern Farmhouse kitchen is from IKD!
Hands down, Sharon's favorite part of her Modern Farmhouse kitchen is the island.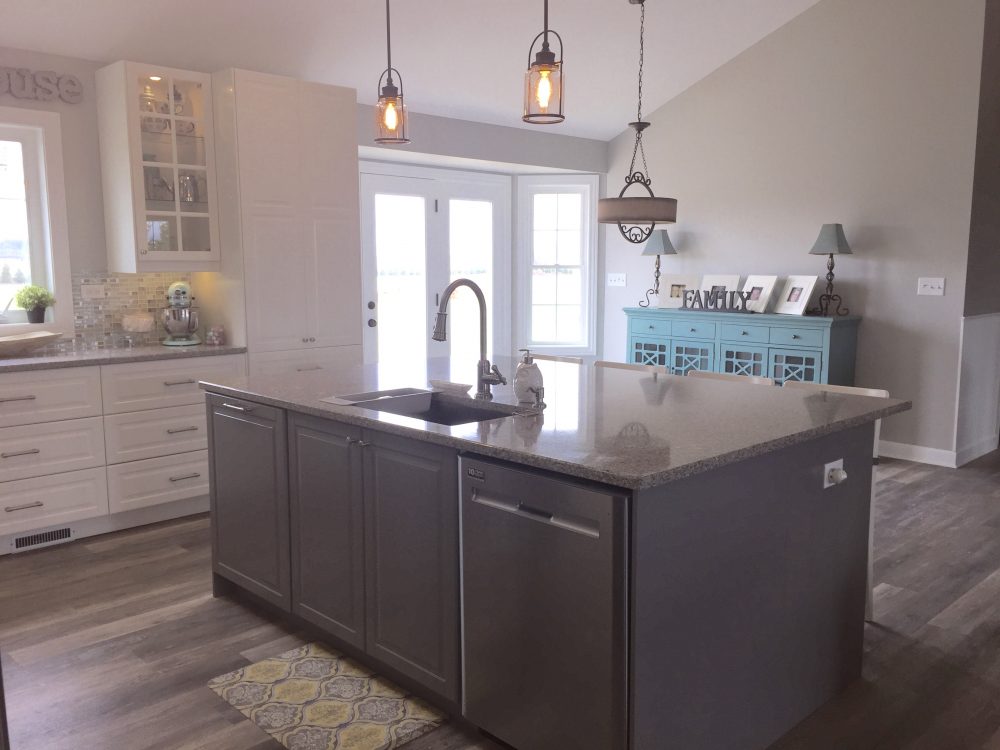 Like all kitchen islands, Sharon's was created from SEKTION cabinets. The island is not only home to the sink and dishwasher, it also houses the waste sorting system.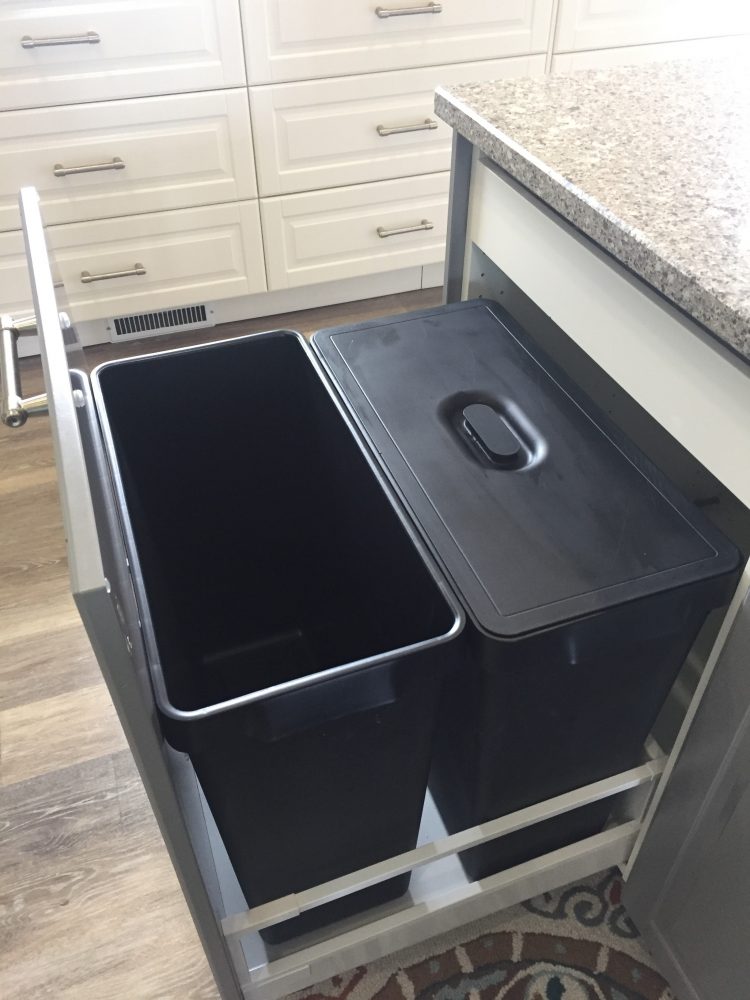 And above the garbage and recycling cans is a little hidden drawer for dishcloths.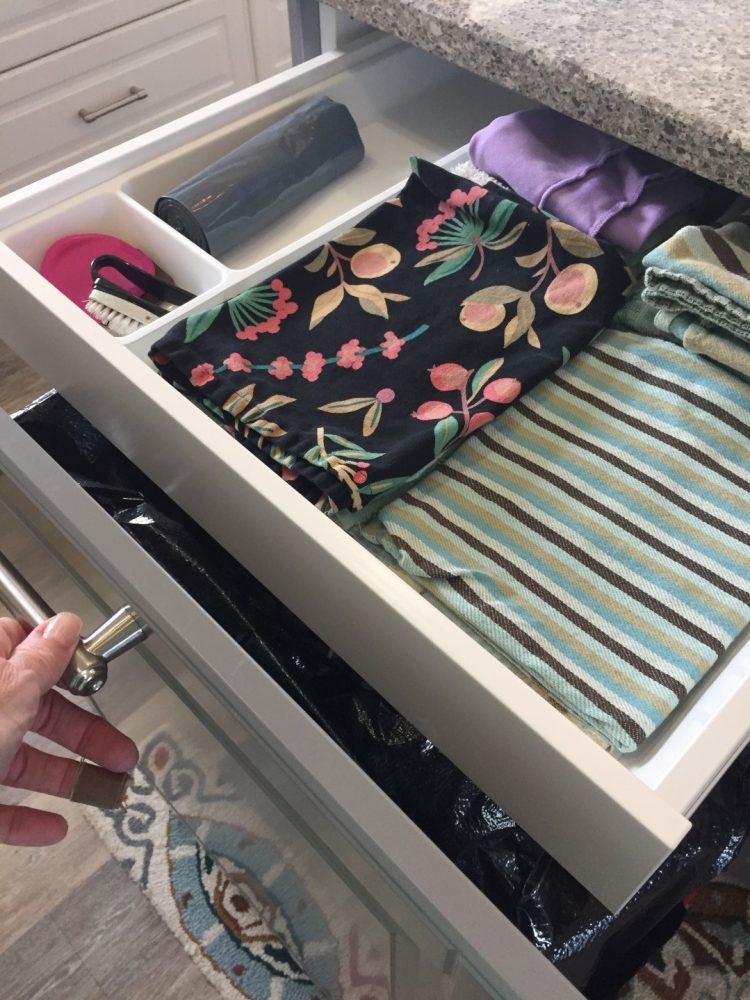 Did you know IKD has a countertop division? Inspired Kitchen Countertop sells Silestone quartz countertops.
I was so impressed with IKD's creativity and professionalism that when they told me about their countertops, I knew I wanted to explore Silestone as an option. I liked the Alpine Grey, but Norman convinced me I should choose 2 other samples so I could compare. Alpine Grey still won my heart, but it was really helpful to compare so I knew I'd like the result. –IKD customer Sharon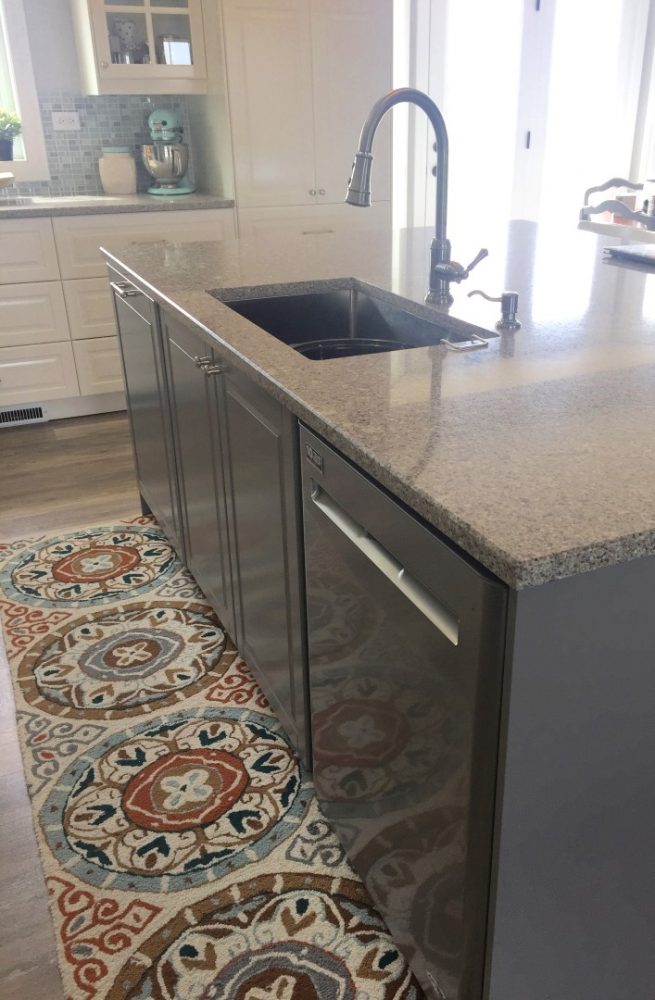 An abundance of storage thanks to SEKTION drawers
Sharon took full advantage of IKEA's brilliant storage options and was nice enough to send photos of how she used them.
Most of the storage happens along the same wall as the window and patio door.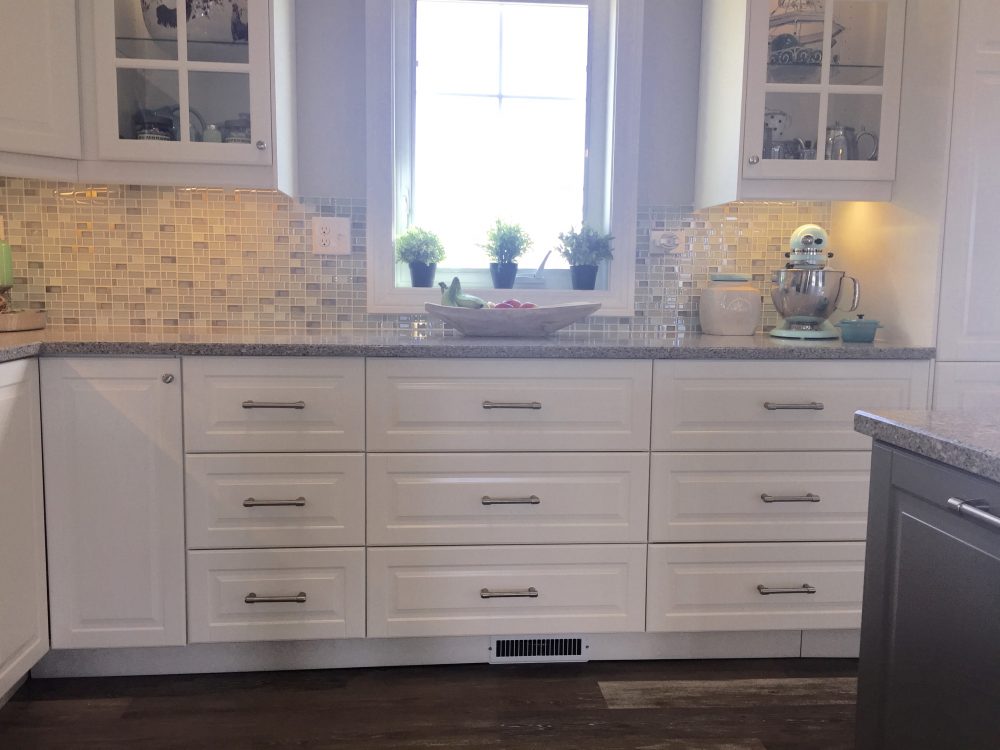 To the right of the window is the pantry Sharon didn't know she wanted, but loves. She really did give IKD full rein!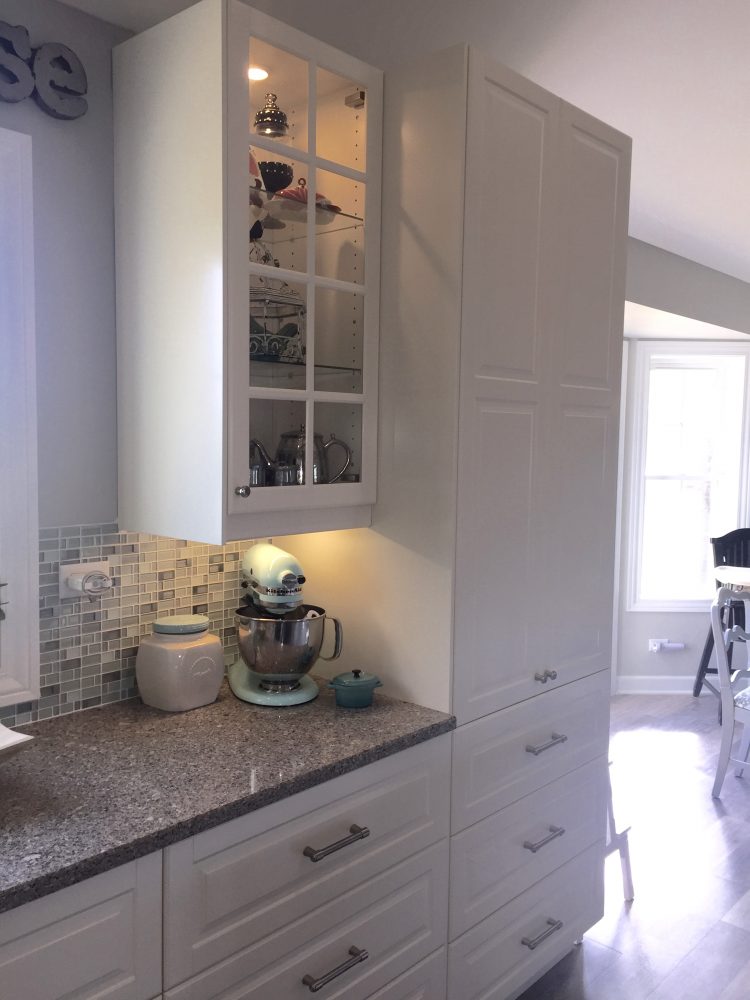 Let's, ahem, look inside Sharon's drawers.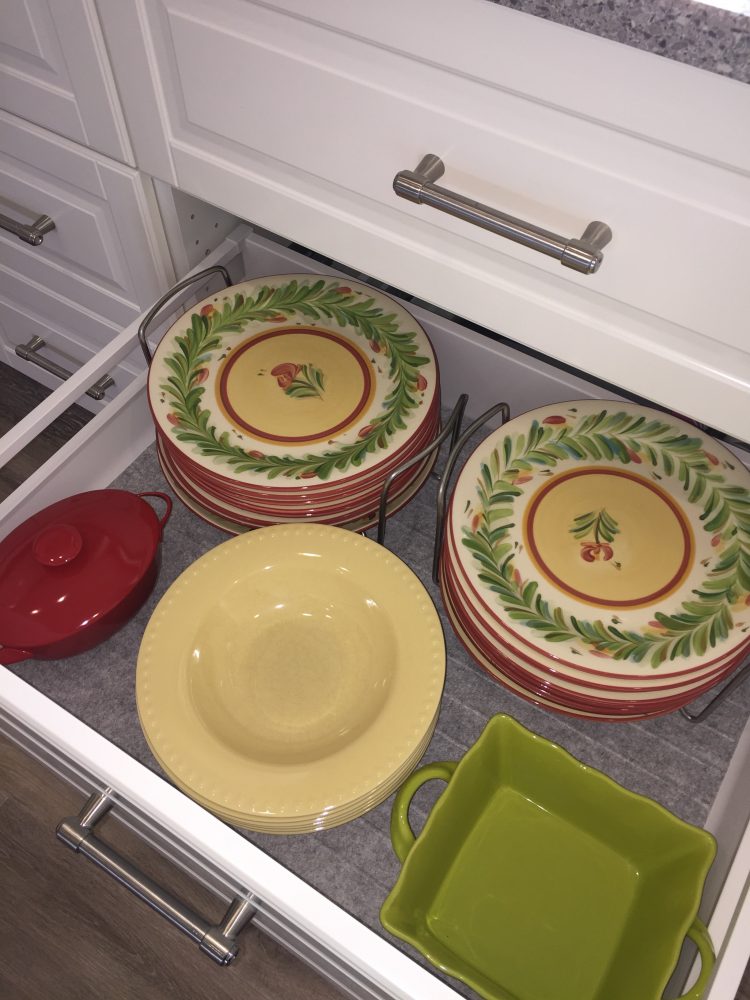 Sharon stores the plates and bowls in a drawer under the window. Because of the VARIERA plate holders and BESTÅ drawer liners, the plates don't rattle which over time could cause chipping.
The upper portion of the pantry cabinet is a combination of shelves and drawers.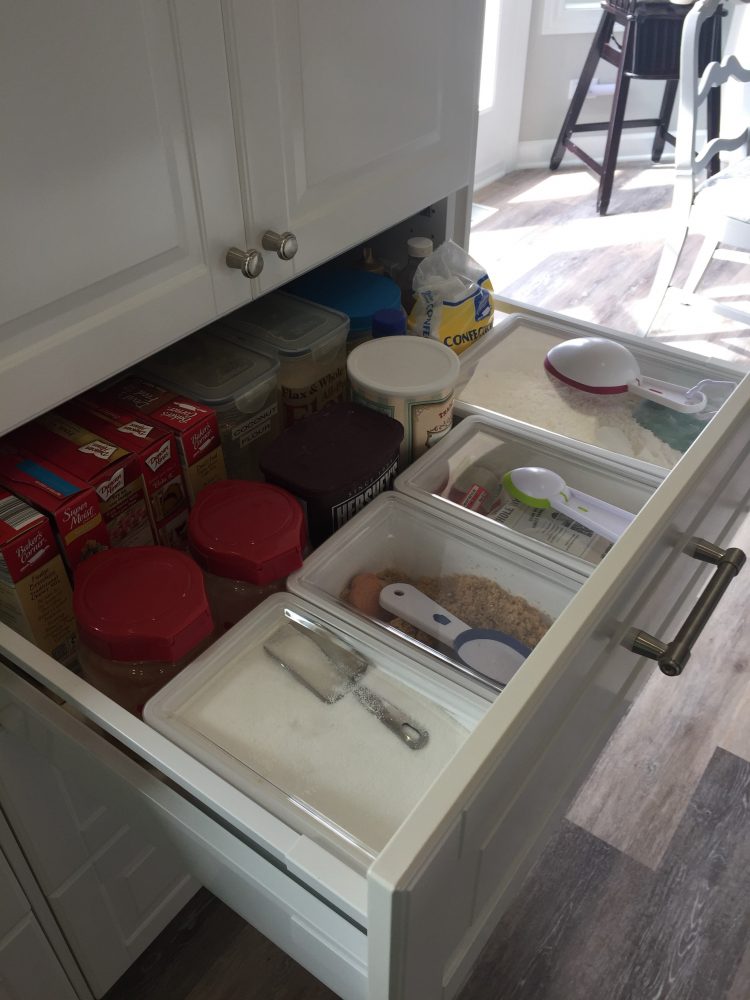 Underneath are more storage drawers. The bulk storage bins are the TILLSLUTA – we'd have to agree with Sharon that she is an "IKEA freak" !
(But so are we. So it's alllll good.)
Here are more photos of how Sharon organized her drawers.  She used the OMLOPP in-drawer lighting, too.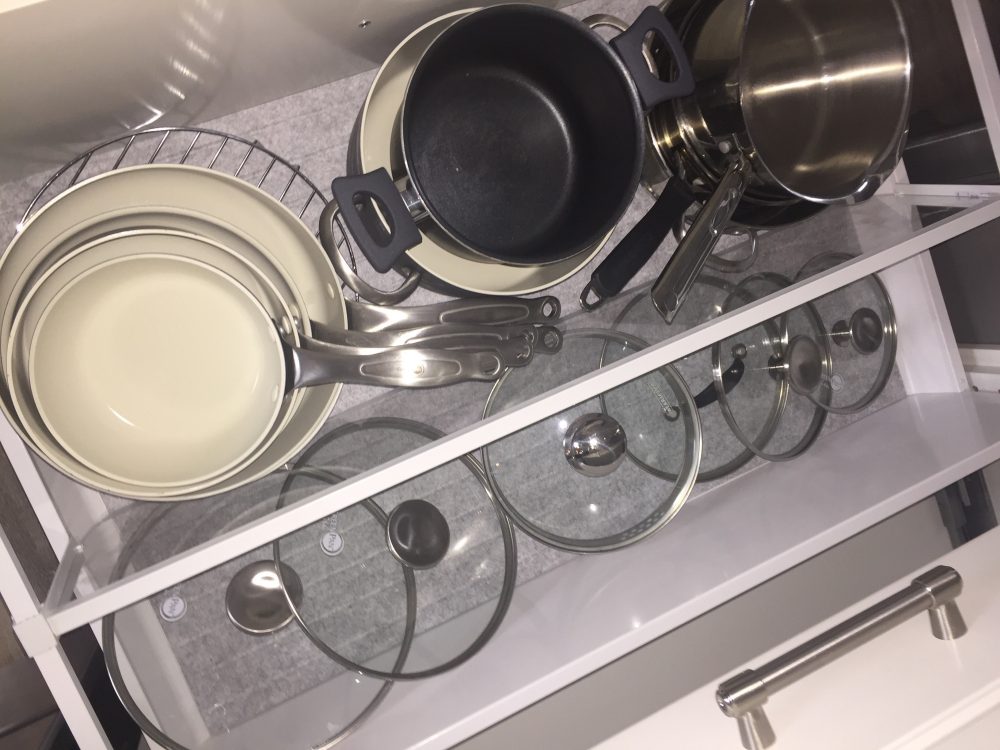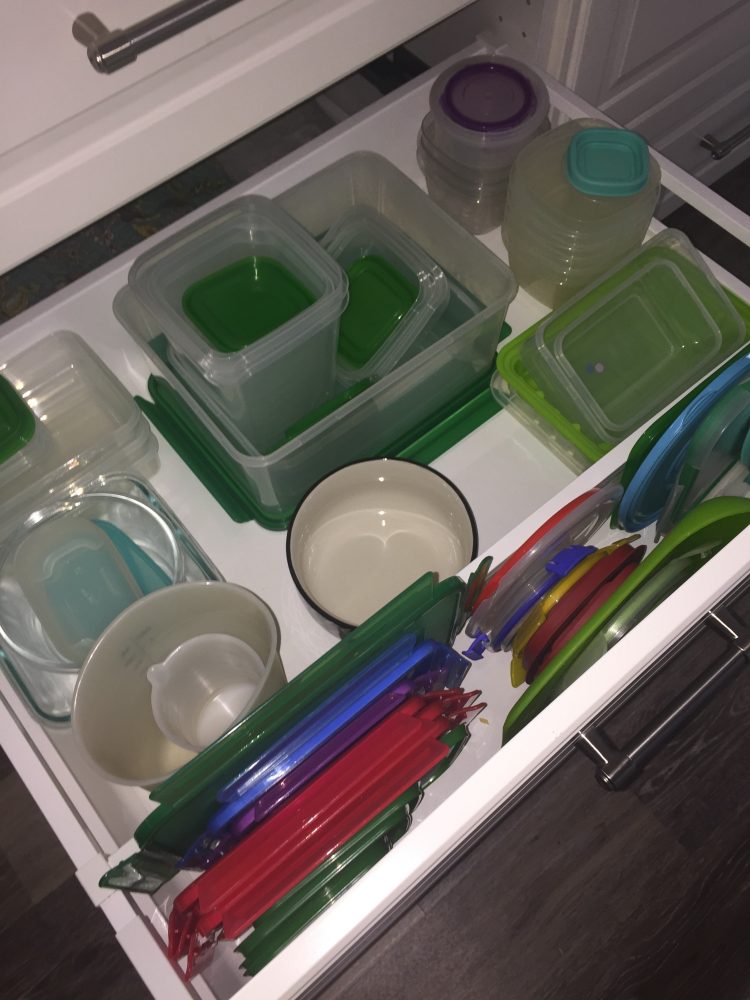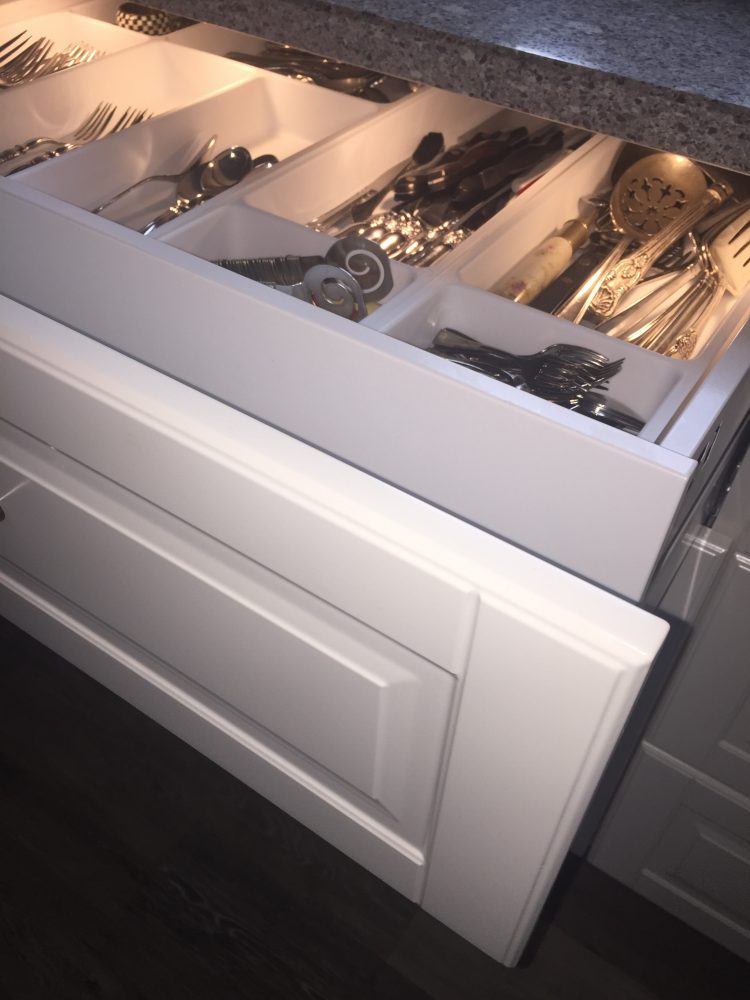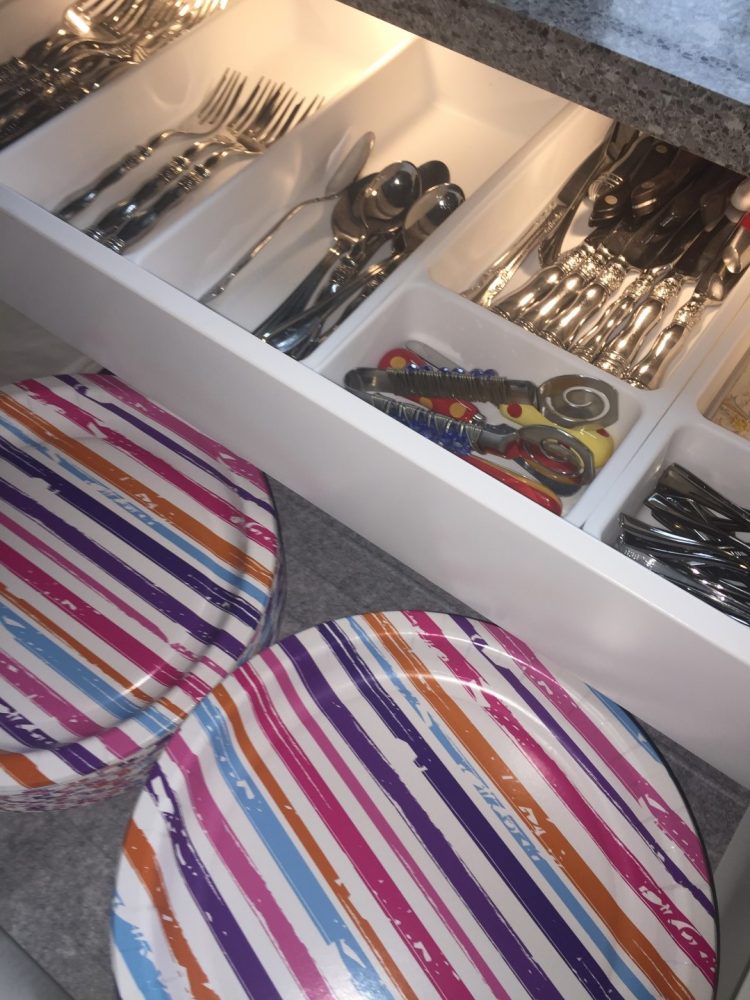 More views of Sharon's Modern Farmhouse kitchen
Let's zoom back out and drink it all in, shall we?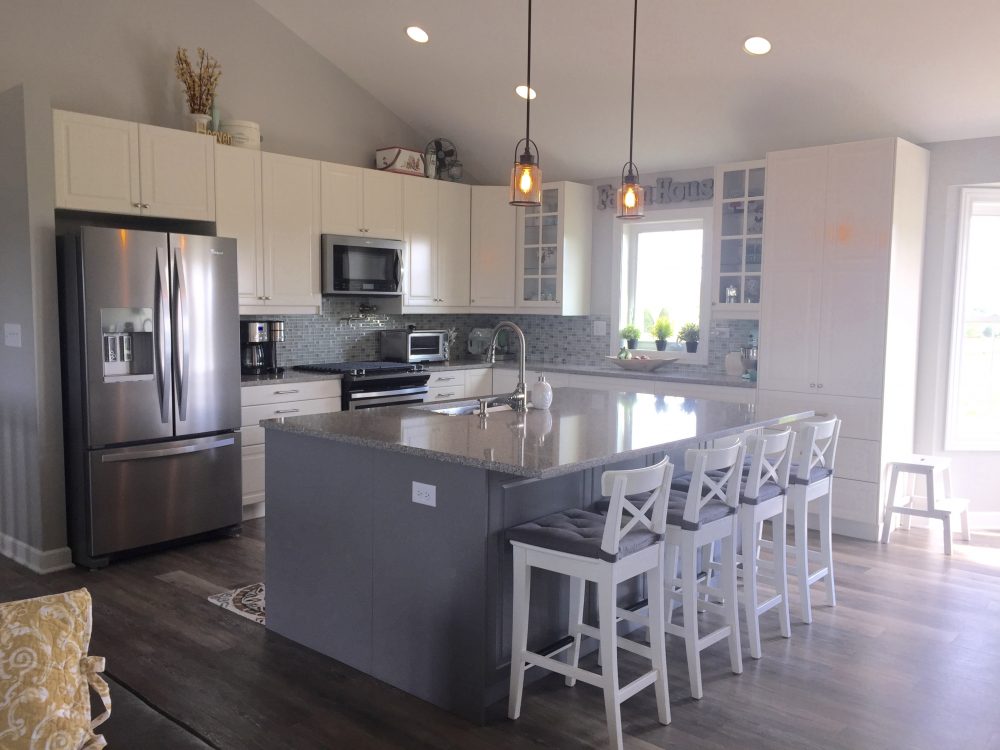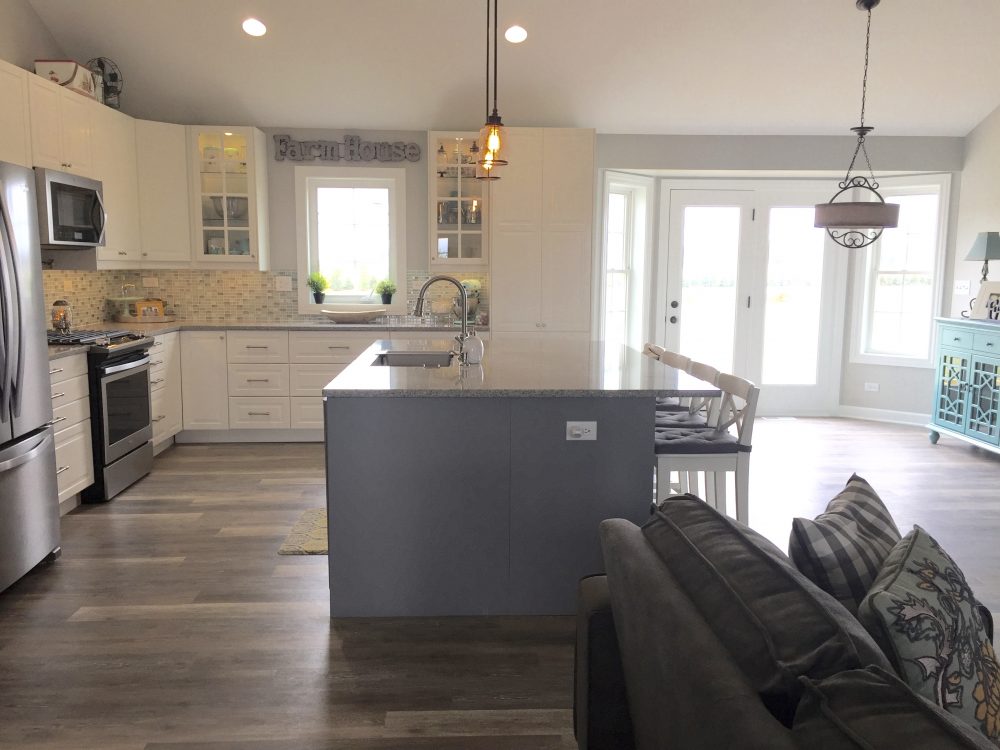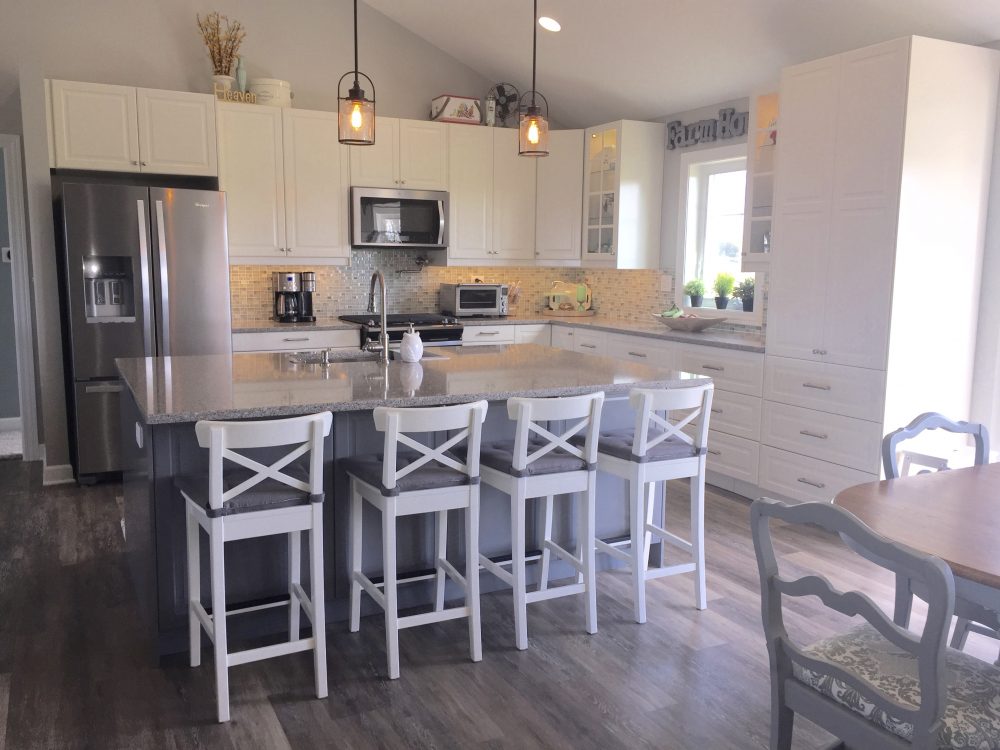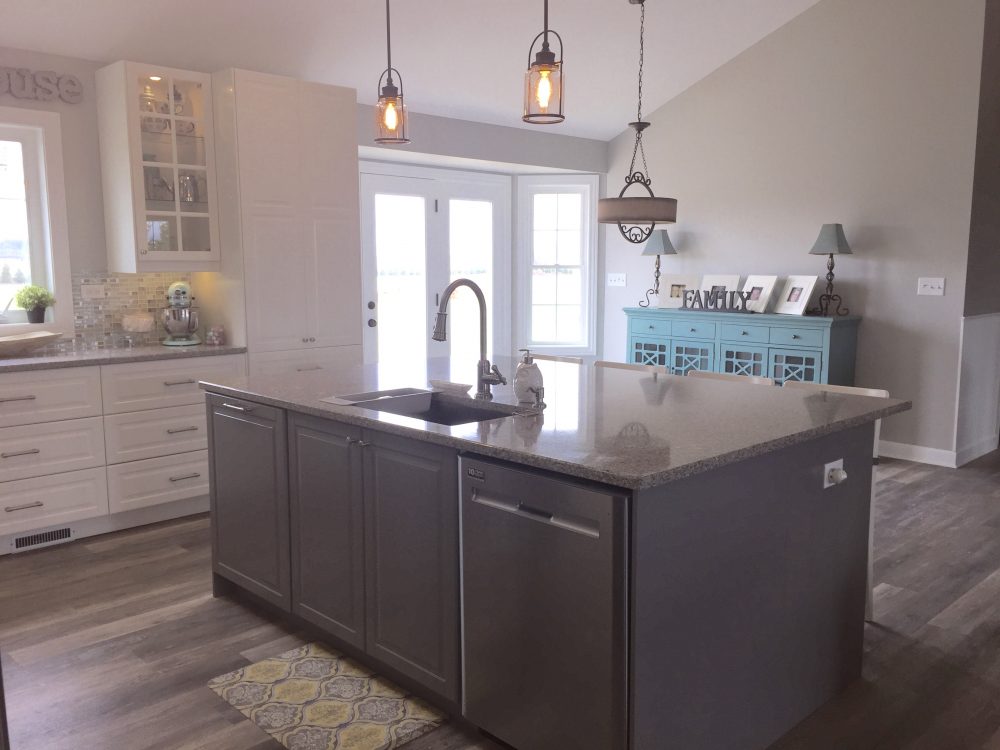 But wait….there's more!
Sharon and her husband also hired IKD to design their laundry room and master bathroom! Bet you didn't know you could design other rooms in your home with IKEA kitchen cabinets. Next week we'll show you those rooms.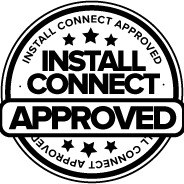 Sharon also highly recommends Assembly Squad, an IKEA kitchen installer in the Chicago area. She and Steve were impressed with their handiwork and professionalism. What do you know, they're also an IKD Install Connect approved installer.
Ready to design a modern farmhouse kitchen of your own? See how IKD can help you get the kitchen – or master bathroom, laundry room, wardrobe, office, or garage – of your own.