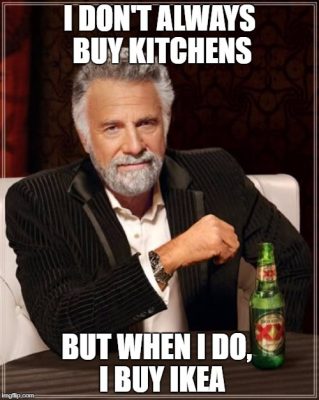 Unless you've been living under a rock like one of the Geico cavemen, you know The Most Interesting Man in the World. He doesn't always drink beer, but when he does, he drinks Dos Equis.
IKD customer Chip is definitely a candidate for The Most Interesting Man in the World. He's an artist, retired graphic and industrial designer, and a gourmand who loves to cook.
You'd think someone with artistic gifts like Chip's would opt for a high-end kitchen line for his new home. But you'd be wrong.
Imagine Chip saying, "I don't always buy kitchens, but when I do, I buy IKEA."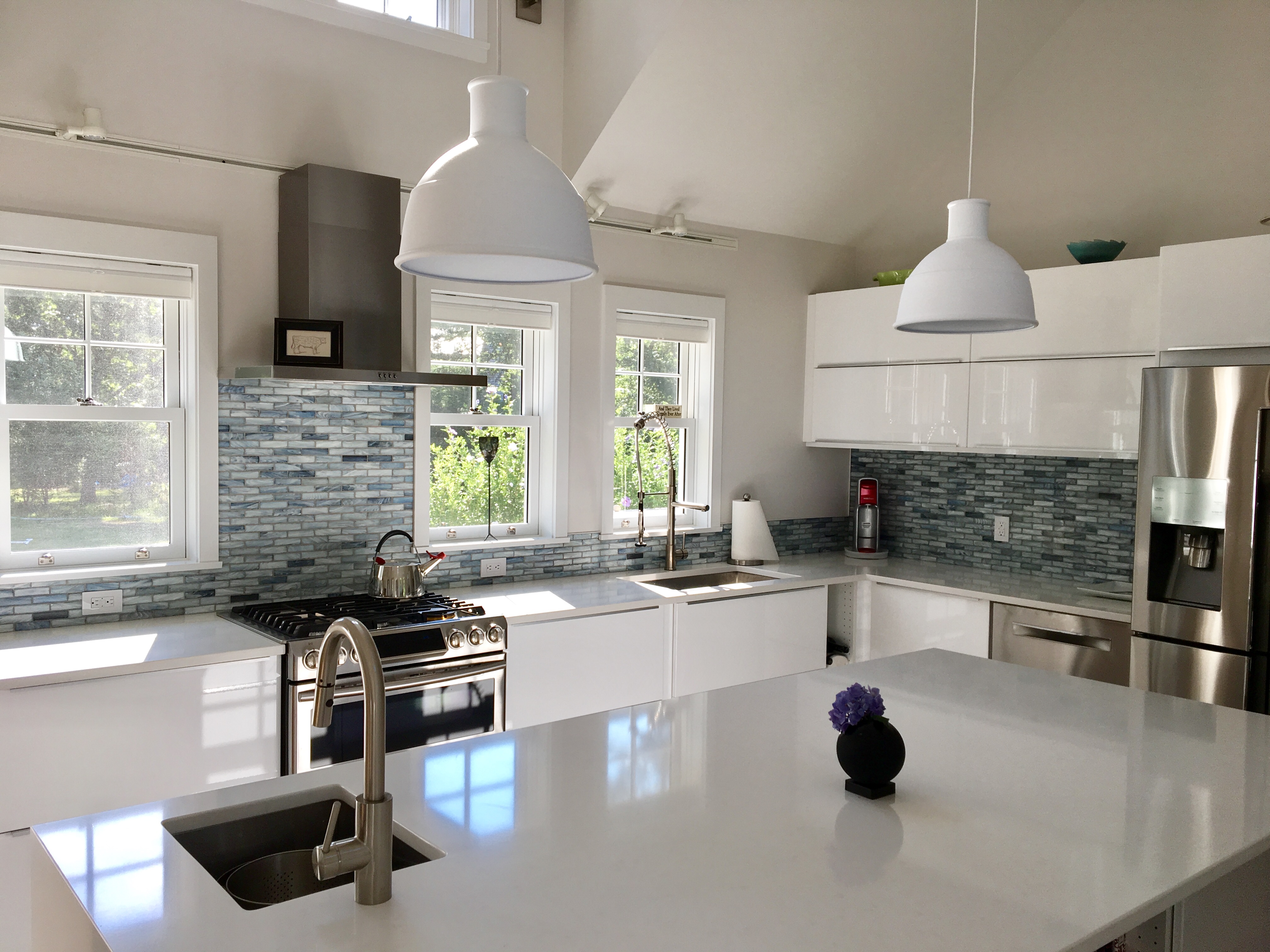 We don't know about you, but we think Chip and his wife Pam chose wisely. They sent us lots and lots of pictures so let's dive into their modern white IKEA kitchen.
An IKEA kitchen is perfect for an organized cook
Chip and Pam chose to go the route of new construction for their not-quite-retirement home. After thoroughly vetting their kitchen cabinet options, they realized IKEA was the best value for their money. As Chip points out, all of the hardware such as the door hinges and soft-close dampers are the same quality as more expensive kitchen lines.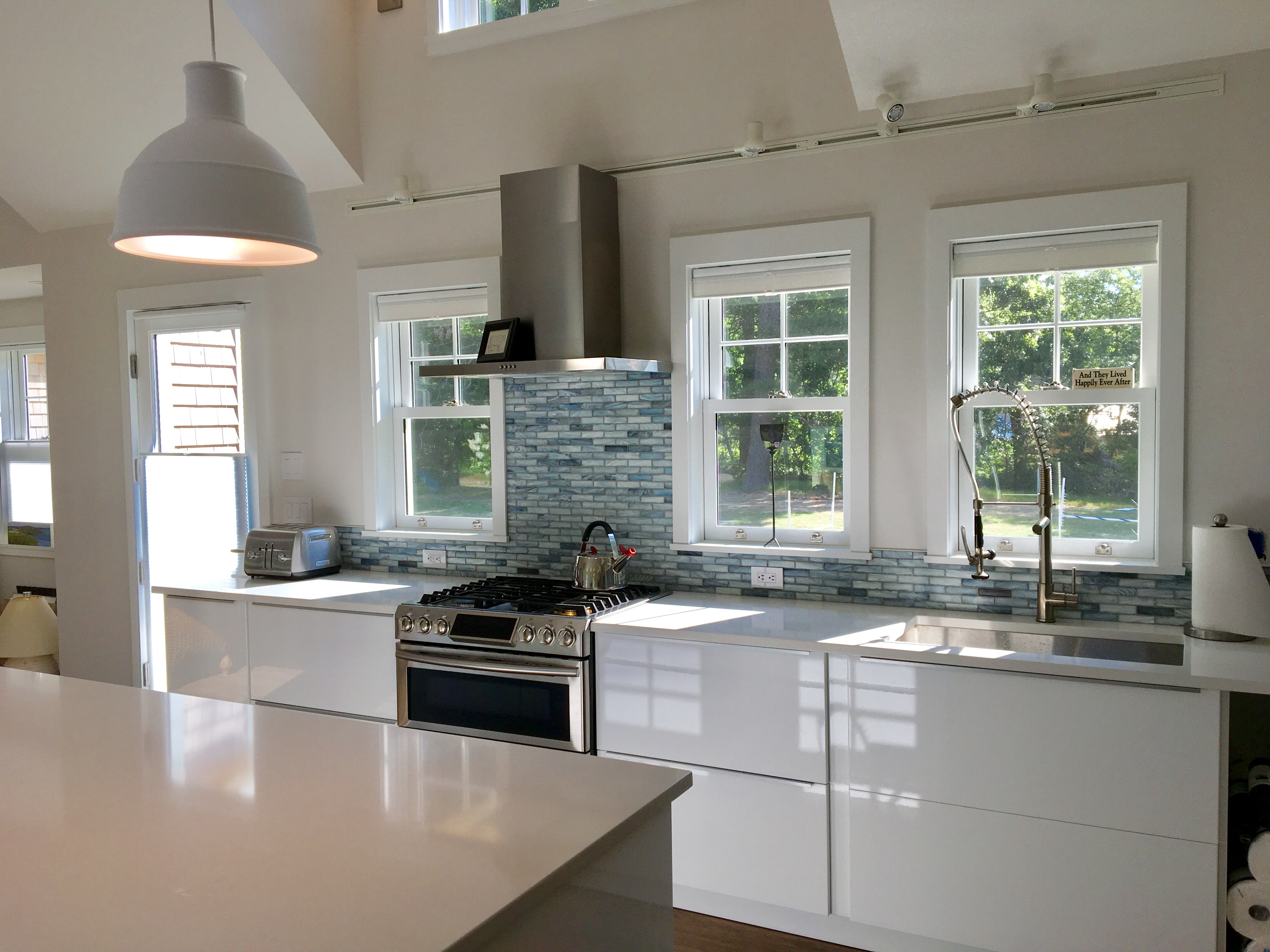 The modular design of IKEA's kitchen line, SEKTION, also appealed to the couple. Turns out the Most Interesting Man in the World is also a master of kitchen organization.
I love to cook, but I don't love making a mess. I like staying organized and cleaning up as I go. SEKTION is perfect for my style because it's so functional and organized. – IKD customer Chip
A serious chef like Chip needs his cooking utensils, spices, baking ingredients, and pots and pans close by. That's where SEKTION's inner drawers really shine. Chip and Pam made full use of the MAXIMERA inner drawers in their modern white IKEA kitchen because as Chip puts it, "drawers inside of drawers is a great innovation."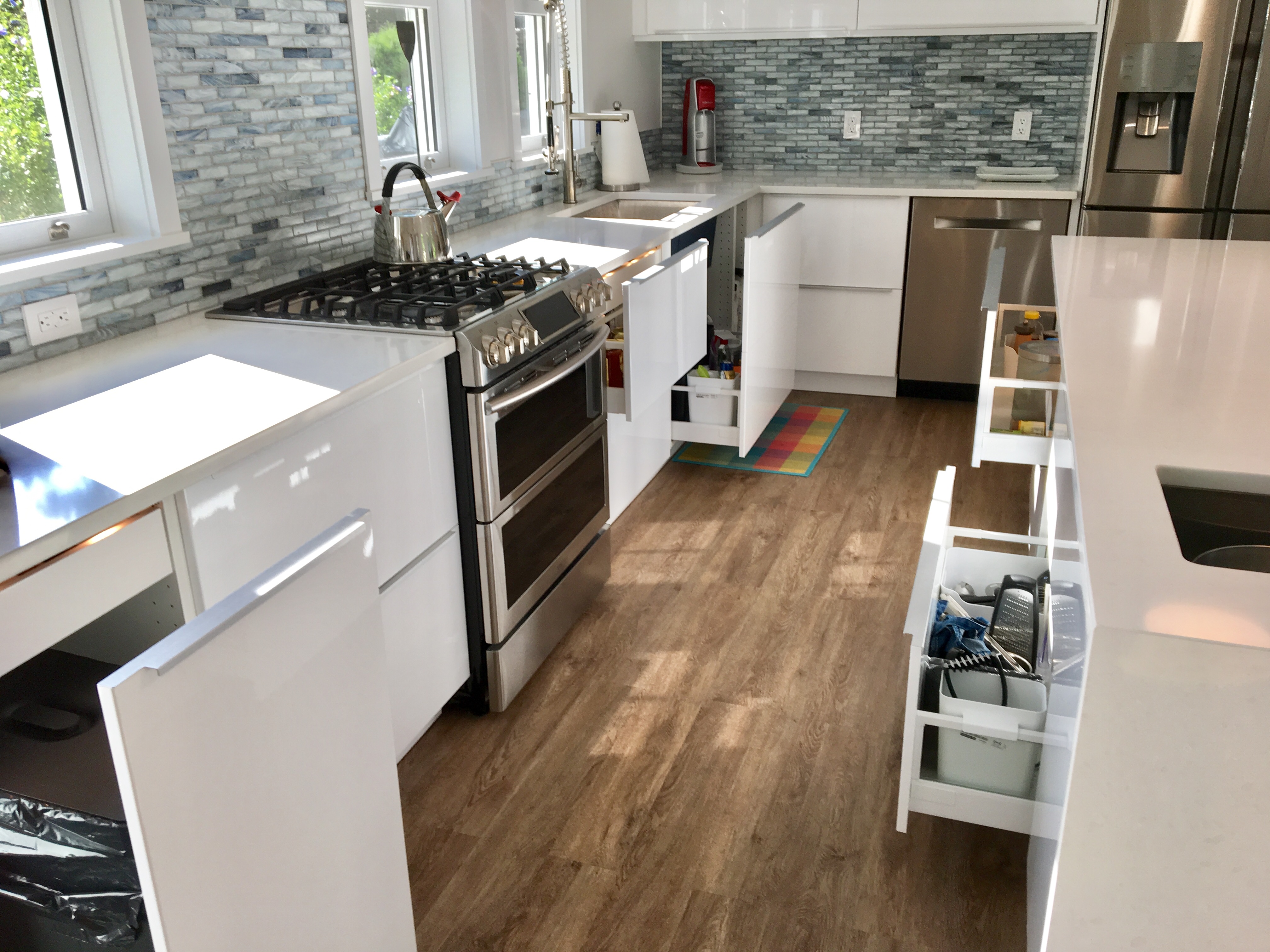 If you love organization you're gonna love Chip and Pam's drawers.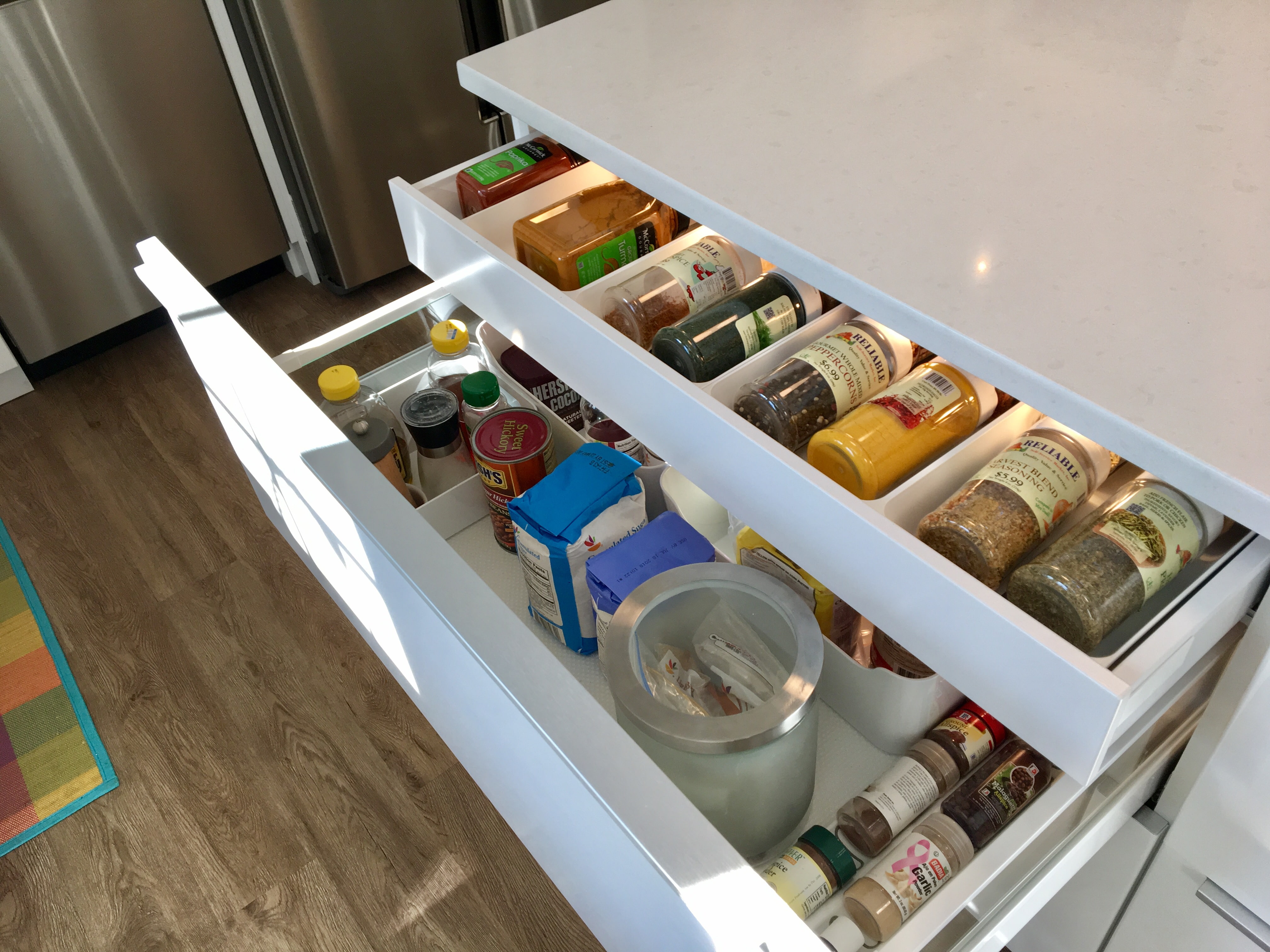 Spices and baking ingredients live in drawers at one end of the island.
Plates and bowls live near the sink. Chip says that the IKEA drawers have proven to be extremely durable and are holding up to about 55lbs like a boss.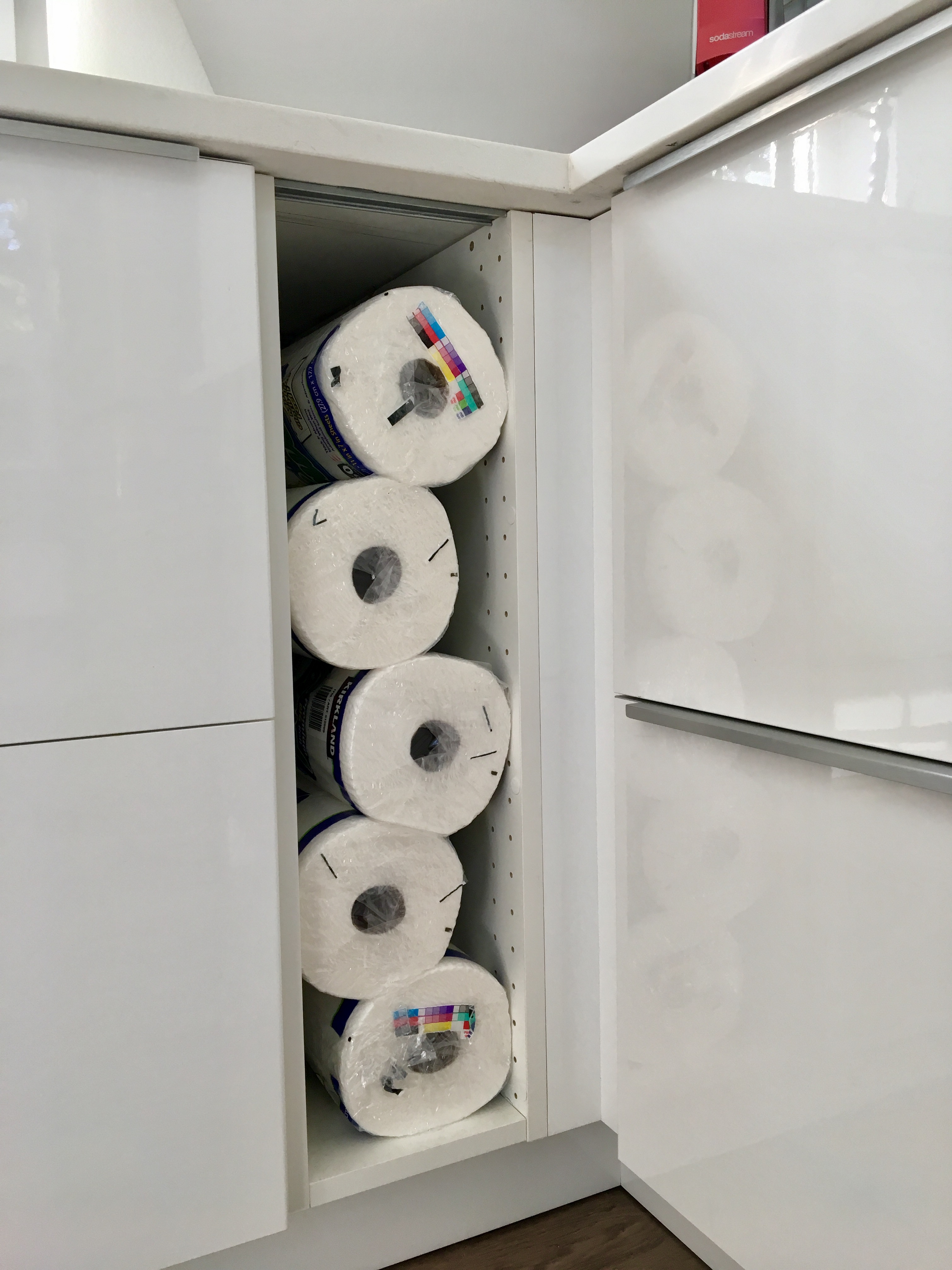 Extra paper towels are stacked up near the sink and because there's no door, they're easy to grab.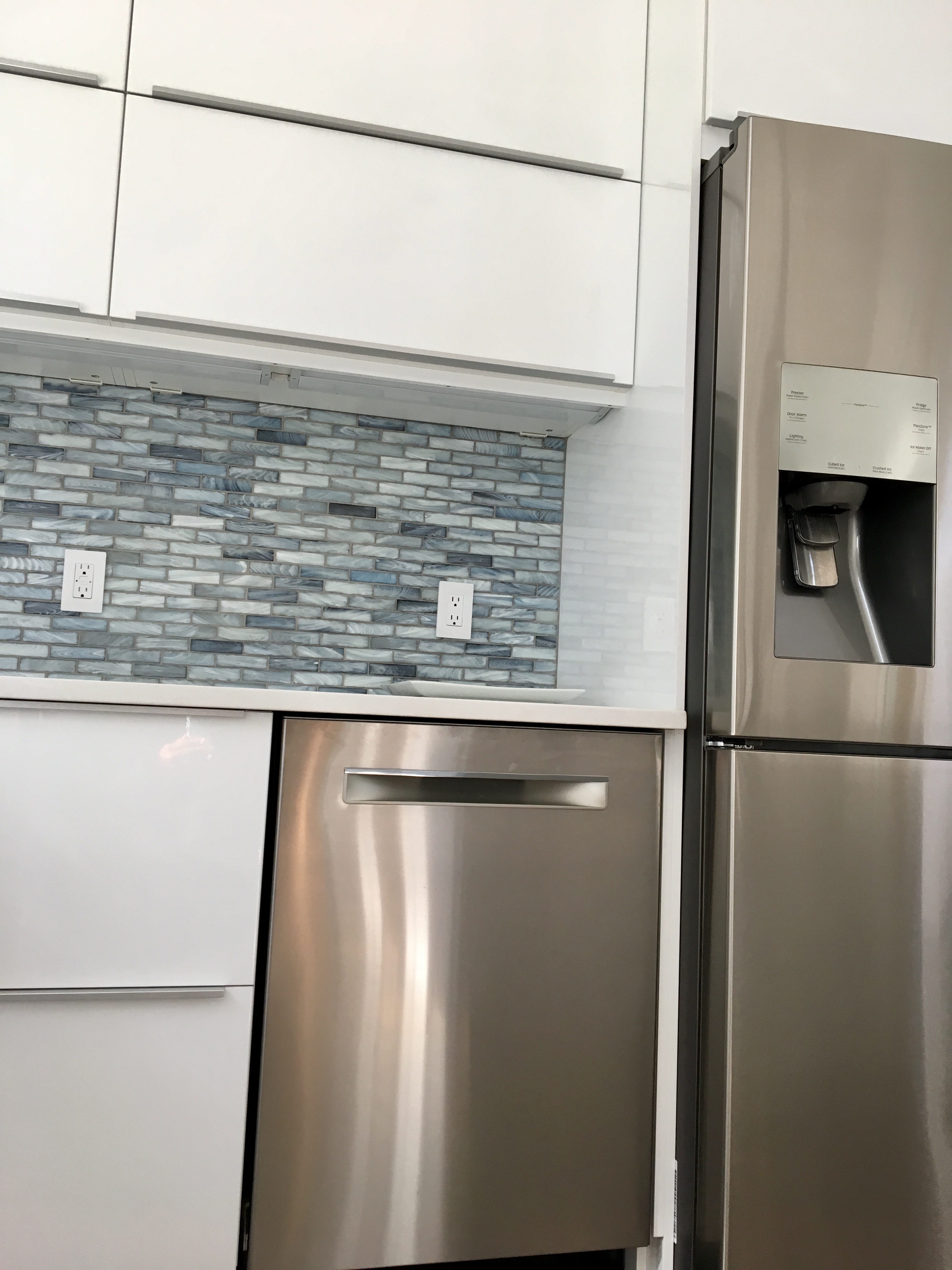 The dishwasher is next to the refrigerator….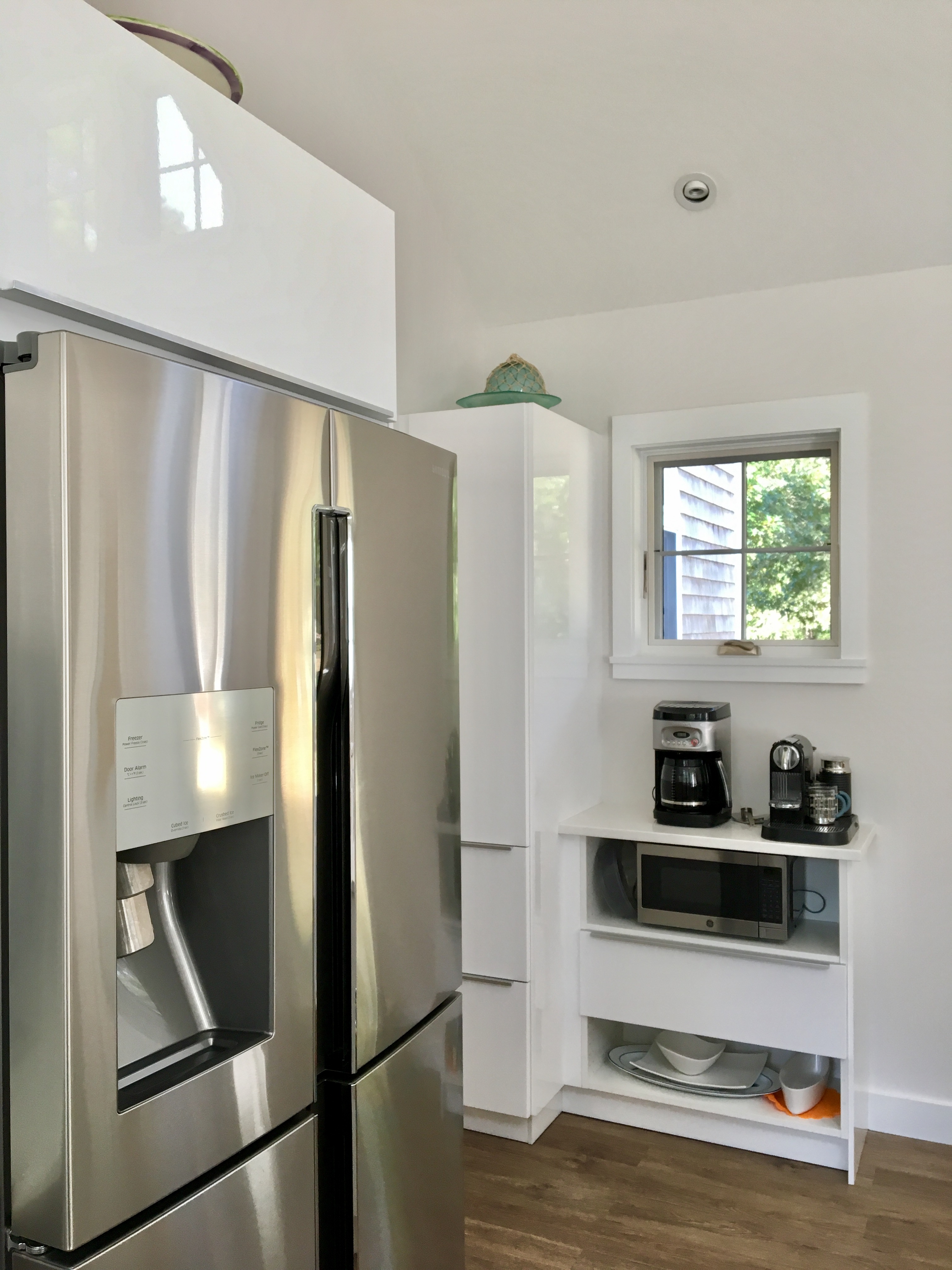 Which is adjacent to an all-important coffee station.
Even the coffee station is super organized!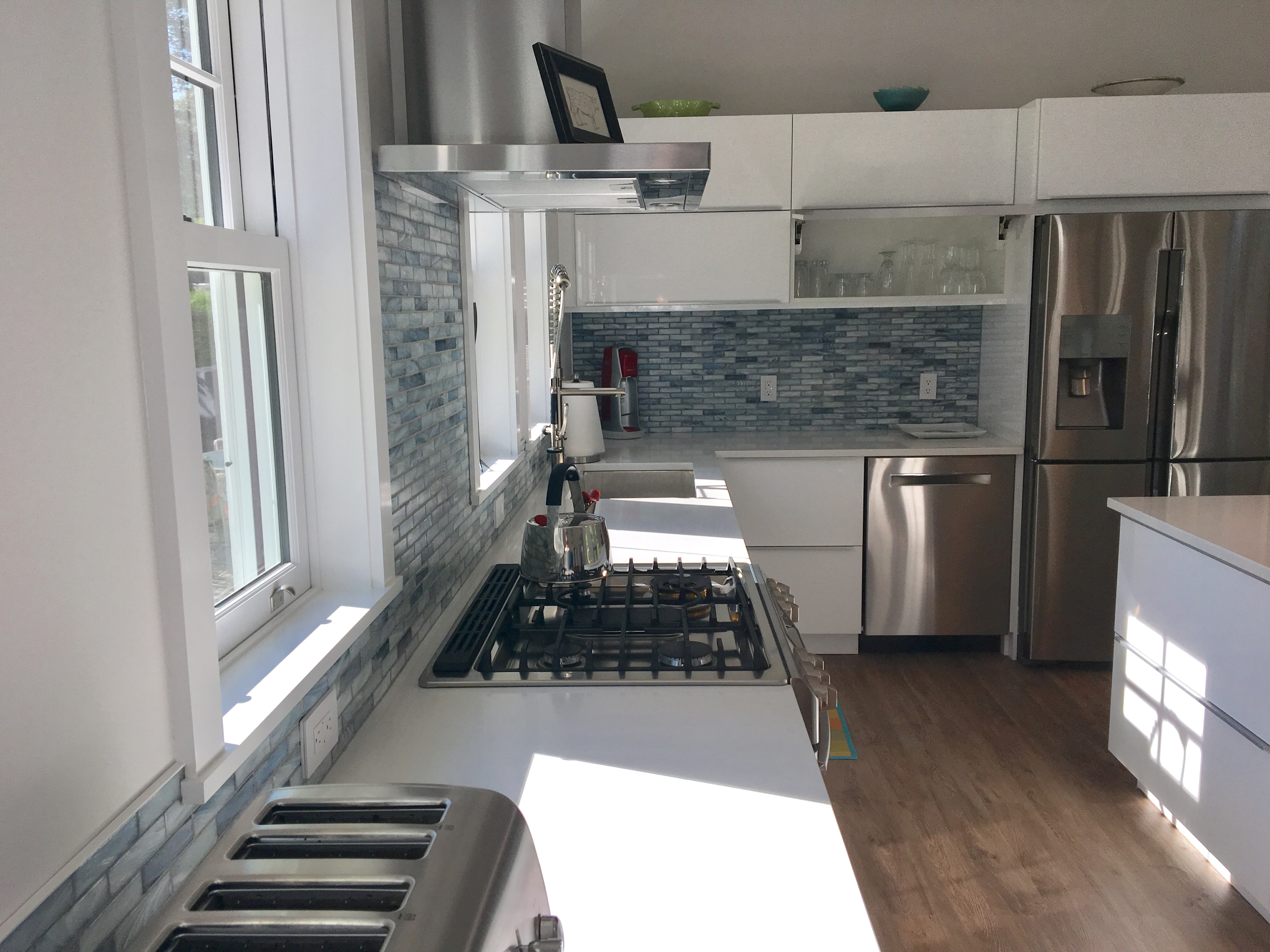 All of the kitchen drawers feature the OMLOPP LED strip lights for drawers.
The OMLOPP lights were really easy to install. Once the electrician ran the outlets, all we had to do was add the lights, which attach magnetically to the bottom of the interior drawer frames. I really like how the different components of IKEA kitchens work together so seamlessly. – IKD customer Chip
A modern white IKEA kitchen thanks to RINGHULT doors in high-gloss white
So this IKEA kitchen is really functional and while we agree that functionality has its own beauty, we love the beautiful touches in this modern white IKEA kitchen.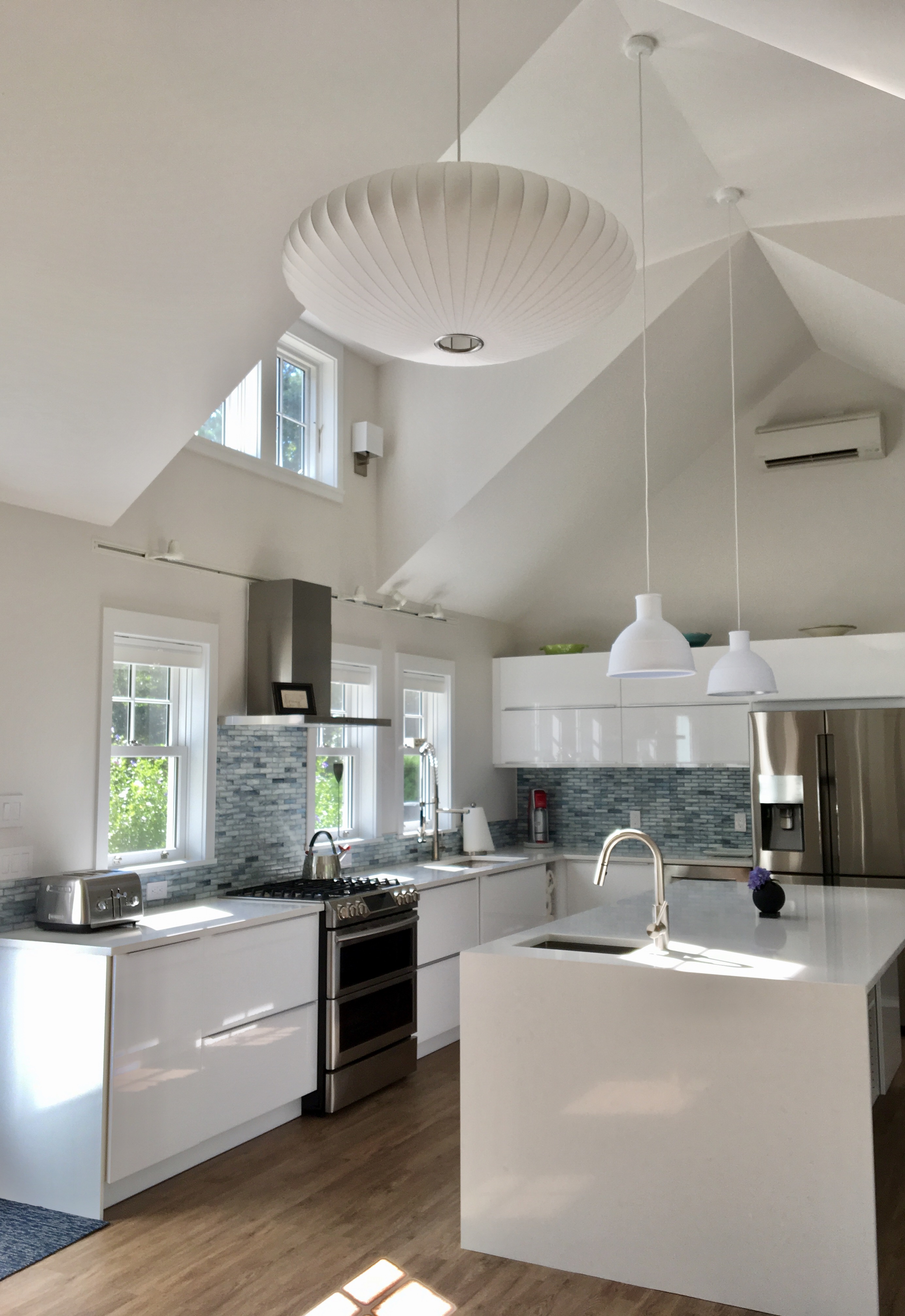 Chip and Pam chose the RINGHULT doors in high-gloss white and BLANKETT handles. Their slim profile keeps the kitchen looking super-sleek.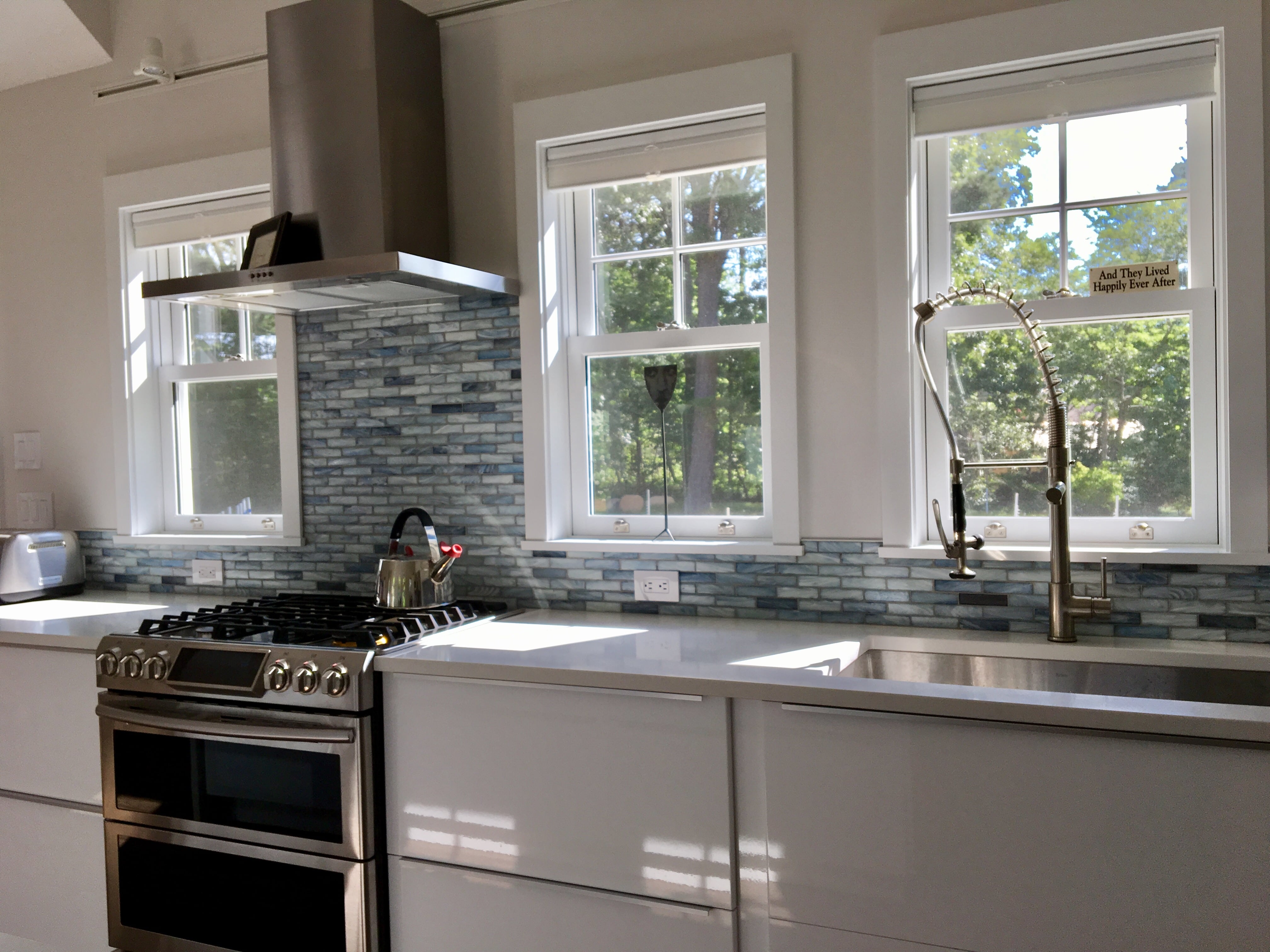 The color in the kitchen comes from the artwork in their home and the blue tile backsplash from Glazzio Tiles in Brooklyn, NY.
A backsplash like this is in a more traditional style, but it tones down the modern look enough to fit in with the "Cape Cod vernacular" style of the home, which was designed by architect Debra Cedeno of Architecture+Indigo. The oven range is Samsung and the hood is Whirlpool.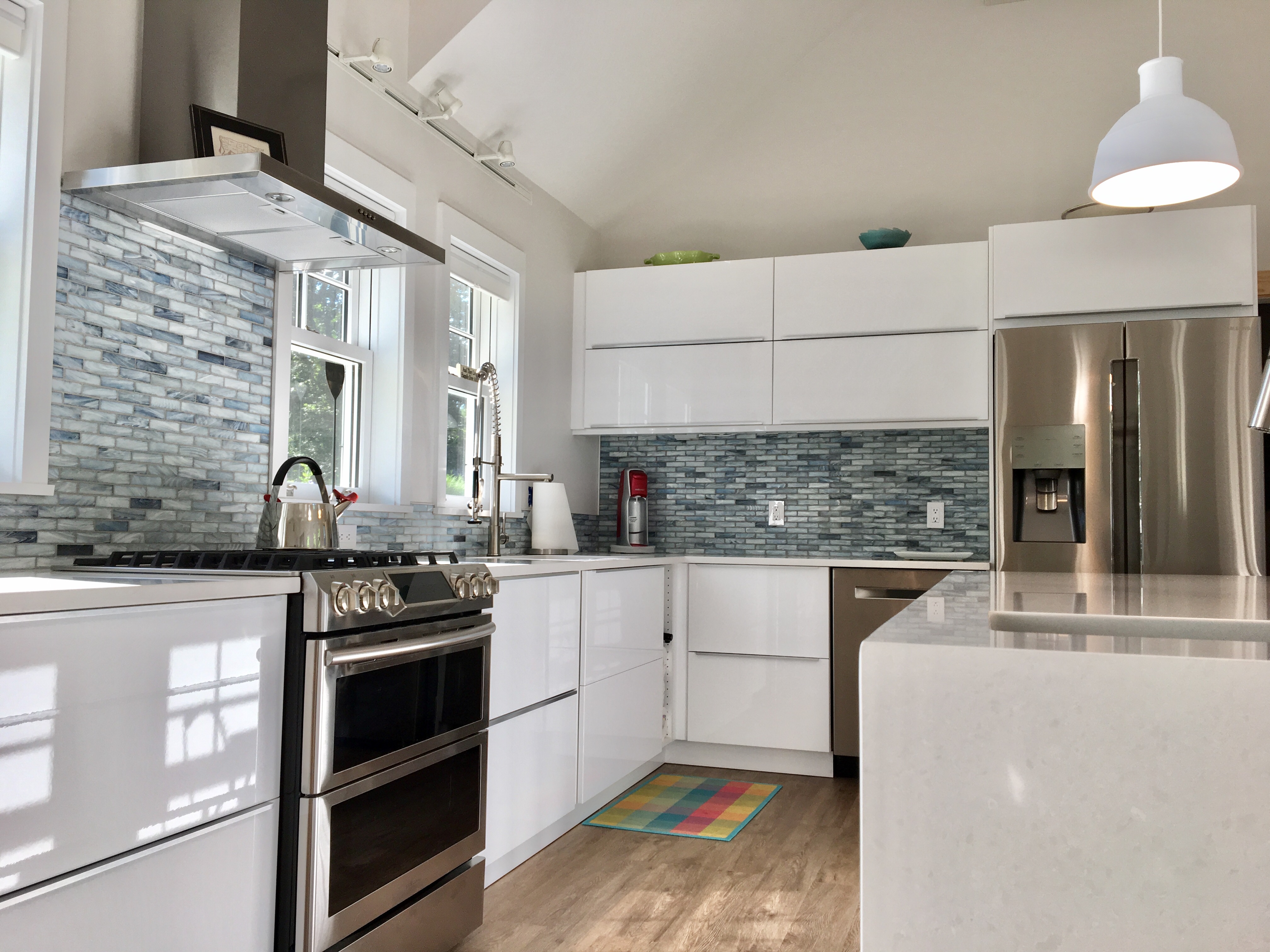 Another beautiful element of this modern white IKEA kitchen are the horizontal wall cabinets next to and above the refrigerator. The couple store their glasses and serving pieces in these cabinets which are conveniently located above the Bosch dishwasher.
I really wanted horizontal cabinets in my kitchen because first of all, they look cool, and second, I like the way they open up and completely out of the way. When I'm unloading the dishwasher I don't want to deal with doors flopping around. – IKD customer Chip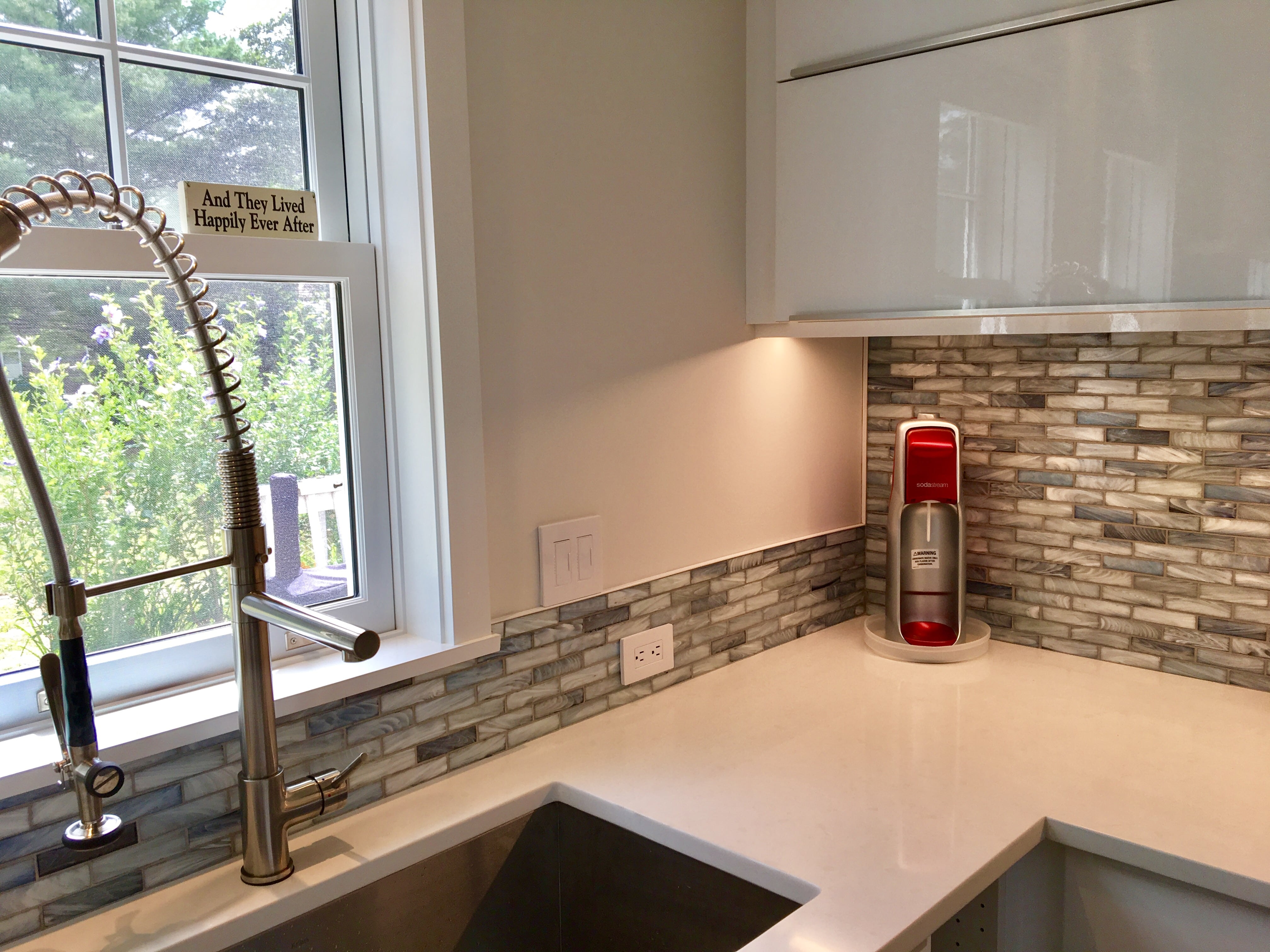 There are 2 (Kraus) sinks in the kitchen: one for prep in the island, and the one here for washing up. The funky faucet is also Kraus, but if you want this look for a little less money, try the VIMMERN faucet from IKEA.
Oh, and about that island in Chip and Pam's modern white IKEA kitchen
Chip and Pam were ahead of the large kitchen island trend in their kitchen.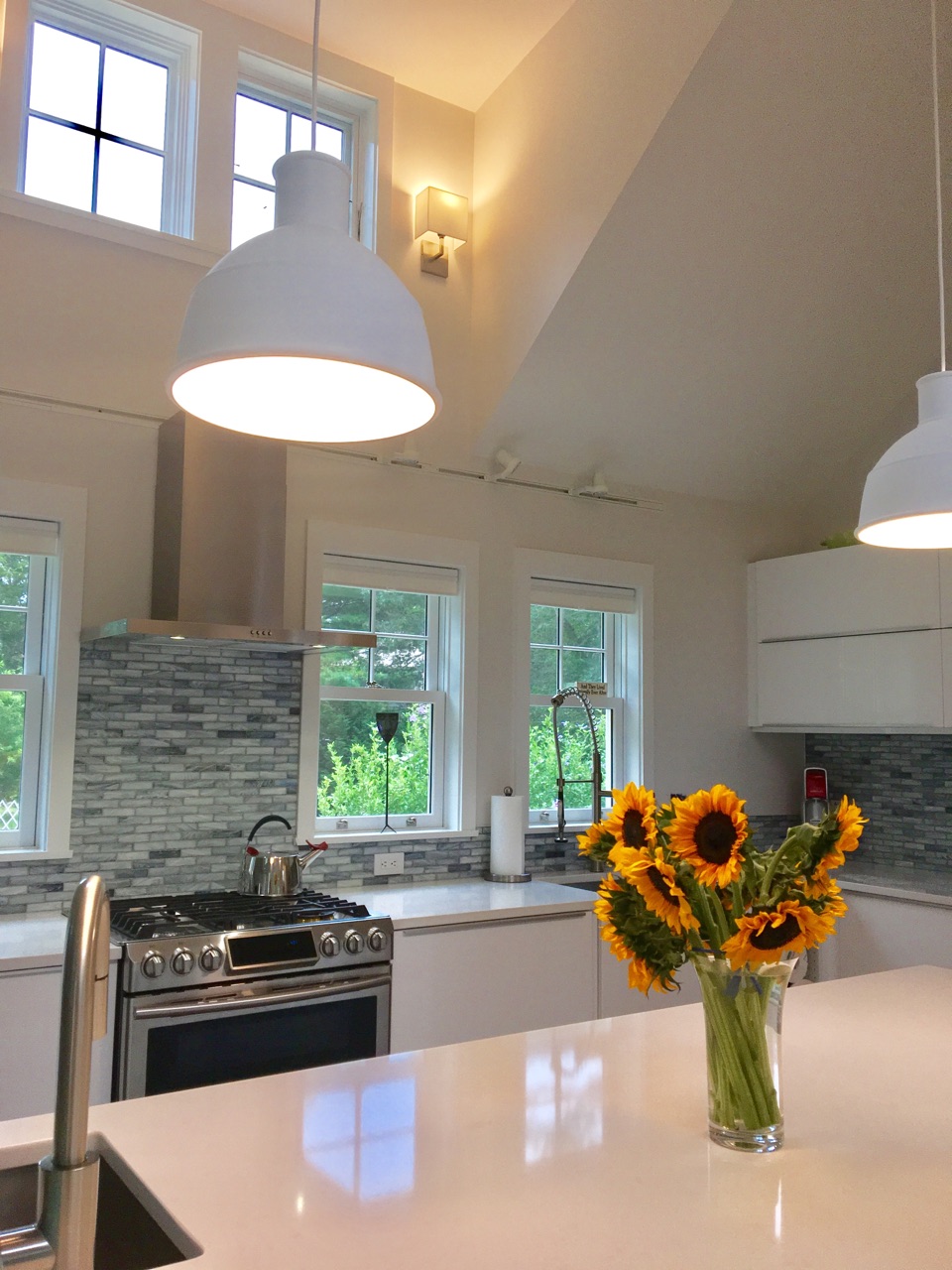 As you saw, the island provides a lot of work space and kitchen storage on one side, but the back of the island has surprises.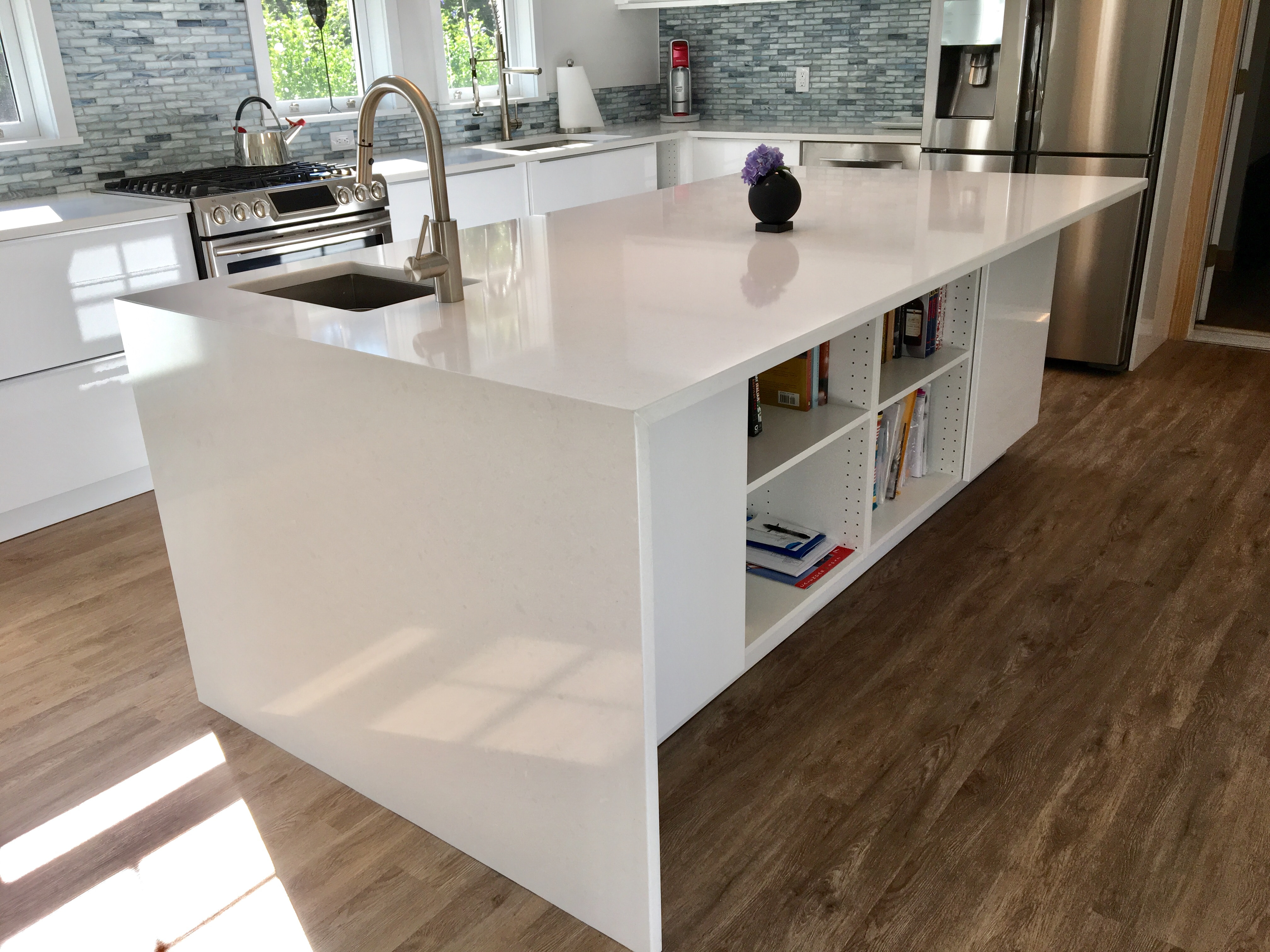 The island is home to Chip's collection of cookbooks. (Even The Most Interesting Man in the World needs to refer to a cookbook now and then).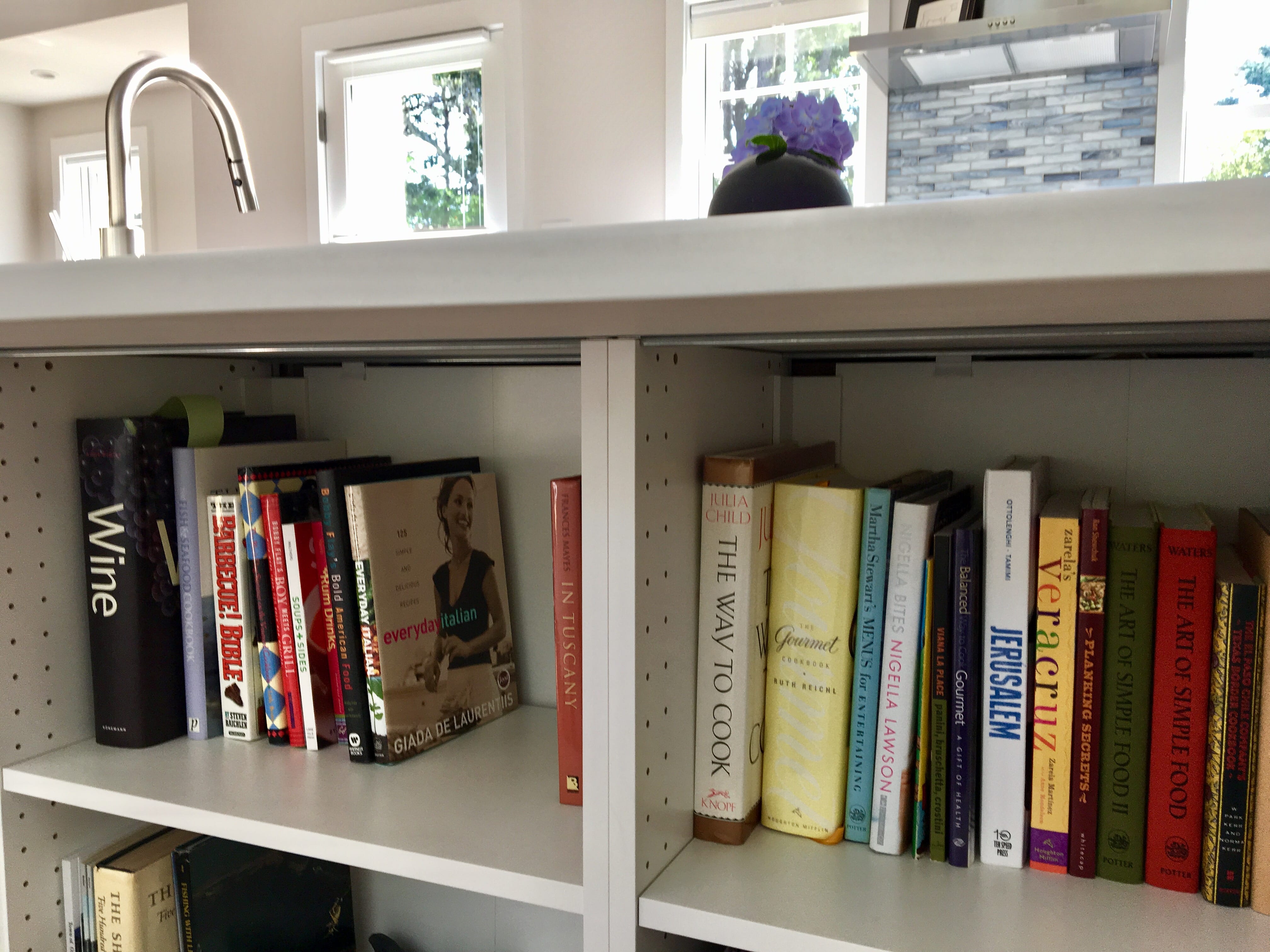 But a bookcase isn't the island's only surprise.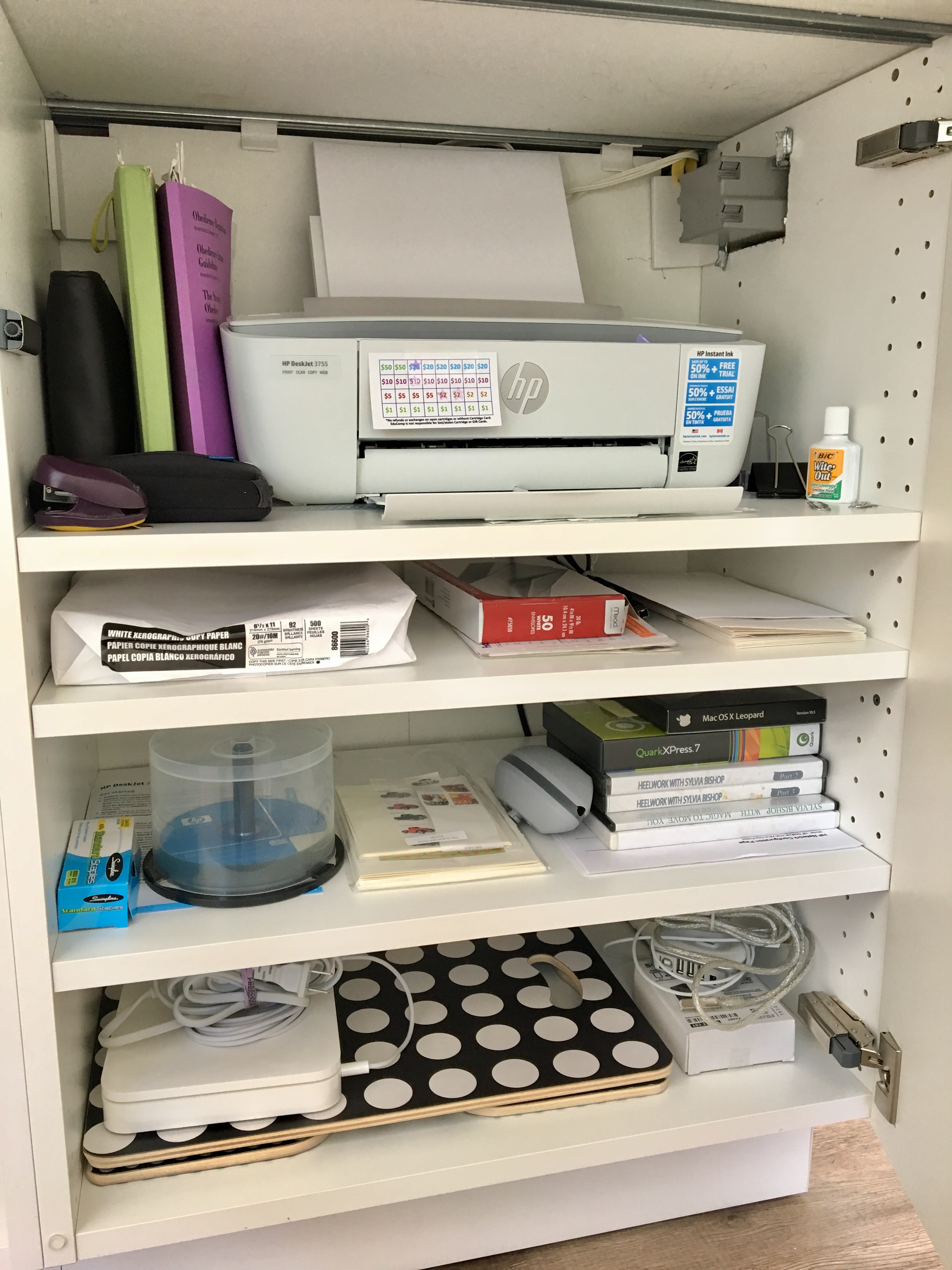 There's also a mini-home office hiding inside that kitchen island. Chip and Pam's new home is about 1,000 sq feet so rather than have a separate office, they have the essentials stored here, including a compact,WIFI enabled printer.
When The Most Interesting Man in the World goes to install his new modern white IKEA kitchen, who does he hire? Adam Hayes of Adam T. Inc is the general contractor who built Chip and Pam's new home. But Chip and Pam insist on giving Jesse Ward, Adam T. Inc's head carpenter extra kudos.
Jesse is an artist. He did all the fine installation work, window trim, and detailing. I think he did a fantastic job. He wasn't completely sold on the idea of us using IKEA in our kitchen, but he had a complete change of heart once he started working with the IKEA cabinets. – IKD customer Pam
Praise for IKD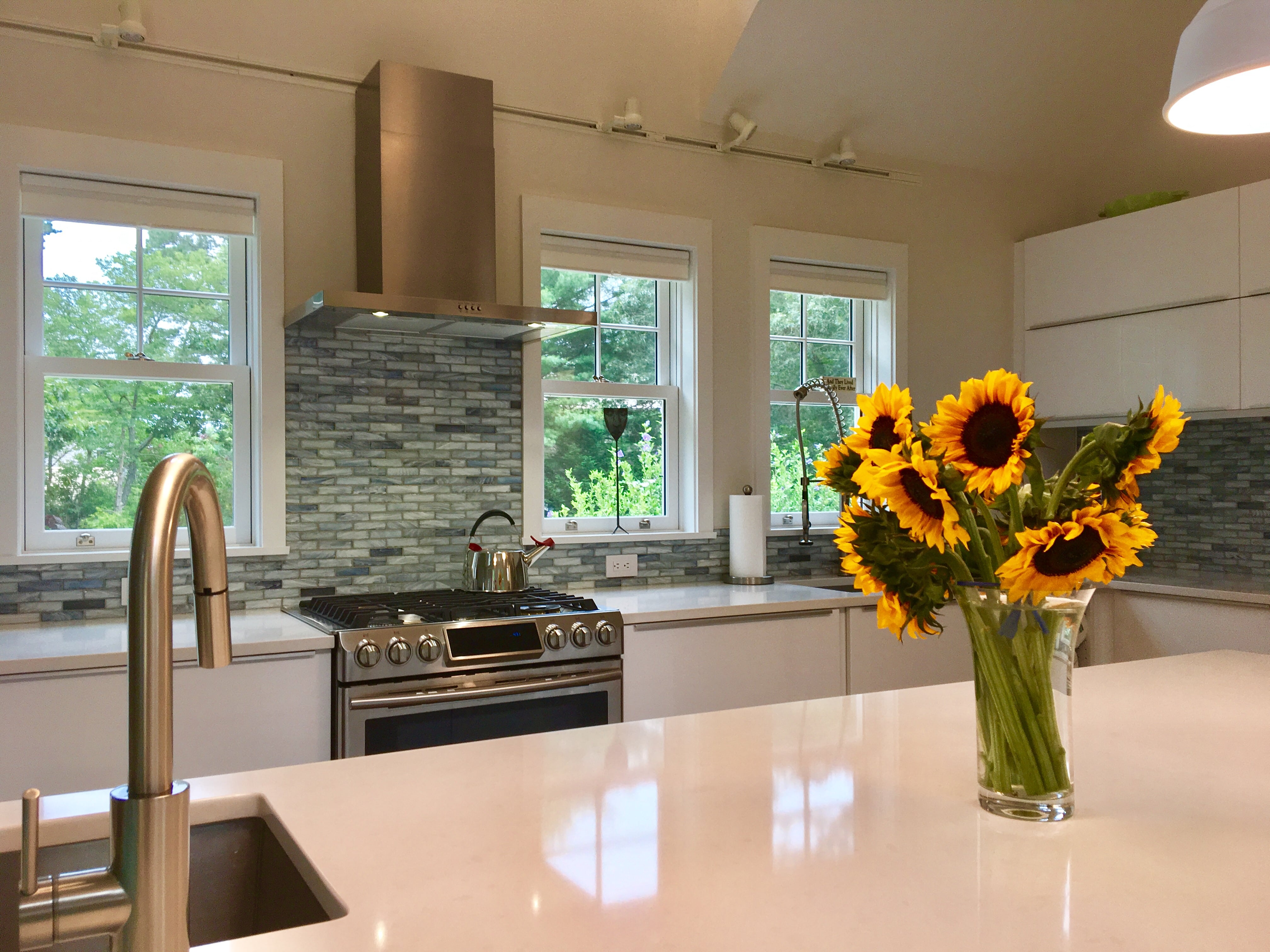 When I spoke with Chip he also took the time to explain how much he enjoyed working with IKD designer Ana.
Working with IKD was true breeze because of the expertise of our designer Ana. Ana's knowledge of the IKEA SEKTION system made it easy for me to bounce ideas around. I was also impressed with the value—IKD's pricing is extremely reasonable and well worth the result. Ana used software that allowed us to see a 3D rendering of the finished kitchen. This is especially valuable for those who have a difficult time visualizing from plans. And I have to say that Ana's patience was much appreciated. It's not always easy working with a fellow designer as a client—especially one building his dream kitchen. Bravo Ana! – IKD customer Chip
Stay kitchen-y, my friends.