Ah, the joys of searching for a new home. Unless you star on House Hunters, you'll probably have to make some compromises when you choose your new home. Karen and Frank, for example, chose their new house because of its location and price point, but it needed a lot of TLC. Especially the kitchen: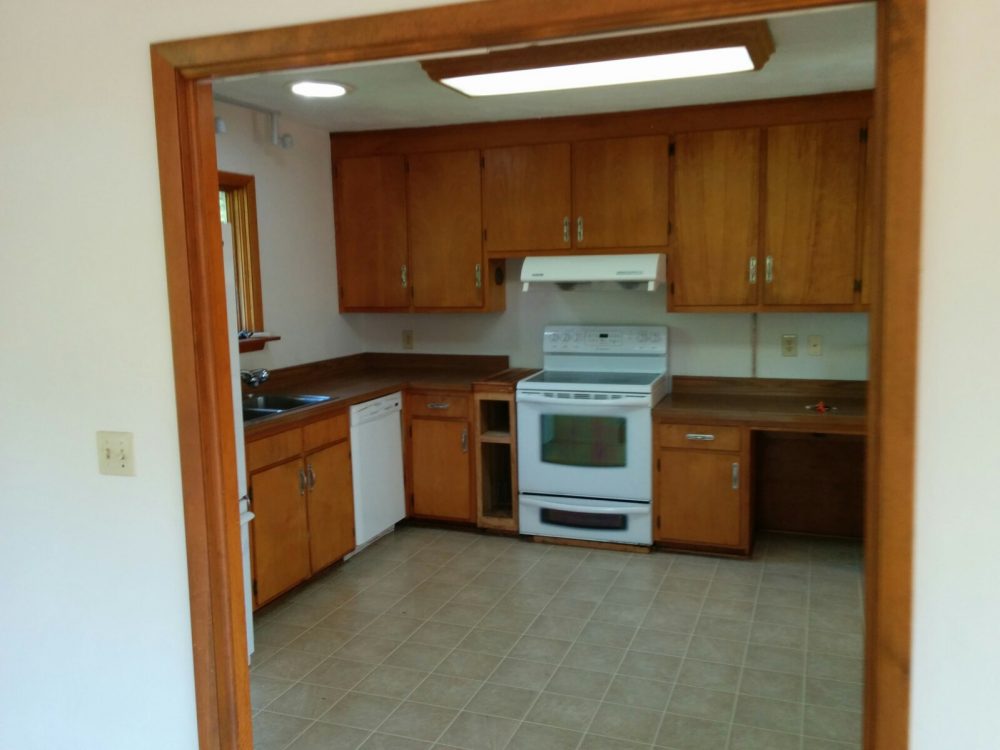 Because the house needed so much work, Karen knew she had to stick to a strict budget. That's why she chose IKEA. But what led her to IKD? In her own words, "We knew we didn't know what we were doing. We wanted some help!"
They came to the right place (if I do say so myself). So, did Frank and Karen get a lot of "bang" for their buck? Take a look at their new IKEA kitchen and decide for yourself!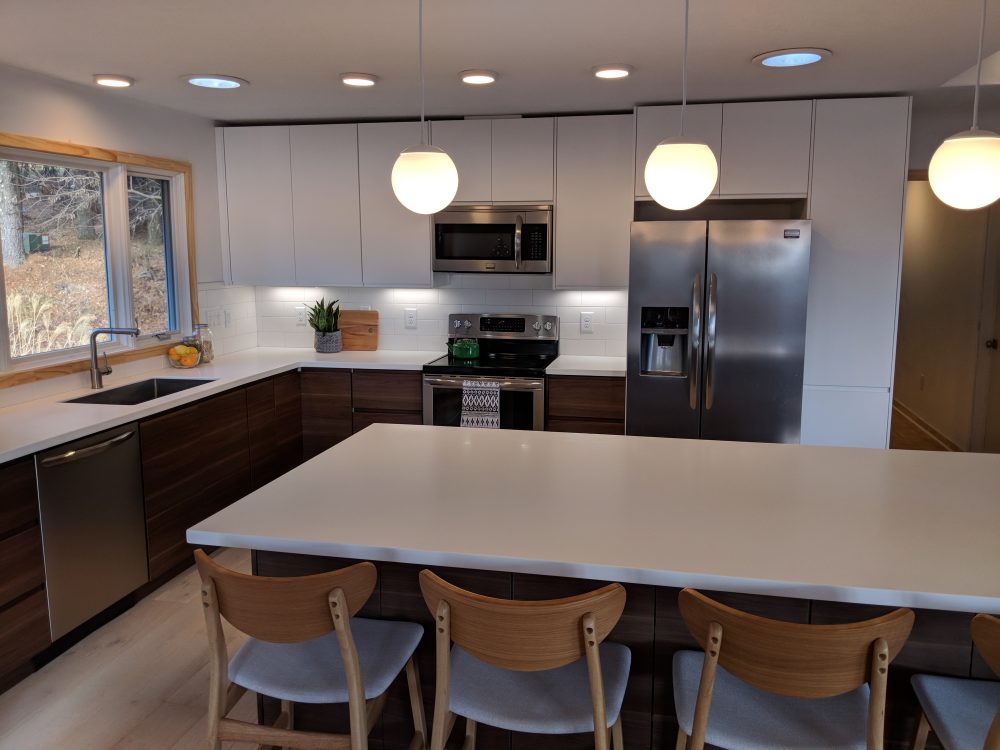 There's so much to love about this kitchen, I don't even know where to start. Let's take a closer look.
Some Highlights Of This New IKEA Kitchen
What do you notice first when you look at Karen's new IKEA kitchen? If you're like me, it's probably the dramatic contrast of the upper and lower cabinets. Frank and Karen knew they wanted flat-front cabinets, and both sets of doors are VOXTORP: white on top, walnut on the bottom.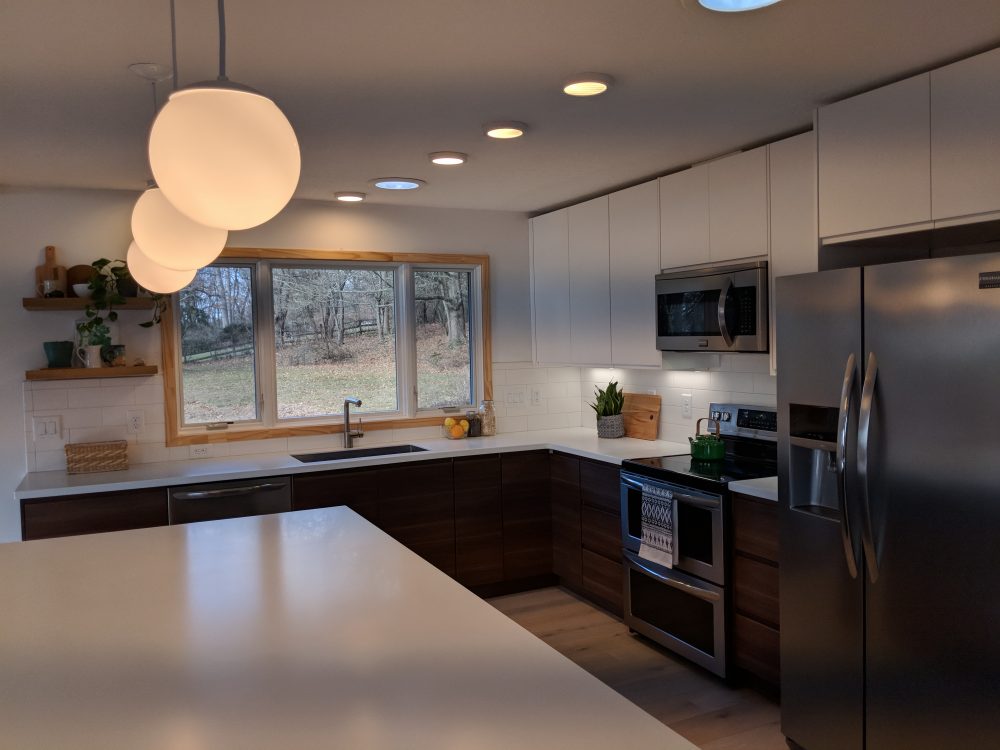 The next thing I notice is how much lighter everything is. Of course, knocking out a few walls will do that! But the combination of under cabinet, hanging globe, and ceiling lights did just as much to brighten up this kitchen.
(Fun fact: Karen chose the 3 globe lights over the island as a mid-century modern nod to the age of the house.)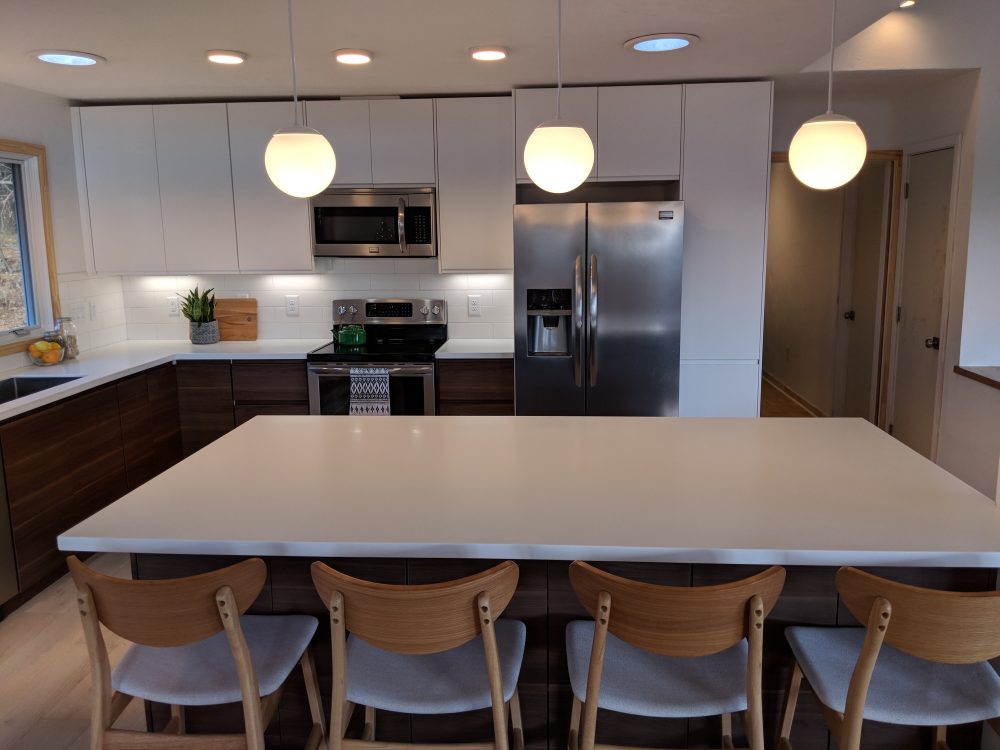 Of course, you can't ignore just how clean and modern this IKEA kitchen is. From the flat-front cabinets, to the sleek island, to the brand new appliances, Karen's kitchen has entered the 21st century.
Also: check out those floating shelves. Not only are they beautiful, but they're superhero-strong. Karen wanted her shelves to be able to hold 15-30 pounds, which proved to be a tall order. Luckily, her contractors custom-built these beauties for her. As an added bonus, the wood slides right off the inner base so she can paint behind the shelves if need be.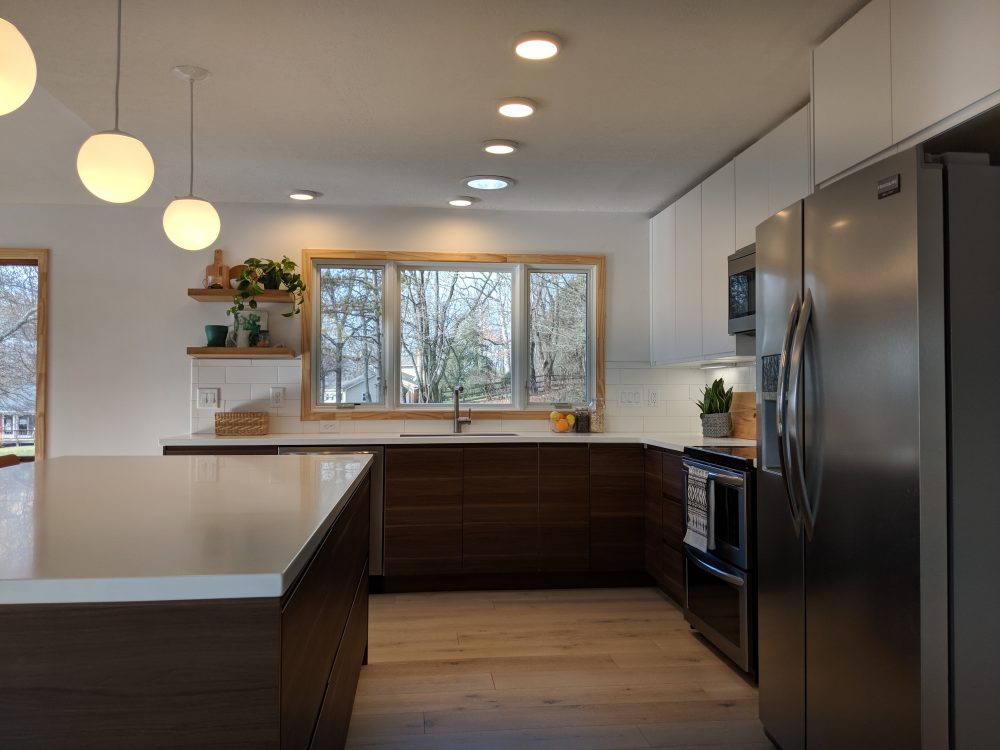 Frank and Karen's 3 Design Desires for Their New IKEA Kitchen
Karen and Frank had a few end goals for their new IKEA kitchen.
Number one: a 2-door oven. With two young children, Karen knew her family needed something energy efficient and useful. That 2-door oven should make family dinners a breeze to cook!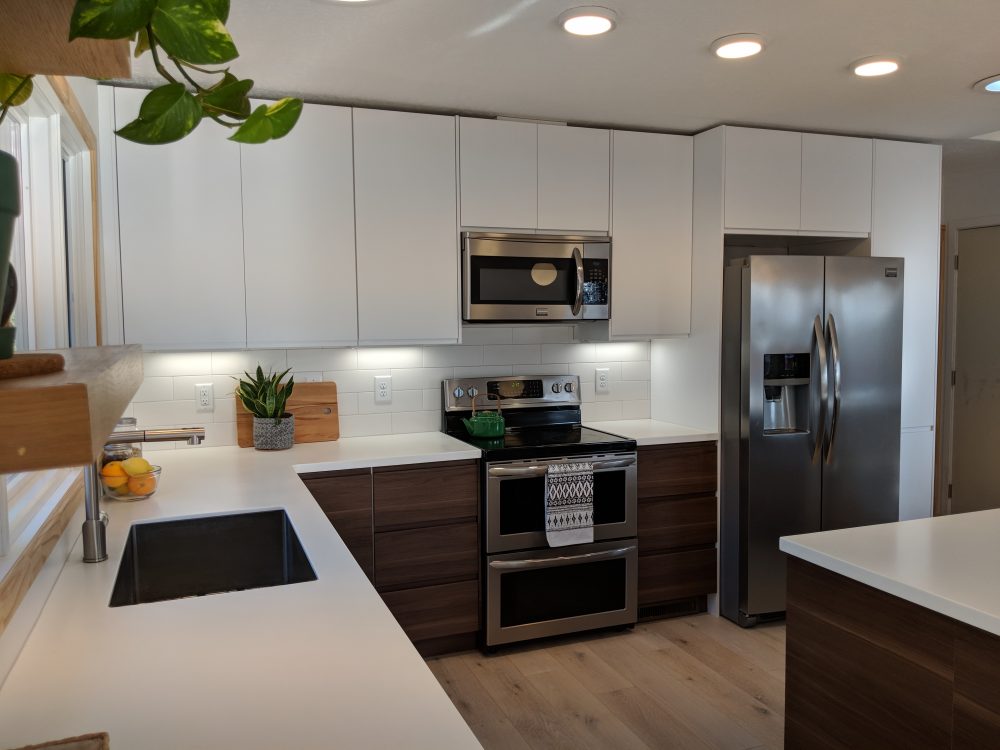 Sidenote: all the appliances came from the Frigidaire gallery at Karen and Frank's local Home Depot. The appliances all have a special coating to prevent smears and smudges – a definite bonus come cleanup time.
Number two: a giant island that works overtime. Plenty of storage? Seating for extra guests? Thanksgiving dinner prep? Rolling out acres of dough for a Christmas cookie exchange? Karen's island needed to be ready for anything she could throw at it.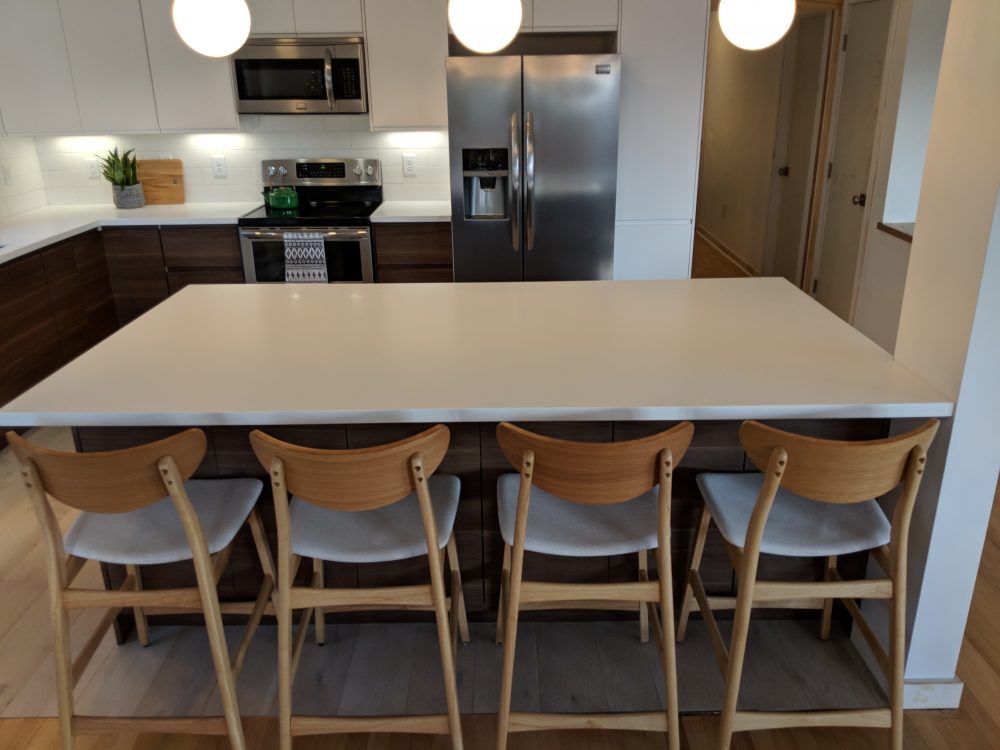 Number three: clever storage solutions. Beyond the standard kitchen work triangle, it's important to streamline your kitchen to your unique needs. Karen took this to the next level by utilizing drawers within drawers.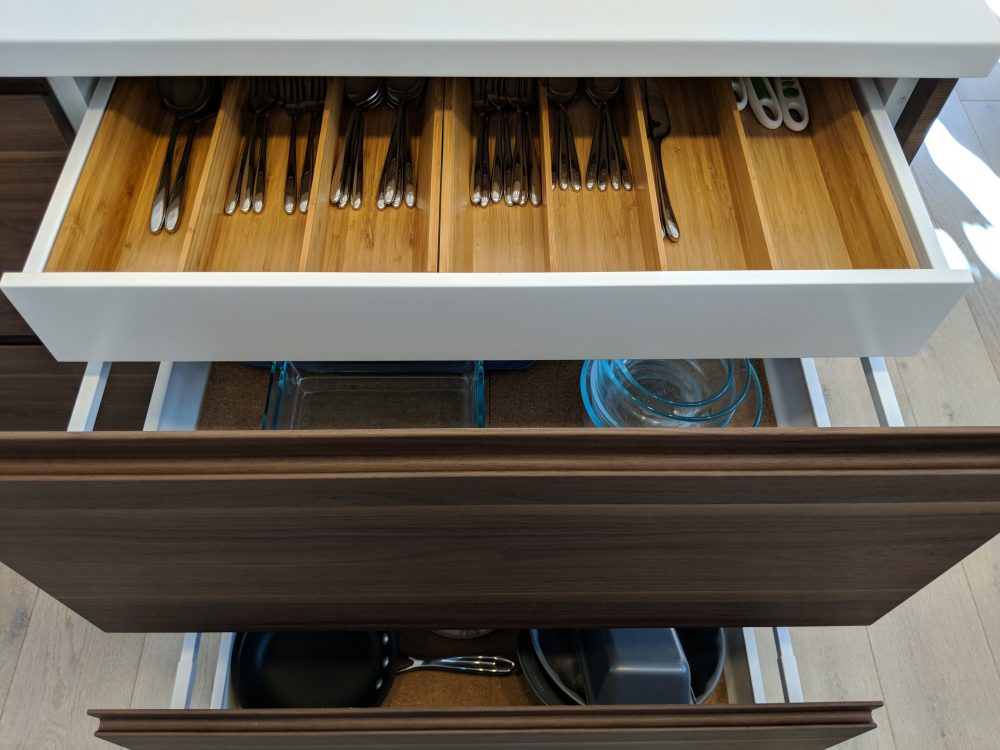 Get a Design For Your New IKEA Kitchen Today
At long last, Karen and Frank have a beautiful new IKEA kitchen for all occasions. Whether they're entertaining for the holidays, or just watching their children play outside as they prepare a quick lunch, this kitchen has it all.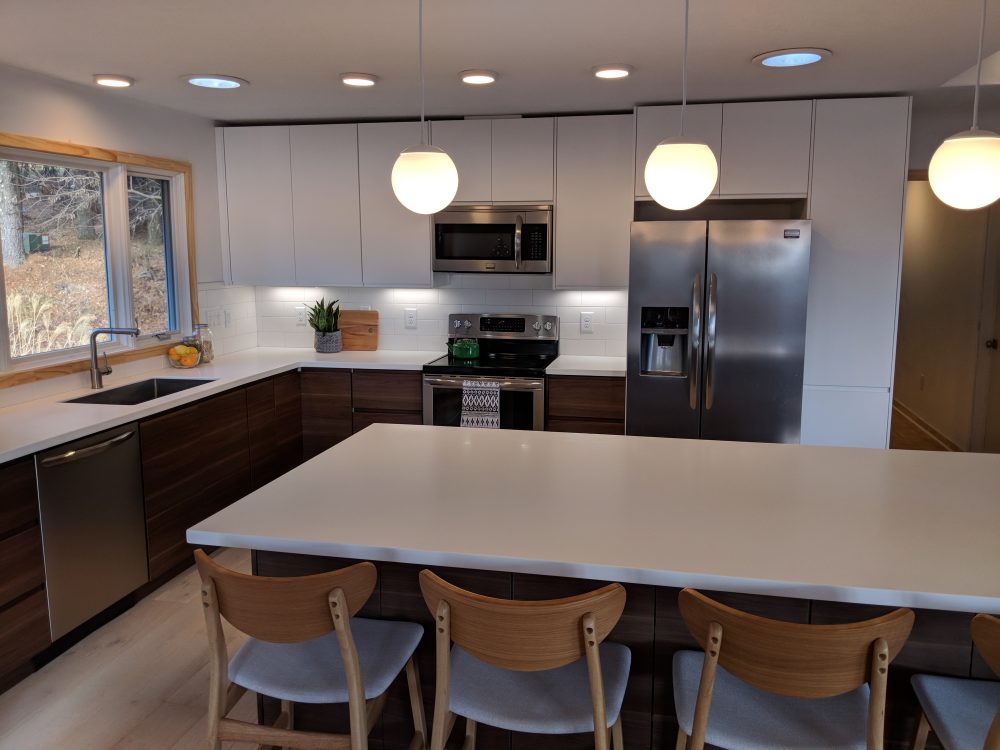 Thinking ahead to your kitchen remodel? Karen has one big piece of advice for you. Since she and Frank lives 250 miles from their nearest IKEA — that's one way, folks — they chose to have everything shipped to them. Karen confesses she would not do this next time around! In her own words: "Do not ship! It will be a mess!"
Whether you choose to ship, or make the trek, we'd like to add our own piece of advice. Those of you who want to take advantage of the next IKEA sale should get your design ASAP. Having that design in hand will make everything so much easier.