Open shelves are convenient in a kitchen. It's easy just to grab whatever you have there and get ready to cook. Open shelves also make a smaller kitchen look larger than it really is.
However, open shelving can also lead to clutter and an untidy kitchen. Not all of us have the discipline and dedication to keep a spotless kitchen with plates organized by color or a pantry organized by ingredients. So, how can you take advantage of open shelves without having a chaotic kitchen?
Use only the cabinet frames with shelves. The solution is simple, affordable and pretty.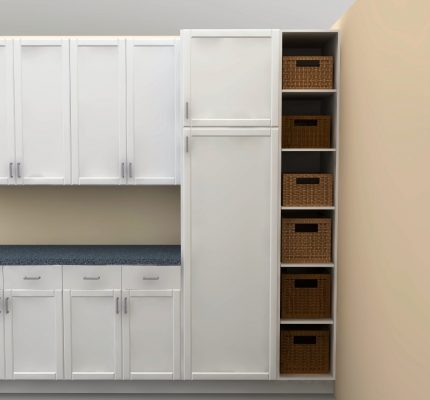 When to use open shelves with baskets in your IKEA kitchen:
Having open shelves with baskets is a great way to keep things organized, readily accessible and neatly displayed without having to re-arrange things or dust your shelves every day. We love BRANAS baskets because they are less than 12″ tall and are 12″ wide, giving enough space and a symmetrical look.  Here are a few scenarios where they make the workflow at your kitchen easier:
Tuck them in a thin pantry next to a wall where a door or a pull-out would be cumbersome. There won't be a thick filler on your way or the nuisance of doors that don't fully open.

Use open shelves with baskets next to your kitchen sink to store linens, kitchen towels and other cleaning supplies that you want to keep out of sight but ready to use.
Add them in a base cabinet at the end of an island to store groceries and dry vegetables or to keep children's knick-knacks while hiding the mess at the same time.
Fill an awkward wall cabinet that's not too wide (12″ maximum) and keep baking supplies corralled in individual baskets to hide the clutter.
Create accent areas in thinner cabinets where there's not much space for anything else. For example: between a fridge and a wall.
Here are some examples of open shelves with baskets from IKEA: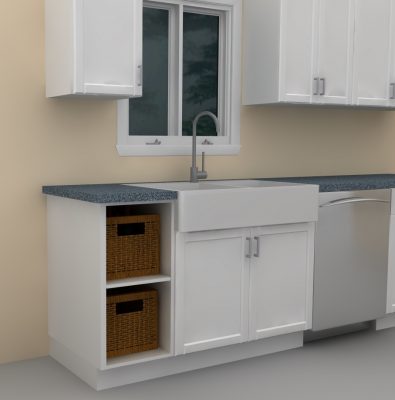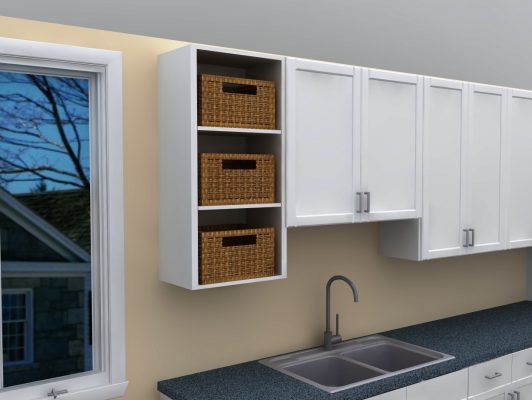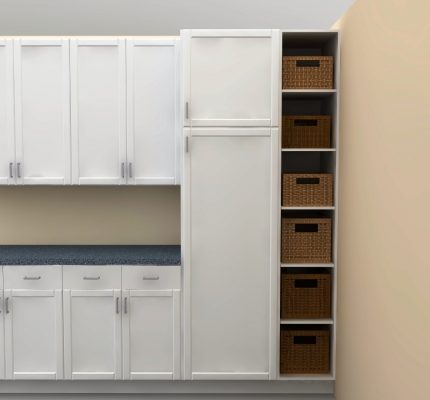 Fore more open shelving ideas, check out our related blog entries: