To open-shelf, or not to open-shelf, that's certainly the question – if not outright debate amongst kitchen design enthusiasts.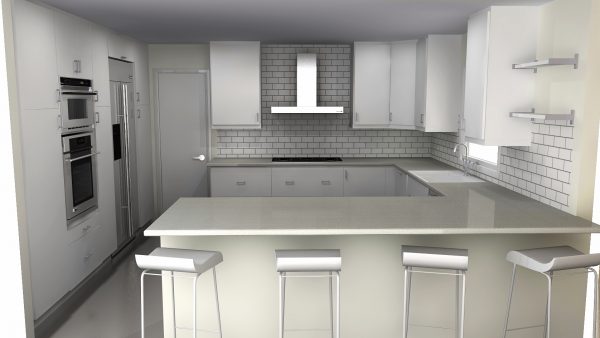 At IKD, we know there's really no right or wrong answer. We can make your IKEA kitchen design look great with or without open shelves.
Ana has blogged about the pros and cons of open shelving before. I encourage you to look through her posts to see all of the creative ways you can make open shelving work in your kitchen.
Today I'm revisiting this topic because I recently got into a debate about open shelves in the kitchen (yes, really) and I learned some new things.
We hope this supports your decision-making process when you hire IKD to design your kitchen!
The Upside of Open Shelving in Your IKEA Kitchen
IKEA has many attractive options for open shelves in your kitchen: LACK, FABIAN, APPLARO or EKBY, and even GRUNDTAL.
Open shelves are an stunning, functional storage solution for your IKEA kitchen. Great reasons to have open shelving in your kitchen:
They make your kitchen beautiful. Open shelves are a beautiful, functional addition to your kitchen. They just look nice! Use them to display special kitchen items or artistic pieces. If you have a small kitchen, open shelves are your ticket to a bigger-looking kitchen.
They make your kitchen convenient. What's better than not having to open kitchen cabinet doors every time you need to use something in your kitchen? Open shelves make your kitchen items easily accessible. If you're one of our serious chefs, this design choice could really cut down on meal preparation time.
They make your kitchen look creative. Open shelves are an attractive solution for those awkward corners where you're not really sure what to do with the space. You can see how we handled this for a client in the image below: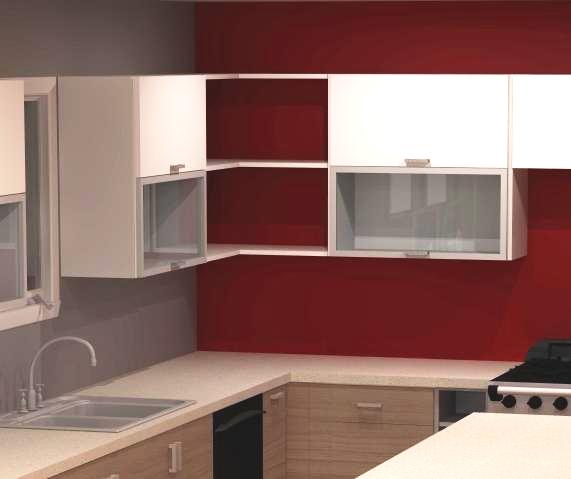 Open shelves really look fantastic, don't they?
Wait – don't decide yet. Let's look at the cons.
The Downside of Open Shelving in Your IKEA Kitchen
Open shelving isn't for everyone. The alternative for storage is wall cabinets (with doors on them). Ask yourself these questions before choosing:
Do you love dusting? No really, do you? When you select open shelving in your kitchen, be ready to accept that you will do some frequent dusting. Cook in your kitchen and dust rapidly becomes grimy, which is harder to clean up. Now, if you don't have many dishes, or if your dishes are in heavy rotation, this won't be too difficult to manage.
Who's in your family? If you have very young children, open shelving in the lower portion of your kitchen can present a real hazard, as in the kitchen below.
Where do you live? For example, if you live in an area prone to earthquakes, you don't want open shelves. Otherwise, say goodbye to your dishes and nice things. What other geological or meteorological (tornados, anyone?) events might you need to take into account?
How do you feel about visitors seeing your stuff? There's no hiding with open shelving. If dishes are "put away" they're still visible to anyone who enters the kitchen. If you have many dishes, your shelves can look cluttered and give the kitchen a messy feeling.
Having second thoughts about the open shelves? There's a solution –
You Can Have it Both Ways
Storage in your kitchen does not have to be Sophie's Choice. You can have both: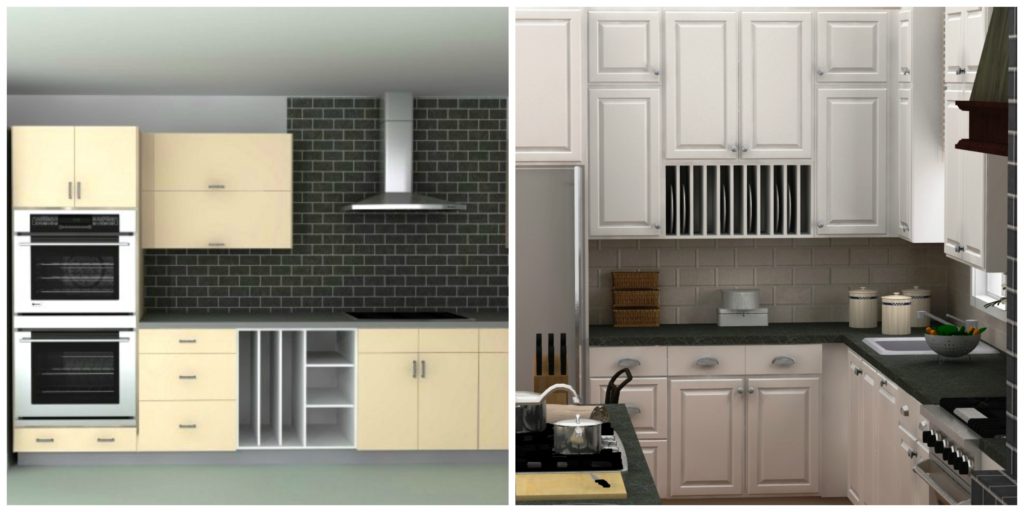 Mix up open shelving and wall cabinets. The design on the left uses custom shelves cut from PERFEKT panels to create the perfect storage for cookie sheets and other small items. The design on the right has a custom made storage solution for plates. I myself really like how the plates are on display, but also not on display. It really breaks up the lines of the other cabinets and is visually interesting.
Personally I want as little grime as possible. One way to keep dust from turning into grime is to keep open shelves away from the stovetop. With this design, a cabinet is a barrier between the open shelves and the stovetop.
If you really, really don't want to deal with grime on your dishes, glass cabinet doors are a wonderful way to achieve the open look without exposing your items to the elements.
What Did We Miss?
For our readers who are somewhere between "I want a new kitchen" and "here's the design I want," what would you recommend they take into consideration?