Your new IKEA kitchen has been installed, and you've left enough space under your granite countertop for a shiny new dishwasher, ice maker or mini fridge. Everything looks fine and you don't see a problem. Nothing's missing, right? WRONG.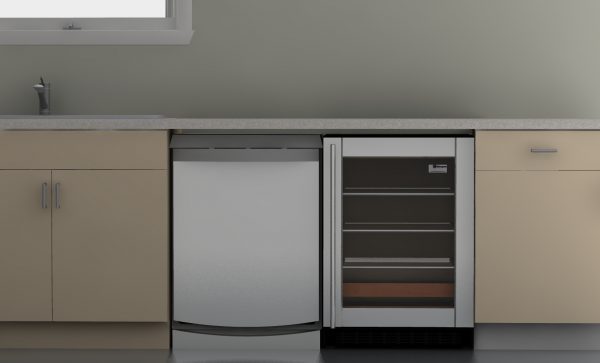 A panel is missing between these two under counter appliances. The worst mistake you can make when placing under counter appliances is not planning for additional support. Luckily, there's a simple solution.
IKEA has PERFEKT panels that can be used to complete a safer under counter appliance installation. 30″ x 40″ PERFEKT panels from IKEA are also used as 'end panels', when under-counter appliances are installed at the end of the cabinetry run.  When you use IKEA AKURUM frameless cabinetry, there needs to be an additional support for appliances under the countertop, especially if you are using granite for your counters.
Granite is not very flexible and it can break. These countertops can weigh more than 25 pounds per square foot, this is why it's better to avoid future problems with additional under-counter support.