Any home built in the 1970s has its quirks, and IKD customers Andy and Michelle's was no exception. Their home was what's known as an "upside down" house because the kitchen and living areas were upstairs. The first floor was one open room with a small wet bar in one corner.
When they bought it, Michelle knew she wanted to flip that house right side up. The new IKEA kitchen would go in the corner where the wet bar was, so they wouldn't need to move any plumbing.
And when they bought it, they began right away! And he and his wife, young child, college-aged niece, dog and cat all lived there during the entire 2-year home renovation.
Here's a tiny photo of the gutted wet bar area: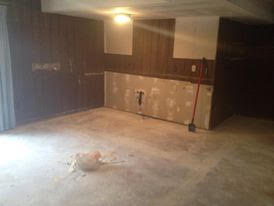 One IKD IKEA kitchen design and a lot of elbow grease later, the family's kitchen looks like this: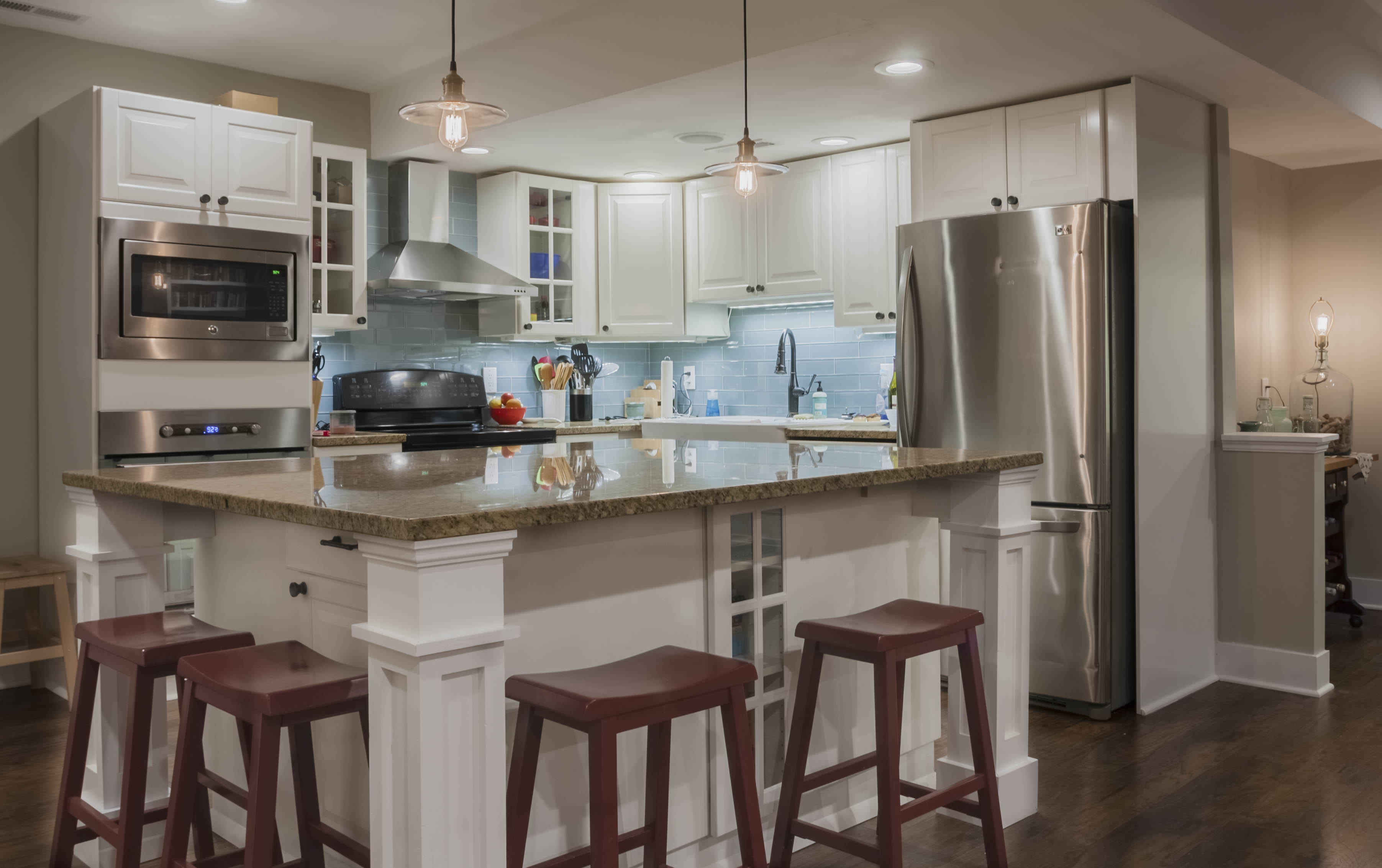 A timeless IKEA kitchen with classical features was made possible by IKD with a little custom cabinetry from the handy Andy.
Andy said, "We didn't want our IKEA kitchen to be too modern or old-fashioned. We wanted something kind of timeless. That's why we went with the BODBYN doors in off-white and glass."
Now, about the title of this blog post: this kitchen doesn't look all that big. In fact it's kind of small. So how is it supposed to teach you the meaning of big-a** ?
Andy and Michelle's top 3 wishes for their IKEA kitchen
Let's be clear: this is a Southern home, with Southern occupants. So when in Rome, speak the language of the locals.
If you lived in the southeastern United States, or have traveled there, you'll know there are 3 sizes for beverages, food, homes, cars, you name it:
So they didn't want a big kitchen island. They wanted a big-ass kitchen island. At 72"x63" – or a almost 6 feet by 5 feet – we'll agree this is a big-ass kitchen island.
They also wanted a pantry made from IKEA cabinets, and we'll have to describe that as big-ass too given how much storage there is.
Lastly, Andy does most of the cooking, so he wanted the kitchen countertop and island heights to be built for him to use. Because most of his height in his torso, the countertop elevation for this IKEA kitchen is 37" instead of the usual 36″.
Maybe we can describe the counters as being tall-ass, then?
#1: What's inside the island of this timeless IKEA kitchen
Why did this island need to be big-ass? Andy's wife loves to bake and wanted an area to prepare and roll out lots of cookies and pies and still have room for homework, crafting projects, and wrapping presents.
All kitchen islands are made of cabinets, unless you're talking about a freestanding unit like the STENSTORP. Designing a kitchen island this large required many cabinets.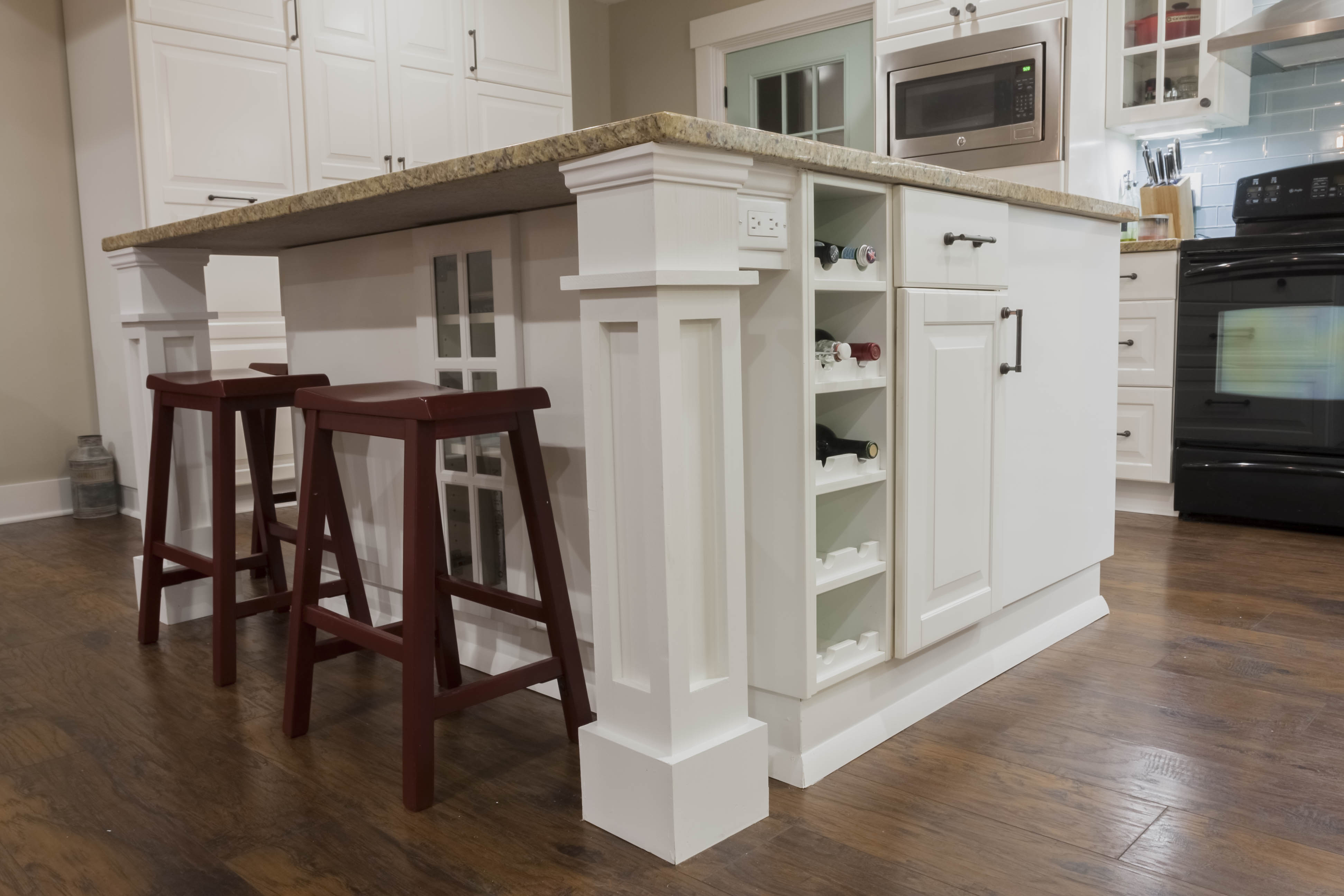 This IKEA kitchen was built at the tail end of the AKURUM kitchen cabinet line / right before SEKTION was introduced. (For example, these doors are LIDINGÖ but you know them better as BODBYN). Still, the island is made of 6 base cabinets and a wine rack no matter which line we're talking about.
What do all of those cabinets hold, besides the PERFEKT (now known as HÖRDA) wine rack? Cookbooks, the waste sorting system, and then flatware, plates, pots and pans, rolling pins, sushi mats and chopsticks.
The die-hard IKEA fans among you are probably wondering where the posts for the island came from. You're looking at Andy's custom carpentry right there. The columns were made from maple, oak, pine, and plywood.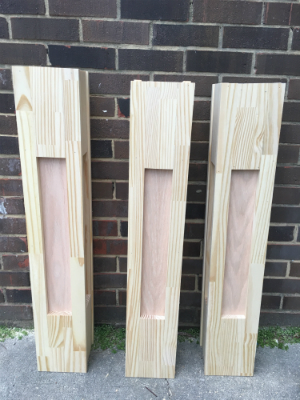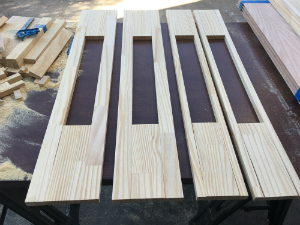 The columns provide much-needed support for the one-foot overhang on the front and side of the island as well as introduce some of the ornamentation that makes for a classic kitchen. They also provide a convenient power supply for appliances and laptop computers.
#2: The pantry is miracle of storage
Michelle says her guests are always most impressed with the pantry wall. Like the island, the pantry in this timeless IKEA kitchen has a lot of responsibility. It has to be big-ass.
Without the pantry, they would have no place to store dry goods, cleaning supplies, etc.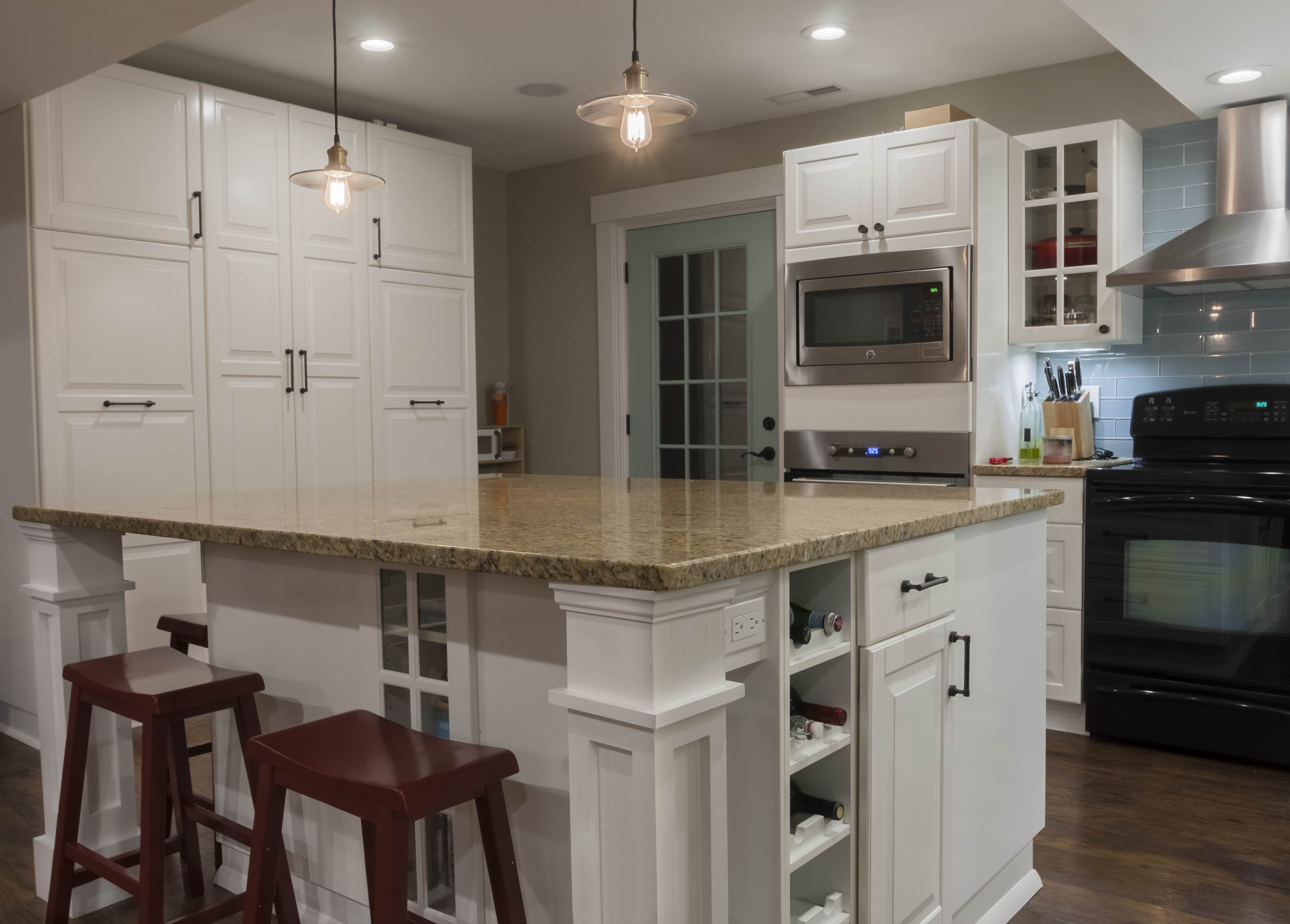 The pantry is made of 3 tall SEKTION cabinets.
The leftmost cabinet holds dry goods. (SEKTION does not have this exact cabinet so check out this one instead).
The middle cabinet stores small appliances like their waffle maker and stand mixer as well as cereal, snacks, and drinks. Underneath the two double doors are pullout drawers for mixing bowls, cake pans, and cookie sheets.
The cabinet to the right is the same as the left, but holds cleaning supplies and paper goods.
In short: the pantry is big-ass but all class.
#3: The base cabinets and island are all a little taller than usual
To accommodate Andy's height, we designed the base cabinets for his kitchen to be one full inch higher than usual. In a typical kitchen, the base cabinets + toe-kick + countertop thickness = 36".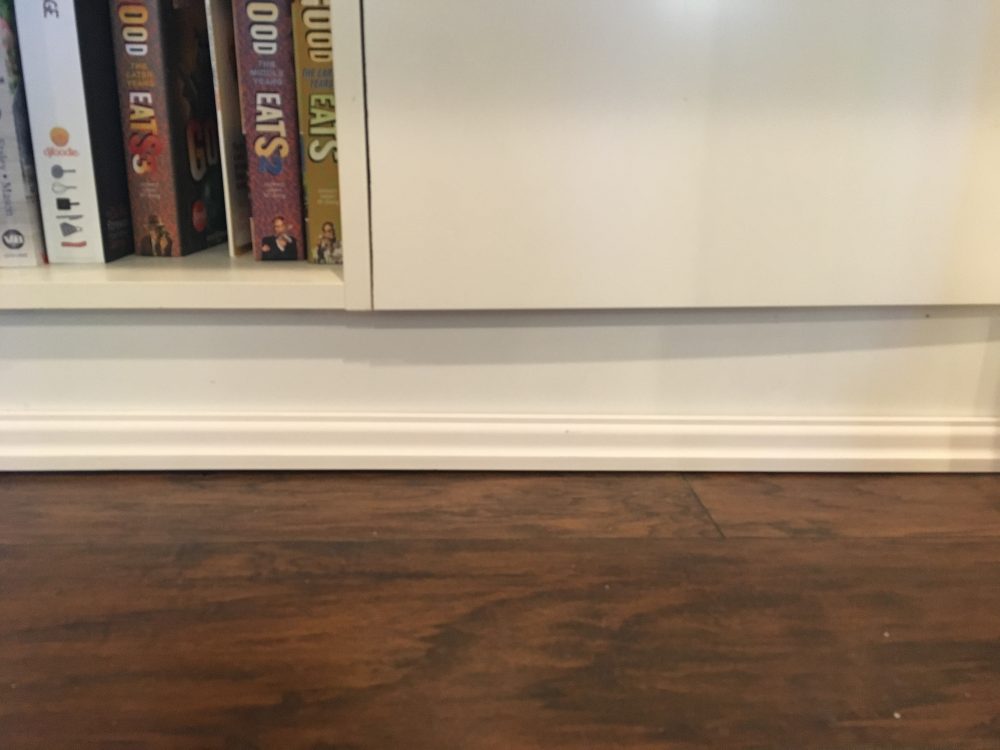 The standard toe-kick isn't tall enough to conceal the cabinet legs, so Andy used shoe moulding to hide the gap.
2 tips from this timeless IKEA kitchen renovation
Andy and Michelle love their new IKEA kitchen, but they found IKEA kind of a pain to work with. They offer IKD blog readers and customers these tips:
Even if you have your IKEA kitchen delivered you will probably have to make extra trips if IKEA is sold out. Because the nearest IKEA store was a 4-hour drive from them, they had IKEA deliver the main order. But there was a backlog. So they ended up making 2-3 extra trips to the IKEA store even though some of the other pieces were shipped separately.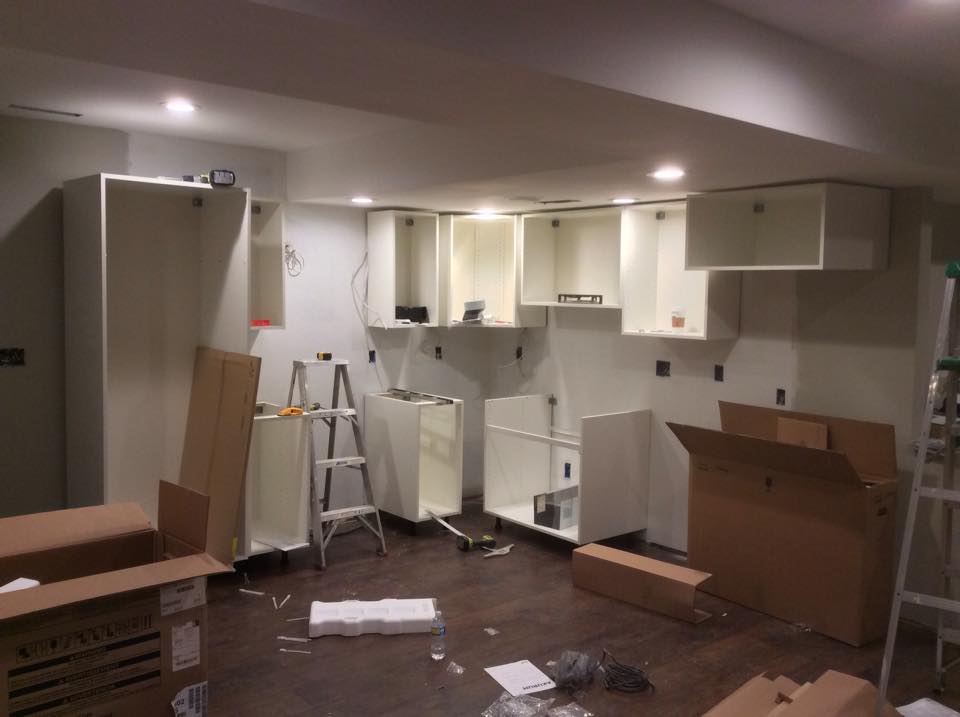 Don't rely on IKEA's records. Michelle found they had keep meticulous records because of the backorder. IKEA's records would say that everything had been delivered, but theirs said otherwise. There was a lot of back and forth and it was essential to stay on top of IKEA.
Where can you get all of the other items in this timeless IKEA kitchen renovation?
This kitchen has more IKEA in it than you might suspect.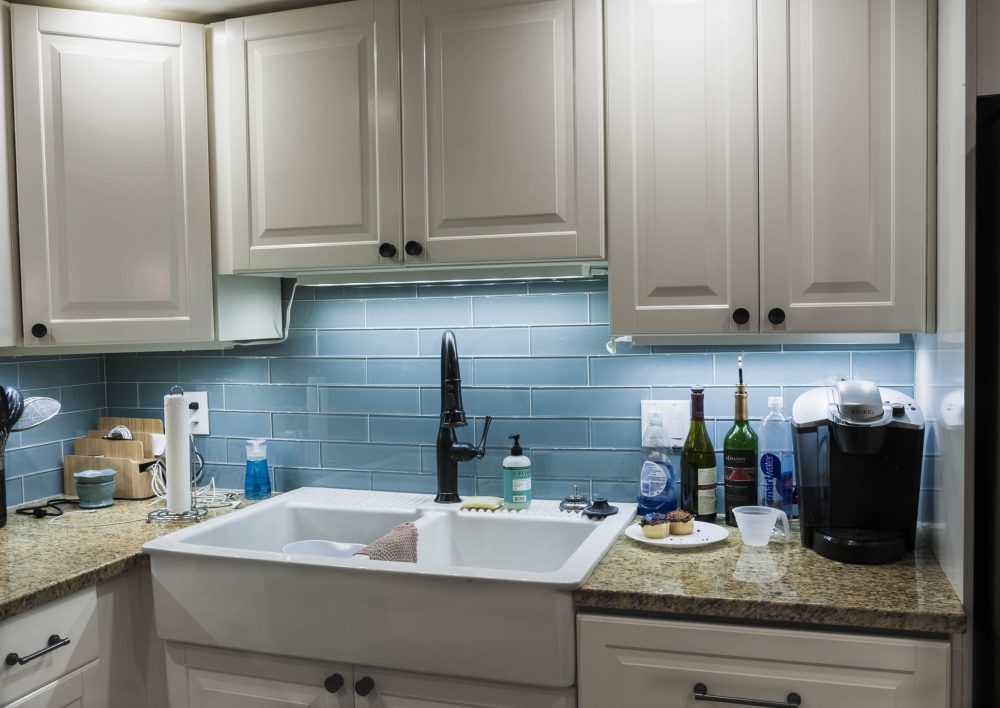 The DOMSJÖ double-bowl farmhouse sink is essential for a classic kitchen look.
The double oven and LUFTIG range hood are from IKEA too. (The range is not).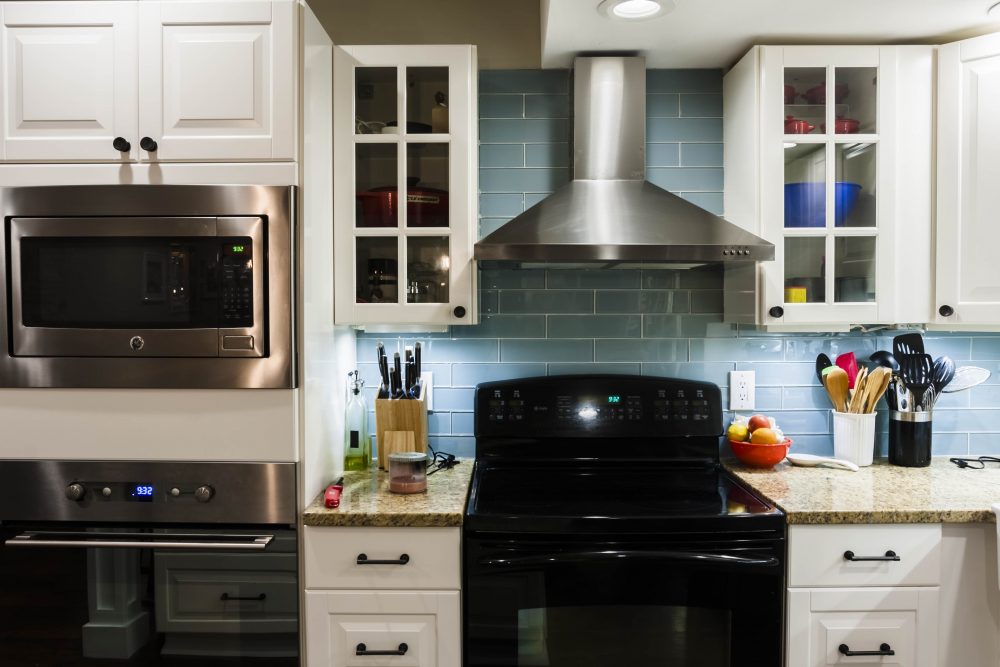 The double oven is actually a tall pantry cabinet that's been customized to fit a microwave oven (not IKEA) on top and a NUTID oven underneath.
If you're loving other items from this big-ass kitchen, Andy was nice enough to give us a complete list of where he found the other items.
IKEA is having their spring kitchen sale! Is it time for a big-ass IKEA kitchen of your own?
IKEA's kitchen sale is running until April 9, 2017. Don't wait to buy your timeless IKEA kitchen design with us. Even the most efficient design process takes 3 weeks. Even if we get it right straight out of the gate and you're really decisive, don't wait. You don't want to miss the sale prices!