The AKURUM doors from IKEA were discontinued by the manufacturer after the date this article was published.
If you are lucky enough to have laundry in your home, and even luckier enough to have a generous laundry room space, there are many ways you can utilize it to its fullest potential with AKURUM cabinets and other IKEA components.
Whether it's room for ironing, storage space for detergents and supplies, or the ability to separate your whites from your colors all in one place, figuring out what you need from your laundry room is a great idea before designing it.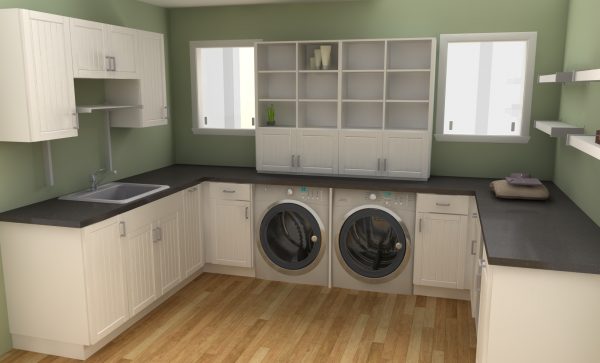 When thinking through your IKEA laundry room design, keep these tips in mind:
Plan at least a 36″ uninterrupted counter area: Make it easier on your back by having enough space to fold clothes at an accessible place.
Keep a hanging bar over the sink: Most folks place a good old fashioned closet bar to hang shirts right out of the dryer. We say it would be better to keep this bar closer to the sink to hang those delicate linens that can't be tossed in the dryer too.
Include space for laundry hampers: With some RATIONELL pull-out units, the hampers are cleverly concealed and easy to reach. Use full-height door cabinets if you're looking for a slightly more affordable option.
Don't forget open storage: Whether in the form of shelves or cubbies, open storage is a great way to keep frequently-used cleaning supplies accessible.
Prioritize space for utilities: The washer, dryer and a large single-bowl sink should be the most important elements of your laundry room. Plan the space for them before anything else. We used a TARNAN faucet and a BOHOLMEN single-bowl inset sink.
Here are some IKEA organizers and components we suggest for your laundry room:
 EKBY open shelves: They are sturdy and have brackets that cover the end of the shelf, they can be cut down to any length.
AKURUM pull-out units: Ideal for laundry hampers or storing bulkier items that need to be frequently accessed.
ALGOT drying rack: Can be easily mounted onto any ALGOT wall-storage solution and no tools are required.
ALGOT clothes rail + brackets: Just combine any of these with other ALGOT accessories to hang delicate clothes that need to be air-dried.
ALGOT mesh baskets: Light and convenient, use them to carry clothes from one room to another and tuck them in a drawer or cabinet later.
Here are the measurements for this specific laundry room: