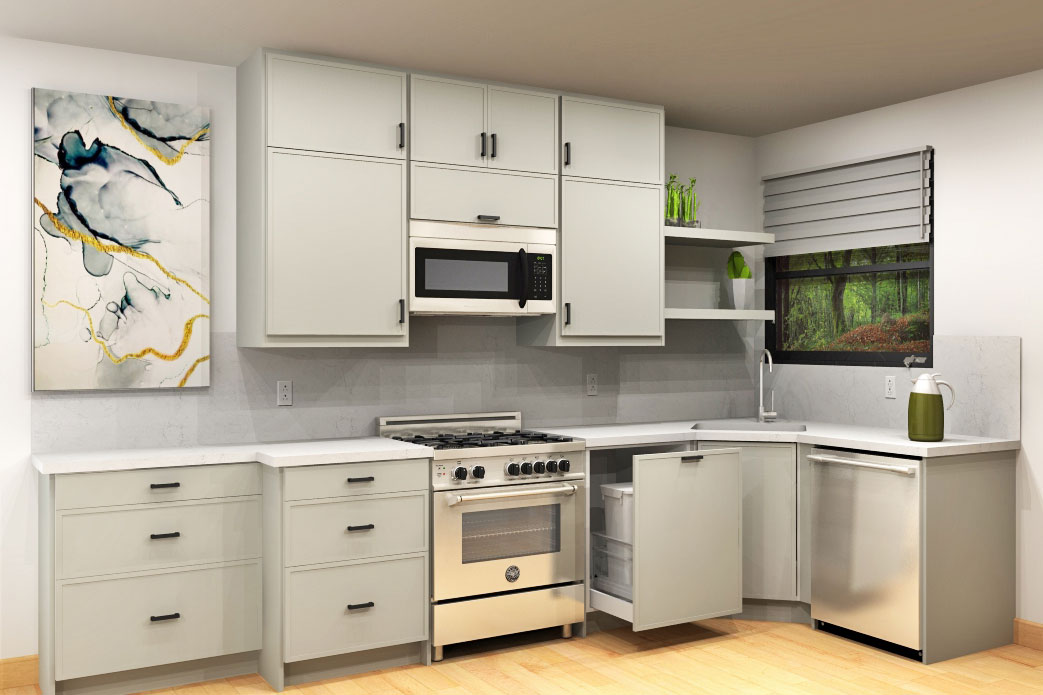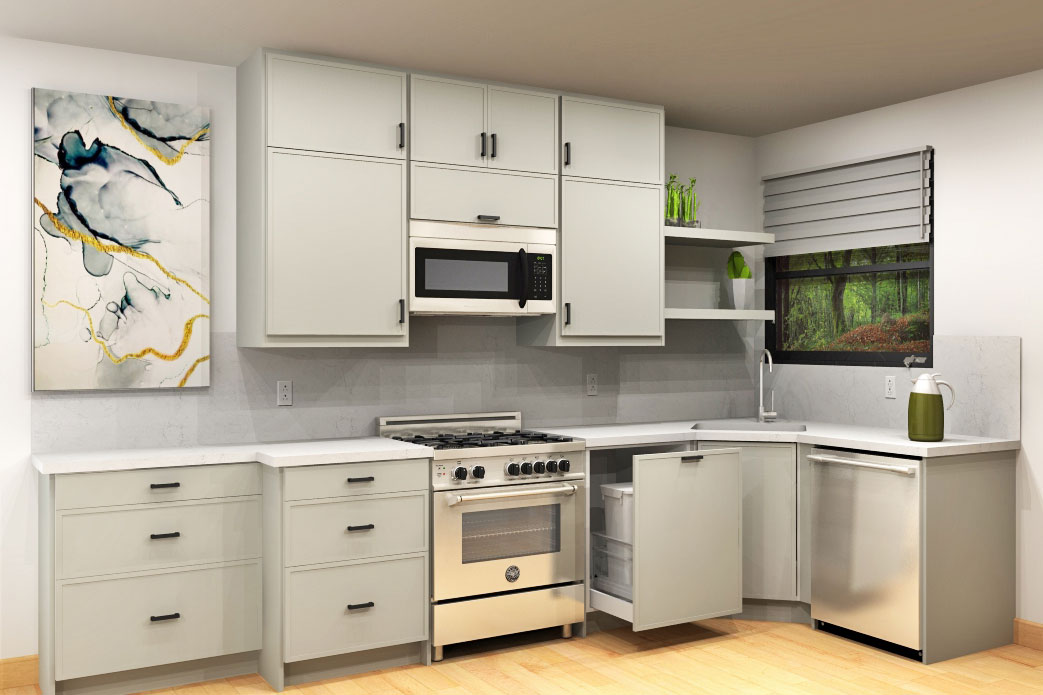 Refreshing an outdated kitchen layout with IKEA cabinets
This article is based on and inspired by an actual IKD design. We created a customer narrative to make it fun and easier to understand.
They say everything old is new again. But when we're talking about an outdated kitchen layout that desperately needed refreshing — like the one that IKD customers Sam and Judy had — it was definitely better to give it a whole new look with IKEA cabinets.
Judy explains: "We decided to remodel several rooms in our home and we started with the kitchen. The kitchen is 124 square feet and the original layout was cramped, inefficient and really outdated with 90s style, builder-grade cabinets. Since our IKEA kitchen was part of a larger-scale remodel, it was really important for us to find cabinets that were affordable so we could stay under budget."
After finding IKD online, Sam and Judy worked with IKD designer Merari to find IKEA cabinets that fit their unique kitchen needs. Together they combined IKEA's SEKTION cabinetry framework along with Scherr's Slim Shaker HAZE-colored door fronts (cost of $1,422) along with clever IKEA kitchen cabinet hacks to create a warm and eclectic IKEA kitchen with plenty of newfound storage options. IKD designer Merari explains: "They absolutely had to have Scherr's Slim Shaker door and IKEA offered nothing that came close to the look they wanted — but IKEA SEKTION can be retrofitted with custom doors! The HAZE color is very deep and it's got these black cabinet pulls which gives the kitchen an eclectic feel." The space features a variety of stainless steel appliances that the couple found online, along with plenty of IKEA cabinets (cost of $2,489) for a total cost of $3,911!
Indeed, the five "hacked" cabinets which IKD modified for this design are noteworthy. These hacks include a corner sink cabinet retrofitted from a standard corner cabinet; two 24"(W) wall cabinets on the side of the range; over-the-range wall storage, and additional tall cabinets to the side of the refrigerator. Most importantly, this made the entire space more ergonomic for the couple, who were growing so frustrated by the inefficiency in their original kitchen layout and figuring out how to fix it. "We had done some research when we first started this project but quickly got overwhelmed with the IKEA Home Planner — we needed help!" Judy says. "We're so glad we found Merari and IKD. The IKEA cabinet hacks have created extra storage possibilities for us."
Let's see how Sam and Judy's kitchen came together!
---
Why Design
with IKD?
Why Design with IKD?
---
Custom IKEA Kitchen
Sam and Judy's original kitchen layout was an entry-level, builders-grade kitchen, and they were ready to move on from it.
"It was our first kitchen but we couldn't bear it anymore," Judy says, adding that this remodel was even more challenging because the original construction featured framed cabinets — meaning a loss of potentially viable space when every inch already mattered. "When we learned that IKEA's cabinets were frameless and full-access and were so affordable, we knew that's what we wanted," she explains.
More specifically, they wanted to integrate IKEA's SEKTION cabinetry framework with Scherr's Slim Shaker HAZE-colored custom door fronts to create a contrast to the stainless steel appliances they'd chosen. Those appliances include the Whirlpool Over-The-Range hood and microwave combination for $499, and the LG 36″ Side x Side refrigerator purchased for $1,443. Overall, the kitchen now features 17 IKEA cabinets which provide the personalized feel they wanted — and equally importantly — gives them options as they began to consider Aging-in-Place for their later years.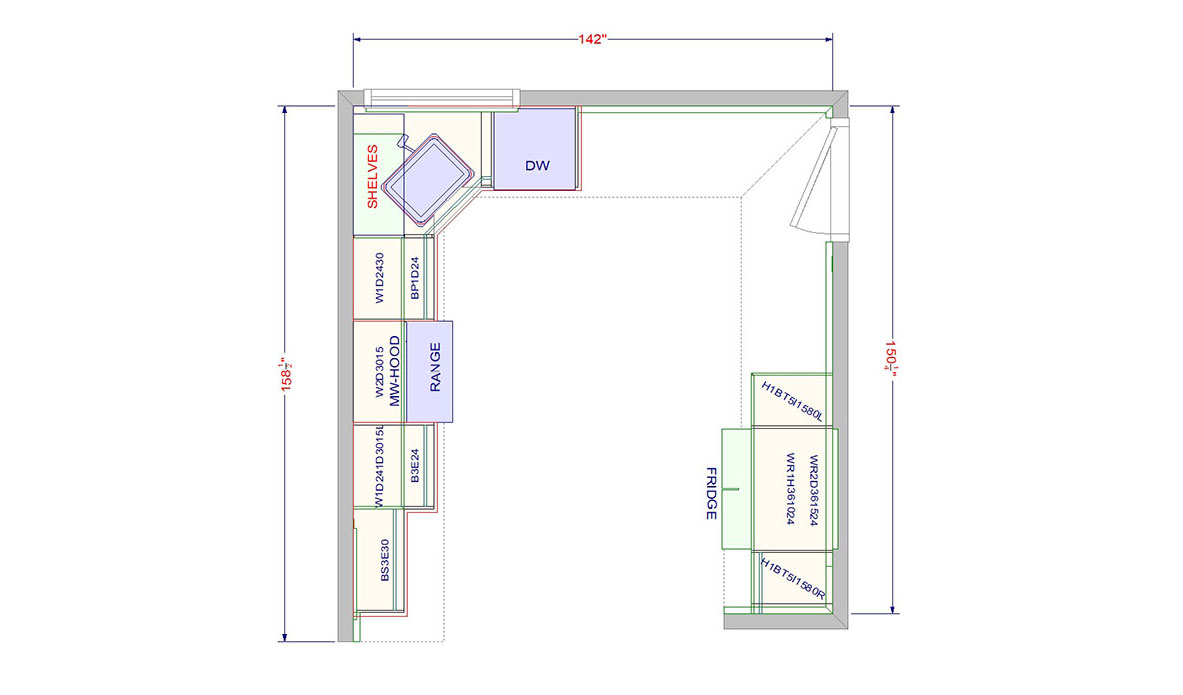 "Our current builder-grade cabinets had mainly base door cabinets and we grew tired of opening each cabinet door, crouching and peering in and then struggling to find what we needed," Judy describes. "We really needed more storage and countertop space." In fact, the couple weren't convinced that a standard base cabinet with countertop worked well and asked for tall cabinets instead. To accommodate this, Merari incorporated lots of large, wide, three-drawer SEKTION base cabinet frames and double-stacked the wall cabinets for additional storage. "The space next to the refrigerator was ideal considering a countertop there would have been lost," Merari adds. In addition, she included a reduced-depth base cabinet which freed up a bit more countertop space as well. To that end, Judy notes that their cabinets were installed by a local IKEA cabinet installer from their area.
One other design detail that Merari caught was using IKEA floating shelves instead of wall cabinets next to the window. "The kitchen was very dark and the original placement of the wall cabinet blocked lots of light. The floating shelves add more storage options for glassware and plates (or to showcase objet d'art) and let in substantially more natural light," she concludes.
IKEA Storage Hacks
Storage clearly was a major checklist item for the couple and they needed their kitchen to function much better.
Judy explains: "There was this empty space above the original wall cabinets to the ceiling that was so wasteful. And, in a kitchen where we were finding it harder and harder to manage, we needed storage!" The solution here was stacking IKEA wall cabinets – 15″(H) units above standard 30″(H) wall cabinets. This gave them some of the extra storage (for their fine China and seasonal dishware) they needed, and created a more sophisticated feel.
Taking it a step further, we also incorporated our signature IKEA kitchen cabinet hacks since IKEA didn't offer the cabinet sizes or configurations needed for their design. Specifically, we modified four of the original wall cabinets and one base cabinet; including the large 38"x38" corner sink cabinet (hacked from a standard corner cabinet), which houses the trash-pullout and establishes an efficient intersection between the corner sink, trash pull-out and dishwasher.
In addition, we converted a 30"(W) wall cabinet into two 24"(W) wall cabinets just to the right of the range. This gained precious inches in space and provides plenty of storage for items such as aluminum foil, sandwich/storage bags and utensils. Likewise, we reconfigured the height by about 9" from a base cabinet (located to the right of the refrigerator) for a new wall cabinet found over the tall cabinet. This creates an integrated look with the over fridge cabinet and provides additional storage options. And lastly, as mentioned, we modified a unique U-shaped, over-the-range wall cabinet down, which saved 5" of height and maximizes the space as well.
Complementing this look is a unique element which came out necessity: To disguise a visible fusebox at the wall to the left of the range. To accomplish this, we designed some backing with cabinet filler strip around it so there is now an impressive 2" deep canvas painting covering the entire area — no one would ever know!
Merari adds: "One other notable obstacle to this IKEA kitchen was that the couple wanted to retain the same appliance and sink location layout because they didn't have the budget for additional plumbing and electrical labor costs. Interestingly, that design challenge benefitted the layout as these cabinet hacks were created within a limited space."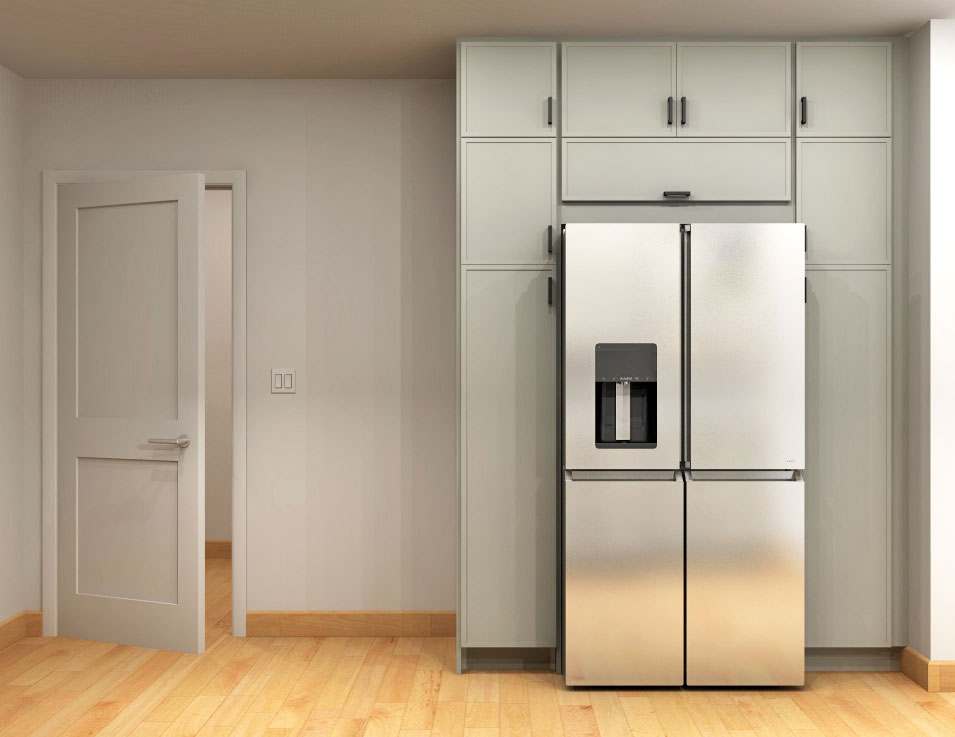 Judy concludes: "The way our IKEA kitchen remodel turned out is like night and day from our original kitchen. What was an outdated, dark and bland space with little storage and limited counter space is now such an inviting and enjoyable space that works so well with our needs" And that it was all done under our budget was the cherry on top."
IKD's Summary: We were happy to keep Sam and Judy's kitchen below budget and provide more useable cabinet space. This was no small feat as the layout presented some unusual spatial restrictions. It was originally a very inefficient and poorly designed layout. The IKEA cabinet hacks were a solution that adapted IKEA's standard cabinet modules to their space. We're pleased with the results of this IKEA kitchen and glad that Sam and Judy are too!
Get a Professional IKEA Kitchen Design – All Online
Work with our certified kitchen designers to get a personalized kitchen designed around your needs and vision. If you're interested in learning more about our service, make sure to check out our IKEA Kitchen Design Services.
Learn more about how we can design your IKEA kitchen, bath, laundry room and other rooms at inspiredkitchendesign.com.