Charlotte and Mark are the husband and wife team behind Henry Design Build Live, an interior design and concrete countertop firm located in Yellowknife, the capitol of the Northwest Territories in Canada.
They had hired us previously to work out the technical details of another IKEA kitchen, so they brought us in on their own home construction project.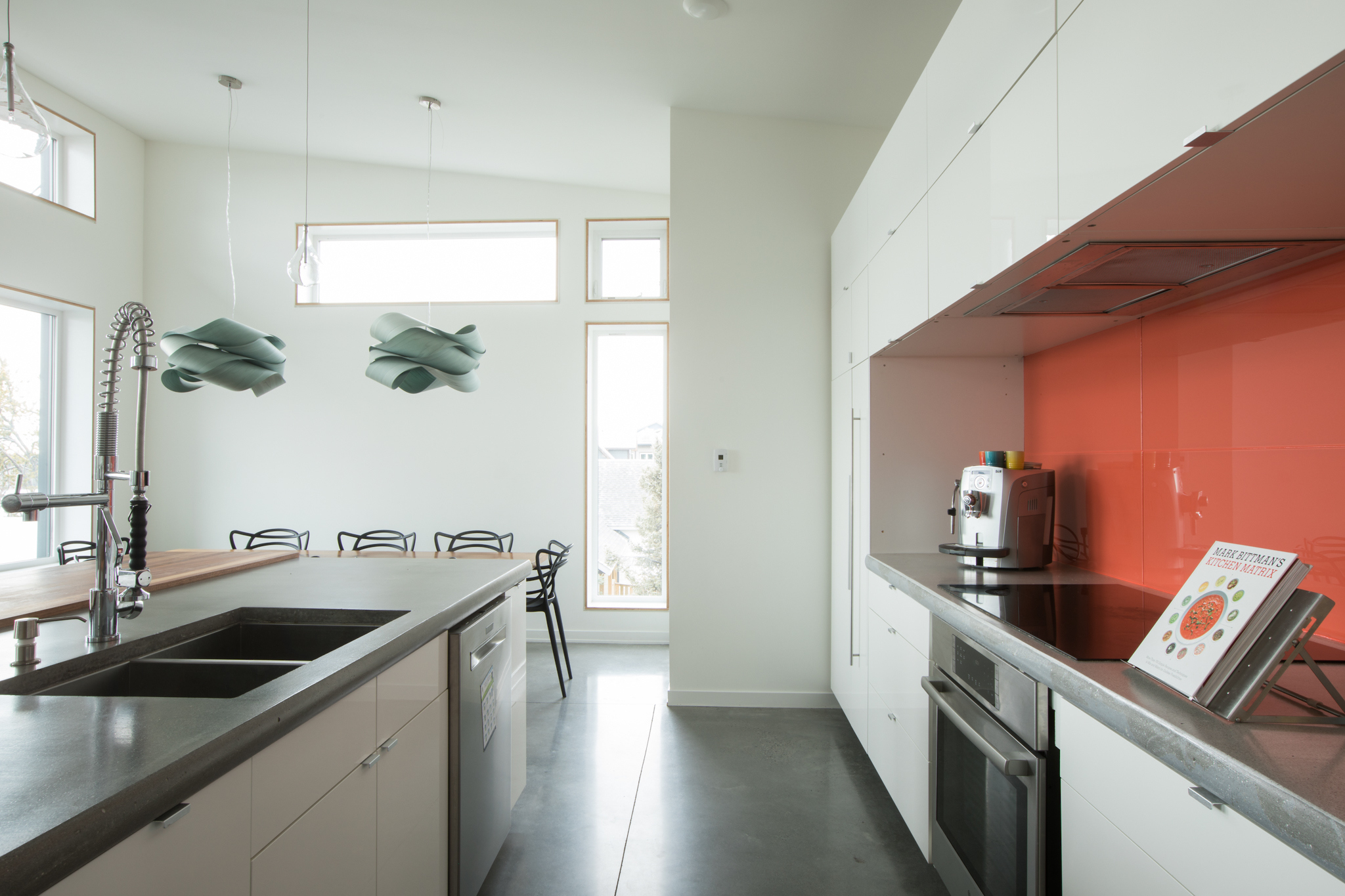 Sometimes, IKD starts IKEA kitchen designs from scratch and other times, like with Charlotte and Mark's home, we focus solely on putting their kitchen cabinet layout together to help bring their design ideas to life.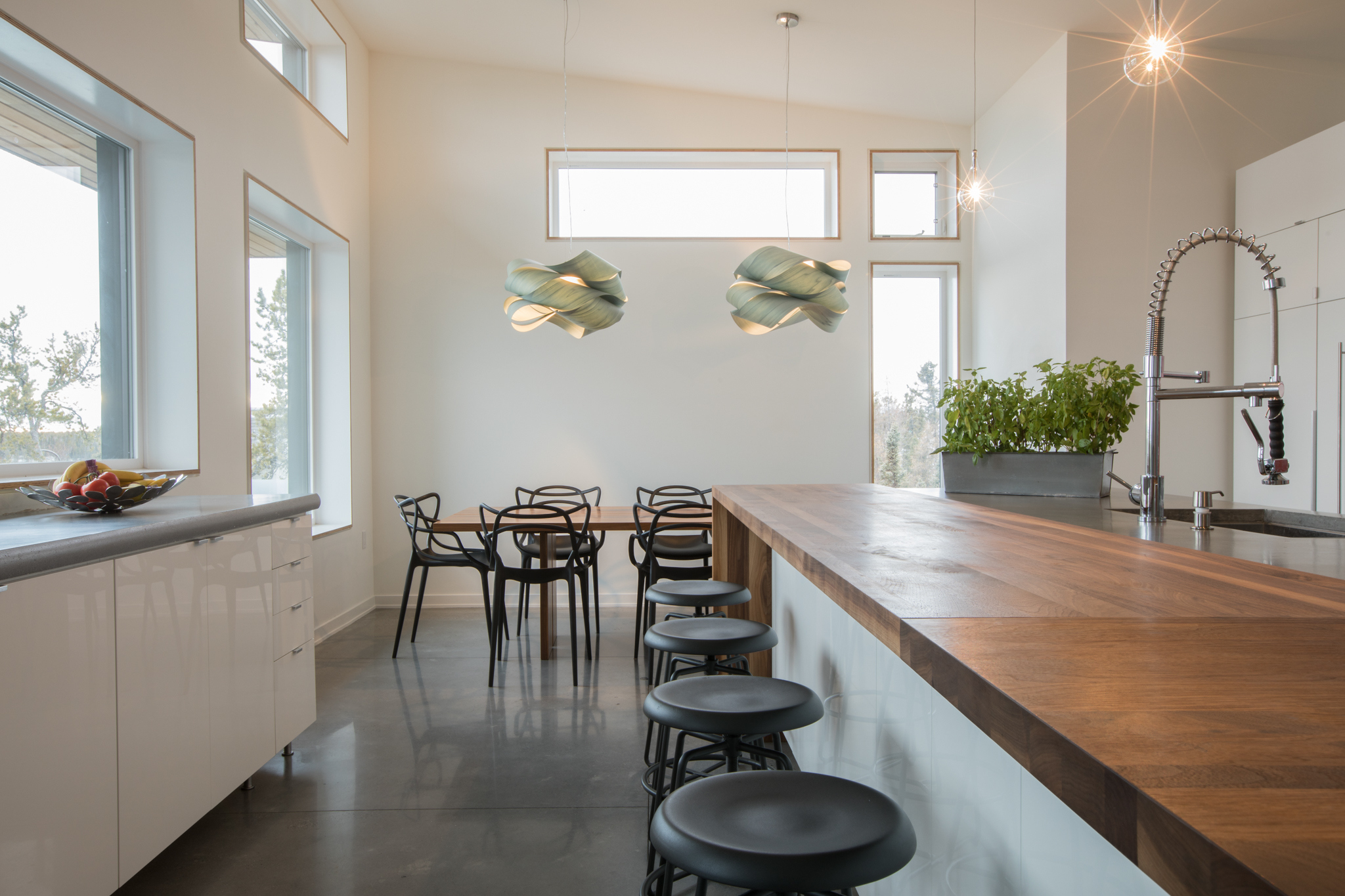 If you're like us, you may have a lot of questions about this IKEA kitchen after you're done oooh-ing and aahh-ing. Like:
Why would the owners of a professional interior design firm choose IKEA for their home? Didn't they want something more luxe?
They're professional designers, aren't they? So why would they hire IKD instead of creating the IKEA kitchen design themselves?
The answers may change your mind about IKEA kitchens forever.
Why professional designers want IKEA kitchens for their own home
A core tenet of the Henry Design Build Live design philosophy is "You don't need to spend a lot of money to create a beautiful, happy and quality space."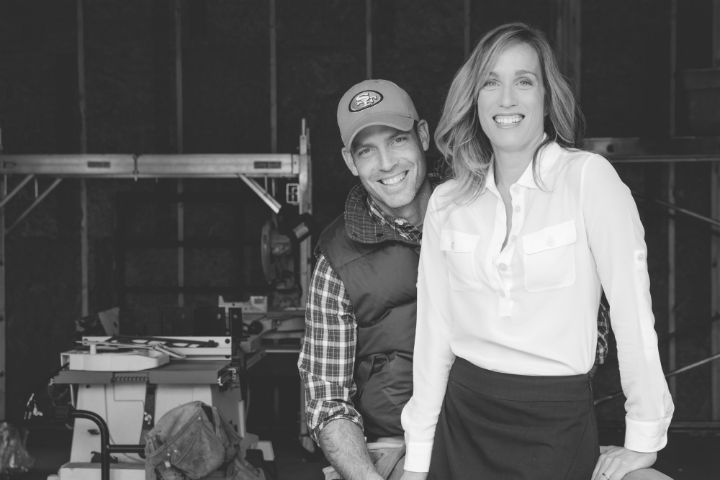 Charlotte explains, however, that it's very expensive to build in an isolated place like Yellowknife. New home construction costs in their area are well in the $1 million dollar range.
"To keep costs of our own home construction down, we did most of the work ourselves and used IKEA cabinetry as much as possible. Not only does IKEA offer an affordable cabinetry alternative, but they also ship in flat boxes which helped us keep shipping costs down," says Charlotte.
So naturally, when it came time to build their next home, they selected IKEA for their kitchen. Charlotte and Mark bought a property overlooking a lake in Yellowknife.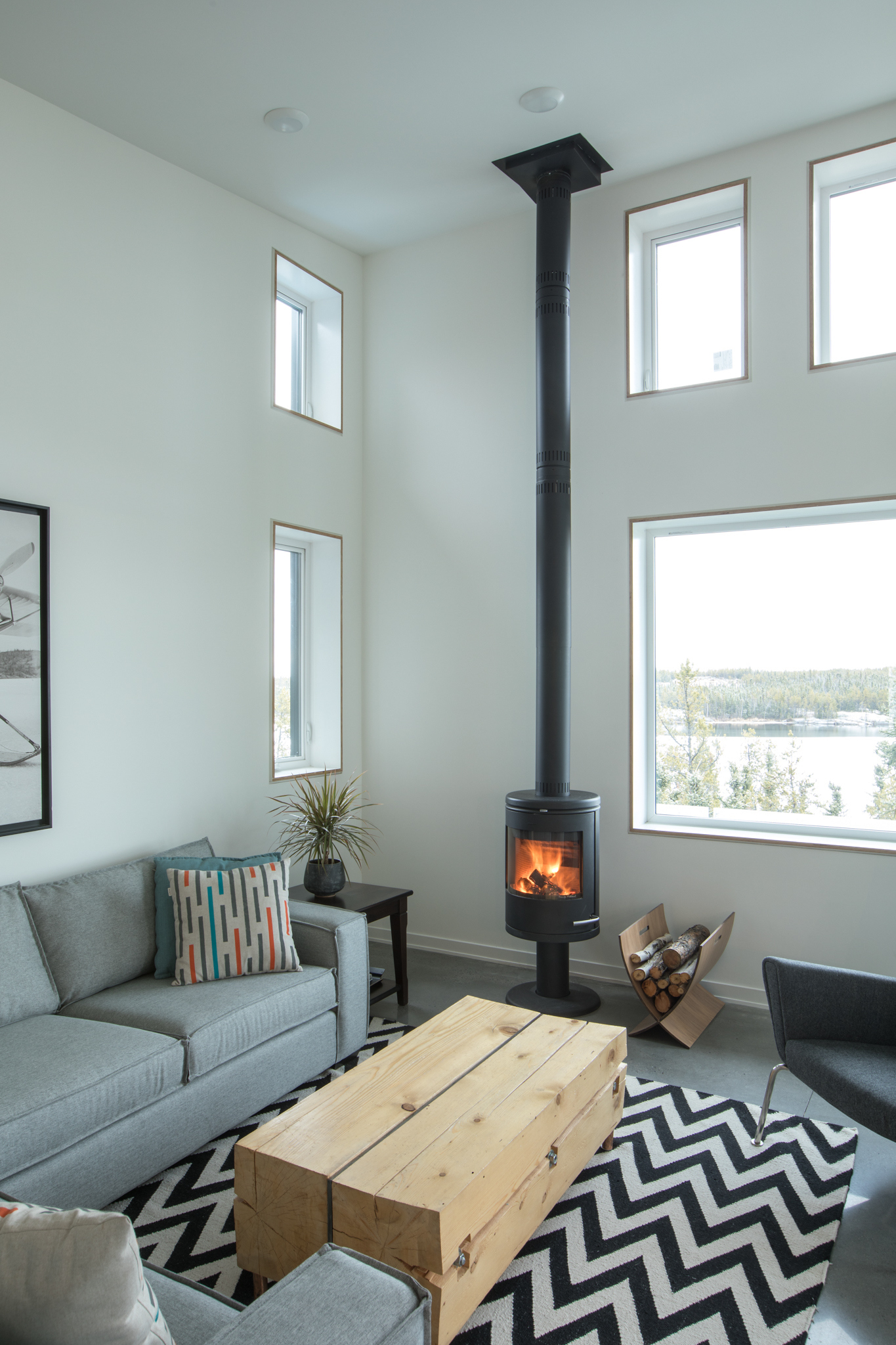 Who could resist a view like that?
Why professional interior designers collaborate with IKD to design an IKEA kitchen
Depending on our customer, our involvement in an IKEA kitchen design can really vary. Because Charlotte and Mark had a clear vision for the aesthetic and design of their home, IKD focused on the technical aspects of the design.
IKD was a big part of the equation for sticking to their budget. Rather than spend their valuable time trying to make the IKEA Home Planner app work, Charlotte and Mark outsourced the kitchen cabinet work to IKD so that they could focus on construction and the overall design decisions.
"We own a design+build company and while we are perfectly capable of designing our own IKEA kitchens, it is, by far, a much more efficient use of our time & money to use IKD's design services. We fully trust IKD to produce a top-notch design in a short timeframe, allowing us to focus our valuable time and resources on other aspects of designing & building. We will continue to use IKD in our future design projects."
As you can see from the pictures, Henry Design Build Live are truly pros at creating an interior design that's functional and beautiful at the same time.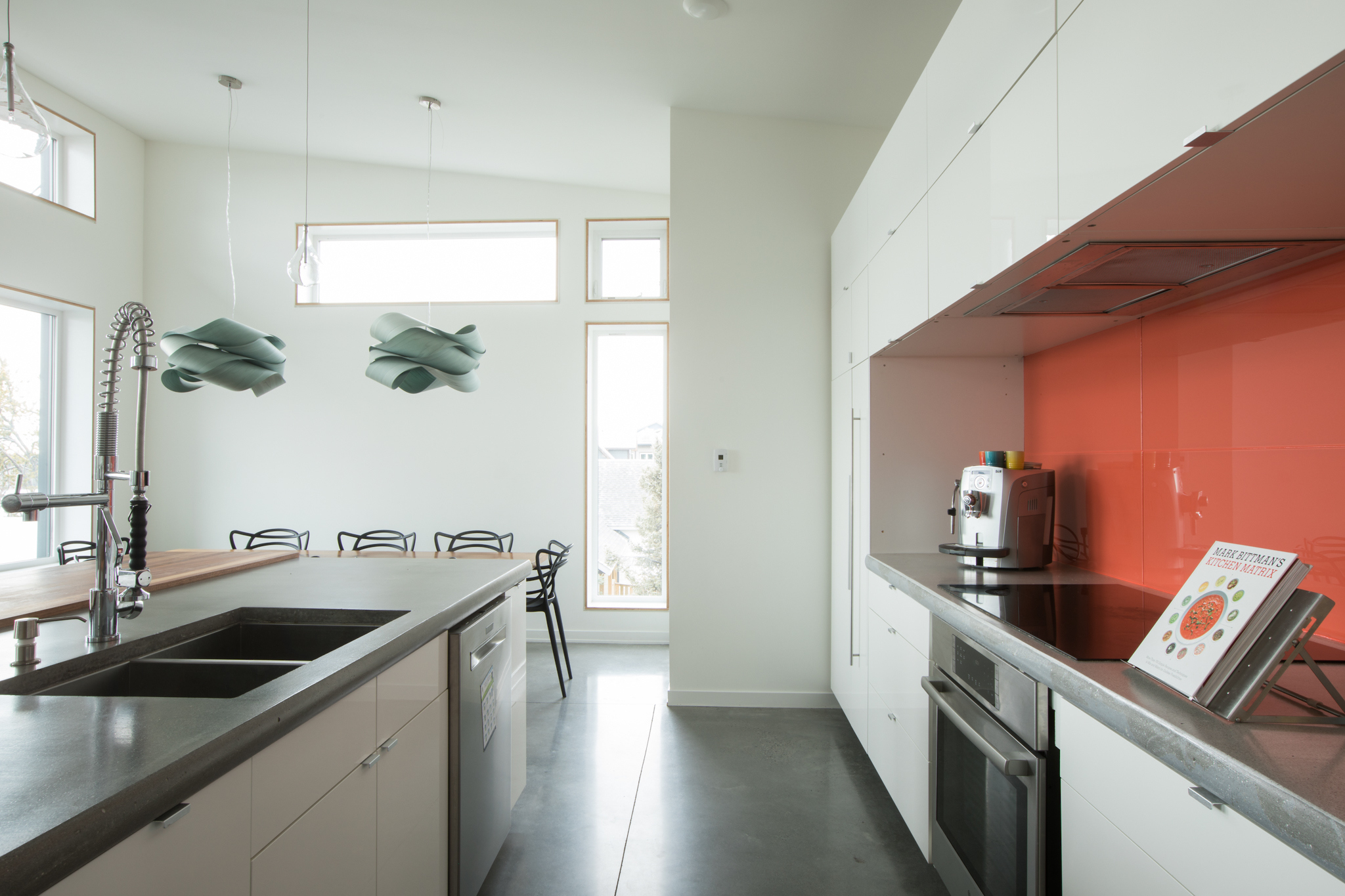 Another way Henry Design Build Live kept costs down is that Mark poured and polished all of the concrete countertops and floors. The mass of the concrete is essential to making the passive solar work because it holds the heat so well.
It was really important to the Henrys that the kitchen be conducive to entertaining. The long winter nights in Yellowknife are full of potlucks and socializing, so they needed room to cook for and host hungry guests.
IKD created an IKEA kitchen design that's pretty close to looking like an Italian-style kitchen where everything is integrated. Everything is so neat and tucked away that if it weren't for the sink and the oven, you'd think you were in a living room.
We showed you the kitchen, but we're dying to show you the rest of this house, too.
How passive solar design, IKEA, and IKD helped keep costs low for Henry Design Build Live
Note the placement of the windows and the concrete flooring, because they're central to the home's passive solar design. In a house this size, Yellowknife residents typically spend between between $5,000-$7,000 annually to heat their homes. Charlotte and Mark's house only cost them $2,300 to heat last year, including hot water.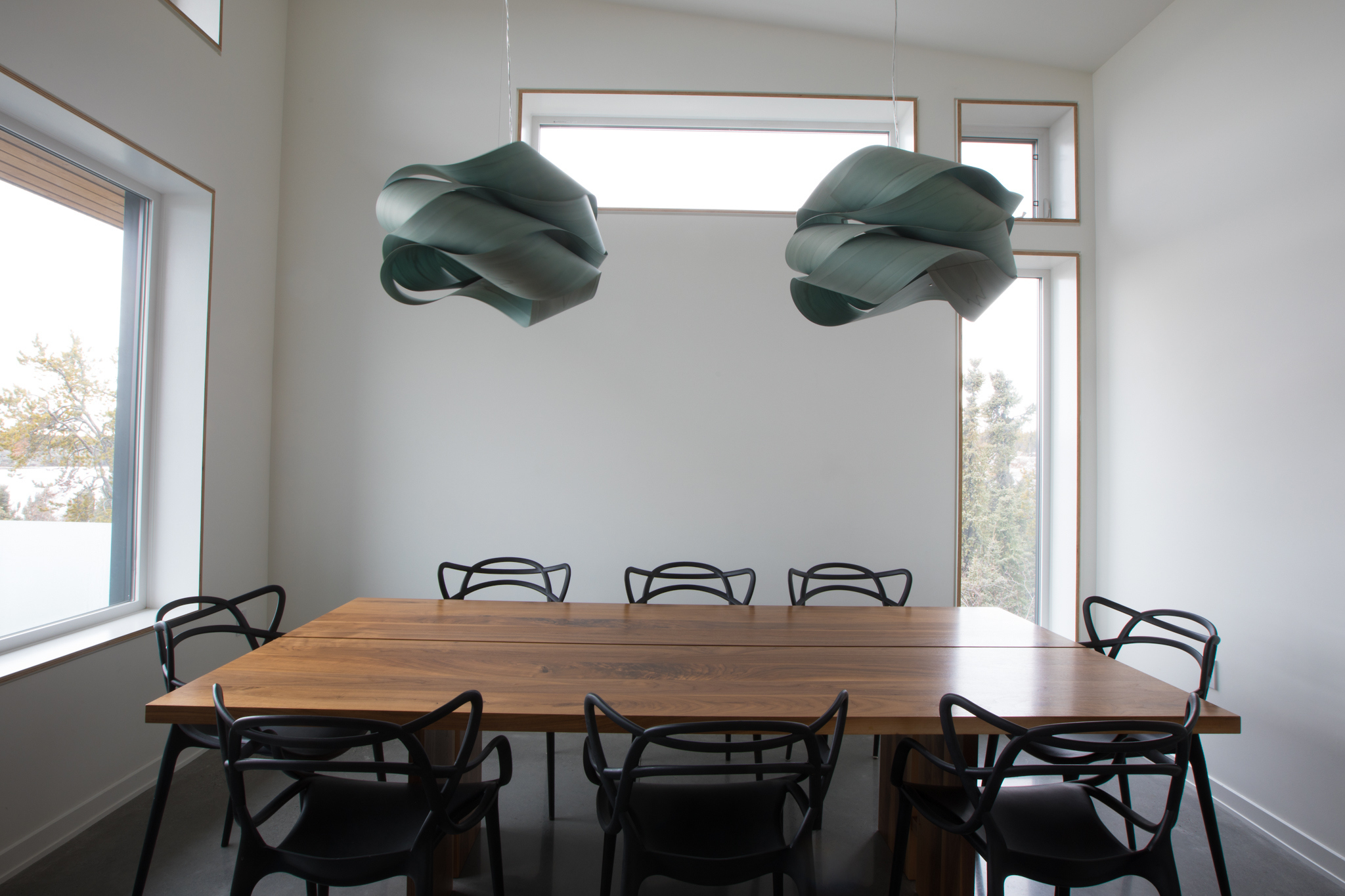 Let's talk about those windows. IKD doesn't do anything with windows, but Henry Design Build Live can tell you: they're an important part of the passive solar design, too. They're triple-paned to keep in the heat.
Also, they're strategically placed to make the best use of natural light all throughout the year. Most of the windows are on the south side of the house and overlook the wilderness and the lake. In the winter, the Henrys can sit on their sofa and watch dog sled teams mush through the backyard.
The flip side of not enough daylight is too much daylight. Summer days in Yellowknife have as many as 22 hours of daylight! But because the sun is directly overhead, there's no problem inside Charlotte and Mark's home.
February and March are the brightest indoor months, so Charlotte and Mark's home has overhangs on the windows so the house doesn't overheat. In March, it can be minus -22 degree Farenheit outside, but they'll have to open the windows because it's so warm.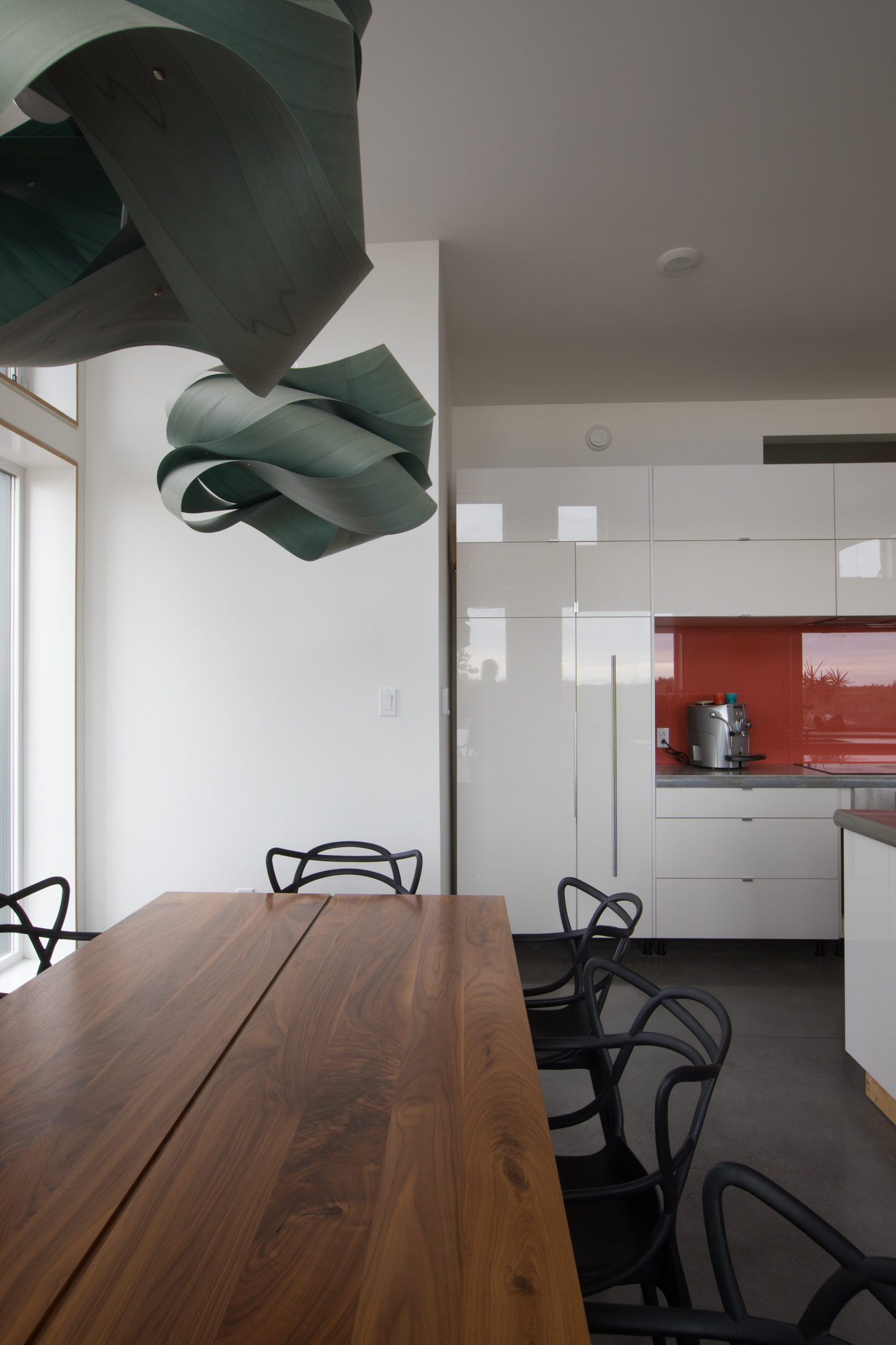 The Kartell chairs are normally $300 USD each. But Charlotte found them in a shop in Calgary for $50 CAD ($37 US) each. The lamps you see here were Charlotte's one big splurge in the house, but even then she negotiated a lower price with the company.
"It's always a risk to order items with color online, because the color never quite matches what you see on the screen. But I'm quite happy with how they turned out."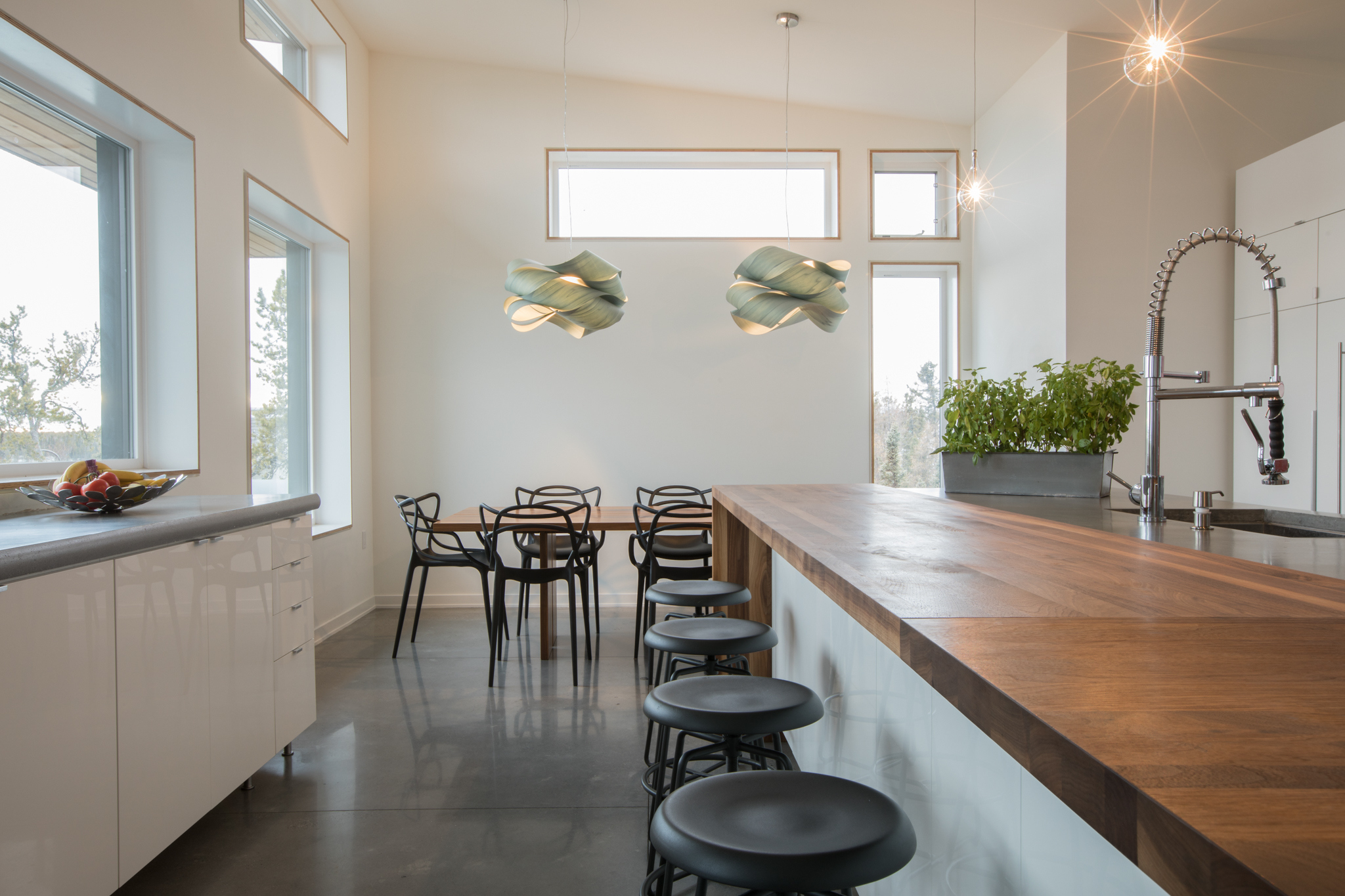 The walnut from the dining room table and kitchen countertop are repeated elsewhere throughout the house. The Henrys coordinated this part of their home build with another firm, Mackenzies Woodwork out of Prince Edward Island (all the way on the other side of Canada). Mackenzies shipped everything out in pieces so Charlotte and Mark could save money by assembling themselves.
The kitchen and living rooms are upstairs because heat rises and the lake view is best from these rooms. To see the bedrooms, let's go downstairs.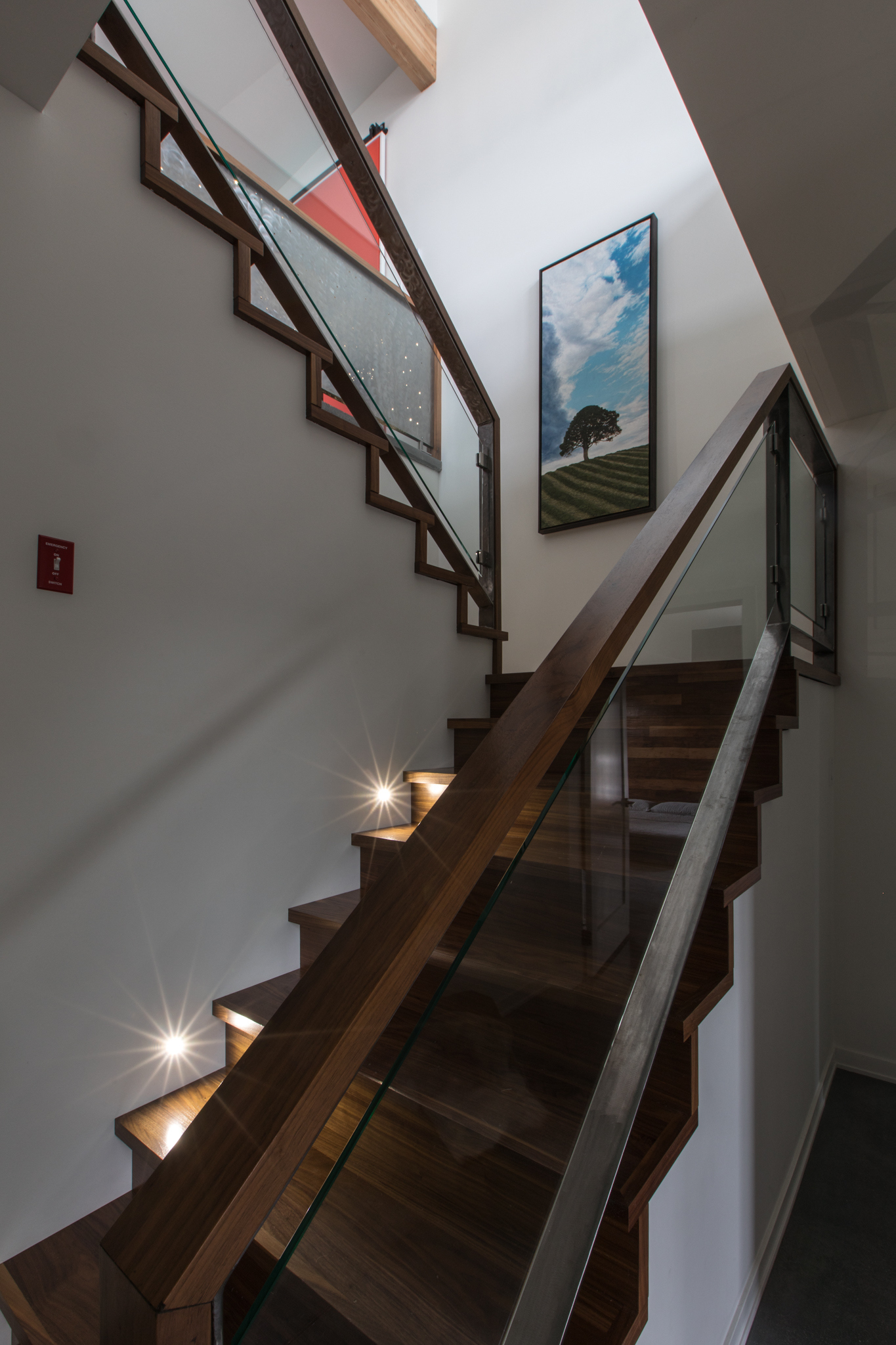 Downstairs bedrooms keep the sleeping areas cooler and reduce the nighttime sunshine in the summer months.
The same walnut appears on the master bedroom accent wall.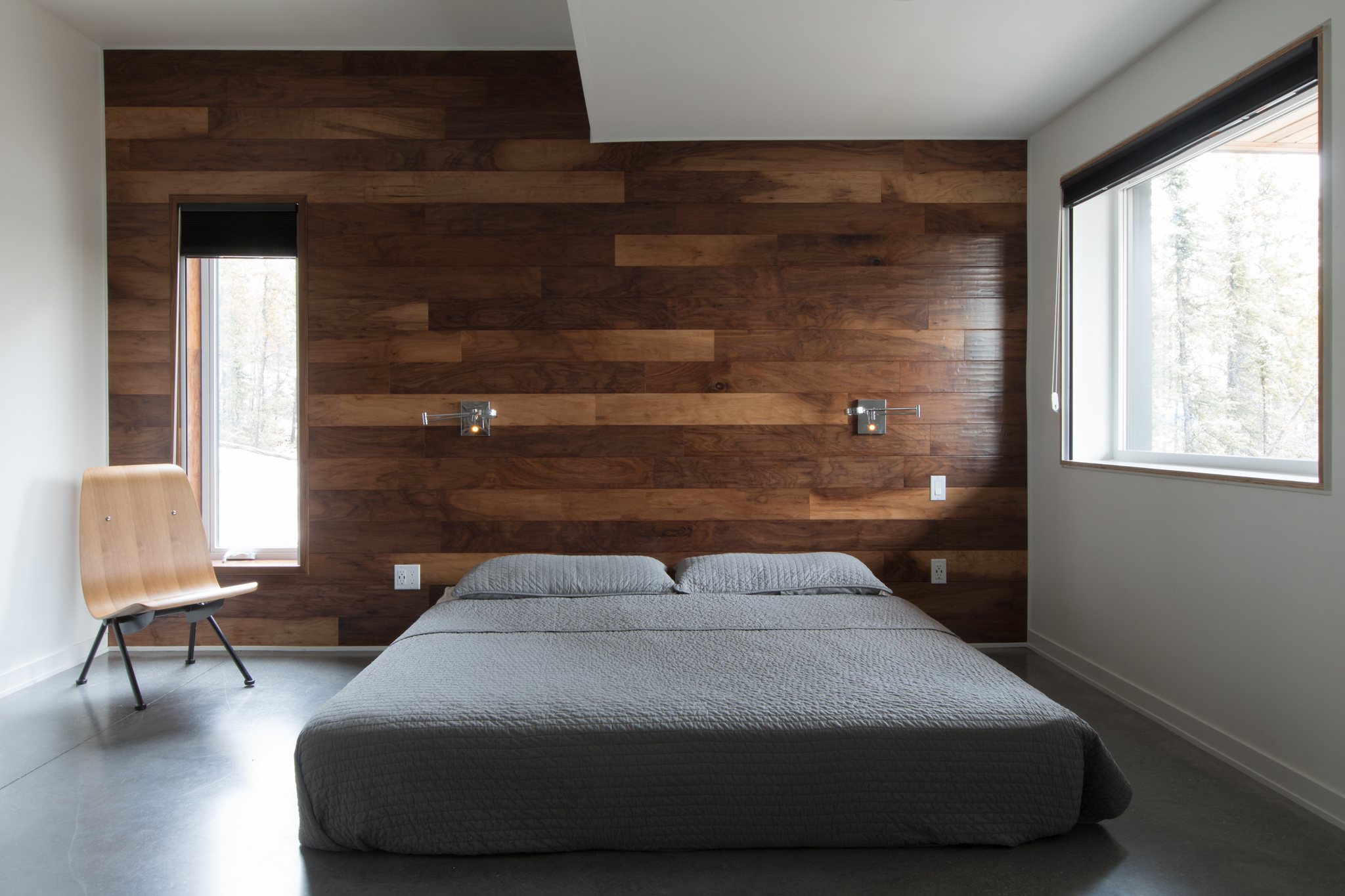 The master bathroom uses IKEA cabinets too, but with walnut fronts from MacKenzies. By using IKEA kitchen cabinet boxes and a custom front, Charlotte and Mark were able to create a high-end look for their bathroom vanity without the high-end price tag.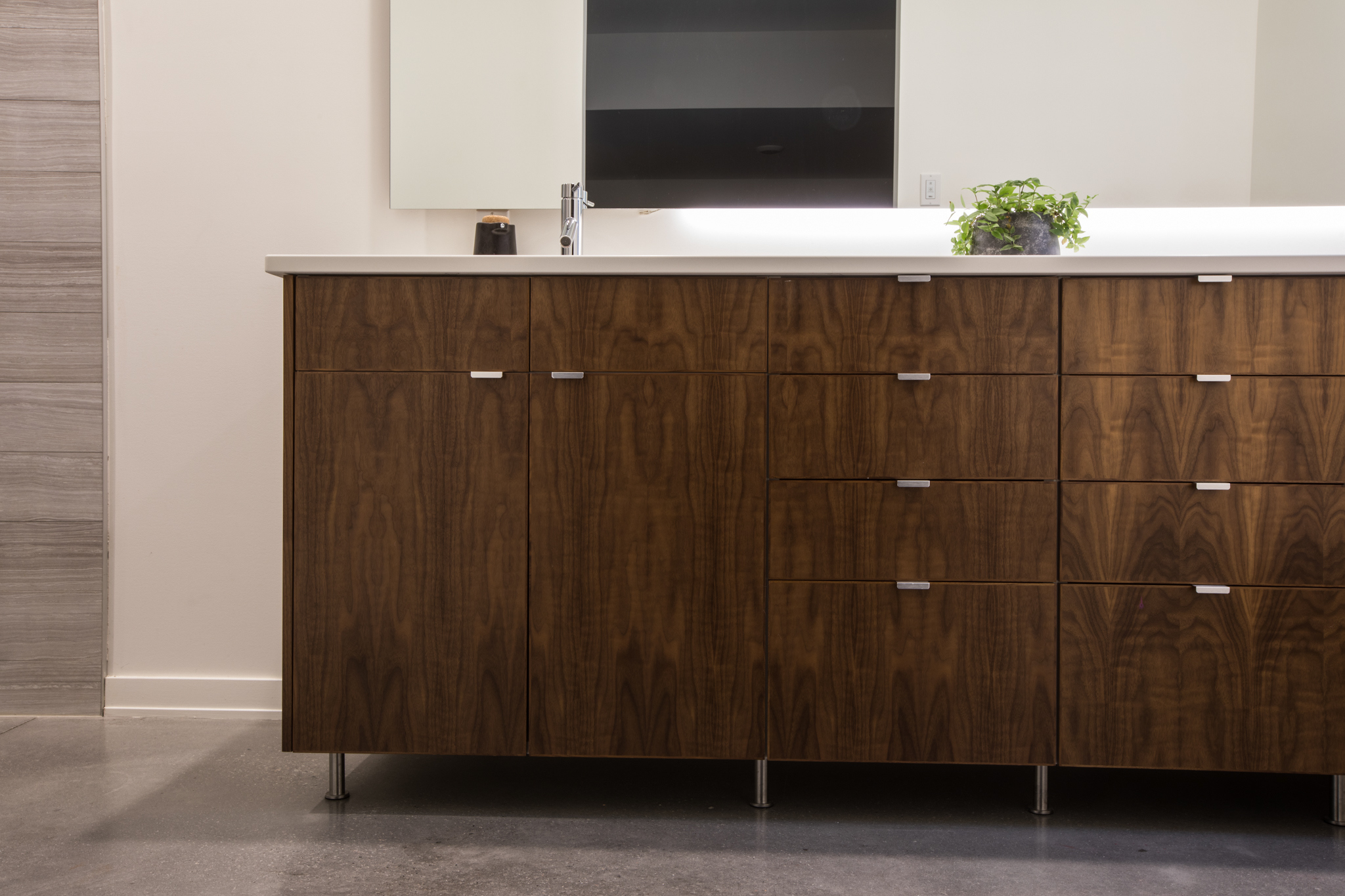 The kids' bathroom also uses IKEA cabinets (the GODMORGON line). Charlotte and Mark designed the bathrooms themselves because fewer cabinets mean a much more straightforward design.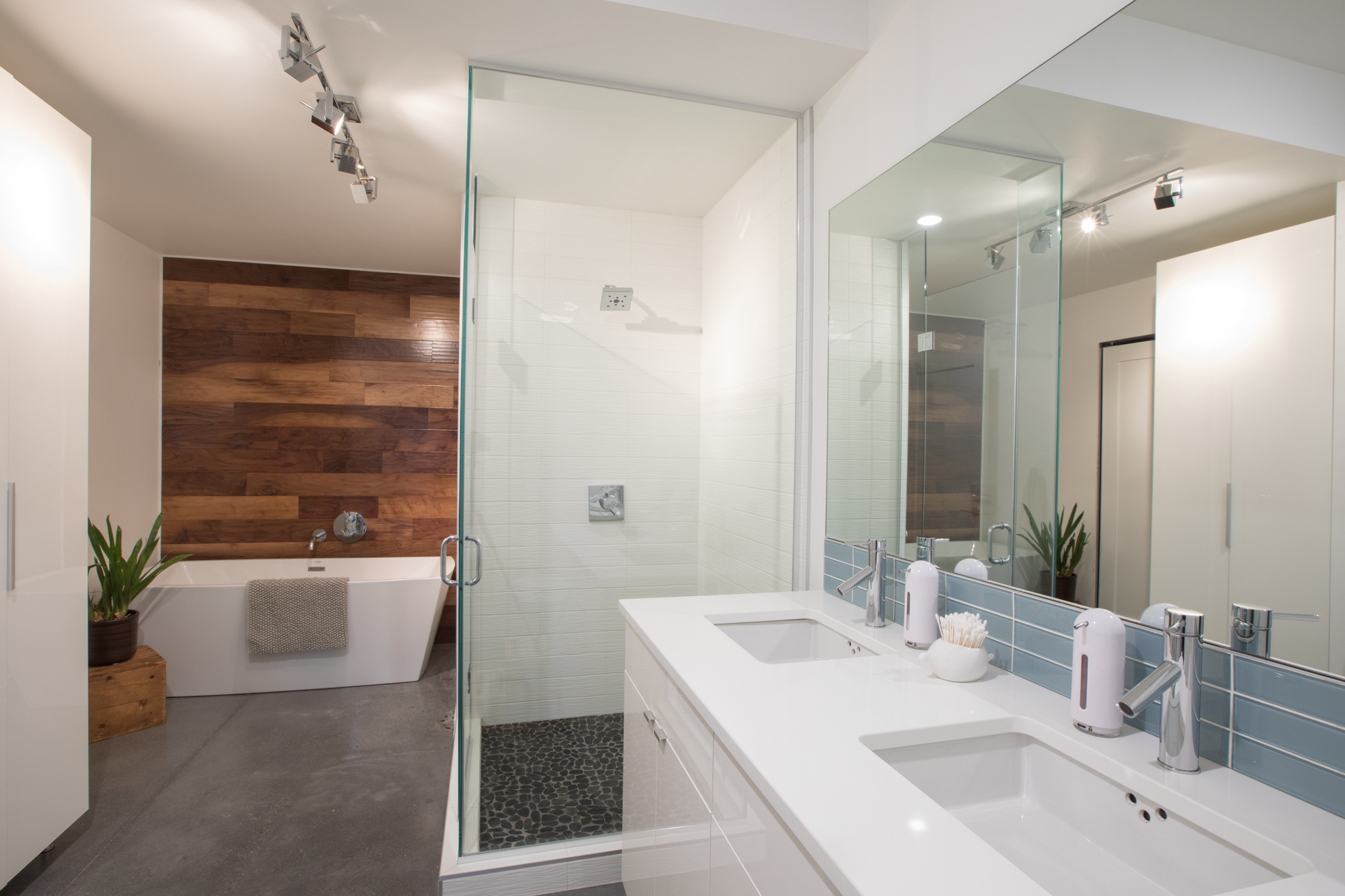 Are you having an extreme case of IKEA kitchen envy right now?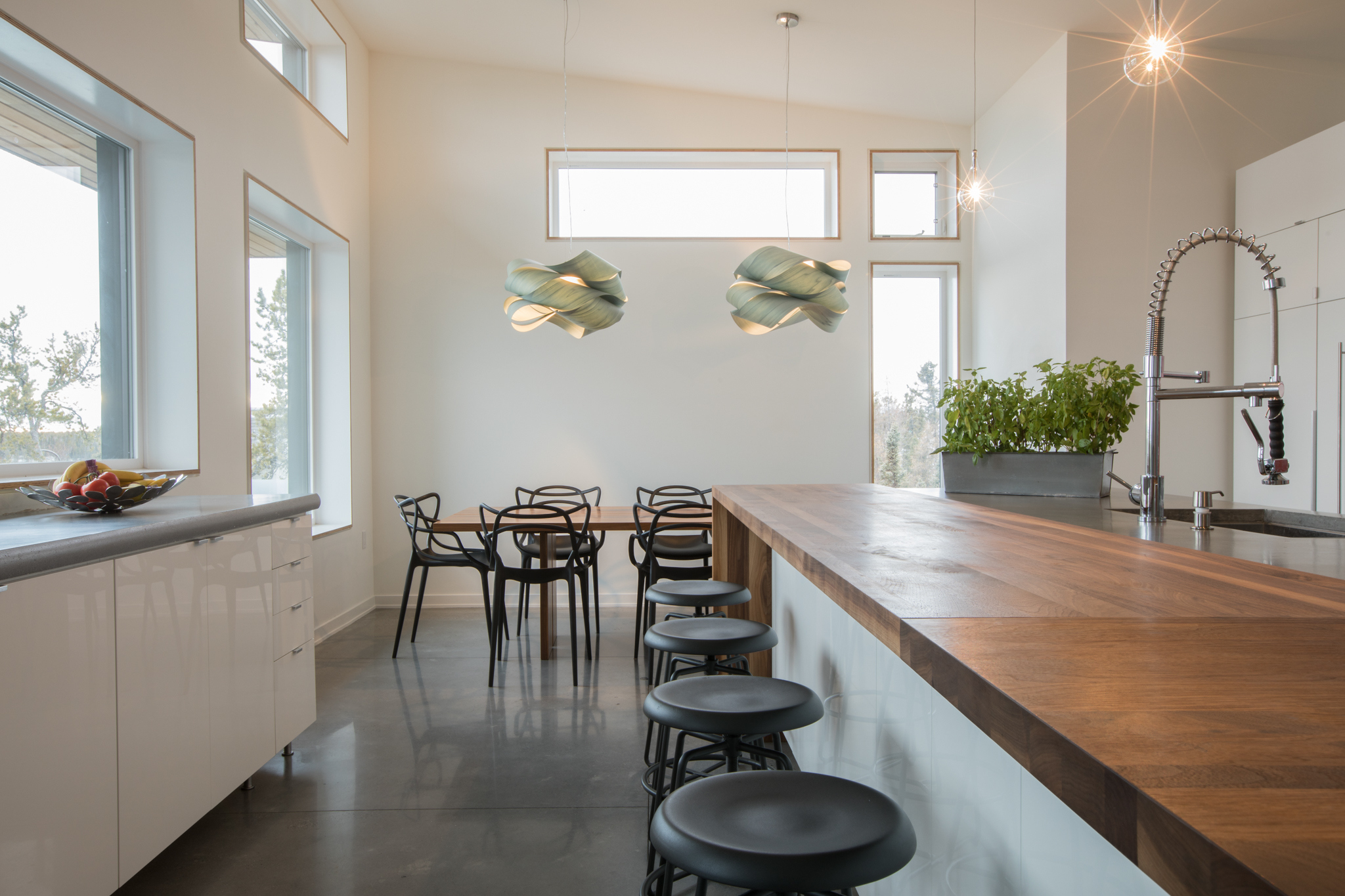 We think you'll agree: this project can cause some serious kitchen envy! And home envy, too. Just look at this warm and cozy evening view.
Thank you again for sharing your stunning home with us, Charlotte!
Want to add this IKEA kitchen to a Pinterest board?
IKD works with other design professionals all the time
Take a look at these 3 other home renovations where different designers brought IKD in to do the IKEA kitchen designs: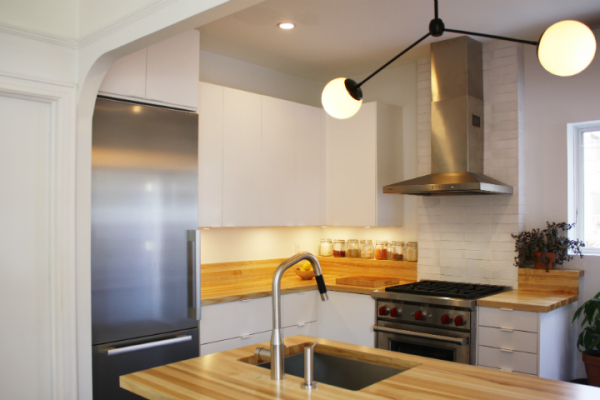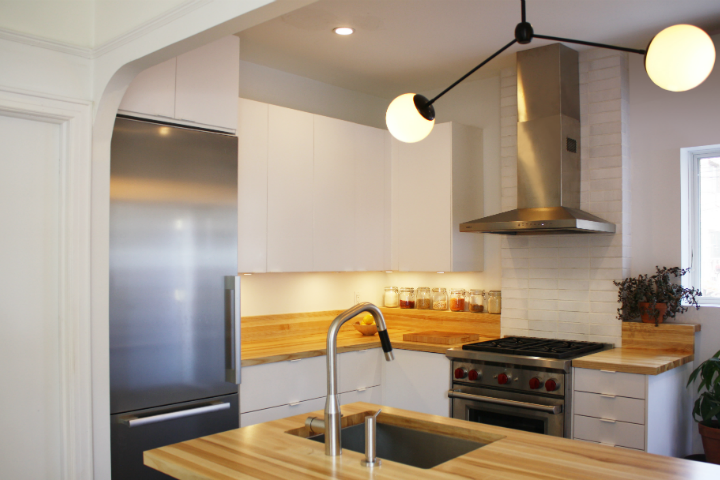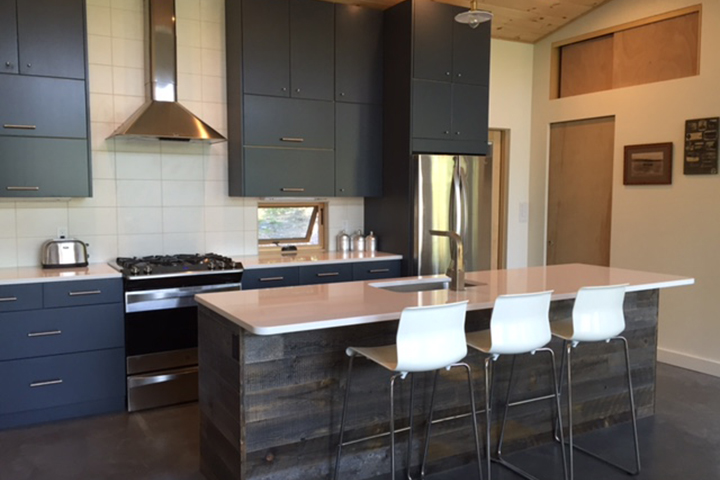 Whether you work with another home design professional or not, IKD can get you a great kitchen.  Learn how we can get you a luxe kitchen for less.
Image credits
All photos were taken by Dave Brosha Photography and are used with written permission from Henry Design Build Live. They may not be reproduced without permission. Please contact IKD if you have questions at info@inspiredkitchendesign.com.