Over the years we've discovered that IKEA kitchen corner cabinets are surprisingly polarizing.
Or to be more accurate: it's the UTRUSTA carousel that goes inside that they either love or hate.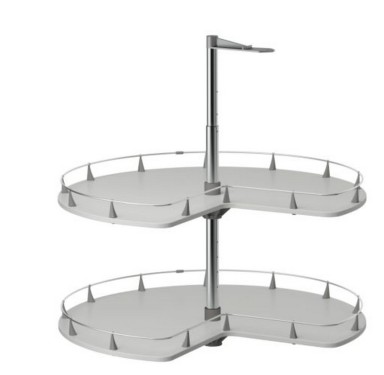 Commonly known as a Lazy Susan, this device is used in both wall and base corner cabinets, which tend to be deep, making things hard to get to.
According to the Wikipedia article, nobody knows who Susan is or why she was so lazy, but in the 18th century mechanical devices like the Lazy Susan were a welcome replacement to chatty servants.
Even so, some people just really don't like the Lazy Susan.
An IKEA UTRUSTA Corner Cabinet Carousel Alternative
If you're one of the Lazy Susan haters, well, check out this IKEA Hack featured on IKEA Hackers. IKEA Hacker Shawna really hated the Lazy Susan in her last IKEA kitchen, so she sketched this out and her husband built it for her!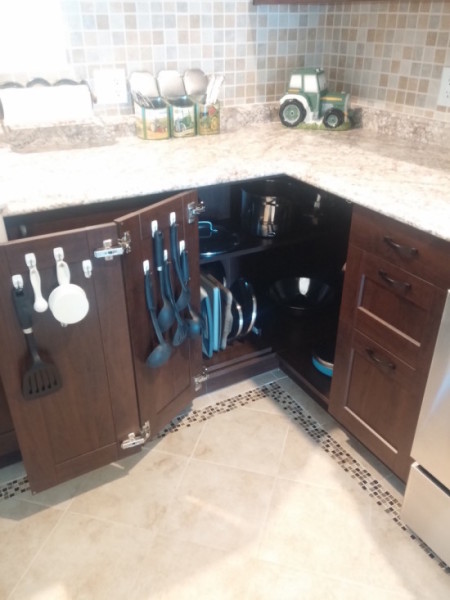 Shawna used a combination of leftover shelves and drawer slides for her Lazy Susan-free IKEA cabinet. Check out more pictures here.
What's with the Lazy Susan Hate?
Shawna says she found the UTRUSTA (formerly the RATIONELL) carousel noisy and a space hog. Are you in that camp too?
Personally, we always find it a little surprising when customers choose to forego the carousel. The kitchen design trend has been away from deep cabinets where you have to stoop down and dig things out, and toward drawers, where you can pull everything out, grab what you need, and put it all back easily.
Then again, some of our customers find that getting what you need from the carousel is just as time-consuming as rummaging around in a cabinet.
How Do You Use Your Kitchen?
It really comes down to knowing how you use your kitchen. Whether you choose the UTRUSTA carousel for that base corner cabinet or not, your choice should ultimately make using your kitchen a pleasant experience!
Sometimes we ask customers this and they laugh. "What else is a kitchen for?" But once we start asking questions, they get the hang of it.
Greta and Ron were vegetarians who made their meals from scratch. Ingredients needed to be within reach. They also needed room for their many cutting boards and mixing bowls.
This kitchen was designed for a family where even the littlest children helped cook, so little hands needed to be able to reach things.
Cyndi wanted her kitchen to be so well organized "you couldn't help but put things back in the right places" because her family was always on the go.
We Can Help You Figure It Out
Do you love or hate the corner carousel? Or, more importantly, do you know how you use your kitchen? We can only design items with IKEA, but, we can help you figure it out. Get started today.
Image of the IKEA UTRUSTA is from ikea.com.
Image of the IKEA cabinet hack is from ikeahackers.net.
"Lazy Thursday Sophie" by Flickr user Charlotte is licensed under CC BY 2.0.