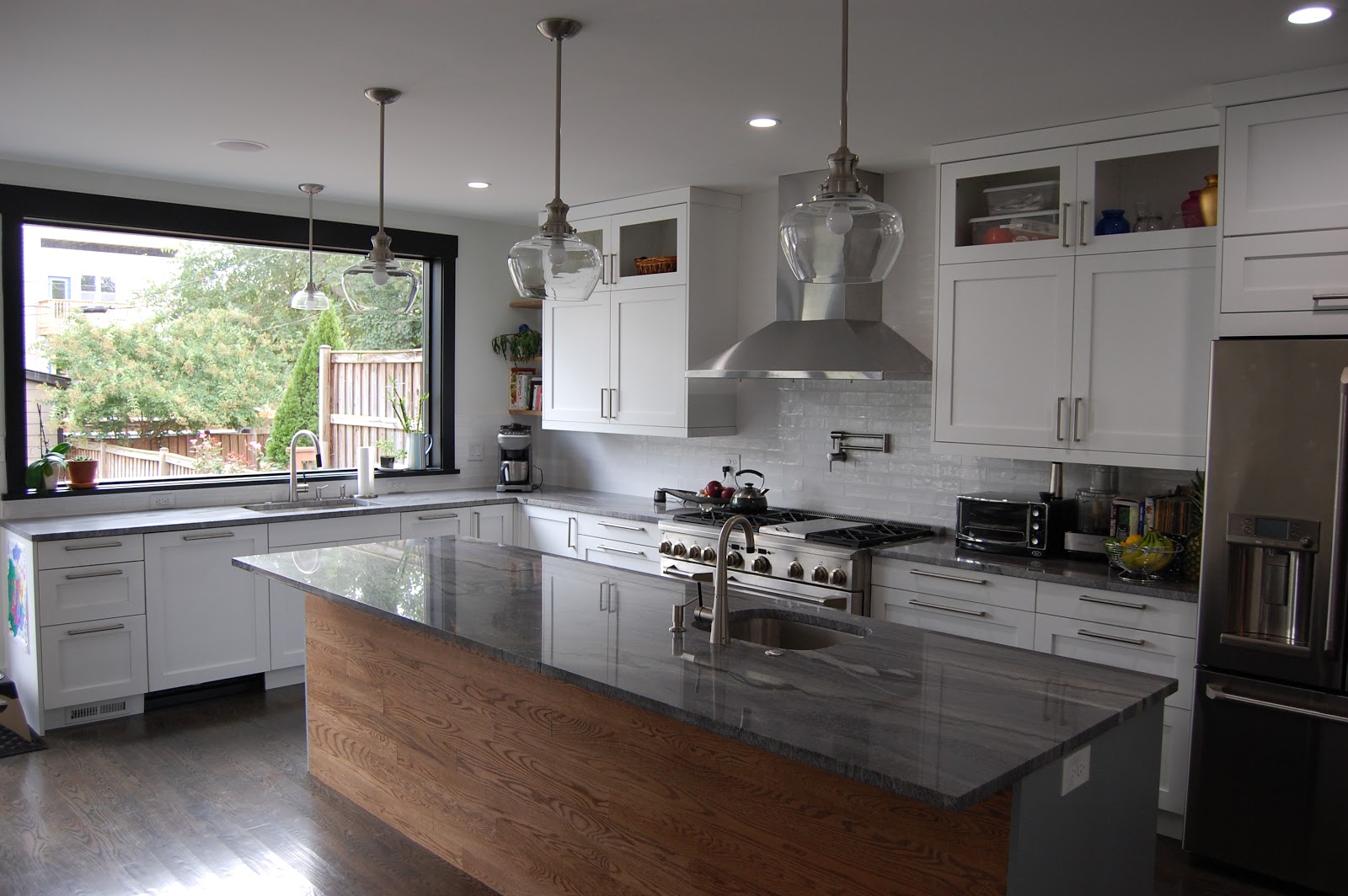 This gorgeous IKEA kitchen renovation is shared with us by satisfied IKD customer Raymond. The kitchen has some truly luxe features, such as:
Custom Shaker doors for IKEA cabinets made by Allstyle
A 10' long kitchen island
A 48" range-top oven
A Zephyr hood extractor fan
Let's look inside.
The Top 3 Design Challenges for this Kitchen
Last year, Raymond and his wife tore the back off their newly-purchased home and added a 20'x20' addition. Raymond knew he wanted these 3 things for his new kitchen:
A massive kitchen island. Raymond wanted a big preparation space where there was room enough for people to sit too. The island would serve as a focal point that would influence all of the other design decisions for the kitchen.
A 48" professional oven range. Raymond wanted a range where there was enough room to cook chocolate chip pancakes with his daughter on Sunday mornings.
An exhaust hood that could power a jet engine. Why? "I don't ever want to set off another smoke alarm again!"
You'll notice none of these 3 challenges require IKEA. So, why IKEA?
"We did a ton of research on kitchen cabinets and discovered IKEA kitchen cabinets were much more flexible than building a custom solution, or even using a semi-custom solution. When we realized we could use third party doors and drawer fronts to create a custom look we were sold. We would have spent $100,000 easily on a custom 400 sq ft kitchen like ours, and not had nearly as much flexibility.
"We were also picky about the drawers. They had to be soft-close and also pull out all the way. IKEA's MAXIMERA drawers had both, plus Blum hardware, which meant we were getting everything we wanted," said Raymond.
Raymond hired IKD and a year later, following a whole house gut rehab, their kitchen is complete (and just waiting for the frosted glass on four upper cabinets).
A gorgeous kitchen for a serious chef
Behold: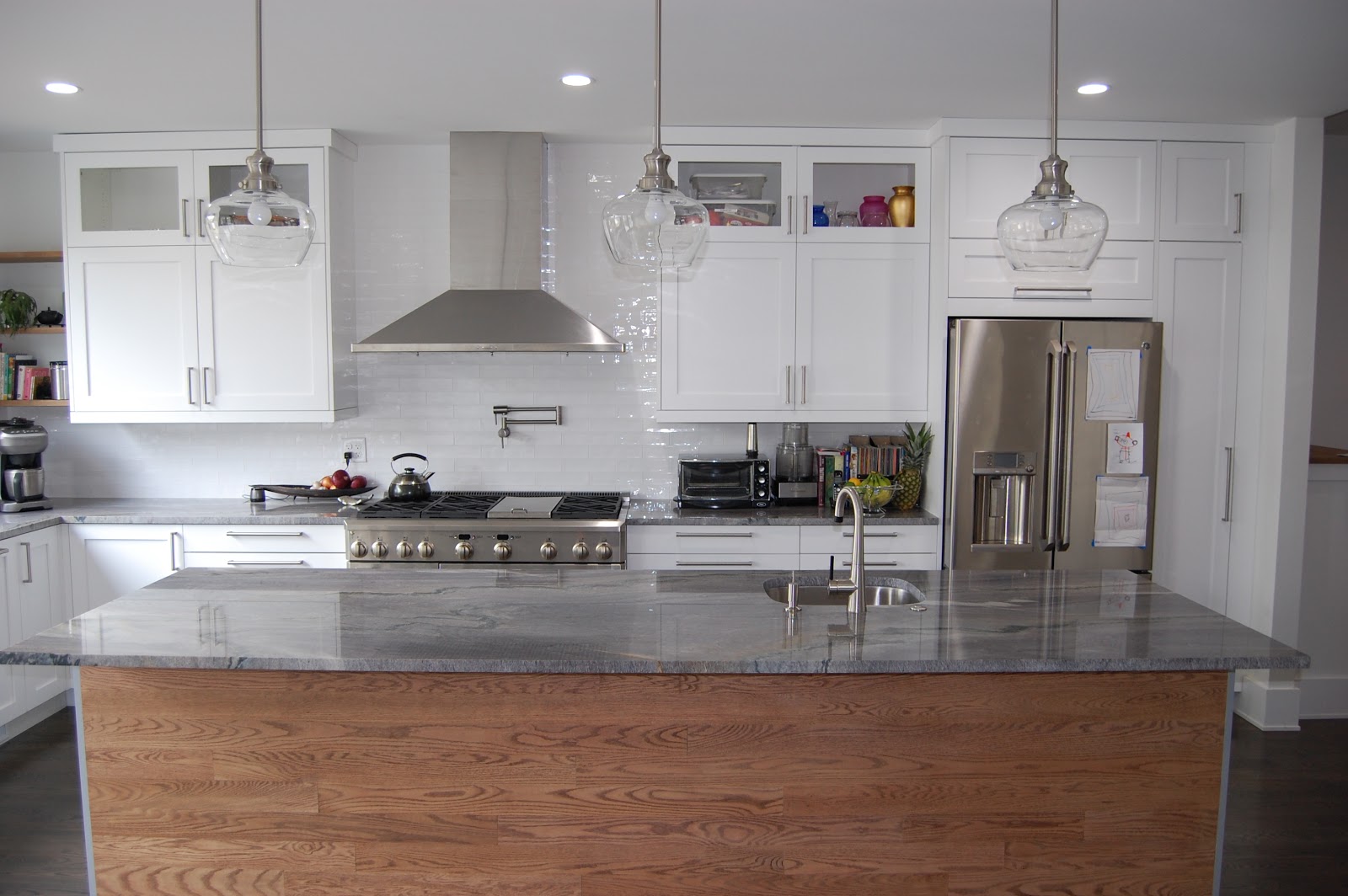 This is a really big IKEA kitchen, but you may not be able to tell because everything is really "to scale."
For example, the 48" oven range is surround by 48" worth of cabinet width on either side. The stacked boxes plus the valance are 50" high. (IKEA kitchen experts will know those numbers don't add up. Read about the IKEA cabinet kitchen math here).
Speaking of cabinets, can you spot one of our IKEA kitchen cabinet hacks?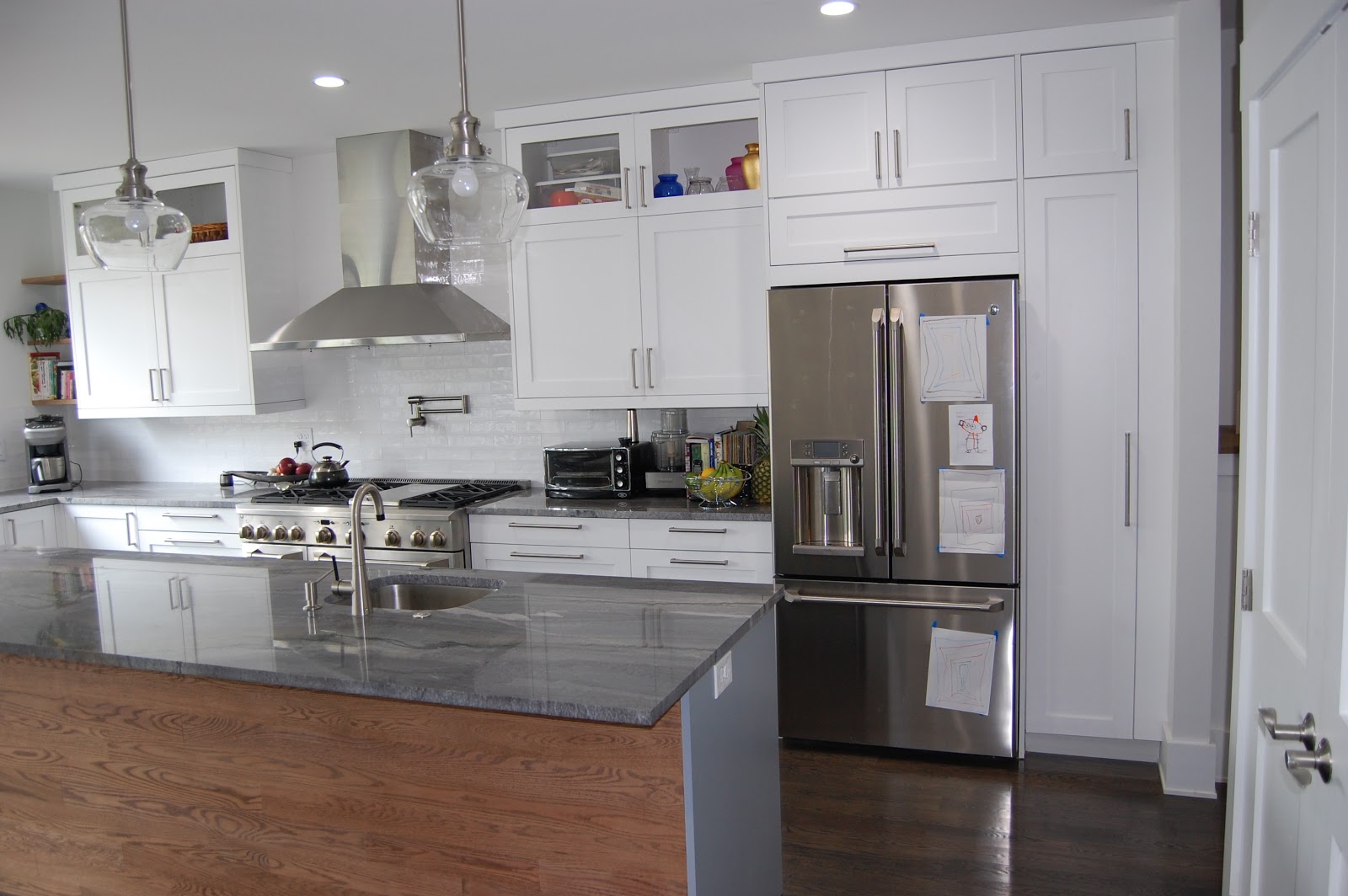 It's the cabinet above the refrigerator. This hides what would otherwise be an ugly gap (find out how we designed for this hack).
There's another IKEA kitchen cabinet hack to the right of the refrigerator (built on a similar principle described in this other hack). IKEA only makes high cabinets in heights of 80" and 90" but there was 100" to fill. The solution? This cabinet is actually 2 80" SEKTION high cabinet frames stacked on top of each other, but the top one was cut down to 20" high.
All of the kitchen cabinets and drawers have the Allstyle Glencairn door fronts custom-painted by Allstyle. They also use the ORRNÄS door handles from IKEA.
(Those are Millennium pendant lamps by the way and you can find them here).
About the elephant in the room AKA the kitchen island
IKD was happy to design a massive kitchen island as Raymond requested. Raymond lucked out and found a 10' slab of quartzite almost immediately. They had Allstyle paint the sides of the island in grey to further set it off as a show piece.
Here you can see greater detail in the kitchen island countertop: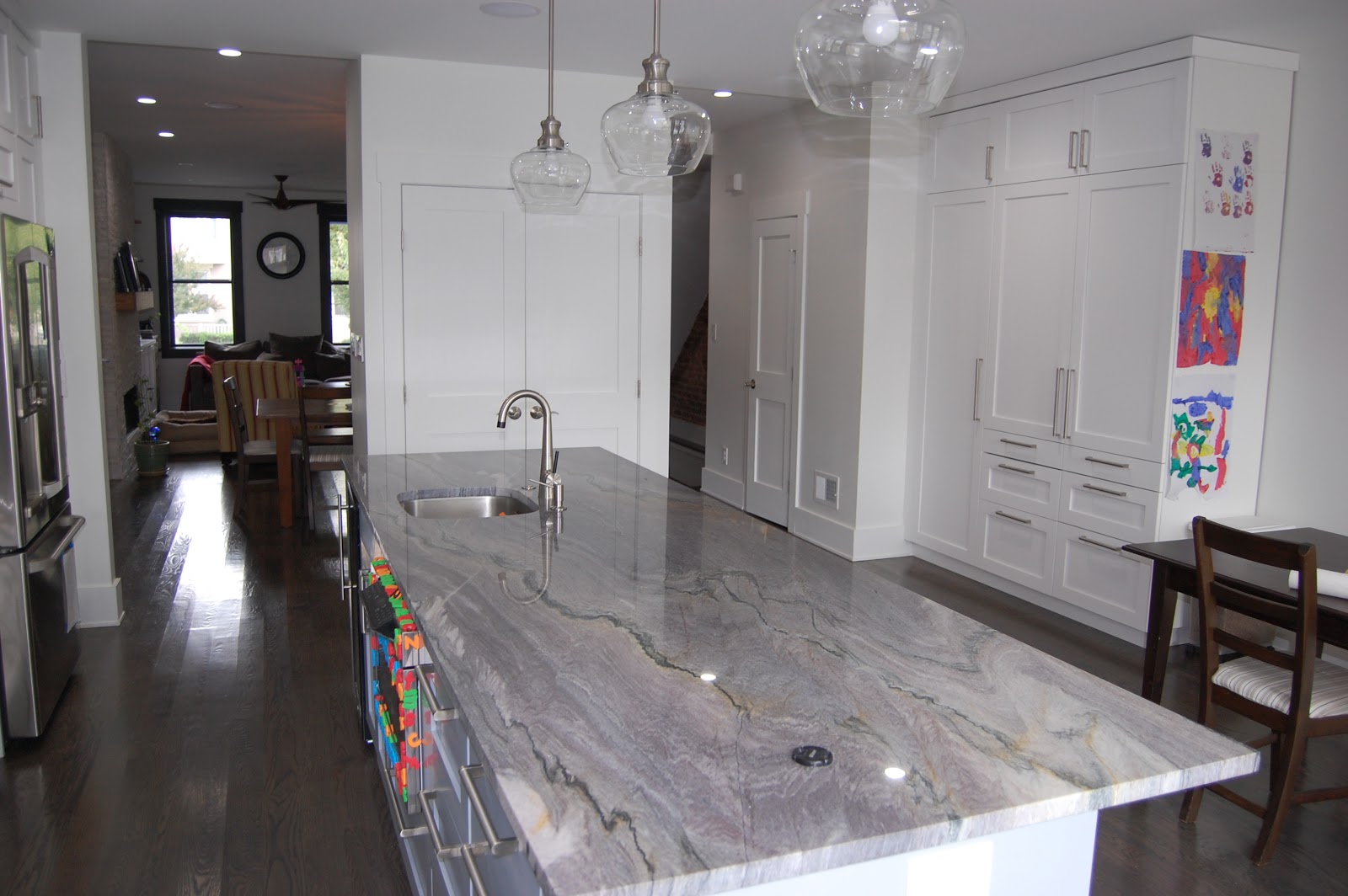 It's really got a lot of character. You can also start to see all of the functionality on the inside of the island.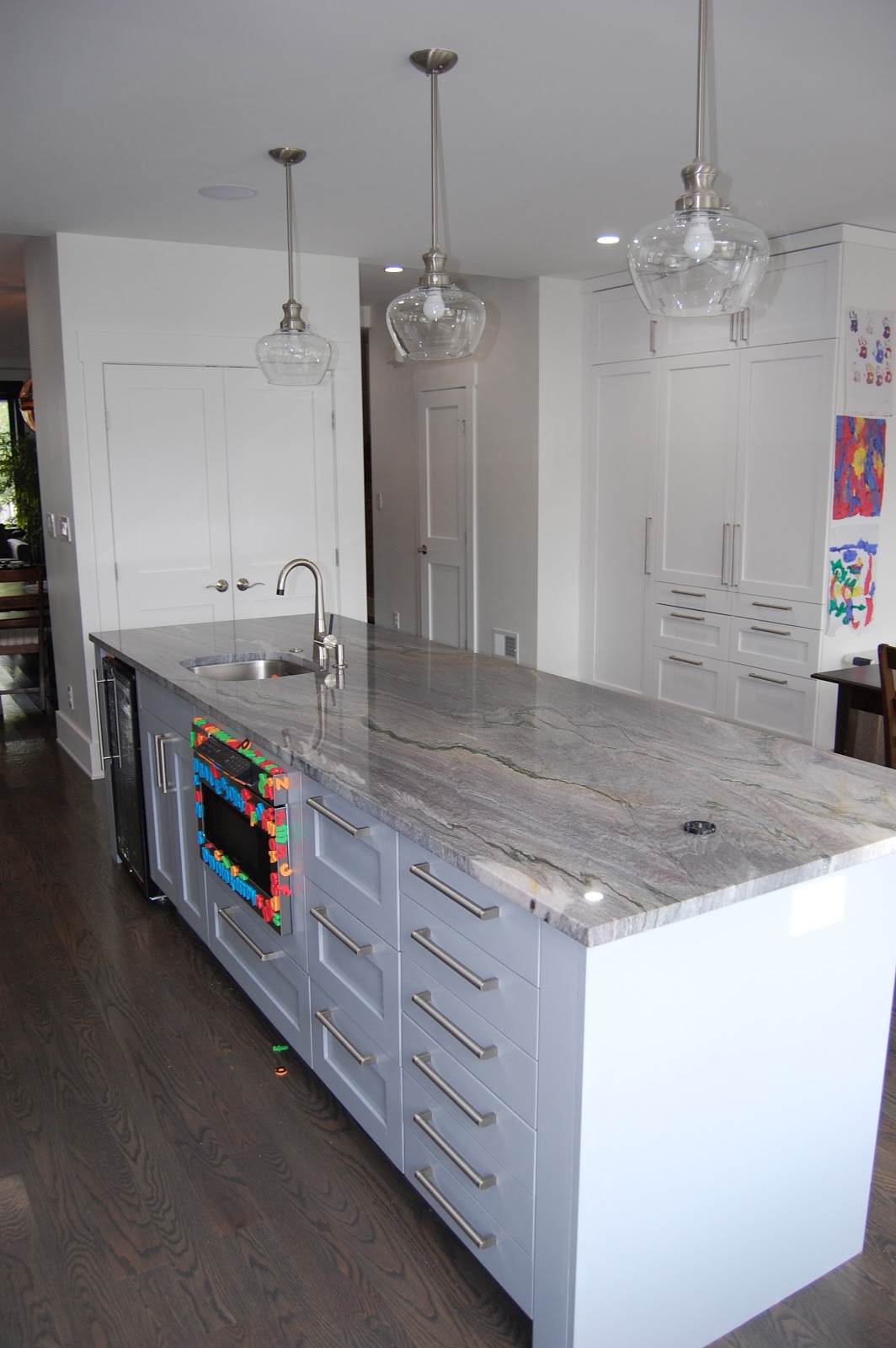 All kitchen islands are made of kitchen cabinets, and this one is no exception. In addition to all of the storage you see, there's also a prep sink, microwave oven, and wine refrigerator. This kitchen island is a real workhorse.
Why do we say IKEA kitchens are flexible? Here's why
You probably noticed the pantry cabinets on the wall. This is where you can start to understand how Raymond worked with IKD to design a flexible IKEA kitchen.
One of the top pieces of advice we give is: before you design your kitchen, really think about how you use your kitchen.
For Raymond and his wife, this proved to be a challenge. Because their new kitchen was a blank canvas – and a canvas larger than any they'd had before – they really didn't know how they'd use their kitchen. They wanted to create storage that they could reconfigure if they needed to.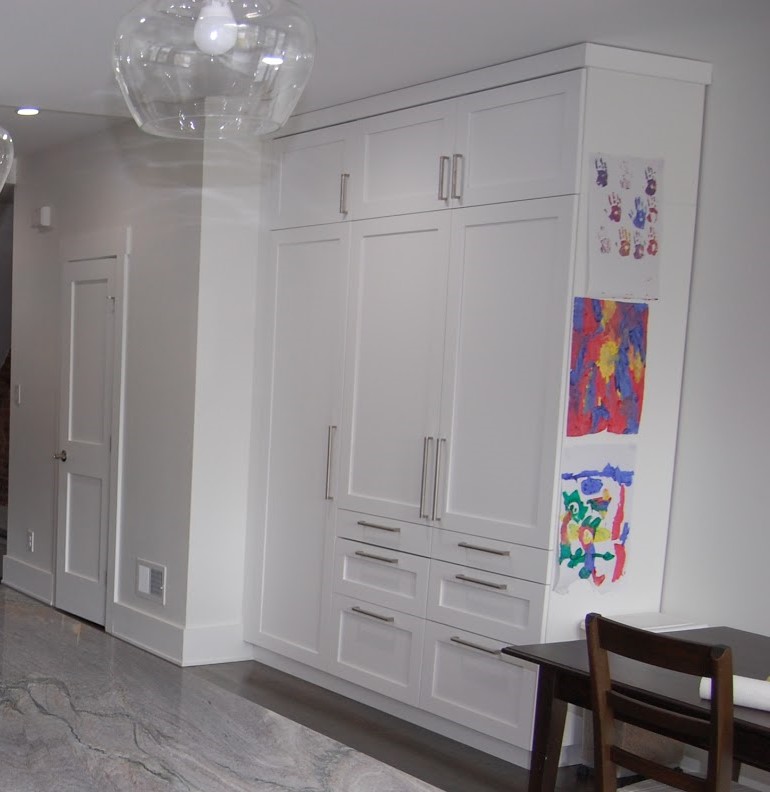 This cabinet combination was built to be a pantry, but it also needed to conceal a chase, or conduit pipe, that had been included in the addition to accommodate the roof downspout.
The pantry manages to hide the chase and still be functional. The IKEA cabinet modification allowed for it to house the chase and include L-shaped shelves that hold pantry items.
Raymond hadn't been interested in the key design feature of the SEKTION kitchen line: the drawers-within-drawers. But he's since discovered that the pantry cabinets are so deep, they needed a few pull-out drawers to make the items within more accessible.
And that's IKEA flexibility at work.
Some other custom features of this IKEA kitchen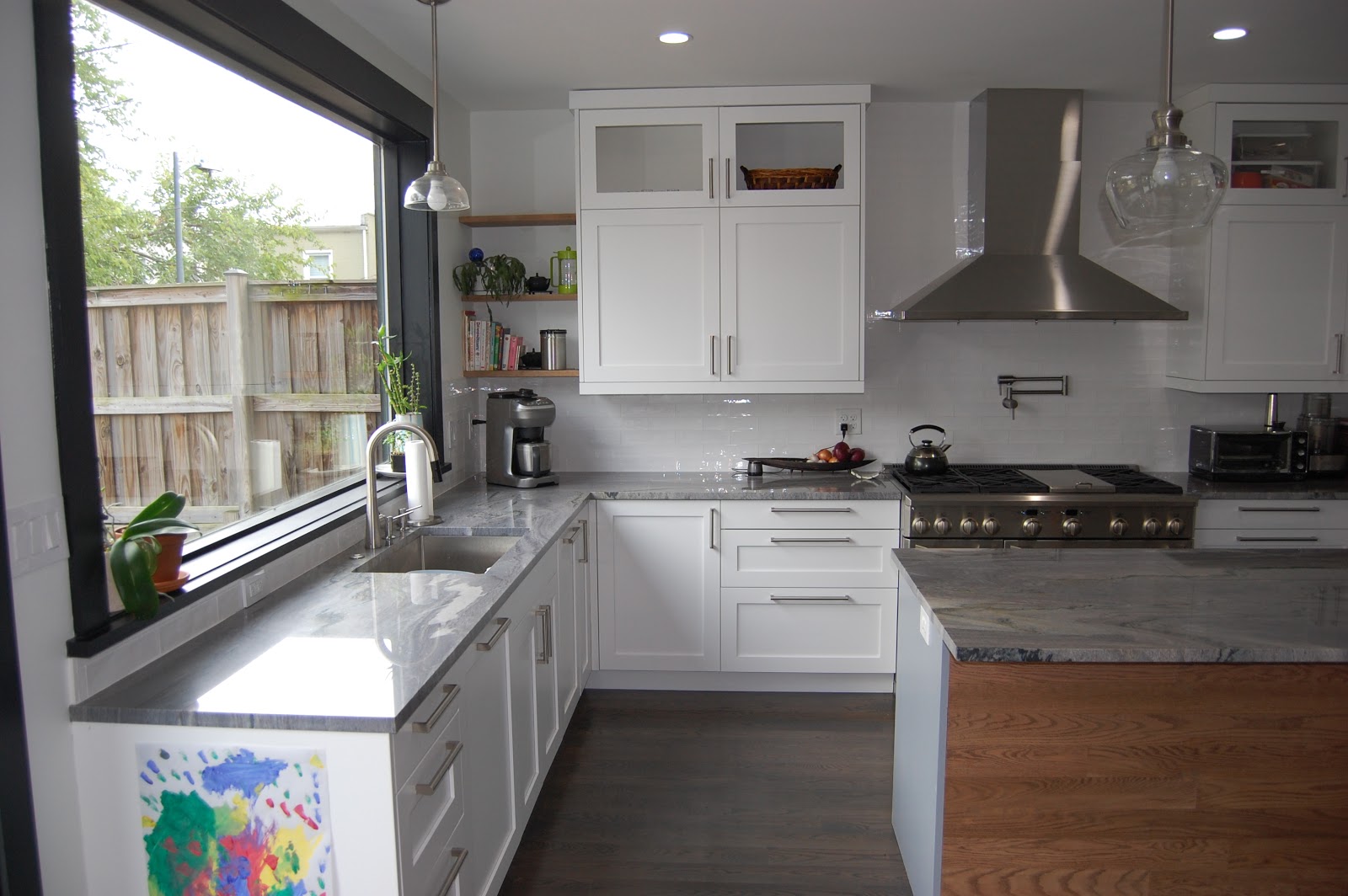 Having the main kitchen sink in front of the window means a nice view while washing dishes. But do you notice the open shelves to the left of the wall cabinets? That's another custom feature suggested by IKD that brings the design together.
Raymond used red oak throughout his home as a natural theme. The flooring, the back of the kitchen island, the mantle for the living room fireplace, and shelving in the living room and by the front door are all made from stained red oak.
The kitchen had plenty of storage, but leaving the wall space empty would have made the kitchen look unbalanced. Instead, he and IKD collaborated to include open shelving out of the same red oak.
The #1 lesson from this IKEA kitchen renovation: IKEA kitchen installations are for the pros, not general contractors or DIYers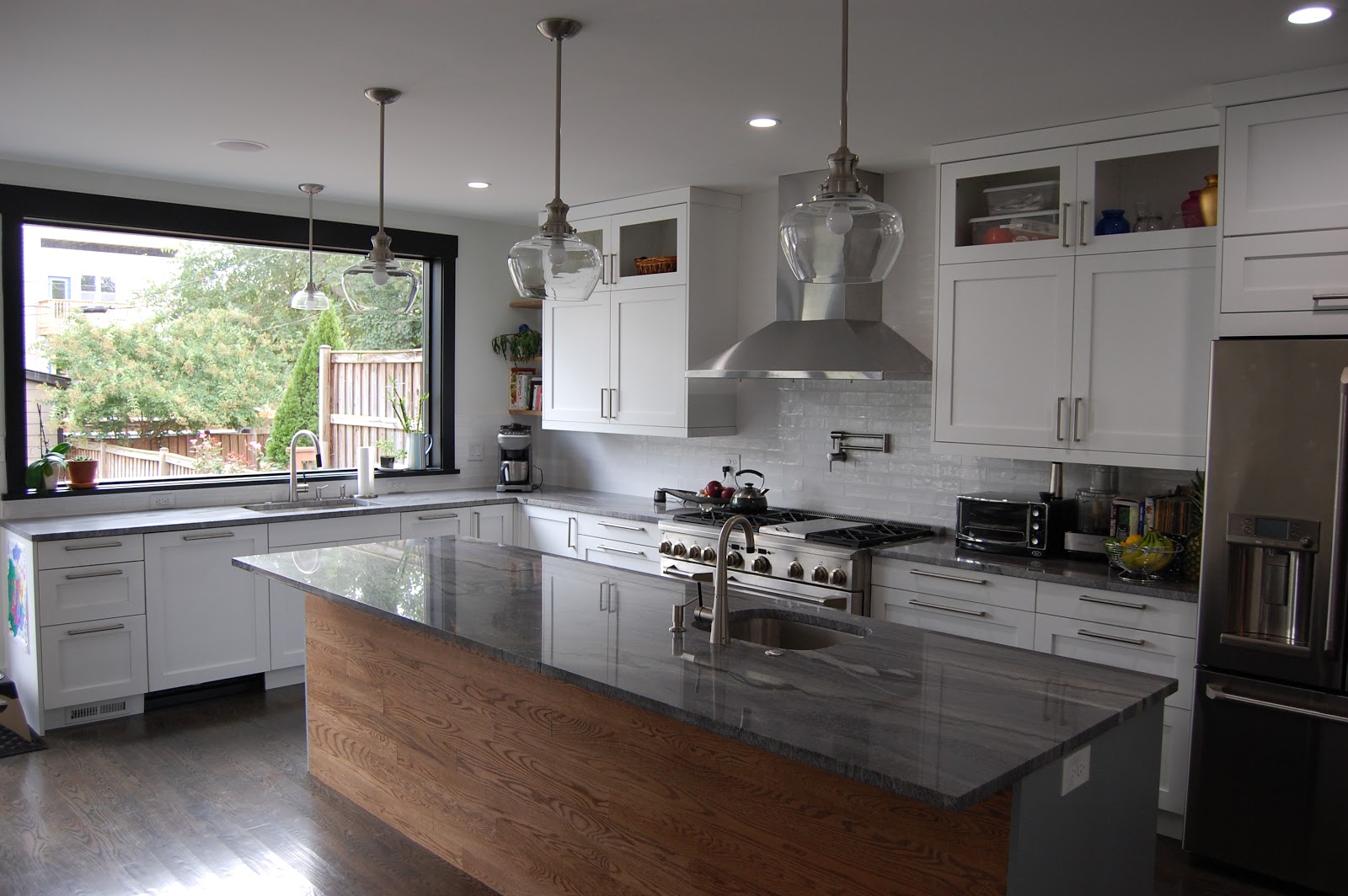 Raymond has an important lesson to share with our readers and customers:
Don't hire a general contractor to install your IKEA kitchen. You need a qualified IKEA kitchen installer otherwise you'll waste time, money, and precious hairs you'll tear out from your head in frustration.
I'll explain. Raymond had a general contractor who was overseeing the entire home gut-renovation project. Everything went well until it was time to install the kitchen. Raymond took advantage of our IKD Install Connect service which helps our customers find qualified IKEA kitchen installers.
His general contractor, however, didn't like the price of the Install Connect installer. Instead, he hired his own team of master carpenters. That's when the hair pulling began.
"It was not good," said Raymond. "These incredibly talented tradesmen just didn't understand the product, so it took weeks, maybe even months longer than it should have to put together and install the kitchen.
"They also didn't inventory the IKEA kitchen order when it arrived, so they had me return to IKEA to buy the 'missing' items from the delivery. What we discovered later was that the team had misplaced the items so I ended up with several hundred dollars worth of duplicate items. I ended up going back to IKEA to return about $650 worth of hinges, dampers, doors and other parts I didn't need to buy in the first place."
The #2 lesson from this IKEA kitchen renovation: new construction problems can be solved with IKEA kitchen math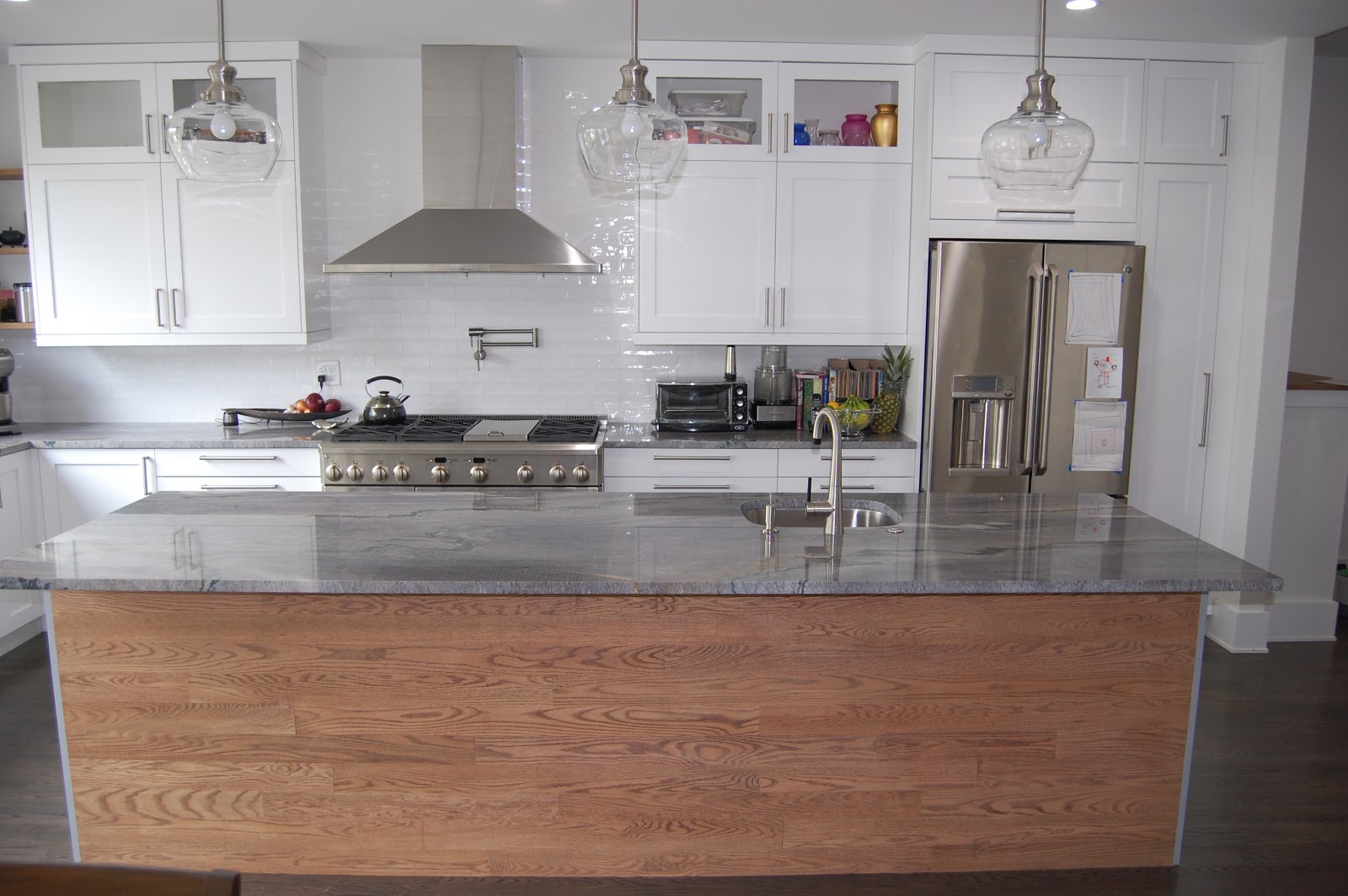 Even new construction isn't perfect: the ceiling for the new addition was 2" shorter than it was supposed to be, and that threw off the entire design that IKEA had already delivered.
The original plan was for all of the wall cabinets to stop 2" short of the ceiling. Raymond's plan was to cover that gap with a 2" valance, also made by Allstyle, so that the cabinets, valance, and ceiling were all flush.
In reality the ceiling was too short and not level, so the wall cabinets didn't look right and the valance didn't fit.
The creative solution to this problem was to order 10 new top wall cabinet doors in the custom height of 17" to cover the 20" high IKEA cabinet boxes. So what happened to the remaining 3"? It was covered with the valance.
Raymond does give credit to his general contractor for coming up with this solution, but he knows that our Install Connect installer would have understood the problem right away and there wouldn't have been so much re-work.
The #3 lesson from this IKEA kitchen renovation: If you're not a hardcore do-it-yourself-er, don't try to do this at home.
"If you decide to save money by doing it yourself, you should assume you'll end up buying everything twice. You'll need to purchase hundreds of dollars worth of tools you didn't have before, just to remove screws. There will be at least one avoidable issue you run into where you'll have to adapt and that will cost more money too. Add to that the inevitable spoilage and waste that comes with DIY projects…I'd be surprised if you end up saving any money at all."
Raymond and IKD definitely agree: Don't DIY your IKEA kitchen design
Raymond, thanks for letting us share your kitchen and our story on our blog.
If you are working with new construction, or a newly renovated space for your kitchen, we highly recommend buying our Premium package. This gave Raymond the flexibility he needed to find the right kitchen design for the blank canvas of his brand-new addition.