If you're confused by IKEA's waste sorting system for kitchens, this post will provide some answers.
IKEA basically has 2 options for trash bin cabinets in the kitchen.
You can turn any IKEA base cabinet with a door into a trash cabinet.
Or, you could use IKEA's base cabinets designed especially for trash.
These 2 options work differently and come with their own limitations.
This is a lengthy post, so click one of the bullets below if you'd like to skip to a specific section.
Option #1: Turn any IKEA kitchen base cabinet into a trash bin cabinet
You can stick garbage bins in just about any base door cabinet if you use the UTRUSTA Recycling Bin Tray. This is how it works in IKD customer Ami and Jinesh's IKEA kitchen: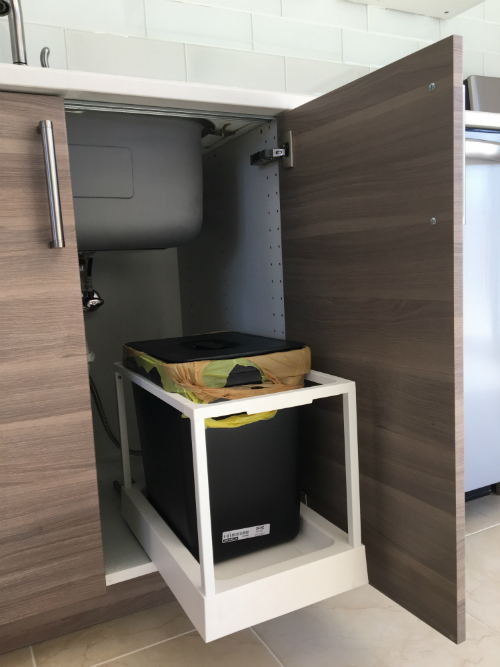 If you choose this option you need to know 3 things:
IKD does not design interior organizers for cabinets. So, if you want this option, you'll have to remember to buy it when you go to pick up your kitchen from IKEA.
This interior pullout is very small. That's because the waste bins from IKEA are really small – so small we don't typically recommend them to our customers. They're thin and narrow, which makes them great for recycling but difficult for trash. But, please note, it was a perfect solution for Ami and Jinesh.
This only works in a base cabinet that has a door. You can't use the UTRUSTA pullout in a corner or angled kitchen cabinet.
Option #2: Use IKEA's special cabinets for trash bins
IKEA has special under-sink kitchen cabinets just for trash and recycling bins. It's built to pull out, and you can fit bigger receptacles in there. Here's how this looked in IKD customer Terri's kitchen:
There's something important to notice about Terri's choice. She's using a trash bin cabinet that does not have a sink in it. Specifically, this IKEA kitchen cabinet.
As you're going to find out, the sink plays a big role in what you can and can't do with a trash bin cabinet. We're only going to talk about the limitations of the trash bin cabinets that do accommodate a kitchen sink.
If your trash cabinet is going under the sink in one of IKEA's special cabinets, here's what you need to know:
You won't be able to put that cabinet in a kitchen island or peninsula
This cabinet will have to have a multi-drawer front door, not a single door front
Before we look at the reasons why, here's what you need to know about those specific IKEA kitchen cabinets.
What you need to know about how he width of IKEA undersink waste-sorting cabinets affects your kitchen design
Let's look at the facts before we look at all of the exceptions. It might take you a beat to understand all of this – but it's worth understanding if you plan to use a cabinet for trash in your IKEA kitchen.
Fact: Standard-sized kitchen sinks only fit in cabinets that are 30" or 36" wide. So, the corresponding SEKTION cabinets are all 30" or 36" wide.
Fact: In the SEKTION line, any kitchen cabinet at that width can only be fitted with a multi-front drawer. This is a matter of stability and the IKEA system itself. Basically, IKEA does not offer a single-panel cabinet door that's bigger than 24" wide.
To understand this, you need to look at how the cabinet and drawer glides are put together.
The rail that holds the cabinet together and keeps it secure only works with door fronts that look like doors.
And yes, a base cabinet of 30" or 36" width needs this a lot of support. The drawer will be pulled in and out with varying degrees of weight in the bins.
Why has IKEA limited us this way? From a fabricator's point of view it makes wonderful sense. Instead of manufacturing many different rail and door sizes and the like, IKEA is using what they already have. Some pieces have more than one use.
Exceptions
Some IKD customers are disappointed when they discover they can't have a single drawer front for their undersink trash bin cabinet. They're seeking a modern look so they want to keep the "lines" of the base cabinets as similar as possible.
Since IKEA prevents you from achieving this look directly, we're often asked about exceptions.
Sadly, there is not a clear-cut substitution for this. Here are a couple of things to look at.
Maybe you noticed how Terri's waste cabinet had a single-door front. In her case, it's 1) not an undersink cabinet and 2) it's only 24" wide. We design with these cabinets all the time. Just note:
If you're dedicated to a modern-looking kitchen, you won't be able to place the trash bins under the sink. You'll have to use this cabinet instead.
Remember, you can turn any SEKTION base cabinet into a trash bin cabinet if you use the UTRUSTA pull-out. This only works with a door, not a drawer, but you'll get the single-front look you're going for.
How the height of the undersink cabinets affects your kitchen design
The undersink base cabinets for waste bins in SEKTION are all 30" tall.
The upside is that the cabinets are of uniform height and depth, meaning the countertop will be level and the floorplan won't be wacky.
The downside is we only have 30" of height to fit a kitchen sink and waste bins into. If you select a regular sink for your IKEA kitchen, you'll have about 22.5" of room for your trash bins.
The only exception is the cabinet for the DOMSJÖ sink. Apron-front and undermount sinks are typically 10" deep. This means you have about 20" underneath the sink to play with.
Whether you have 20" or 22.5" below the sink bowl, you only have so much room for your trash and recycling bins. Be sure to pick bins that fit!
But that 20" or so has a big impact on where you can put this type of sink cabinet in your kitchen.
Why undersink IKEA waste sorting cabinets don't work in a kitchen island or peninsula
When your sink is part of a normal, against-the-wall base cabinet run, the plumbing comes out of the wall.
When you put a sink into a kitchen island or peninsula, the pipes and plumbing come out of the floor. The pipes eat into that remaining 22.5" of space you thought you had in the cabinet. The pipes would also block the bottom drawer that needs to get installed.
So, a standard IKEA cabinet for trash bins simply won't fit into a kitchen island or peninsula.
Can you get continuing education credits for having read through all of this?
You've just learned a lot about how trash bin cabinets work in the IKEA system! We hope this helps you think about your kitchen design. If you have any questions, please ask in the comments below.